Mott 32, the multi-award-winning restaurant, made its debut six years ago in Hong Kong. It is renowned for its signature approach to regional Chinese cuisine with recipes handed down from generations using cooking progressive cooking techniques and premium ingredients.
2020 began with the opening of its fourth and newest outlet at Marina Bay Sands in Singapore, joining other outlets in Hong Kong, Las Vegas and Vancouver with the next one opening in Bangkok later this year.
Joyce Wang Studio designed the interior of Mott 32 Singapore to celebrate Singapore's botanics, rich foliage and flora through illustrations on the chinoiserie backdrop, against a play of black and green terrazzo lining the floors. Hand-painted lanterns are suspended along the perimeter of the bar. The design references Singapore's geographical and cultural proximity to Hong Kong. Elements reminiscent of Hong Kong are seamlessly interwoven with a design identity unique to the Singapore outlet.
MOTT 32 Singapore Starters
Quail Egg, Iberico Pork, Black Truffle Siu Mai
The siu mai at MOTT 32 is not your ordinary dim sum dish. It is filled with a whole quail egg with runny yolk that bursts with a bite and minced Iberico pork topped with a small slice of black truffle. This is one of Mott 32's signature dishes which is also available in the Hong Kong outlet.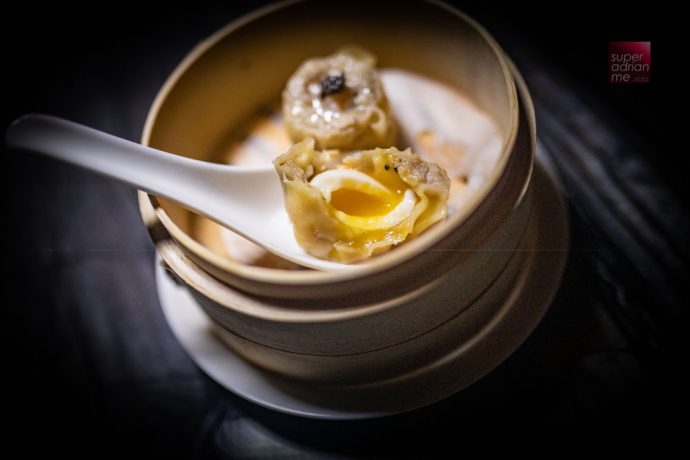 Be careful not to burn yourself when indulging in this siu mai. I only wished there was more flavour of the from the Iberico pork. A basket of two Soft Quail Egg, Iberico Pork, Black Truffle Siu Mais is priced at S$9++.
Signature Crispy Sugar Coated Peking Duck Bun
Location-specific exclusive dishes are offered at MOTT 32. One of MOTT 32 Singapore's exclusive dish is the Signature Crispy Sugar Coated Peking Duck Bun. Charcoal buns are freshly baked with a crisp crust. Instead of the regular pork filling, these buns are filled with tender roasted duck in barbecue sauce. A serving of three pieces will cost you S$10++.
Barbecue Pluma Iberico Pork, Yellow Mountain Honey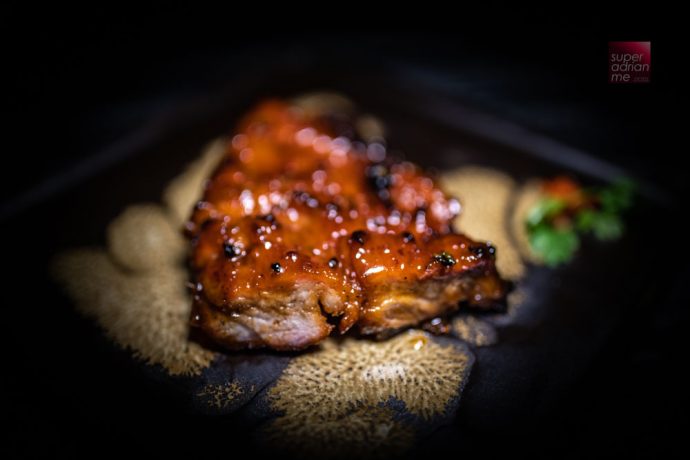 This tender char siu (S$48++) is so good. The Barbecue Pluma Iberico Pork is glazed with Yellow Mountain Honey. The prized pluma cut from top-grade Iberian pigs that feed naturally on acorns, grass and herbs are used for its natural tenderness. The whole cooking process takes over 40 minutes to give the barbecued pork a charred texture with deep flavours. Honey glazed is coated two times for that perfect shimmer and taste.
Cold Free-Range Chicken, Szechuan Peppercorns with Chilli Sauce
For S$28++, sink your teeth into tender cold free-range chicken meat with coriander and black truffle. This quintessential Szechuan cold dish is elevated with premium ingredients, with black truffles giving the gluten-free dish a balanced taste. Golden-fried shallots are added before it is served.
MOTT 32 Singapore Mains
Signature Smoked Black Cod
One of my favourite dishes is MOTT 32's Signature Smoked Black Cod that is cooked in a light batter and fried till crispy and served with a sweet sauce and then smoked with applewood to give that added flavour and aroma. Don't be fooled by its looks and mistake the dish for sweet and sour pork. If you have been to MOTT 32 in Hong Kong, you would also get this signature dish there.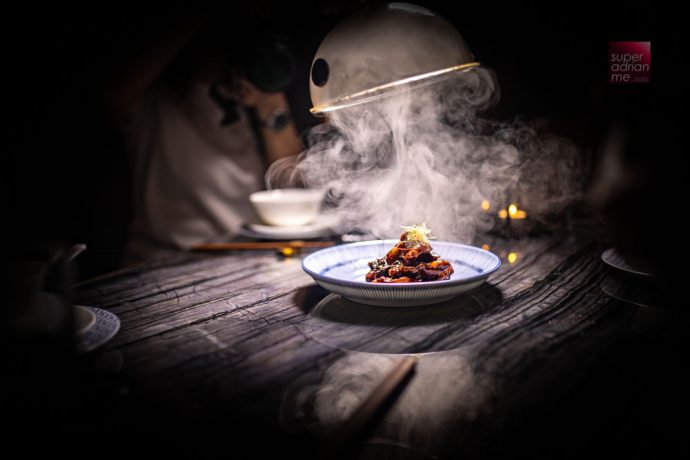 S$56++ for a serving of visual drama where the applewood smoke is released when the cover is released.
Apple Wood Roasted 42 Days Peking Duck "Signature Mott 32 Cut"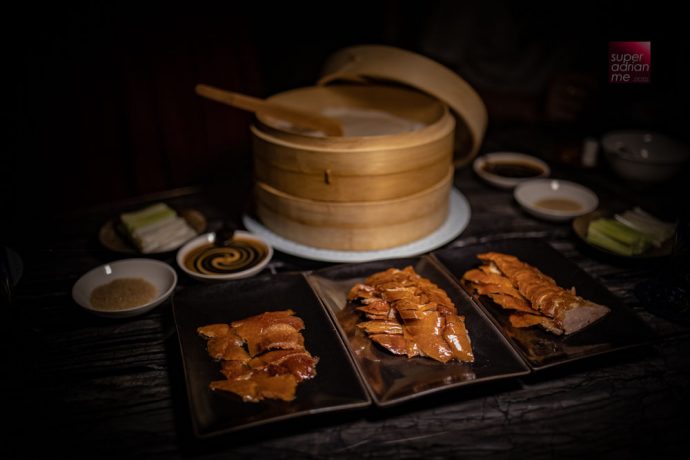 The 42 Days Peking Duck "Signature Mott 32 Cut" (S$108++) takes 48 hours to prepare. The duck is cured in a special marinade and smoked over apple wood in a custom brick oven to seal in the juices, before being presented and carved tableside. One whole duck can feed a party of eight to 10 people.
Ducks from Malaysia with a weight of 2.5kg are used to ensure the correct taste and texture when it is served. The ducks are aged for 42 days in a temperature that emulates traditional Beijing weather. This allows the skin to produce a crystal-like consistency within the fat layer of the skin over a 24-hour period.
The skin is crispy and the meat remains tender and flavourful.
The duck can be enjoyed in two ways. The skin at the collar of the duck is rich in fat and flavour. Dip the skin in a raw can sugar dip to cut through the richness.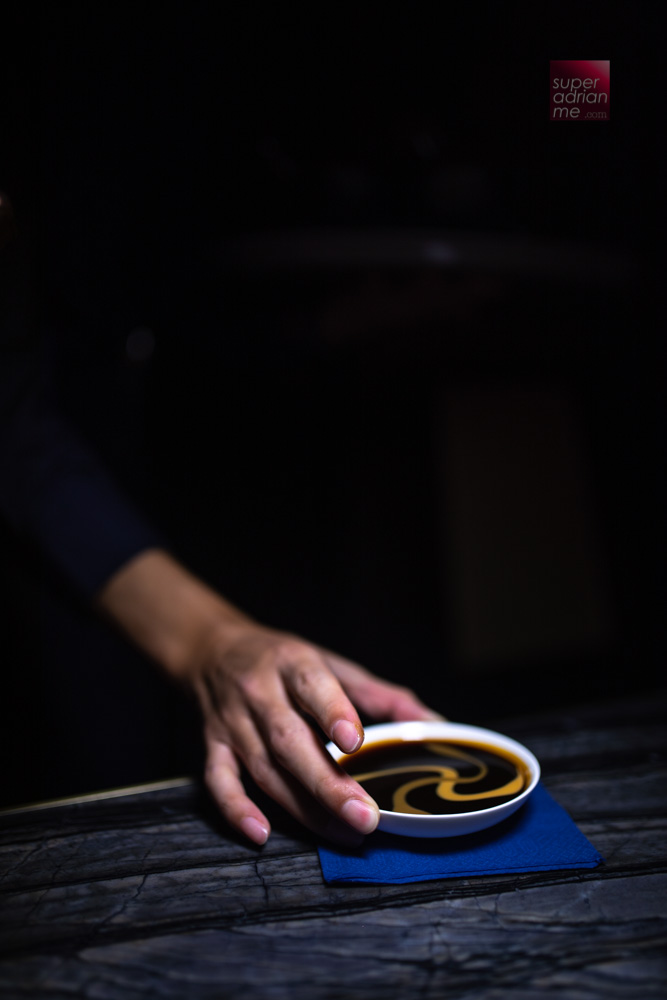 The slices of tender duck meat and crispy skin are then eaten with freshly steamed pancakes with cucumber, scallions and hoisin sauce with twirls of sesame sauce and peanut sauce. These steamed pancakes are separated by parchment paper because they are less oily unlike what you get from other establishments.
The ducks are available in limited quantities daily. Because they are made-to-order, a 24-hour advance reservation is required.
Wok-Fried Baby Napa Cabbage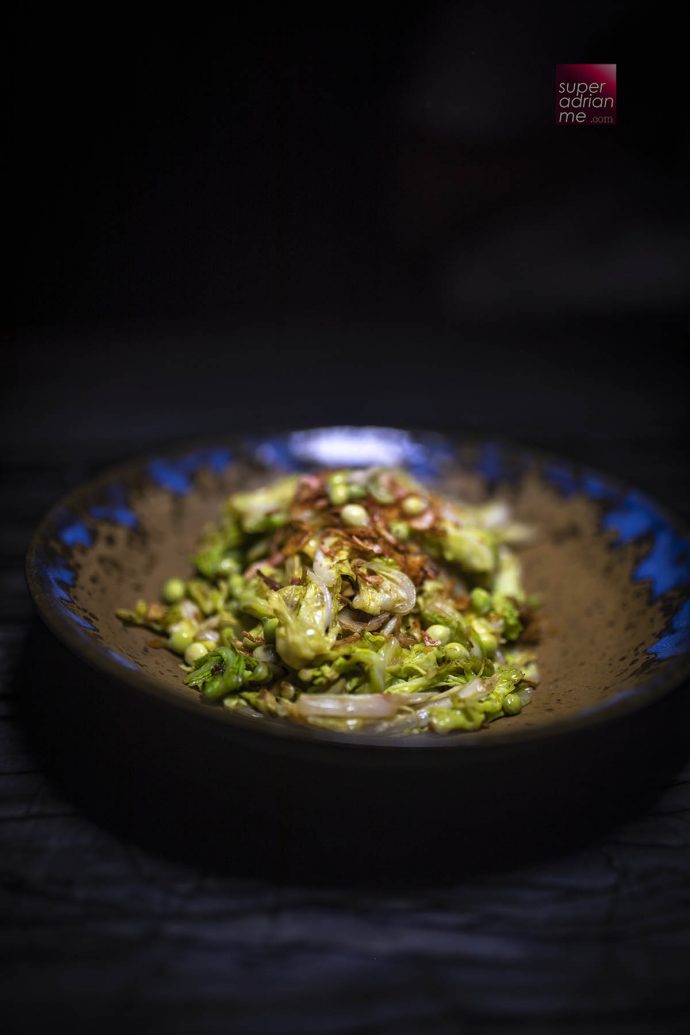 The Wok-Fried Baby Napa Cabbage, Japanese Sakura Shrimps, Honey Beans, XO Sauce (S$26++) has a plethora of textures and flavours. Crunchy Honey Beans and baby napa cabbage complemented by the umami flavours from the Japanese Sakura Shrimps make this a great veggie dish to order.
Alaskan King Crab Casserole with Crab Roe and Vermicelli
The Alaska King Crab Casserole with Crab Roe and Vermicelli (S$58++) is fragrant and aromatic. Generous portions of briny crab roe and chunks of succulent king crab are mixed into the vermicelli before it is served to guests.
Scallops, Prawns, Crispy Rice in Fish Soup
Garoupa fish bones are pan-fried and then simmered for 2 1/2 hours together with scallops and prawns. Crispy rice is then added to the Scallops, Prawns, Crispy Rice in Fish Soup (S$42++) and served in a clay pot of milky broth and asparagus.
Desserts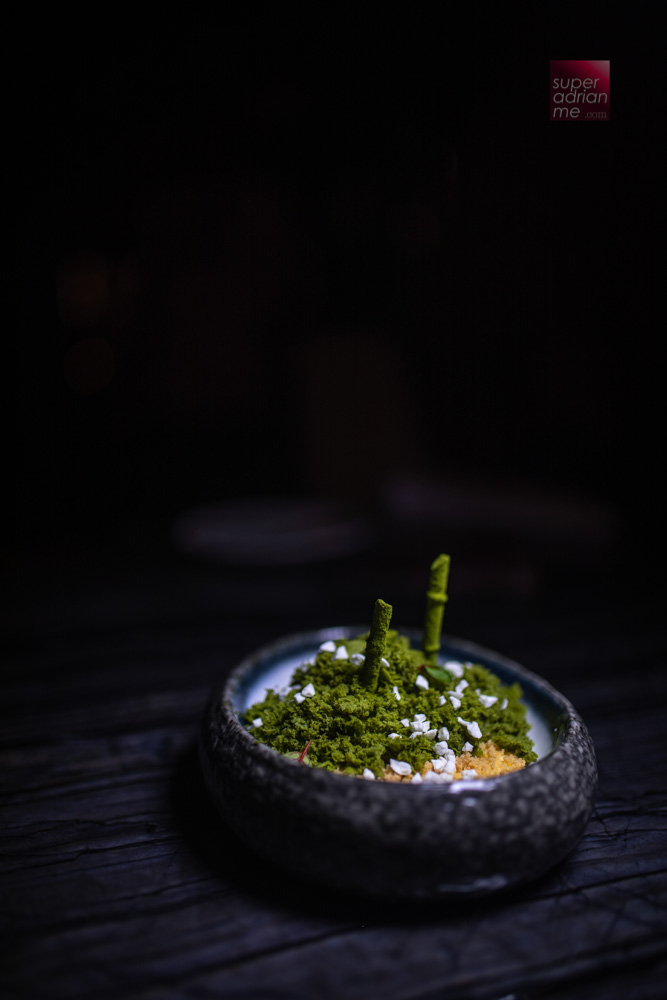 Desserts here are equally fanciful. The Bamboo Green Forest (S$16++) is presented to represent the classic bamboo forest of the Anji region of China. Refreshing yoghurt and lime sorbet, matcha sponge cake, crispy yoghurt and white chocolate bamboo sit above the rich Yuzu cream base layer.
The Sweetened Guava Soup, Sago, Pomelo (S$9++) is a typical Hong Kong dessert. The take on the classic Cantonese dessert of Mango, Sago and Pomelo is presented in an appetising pink hue. Sweetened guava soup, sago and pomelo gives the dessert a crunchy and pulpy texture from guava dices and pomelo pulps respectively.
Cocktails
Cocktails here make great aperitifs or digestives. I would recommend pairing wine with your dinner. Cocktails featured in the photo above includes the Forbidden Rose, Hanami, Velvet Crane and Fujian Negroni.