How time passes so quickly. It is October already. Yes, we are already in the fourth quarter of 2021. So what's happening in the month of October? We've listed some events here and will continue to update whenever we get any other information. We kicked off October with International Coffee Day on 1 October 2021. Check out the video we did for International Coffee Day on Tiktok below.
The Japan Rail Fair Returns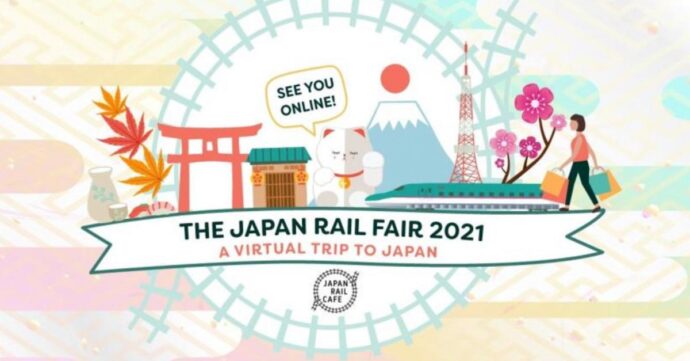 The Japan Rail Fair returns 16 – 17 and 23 October 2021. Go on a virtual journey of Japan's best with Japan rail Cafe. Enjoy free and ticketed live programmes that will span prefectures such as Akita, Kagoshima, Kanagawa, Aomori, Tokyo, Fukushima and Wakayama. Immerse in food, drink and culture during autumn.
Key ticketed live stream programmes include "Let's Enjoy The Countryside by JR East Hachino Train depot" and "A Train Conductor's Life in Fukushima". Rhey are priced at S$40 and S$30 per person respectively. Other activities include a shochu tour, picking autumn produce with Akita Inu dogs, exploring JR EAST Hotels and visiting a Milan village.
Dine at Japan Rail Cafe and enjoy a special selection of ekiben (railway bento) until 31 October 2021. They are inspired by original version using mage-Appa, a traditional container made of thin sheets of been wood, and a specialty of the Aizu region in Fukushima Prefecture.
All participants will get a chance to win the first prize of a pair of tickets to Tokyo via All Nippon Airways. Visit https://jrtimes.sg/tjrf2021 and https://www.facebook.com/JAPANRAILCAFE to join in the fun, while updates are available on https://tjrf.peatix.com
The Singapore Games Week 2021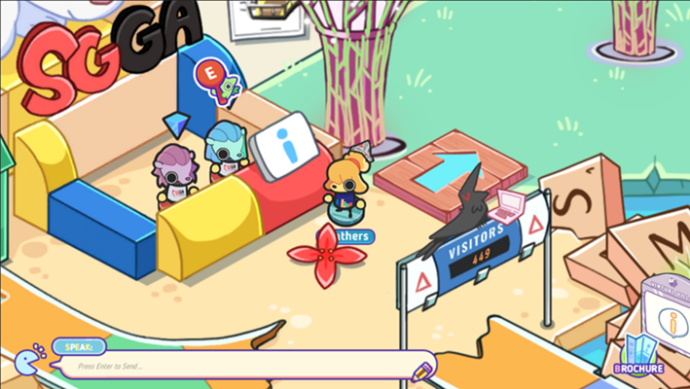 The Singapore Games Week 2021 opens 11 October 2021. The debut edition of SGW offers anyone who is interested in games and Singapore's gaming scenes virtual exhibition at the SGW Virtual Village, workshops, a treasure hunt, trivia sessions and more. SGW Virtual Village runs till 31 october 2021 while the other activities run till 17 October 2021.
Explore The SGW Virtual Village, a virtual space to meet Singapore's gaming community, check out screenings, watch gamescom asia STUDIO live, start a treasure hunt and more. Experience Online and Offline workshops, trivia nights all through the week (11 – 17 October). Network & Celebrate With Singapore-based game companies at a hybrid Singapore Pavilion in gamescom asia (14 – 15 October). Honour the best in the region at the Asia Games Awards.
For companies keen to find out more about working in the Singapore-based games industry, from 14 – 17 October, SGGA will host a hybrid Singapore Pavilion at gamescom asia, the first Asian satellite event of the world's largest computer and video games festival, gamescom. The Singapore Pavilion will feature exhibitors from Singapore-based gaming and esports startups and SMEs.
SGW 2021 is organised by the Singapore Games Association and held in conjunction with gamescom asia.
World Mental Health Month with TikTok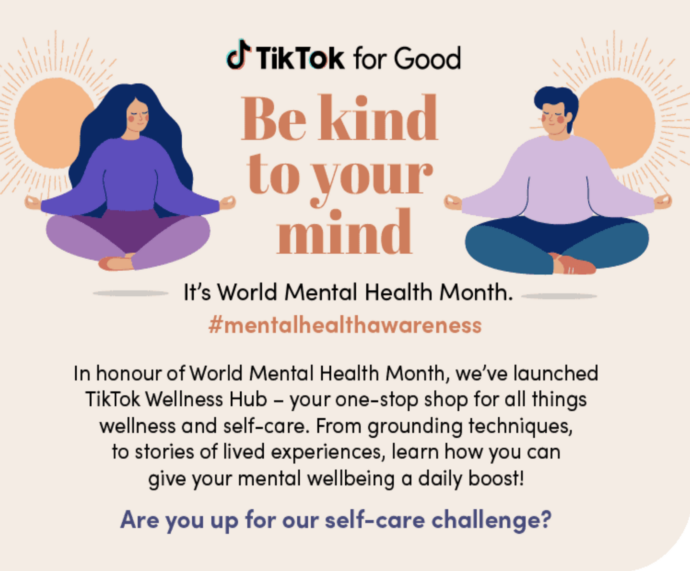 Last month, TikTok launched the week-long #MentalHealthAwareness campaign in Singapore till 16 September 2021. The COVID-19 pandemic has undoubtedly revealed a need for more mental health support, with an increase in people reported experiencing symptoms of depression or anxiety in Singapore. Yet, despite more people looking to seek professional help over the past year – with even more turning to TikTok to share their stories, solutions and support via hashtags like #mentalhealthawareness and #wellbeing – the stigma attached to mental health still prevails.
In October, TikTok for Good celebrates World Mental Health Month with the TikTok Wellness Hub, a one-stop-shop for all things wellness and self-care. The Singapore Wellness Hub launches on 15 October 2021z It will serve as an evergreen repository of mental health resources and wellness content contributed by non-profit partners and TikTok creators, to support its users through a strong peer support community. Aligned with the national effort by the Interagency Taskforce on Mental Health and Wellbeing in Singapore, the Hub seeks to strengthen the ability of vulnerable users to cope with anxiety and uncertainty, promote help-seeking behaviour and drive greater awareness and education amongst our local community.
There will also be two weeks of LIVE sessions under its Be Kind To Your Mind. From 4 to 8 October and 11 to 16 October, tune in at 8 or 9 pm and join in various influencers as they share insights such as journaling, art, music, food amongst other topics. Check out videos of Wellness Matters, View stories and draw strength from peers who have shared their personal lived experiences and recovered journeys. This culminates in a LIVE finale panel 'It Starts With A Conversation' on 15 September, 8PM (SGT) on @tiktoksg. The finale will be graced by Minister of State for Home Affairs and Sustainability, Mr. Desmond Tan, who will be joined by local actress and host Nurul Aini, in addition to TikTok Creators Ng Ming Wei (@mingweirocks) and his father Cedric Ng (@daddyming).

Visit the TikTok Wellness Hub.
Assisi Funday 2021 – Shop and Eat for Good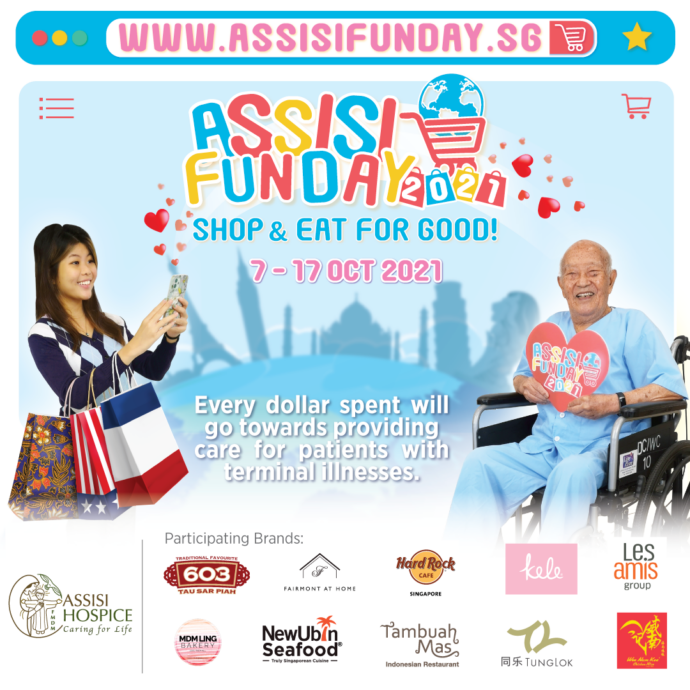 Assisi Fun Day 2021 returns from 7 to 17 October 2021 as an E-Edition. Enjoy delicious food and exciting products from Asia, America and Europe. "Chop" your virtual passports and have fun with games at www.assisifunday.sg. Every dollar you spend will go towards providing care and comfort for patients with terminal illnesses and their families. Otherwise, you can also make a direct donation.
Asia – Shop and Eat
• Exclusive launch of new Roll Cake flavours from KELE – Sweet Potato Mochi, Pink Guava Ume, Pina Colada, Rose Cream
• Local delights like Har Cheong Kai, Hokkien Mee Special from New Ubin Seafood
• Premium D24 Durian Cake from Emicakes
• Well-loved plants from PlantsMakeMeHappy
America – Shop and Eat
• Original Lengendary Burger from Hard Rock Cafe Sentosa
• Delish brownies from BUNDT by The Backyard Bakers
Europe – Shop and Eat
• Freshly baked artisan breads & pastries from Bakery Brera
• Anti:dote Afternoon Tea from Fairmont at Home
Chop Chop Passport
• Spend at the e-stalls, create an account or top up your E-Wallet to collect stamps on your "passport" to exchange for a free gift!
For Early Birds by 6 October 2021
• Get S$2 credit free for every S$20 credit you top up in your E-Wallet for making purchases at www.assisifunday.sg.
• Stand to win discount vouchers when you play the Pancake game.
• Support someone in need through "Give-A-Gift"! Make a S$50 donation to give a gift of S$50 credit to a patient or someone in need. They can use this to purchase food and products at www.assisifunday.sg.
Singapore Garden Festival Horticulture Show

The Singapore Garden Festival Horticultural Show will be held from 9 to 31 October. The offshoot of the Singapore Garden Festival is organised by National Parks Board. Attend both virtual and physical activities.
Join Facebook Live Sessions, Zoom webinars and videos on the garden, floral arrangements, aquascaping and more. The SGF MarketPlace digital so you can shop for plants, gardening and horticultural products anytime and anywhere during the Festival.
Visit Singapore Botanic Gardens between 9 to 17 October or Jurong Lake Gardens from 23 to 31 October for the on-site displays. Plant enthusiasts and growers compete for medals at the Horticultural Competition and the City in the Nature Challenge Cup. An Orchid Competition will also take place in conjunction with the Orchid Society of Southeast Asia (OSSEA). It will showcase beautiful blooms across 68 categories grown by hobbyists and the horticulture industry.
The Edibles Competition comprises three participation categories – the longest fruit or vegetable, the heaviest fruit or vegetable as well as an open category. A Bonsai Competition features exquisite specimens from local bonsai collectors and nurseries. The Nano Tank Aquascaping Competition makes a comeback, where participants are given a day to complete a 30cm x 30cm x 30m underwater garden. View creative possibilities for small spaces and innovative vertical garden installations at the Balcony Gardens and Vertical Greenery competitions respectively.
Winning plants from the Horticultural Competition will be on display at the Plant House while the winning orchids would be on display at the National Orchid Garden.
To safeguard the health of visitors, block your timeslot to visit the tented areas at the Festival grounds.
Families for Life Celebrateing Our Grands! 2021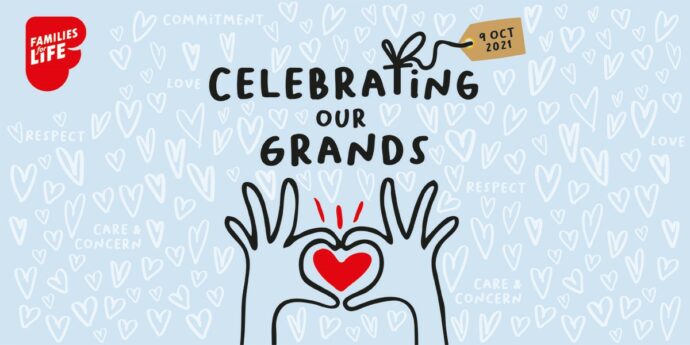 The annual "Celebrating Our Grands" campaign by Families for LIfe returns from 9 October 2021, a day after Children's Day. This nationwide celebration aims to inculcate important family values of 'Love, 'Care & Concern', 'Commitment' and 'Respect' in our young and encourage them to show appreciation for their grandparents or elderly extended family members. Participate in activities that encourage families to appreciate and spend time with their grands. Grands include grandparents, granduncles, and aunts.
Gift an Origami
Join 309,000 children across 950 preschools and 185 primary schools to make your very own origami craft and present it to them with a handwritten message of 'Love', 'Care and Concern', 'Commitment' and 'Respect' on Saturday, 9 October 2021.

Visit FFL's page to download and watch step-by-step video instructions. Choose between an origami heart or tulip craft design. What's more, stand to win attractive prizes with your personally decorated artwork by uploading a snapshot of your completed origami and handwritten card penned with your message to grandma/grandpa, based on at least one of FFL's family values. Hashtag #CelebratingOurGrands! More details on FFL's Facebook and Instagram.
Get Creative with Ah Gong & Ah Ma
Families for Life and I Feel Young SG jointly present "Get Creative with Ah Gong & Ah Ma", a short-video competition to celebrate intergenerational bonding between seniors and youth.

Designed to bridge generational gaps and enhance mutual understanding between young and old, spend quality time together and strengthen intergenerational family bond. Plus, win up to S$500 CapitaVouchers! For more details, visit go.gov.sg/getcreative.
Comic Strip
Launching 9 October, read all about Celebrating Our Grands through the eyes of young Aisha. Often, it is the everyday shared experiences that keep us close, and as a family, we play an important role in each other's lives. This brand-new snazzy comic will be published on FFL's Facebook and website on 9 October 2021.
Madame Tussauds – Virtual Images of Singapore
Loved hearing all about your grandparents' past and want to learn more to connect better with them? Be one of the forty families to experience a blast from the past. Explore 200 years of Singapore's history and its key leaders and monuments with a familiar figure – the Kopi boy who plays the role of a time travelling host!

A virtual Zoom experience, visit and immerse yourselves in different time periods such as the Fishing Village in 1819, Jubilee Cinema in 1941 and the TV Shop in 1965. Learn interesting anecdotes about Singapore from our Grands' time and meet key figures (e.g. Orang Laut and Samsui Women) that have shaped our future. Sign up here.
Happy Hour at Asian Civilisations Museum: Wonderlust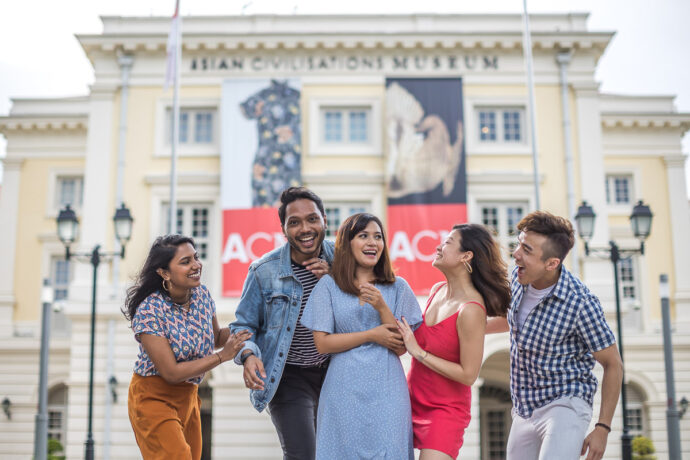 Explore Asian Civilisations Museum's collection in a new light from 8 October. Happy Hour at ACM: WONDERLUST includes an intimate artist workshop. There are also other exhibitions and programmes at the museum that you have to check out.
Happy Hour at ACM: WONDERLUST

8 to 15 October

Free admission to programmes
Indulge in your desire to escape. Artists transport you imaginatively as they reinterpret objects from the ACM collection. Journey through the experiences on display or get up close and personal in an artist workshop. Wonder and wander – Happy Hour at ACM.
ACMtalks: Must we decolonise the museum?
Sacred and ritual art and the Raffles Collection
Conan Cheong and Faisal Husni

21 October
7 pm

Online via Zoom
In this talk, two ACM curators consider how decoloniality might take shape at the museum, with a focus on curatorial and exhibition practices, past and present. How were the collections and displays of the Raffles Museum – which incorporated antiquarian interest in Hindu-Buddhist traces, ethnographic collecting in regional communities, contemporary local arts and crafts, natural history, and finds from prehistoric archaeological expeditions – used to construct an image of British Malaya and its people? And with the transition from colonial institution to a national museum housing the multicultural memories of newly created Singapore citizens, how much of the task of questioning the structures of colonial knowledge is now left for us to do?
ACM Adventures
: A Royal Time

31 October
1 to 5 pm

Online and at Asian Civilisations Museum
Free admission
Learn about the royal courts of India via the amazing craftsmanship in ACM's Court and Company Gallery. Experience the sights and sounds through storytelling, drama performances, and craft activities inspired by objects on display.
Murder at Old Changi Hospital Virtual Escape Room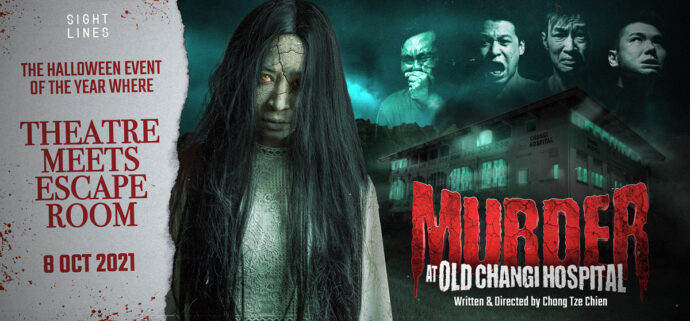 Go for a virtual Halloween escape experience. Murder at Old Changi Hospital is written by award-winning playwright Chong Tze Chien, the highly anticipated sequel finale brings genre-defining interactive escape room gameplay to Singapore's most haunted hospital.
Join a talented cast of returning members Erwin Shah Ismail and Bright Ong and new addition of Munah Bagharib. They are joined by four emerging Singaporean talents including Joshua Lim, Jon Cancio, Andre Chong and Wayne Lim Expect Augmented Reality interactions and spatial audio surround sound as you decode puzzles and decipher 360-degrees video footage and flashbacks and solve the mystery.
The virtual escape room experience screens for approximately 90 minutes from 8 October to 7 November, every Friday to Sunday at 8.30 pm and 10 pm. Tickets are priced from S$45 per entry for group access via one device excluding booking fee, with options for clue and time extension add-ons. Clues can also be activated for additional costs at specific points in the experience. Get your tickets from TheFutureStage.com. There is also a chance to win a grand prize of a 2D1N stay at Shangri-La Singapore's Valley Wing valued at S$1,500++.
Pay for the VIP Experience: Halloween LIVE Theatre Escape Game Experience for the Halloween weekend. From 29 to 31 October 2021, the 2 and ½ hour experience will combine a real-life escape room experience with the virtual gameplay. It will be available at three time slots – 1.00pm, 4.00pm and 8.00pm – at S$200/group (up to 5pax).
There are also two food bundles from Chix Hot Chicken to go along with your adventure. The Murder at Old Changi Hospital Bundle is priced at S$21.99 for 1 to 2 people. And also a Munah's Bundle at S$51.99 for 3 to 5 people. Munah's Bundle features Munah Bagharib's menu favourites. Both bundles feature Dirty Taters topped with cheddar and gouda cheese, fried chicken bits and their housemade comeback sauce, Hot Wings with four spice levels to choose from, and Good Ol' Waffles served with butter and maple syrup.
The Expat Comedy Show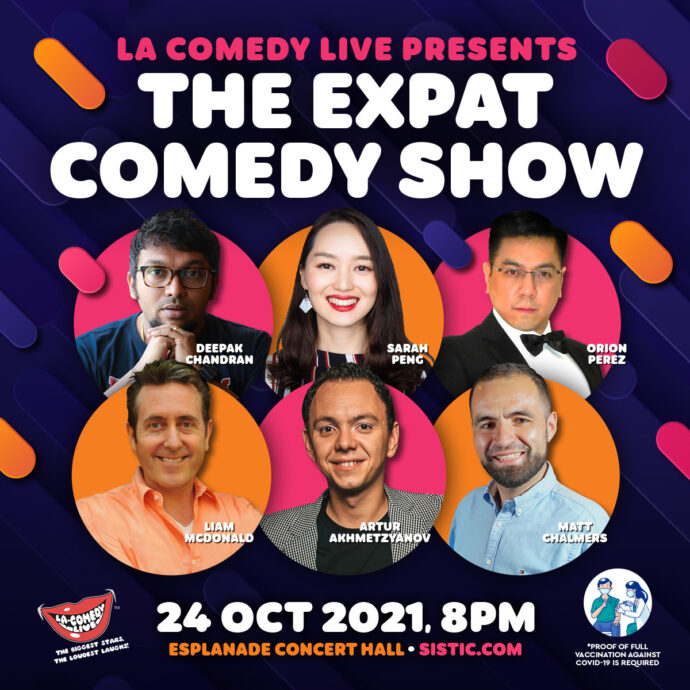 The Expat Comedy Show by LA COMEDY LIVE is the first-ever LIVE comedy show this year to bring six expat comedians onto one stage. This show will be held on 24 October at 8 pm at the Esplanade Concert Hall. Tickets are priced at S$60 or S$65 and on sale from SISTIC and via the SISTIC Hotline (65) 6348-5555 and at all SISTIC Authorised Agents.
Deepak Chandran (Indian); Orion Perez (Filipino); Liam McDonald (Canadian); Artur Akhmetzyanov (Russian); Matt Chalmers (British); and Sarah Peng (Chinese) will cover topics on living in HDB or tetris-like houses, fines, fines and more fines, relationship with Singaporeans and The Food Culture.
This show is suitable for both local and expat audiences that are keen to take on the point of view of an expat living in our Sunny Island, Singapore.