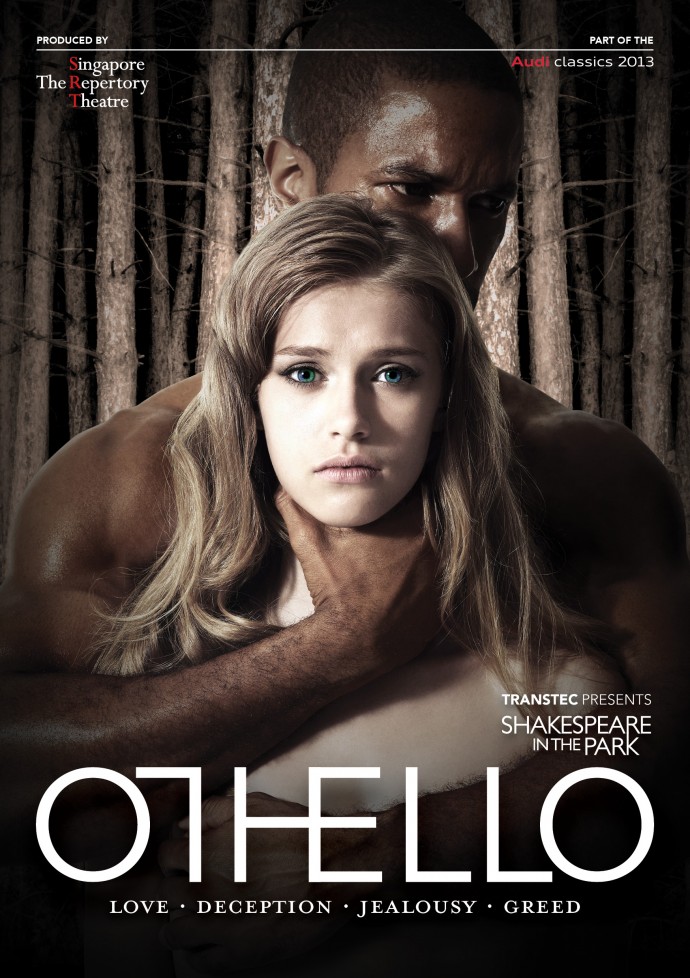 Shakespeare in the Park returns this year from 24 April 2013 with OTHELLO, a tale of love, deception, jealousy and greed.  The annual outdoor performance held at Fort Canning Green is part of Singapore Repertory Theatre's 20th anniversary celebrations.  This year Othello promises to be the biggest and tallest Shakespeare in the Park event to date.
You can expect a bold, modern dress production that is influenced by history and culture, as well as the curse that is modern warfare, while being a dramatic and vivid retelling of the classic play.
MasterCard invites people to register for Priceless Singapore at www.pricelesssingapore.com to explore the city, plan their very own Priceless itinerary and learn more about the Priceless offers online. All experiences offered are available to both domestic and overseas MasterCard cardholders.  Do check out the MasterCard privileges at the end of this article.
Tell Me More About Othello
Othello is a Moor general who angers his ensign Iago when he promotes the younger Cassio over him.  Iago tries to take revenge and schemes to make Othello believe his new bride, Desdemona has been unfaithful, knowing that Othello has a suspicious and distrustful nature.  The plot unfolds as Othello's jealous turns into tragic consequences.
From the Director's Mouth
Scottish Theatre director Bruce Guthrie is a trained actor and started directing before he left Guildford School of Acting.   Bruce enjoys directing more than being an actor where he can shape and tell the whole story rather than play one specific part of it.    He has worked with other theatre directors including Howard Davies, Sir Richard Eyre, Deborah Warner and Sam Mendes and Othello is Bruce's third production with Singapore Repertory Theatre with The Bridge Project – Richard III starring Kevin Spacey being his first. Last year, he also directed Twelfth Night at Fort Canning and this year he is back to direct Othello.
Bruce shares some insights on Othello.
What drew you to tackle Shakespeare and specifically Othello ?
BRUCE: It is one of the greatest tragedies in all of literature.  The themes are epic and deal with issues that we face today.  Is there relevance to a modern audience?  Absolutely.  The world of the play deals with conflict both physically and mentally.  We are finding new things in rehearsals every day.  Shakespeare writes characters incredibly well.  They evolve throughout the play and are very different people at the end of the piece.
Can you talk about some of the key themes in Othello? Do you have a particular affinity with any of these themes?
BRUCE: Feelings of life leaving us behind and not getting the good things we feel we deserve runs pretty strongly throughout the play.  Jealousy is such an all-encompassing term, like love.  There are many different kinds of jealousy and the play explores them in a variety of ways in varying degrees of intensity.  The great thing about Shakespeare's greatest plays is that we can all relate to them on some level.  We have to remember though, this is not a play about jealousy, this is a play about characters who are made to feel jealous either by circumstances that have occurred before the play has started or are create during the course of the play.
Do you think audiences today will relate to the play's language and characterisation? Why / Why not?
BRUCE: Yes I think they will.  There is no doubt that this is 400 year old English poetry, but it is some of the most beautiful, rich and evocative language ever written.   We have very carefully cut the text in such a way as to clarify the story.  We have also changed a few words within the text in order to further clarify the meaning of the line.  This is not a way of "dumbing down" Shakespeare's language.  There are some words he uses that have very different meanings today and so they do not do the playwright a service.  We have very carefully adapted these words to keep with the intentions of the author.
The characters are rich and complicated.  They are full of contradiction and always more than they seem.  I think TV shows like GAME OF THRONES really draw on the great characters of Shakespeare for inspiration.  His characters have inspired and influenced every writer since.
How is this production of Othello different from what people may have seen?
BRUCE: I think the scale of it is so ambitious.  We wanted to go bigger and better than last year's production.  We want to create the feeling of a war zone with rough edges and huge events encompassing a tragic love story at its centre.  The production will be a marriage of wonderful classical language with very modern twists and turns.  I don't want to give too much away but I am confident the audience will feel they have been given value for money.
What are some of the contemporary elements in this production?
BRUCE: It is set in a very modern world.  the language is that of Shakespeare, but the setting is that of a nonspecific modern war zone.  I wanted to focus in on the absence of war in they play.  Othello and his men set off to defend an island under the control of their country from an invading force.  That force is wiped out in a storm and thus creates the circumstances for the play to unfold.  We looked into using elements that exist in war zones and that would be recognisable to a Singaporean audience while being able to take creative licence in order to best serve the play.  We have a few surprises in store for our audience that we hope will better serve Shakespeare's story for a modern audience.
Can you talk about adapting and contextualizing Shakespeare for contemporary Singapore audiences?
BRUCE: Audiences here are very smart.  They were really with RICHARD III and TWELFTH NIGHT and so I concentrate on delivering the best version of the play I can regardless of where it is playing in the world.  However, there are moments of inspiration and parallels within the play that I feel will deeply resonate with a Singaporean audience.  I think Singapore is very much a modern world city.  I like to find the right feeling and essence of the play first and then build the world of the play from there with my design team and the actors.  The actors have input on costumes and props and well as the feel of the piece.  Working with a predominately Singaporean cast helps in the creation of a production the people from here will recognise.
What do you think are the benefits to updating Shakespeare's work and steering away from the usual tights and high collar?
BRUCE: The main benefit is one of relationship with a modern audience.  I don't think that any play should be confined by convention.  Theatre is about storytelling and finding ways to convey a narrative in an imaginative and effective way.  I think people get sucked in more when they can relate to the world they are watching on some level.  Don't get me wrong, traditional versions of his plays have their place too, but you don't have to be traditional in aesthetic to be true to the story of the play.  If you can create a new world that fits the story of the play then I am all for it.  It's when you make the play fit an idea that you run into trouble.  Our production aims to strike a balance that serves the story and our audience alike.
Ticketing Information
Preview Shows: 24 & 25 April 2013
Performances: 26 April 20 19 May 2013
Show duration: Approximately 2 hours 30 minutes
Venue: Fort Canning Park (Gothic Gates at Canning Rise after ROM open at 6.30pm)
Ticket Prices: Start from S$45 from SISTIC
MasterCard Priceless Singapore members get special Othello Packages.  Register at www.pricelesssingapore.com with your MasterCard card to access exclusive privileges, such as:
1.     Shakespeare in the Park Othello offer
MasterCard cardholders will enjoy the following privileges:
·         10% discount on Othello tickets.
·         10% discount on premium Category 1 tickets for all Singapore Repertory Theatre productions.
2.     Othello Desdemona date night experience
Treat yourself and a guest to premium tickets and VIP extras
Offer details:
Wear your heart on your sleeve as you and someone special enjoy VIP treatment and Shakespeare's classic tale of love, jealousy, deception and betrayal under the stars.
MasterCard cardholders will enjoy the following privileges:
·         Pair of picnic tickets and priority queuing
·         1 copy of Othello book
·         2 glasses of your choice of wine, beer or soft drink
·         2 handmade lollipops.
Related articles