Over the weekend, we saw the opening of the much-anticipated Singapore Street Festival with some of the region's best. Having been a summer staple for the last 14 years, it promises to blow us away with all sorts of fun-filled events all over the island from now till the 6 September 2015!
Hans Wong-Jensen performs his award winning Yo-yo tricks:
No doubt, yo-yo fanatics will be flocking to the Main Atrium of Bugis+ from the 26 – 28 June for the Singapore Yo-yo Championships and the Asia Pacific Yo-yo Championships! Home-grown multi-award winning extraordinaire, Hans-Wong Jensen, will be one of the contenders taking part in this intense three day competition for a chance to represent Asia Pacific in the prized World Yo-yo Competition in Tokyo, Japan this August.
Bugis will also see a lot of action from the 27 – 28 June 2015! There will be SSF Performance as well as a DJ Party featuring J-Rock on both days at the Bugis+ Civic Plaza Outdoors and Bugis Junction Outdoor respectively. There will also be a collaboration with SHINE Youth Festival for the Freestyle & Panna Urban Street Football on those dates at Far East Plaza.
The weekend after will be a dance-filled extravaganza, starting with the Asia Global Bellydance Competition, Show and, even, Masterclasses on 3 July. It is followed up by the much-awaited Battle of the Year SG, a.k.a. World Cup of Break Dancing on the 4 July at Far East Plaza Atrium. This will be an incredible opportunity for participants to represent South Asia in San Diego this coming November. They will definitely be pulling out all the stops, giving us onlookers electrifying spins and moonwalks sure to keep your jaw stuck to the floor.
TraseOne will be part of the much-loved Street Graffiti exhibition. One of the forerunners and activist in the local street art movement, he was granted the inaugural Goh Chok Tong Youth Promise Award in 2005 and many awards after – an inspiration and strong motivator for aspiring local artists. This year, he will be combining his signature stencilling techniques with mixed media to create an avant-garde piece synonymous with his name. Whether you are an avid follower or just a causal onlooker, the Super Hero theme this year is sure to be a hit (if the popularity of the never-ending onslaught Marvel blockbusters say anything)!
Super Heroes – Street Graffiti Exhibition will take place from the 19 July to 10 August 2015 at [email protected] Outdoor Pedestrian Walkway.
The festival will close with renowned musicians of the local music scene playing their best for the Concert of Ideas. It will include pianist Bertrand Lee, singers Gayle Nerva and Dru Chen, along with dummer Tama Goh giving their best over three days from 4 – 6 September 2015 at the Esplanade Recital Studio.
About the Writer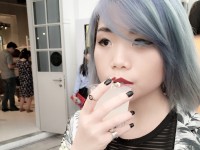 Jessica is a young lady of many obsessions. She gets herself into everything ranging from the latest in the monochrome fashion world (she only wears black, and sometimes, white) to convincing the masses that Community is the best TV series ever made.
Currently, she enjoys looking like Sailor Mercury had a baby with Wednesday Addams.