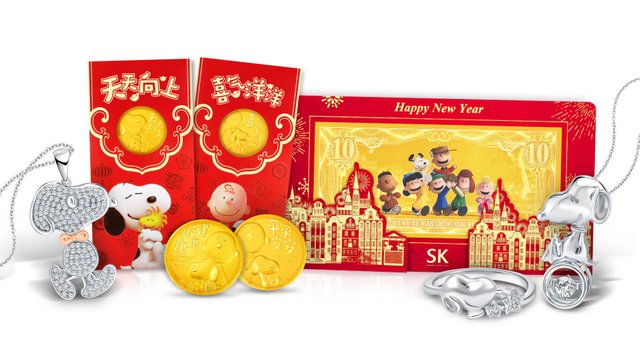 SK Jewellery's Peanuts Collection heralds the Year of the Dog with an exquisite diamond jewellery and 999 pure gold collection in the form of Peanuts characters such as Snoopy, Woodstock, Charlie Brown and others. The collection represents boundless love and happiness. Just for Chinese New Year, SK Jewellery presents meaningful 999 Pure Gold Peanuts keepsakes that symbolise blessings to loved ones.
Give a Snoopy 999 Pure Gold Coin Ang Pow instead of cash. It comes in five designs focusing on five Chinese New Year blessings including health, happiness, festive joy, peace and progress.  The 999 Pure Gold Snoopy Gold Notes are available in 10 packaging designs. They are crafted by the same laser technology that injects eye-catching bursts of hues onto colourful 999 Pure Gold Bars first introduced in 2016.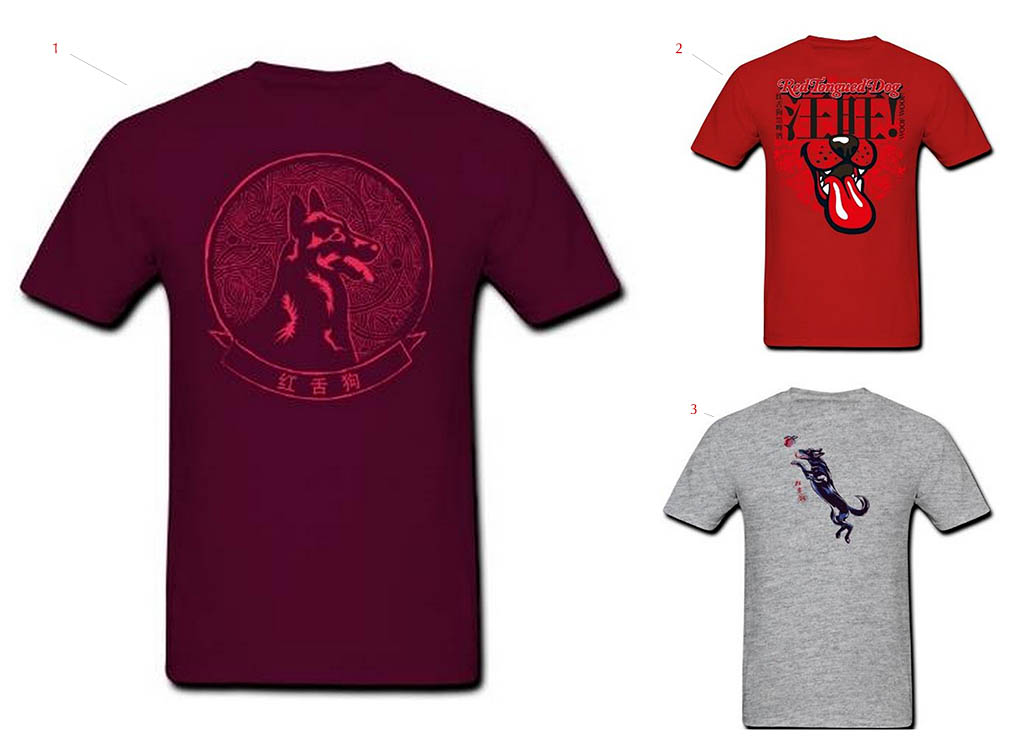 Guinness celebrates the year of the dog with a collaboration with three local artists, Rachel Ho, Larry Peh and Band of Doodlers to design three uniquely-designed t-shirts inspired by the Red Tongue Dog, or Ang Ji Gao. Full proceeds of S$14,80 from the full price of each t-shirt will be donated to support the local animal welfare group, Exclusively Mongrels.
The Guinness CNY Bundle comes with 24-cans of Guinness Foreign Extra Stout and a limited edition Guinness Red Tongue Dog T-shirt. It is available from RedMart at S$85.40. You can also purchase the limited edition Guinness Red Tongue Dog T-shirts directly with Exclusively Mongrels at the adoption drives.
The Red Tongue Dog is an iconic moniker of the stout that first arrived in Singapore in the 1860s. It has been a unique symbol of bravery. Did you know that there were 7,000 stray dogs in 2015, and only 265 were rehomed while close to 1,000 were culled.
"As we enter the Year of the Dog, we believe it is a special time for us to marry our iconic symbol, the Red Tongue Dog, with a worthy cause that's close to Singaporeans' heart. By partnering Exclusively Mongrels, we want to encourage everyone to contribute towards this special cause or go one step further to give a mongrel a new home by adopting their very own Ang Ji Gao," said Venus Teoh, Marketing Director, Asia Pacific Breweries (Singapore).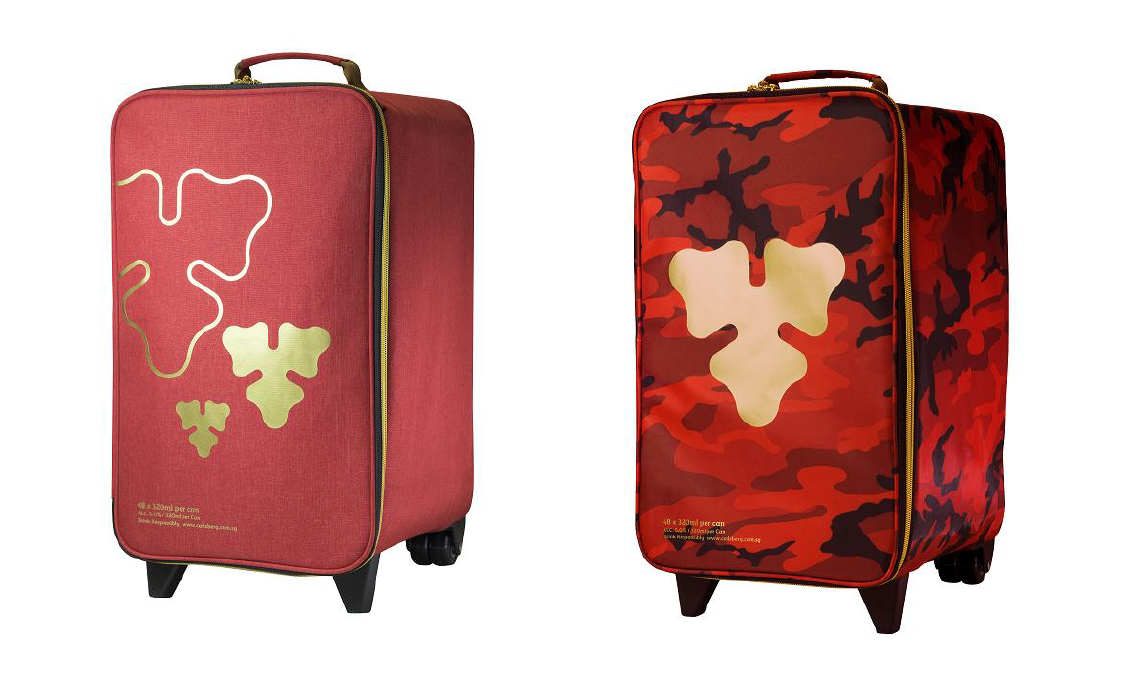 Carlsberg's Chinese New Year tagline for the year is "齐开得胜" which translates to signify opening to a year of successes with Carlsberg. That's because you get gifts when you purchase Carlsberg cartons at supermarkets and hypermarts from now till 28 February 2018. Purchase two cartons and receive a limited edition Carlsberg trolley bag. There are two designs and both bear Carlsberg's signature hopleaf.
Any purchase of a 28 pack carton of Carlsberg comes with a S$5 dollar off voucher for Bee Chang Hiang's products. Purchase a six-pack Carlsberg carton at 7-Eleven and get a Carlsberg Smooth Draught cushion. Purchase any 12-pack at Cheers and Caltex and get a Carlsberg Smooth Draught speaker.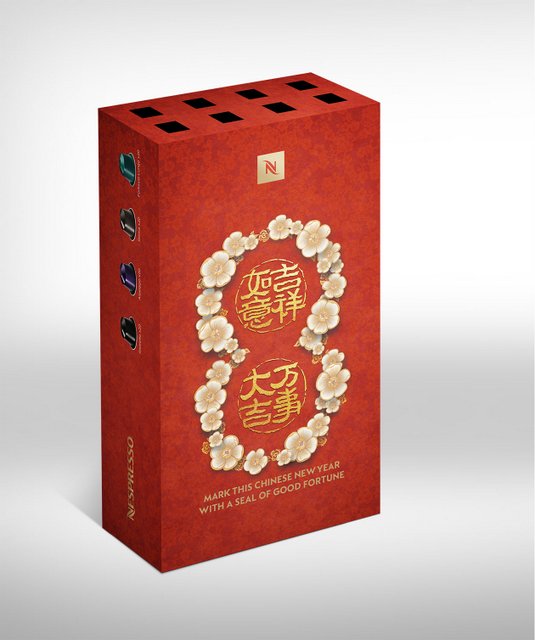 Nespresso launches its limited edition Eight-Sleeve Coffee Pack and a Good Fortune Shakerato recipe for the new year. The crafted case designed by Singaporean artist Tan Chin Boon comes with two sleeves each of Ristretto, Arpeggio, Roma and Fortissio Lungo and is priced at S$55.20. Available till 21 February 2018 at Nespresso boutiques in Singapore at ION Orchard, Raffles City Shopping Centre or Takashimaya Department Store as well as online at nespresso.com.
Enjoy a Good Fortune Shakerato, an inspiration of classic Italian iced coffee and flavours of traditional candies,  at home or at any Nespresso boutique till 21 February 2018. The Good Fortune Shakerato contains 20ml Pineapple juice, 5ml coconut syrup and 1 ristretto coffee. It is also easy to prepare. Add coconut syrup to a shaker, extract 40ml of Ristretto, add ice cubes and pineapple juice and shake for approximately 15 seconds.
Don't have a Nespresso machine at home? The Nespresso Essenza Mini Bundle with a limited edition Chinese New Year eight-sleeve coffee pack is priced at S$248 while the Nespresso Pixie Bundle with a limited edition Chinese New Year eight-sleeve coffee pack is priced at S$338.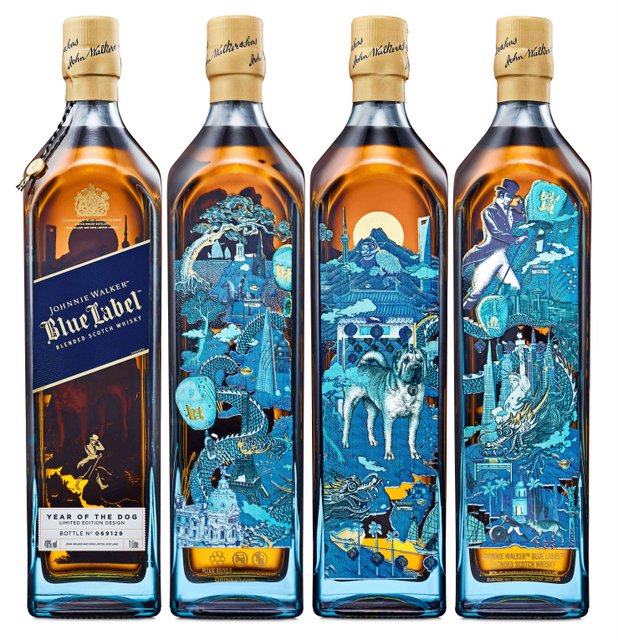 The Johnnie Walker limited edition Blue Label bottle is perfect for the Chinese New Year in 2018. This is a collaboration between Johnnie Walker and Taiwanese artist Page Tsou.
You can purchase the Johnnie Walker Limited Edition Blue Label Year of the Dog limited edition bottle from asherBWS.com and speciality drinks stores at a recommended retail price of S$248.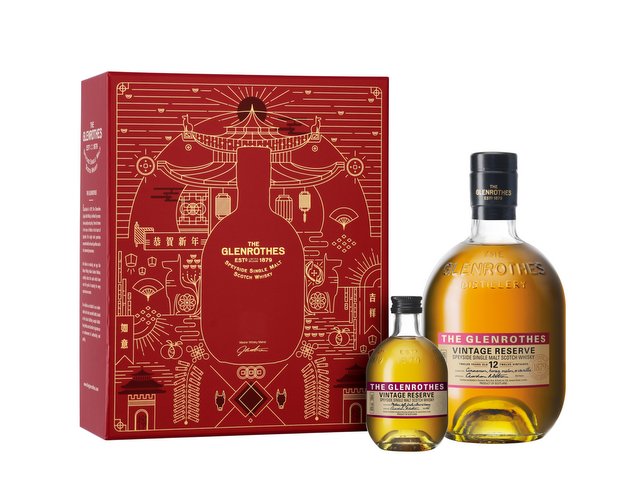 Celebrate the year of the Dog with the Glenrothes CNY gift box. For S$133+ at 1855 The Bottle Shop, the gift box contains a 700ml bottle of The Glenrothes Vintage Reserve 12-Year-Old and a miniature (100ml) of the small expression.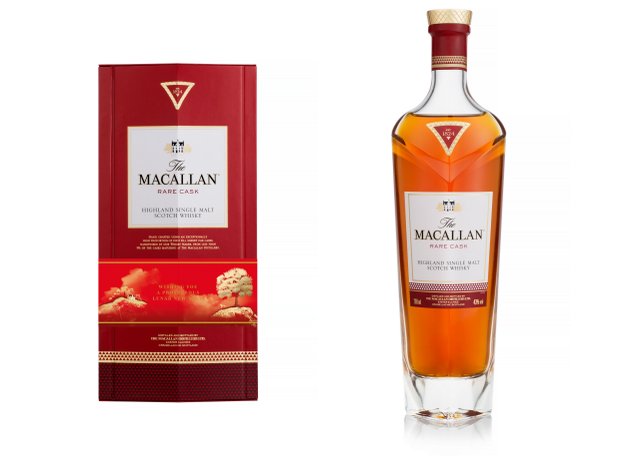 The Macallan Rare Cask is the most diverse and intricate Macallan whisky. It is crafted from 16 different cask styles, predominantly first fill, American and Spanish oak of various cask size – butts, hogsheads and puncheons, made by multiple cask manufacturers and seasoned by multiple sherry bodegas to exact specifications. The 700ml bottle of Rare Cask is packaged in a box with a red band that has a similar design on The Macallan Red Packets. You can get The Macallan Rare Cask from The Oaks Cellars, Olde Cuban and Simply Whisky.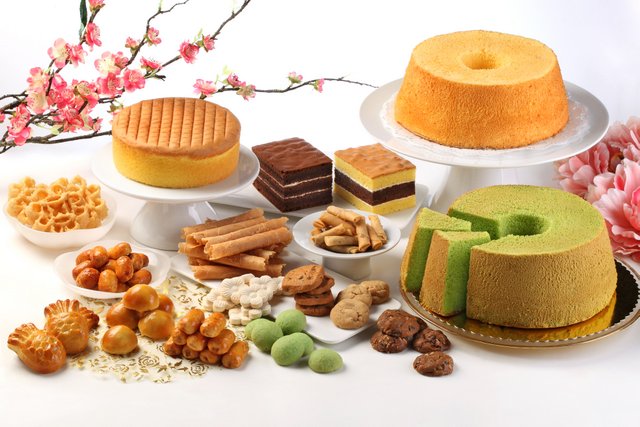 Stock up the new year goodies with a selection of favourite Chinese New Year snacks from PrimaDéli stores islandwide from 5 January to 15 February 2018. This year star goodies include the Supreme Pineapple Tarts (S$25.80 per tin) and Pandan Chiffon Cookies (S$19.80). These Pandan Chiffon Cookies are an interesting twist to the home-grown bakery's signature Premium Pandan Chiffon Cake. Enjoy other new cookie flavours priced at S$19.80 such as the Mixed Dry Fruit and Cheese Cookies, Peanut Butter Cookies, Cashew Nut Cookies and Hazelnut Chocolate Chip Cookies.
Purchase before 21 January, to enjoy early bird specials. including 10% Citibank rebate with a minimum spend of S$22 when purchasing the Pillow or cheese pineapple tarts and prosperity cookies or Supreme Pineapple Tarts.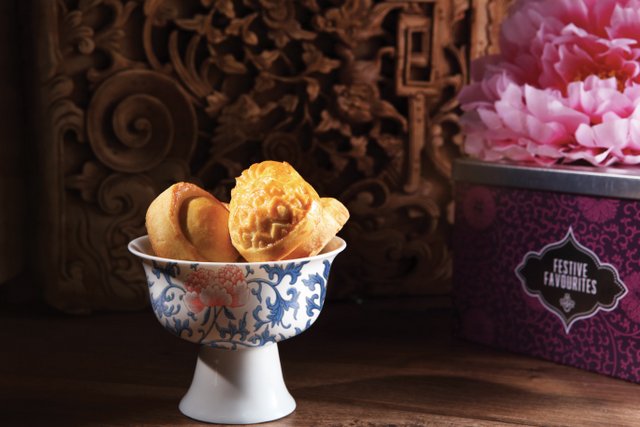 Old Seng Choong has opened its flagship store at Clarke Quay Central #01-48 on 7 January 2018. Now you can purchase cookies with very local flavours such including Satay, Cereal Prawn, Bak Kut Teh, Putu Mayam, Laksa, Gula Melaka, Gai Zai or Smokey Bakwa Cookies amongst many other flavours. These cookies are priced from S$18.80 per can.
My personal favourite is the pineapple tart. Packaged individually, you can purchase Pineapple Tarts with two flavours – dried shrimp or orange peel. The new Spicy Nonya Pineapple Tart, Orange Peel Pineapple Tart and Bakwa Pineapple Tart as well as old flavours such as Yuzu Pineapple Tart and Original Pineapple Tart are available at the store or
online
 or at Old Seng Choong Booth at Level 1, The Atrium at Takashimaya at Ngee Ann City from 18 January 2018 to 14 February 2018. They are priced from S$24.80 nett for a box of 10 pieces.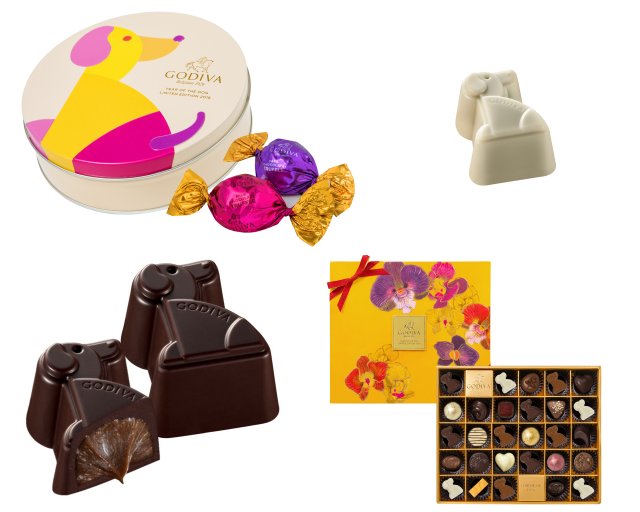 This year's GODIVA Limited Edition Chinese New Year Collection features chocolates moulded in a cute doggie shape and packaged in red and gold orchid gift boxes making great gifts. Choose from tea infused pralines, truffles and gift hampers.
The dog shaped pralines are available in three flavours of Thé Pu'Erh (in 50% dark chocolate shell), Thé Noir Fume (in silky milk chocolate shell) and Thé Vert Et Pistache (in a white chocolate shell). GODIVA Chinese New Year Chocolate gift boxes are priced at S$54 for 9 pieces, S$94 for 18 pieces and S$132 for 28 pieces.The Luxury Gift Set and Hampers are priced at S$259 for the Delight Hamper or S$399 for the Decadence Hamper.
GODIVA stores are located in Bugis Junction, ION Orchard, Jurong Point, Raffles City, Suntec City, Takashimaya, VivoCity and Westgate. Purchase Chinese New Year Collection Gift Boxes of S$115 or above in a single receipt on or before 7 February 2018 and enjoy 15% discount for GODIVA V.I.P or 10% discount for GODIVA members.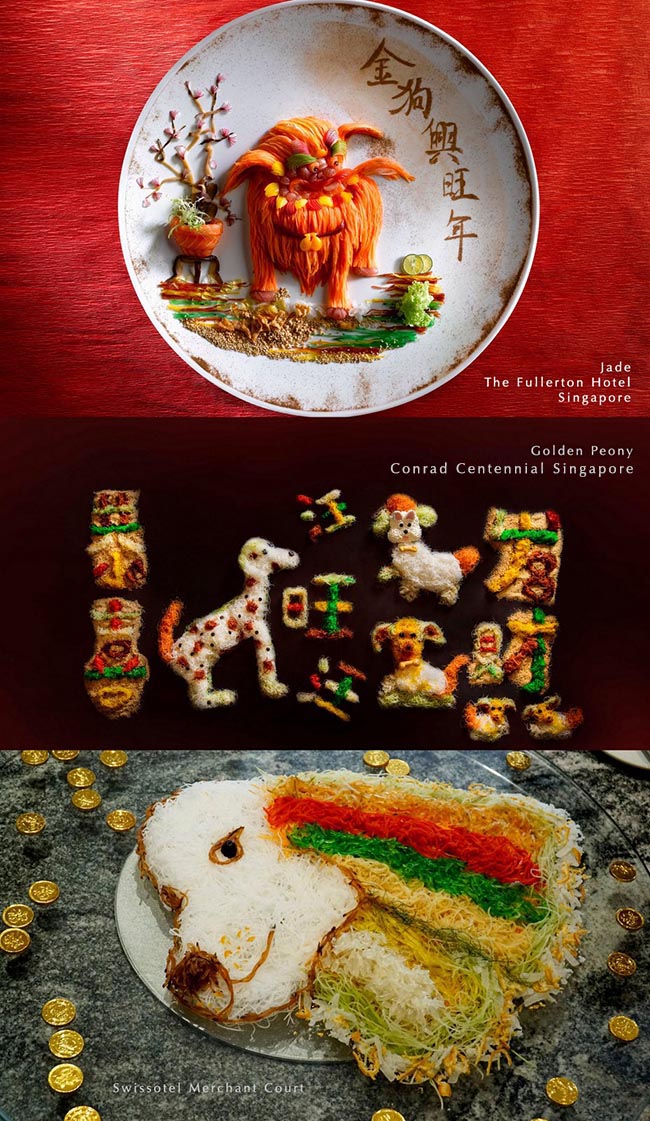 Jade's Chinese Executive Chef Leong Chee Yeng never fails to amuse diners with his artistry. This year's limited edition masterpiece yu sheng serves eight to ten people and is priced at S$999 and requires a three-day advanced order is shaped like a Pekingese dog. Chef Leong takes around an hour to put together the dish of carrots, white and green radish, beetroot, yam, pickled ginger, spring onions, chilli, pickled shallots, candied winter melon, candied orange peel, peanuts, sesame seeds, yuzu, pickled papaya, lettuce, golden crackers, champagne jelly, fresh salmon, lime leaf, lemons, honey pineapple dressing with fragant olive oil and pepper & cinnamon powder. He takes another two more hours to assemble it all together.  Available from 22 January to 2 March 2018.
Golden Peony's Chinese Executive Chef Ku Keung has designed a Fortune 3-D Meringue 'Yu Sheng' with Abalone, Salmon, Crispy Fish Skin. This yu sheng is priced at S$888++ and serves a minimum of 30 persons. Take away Yu Sheng is also available from S$68. Each of the three variations (Fortune Salmon and Crispy White Bait,  Fortune Abalone and Salmon or Fu Lu Shou Tri-star of Lobster, Abalone & Salmon) are available in small portions for two to five and large portions for six to ten people.
The culinary team at Swissotel Merchant Court is able to create different variations of the 'Dog' yu sheng for private functions or company events.  Otherwise head over to the prosperity buffet at Ellenborough Market Café from 5 February 2018 to 2 March 2018. Lunch is priced at S$68++ per adult and S$34++ per child while dinner is priced at S$80++ per adult and S$40++ per child.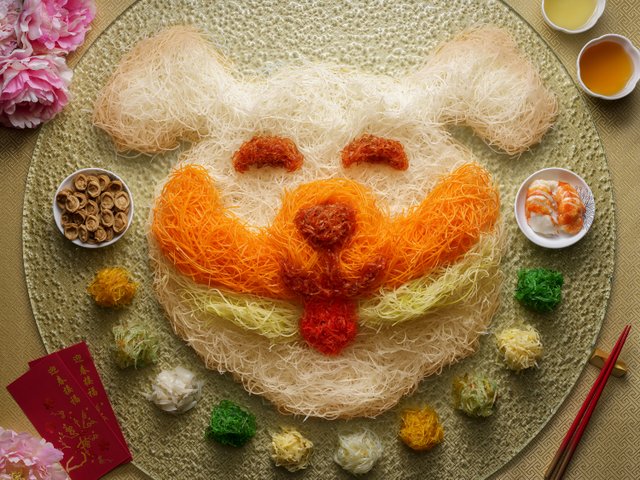 Hai Tien Lo at Pan Pacific Singapore offers six auspicious Yu Sheng platters. Which are available in both small and large portions for dine-in and takeaway from 22 January to 2 March 2018. Dog-shaped yu shengs are also available but you have to order in advanced. This year's Chef's recommendation is the Wealth and Health Yu Sheng with Imperial Swiflet's Nest, Boston Lobster and Baby Abalone. It is priced at S$128 for four to six and S$188 for seven to ten. It is worth mentioning that I enjoyed the homemade kumquat sugee cake that has 福, meaning luck, emblazoned on the icing coating. It is priced at S$58.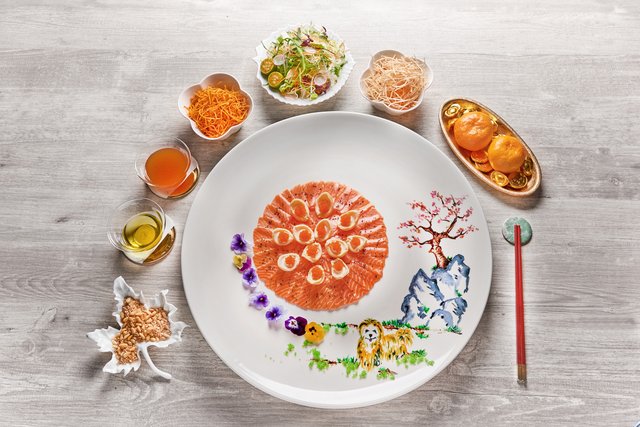 The Prosperity Salmon and Abalone Yu Sheng is available for dine-in at Min Jiang for S$168++. The plate is personally illustrated by Master Chef Chan Hwan Kee of Min Jiang. It features a Pekingnese perched on the foothills of a majestic mountain, and pretty cherry blossoms beckoning on the peak. The raw salmon slices and abalones crowned with red tobiko represent the sunset. Edible voila petals and wasabi tobiko create a three-dimensional touch. Other ingredients include a salad of wild argula, yellow frisee, red sorrel, red mustard greens, carrot, baby radish and white radish, pomelo, sesame seeds, pine nuts and crispy strips of fried sweet potato and yam. The dressing is a mix of lime juice, lemongrass and plum sauce.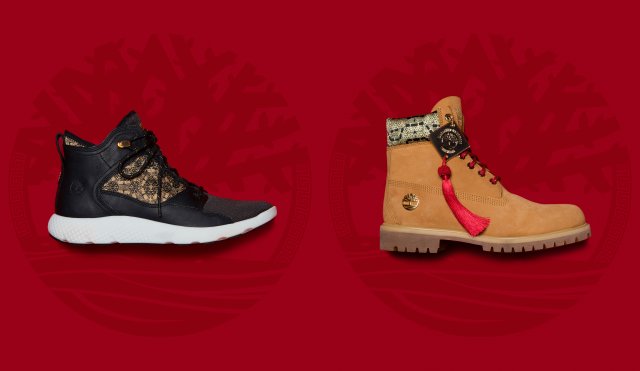 Timberland has collaborated with international award-winning designer Benson Chen to create a collection infused with paper cutting art. Timberland's tree logo has been redesigned by Benson and turned into an exquisite pattern work embedded in this Window Flowers Collection. The is available in the FlyRoam Chukka, the iconic 6-inch Boot and the Premium Chukka styles. The collection is also available for the Softshell Bomber Jacket as well as three tops with beautiful cut-out graphics inspired by the traditional paper-cutting art. Available from Timberland stores from 17 January 2018.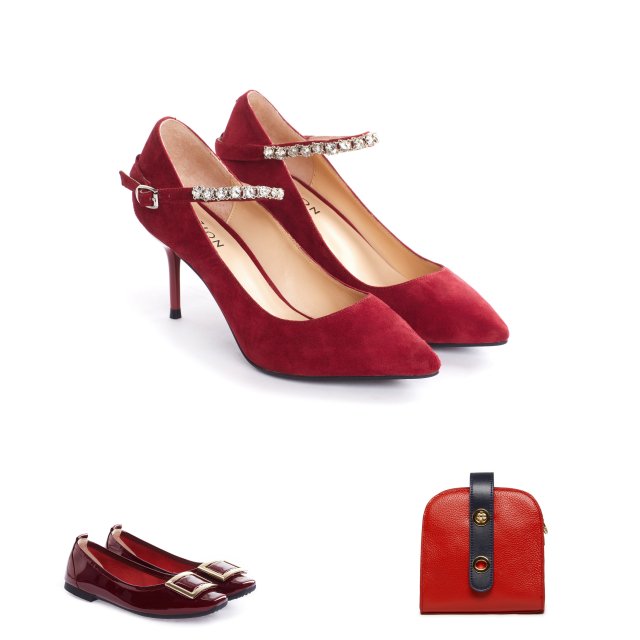 Go red this Chinese New Year with PAZZION.  Choose from a pair of slim stiletto heels with sparkling crystals (S$89), patent leather square-toe ballerinas (S$79) or a petite box-shaped shoulder bag in crimson red complete with a contrasting top handle in navy blue embellished with gold-tone eyelets (69).
Spend S$100 in a single receipt between 24 January to 15 February 2018 and receive an exclusive Floral Embroidered Bag for your red packets or a pair of mandarin oranges. If you are a PAZZION VIP member, you only need to spend S$70 in a single receipt to qualify. PAZZION stores are located in Wisma Atria, Bugis Junction, Junction 8, Tampines Mall, Parkway Parade, JEM, VivoCity and Changi Airport Terminal 4.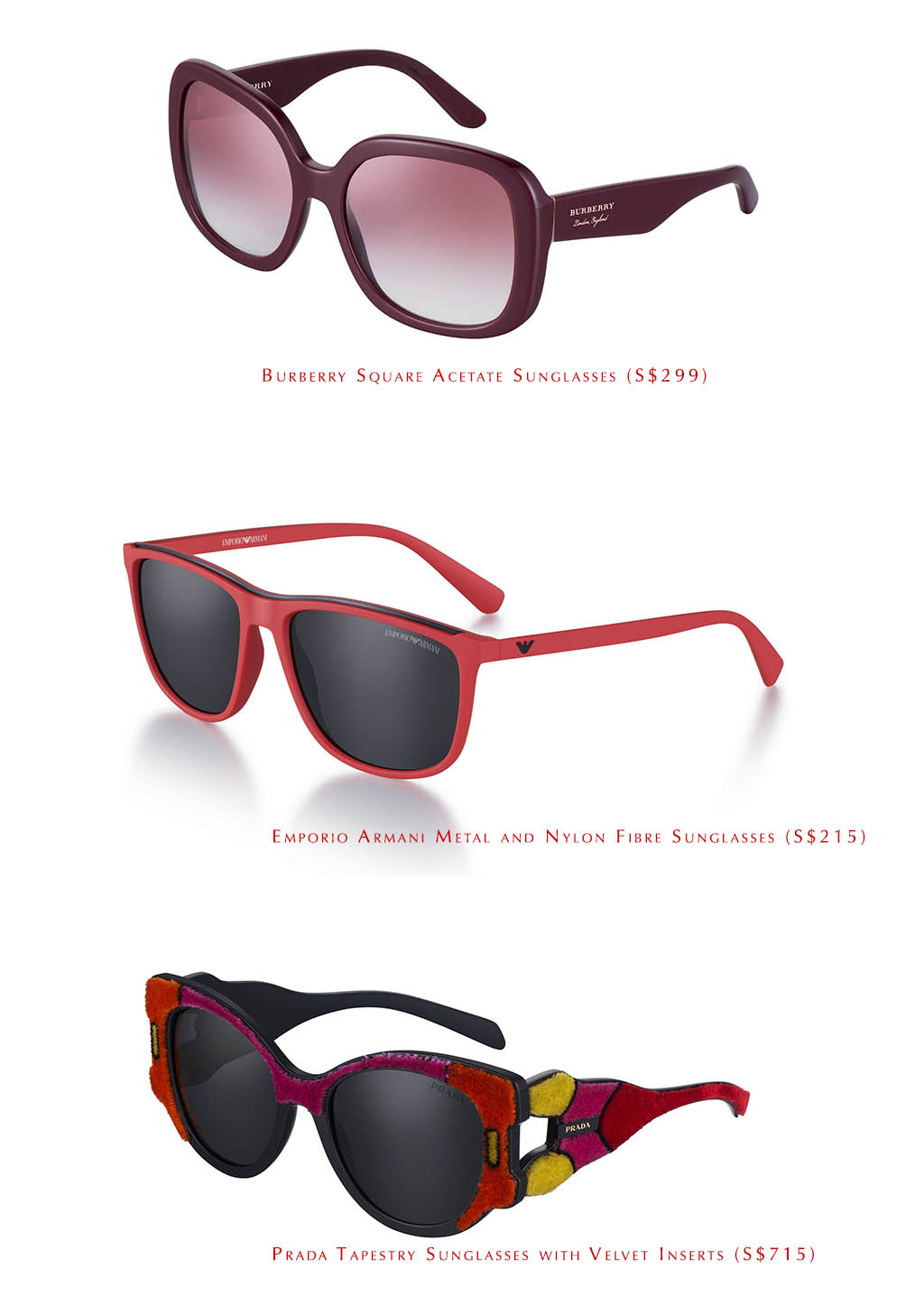 Cover those eye bags when visiting this Chinese New Year season. Pick up one of these brightly coloured sunglasses from Burberry, Emporio Armani or Prada and make a statement in the year of the Dog. Our favourite is the Prada Tapestry Sunglasses. Those velvet inserts are so nice to touch but good looks come with a hefty price of S$715. It's all worth it.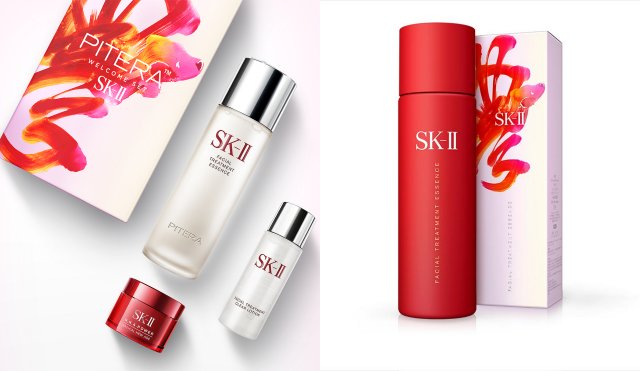 SK-II has launched a new chic and contemporary limited edition facial treatment essence bottle for this Chinese New Year. This time, the design is inspired by the Chinese character 'Meng' 梦 meaning Dreams. The bottle is featured completely in red, the colour of good fortune, luck and joy. You can get the facial treatment essence for S$269 at SK-II counters nationwide until March 2018.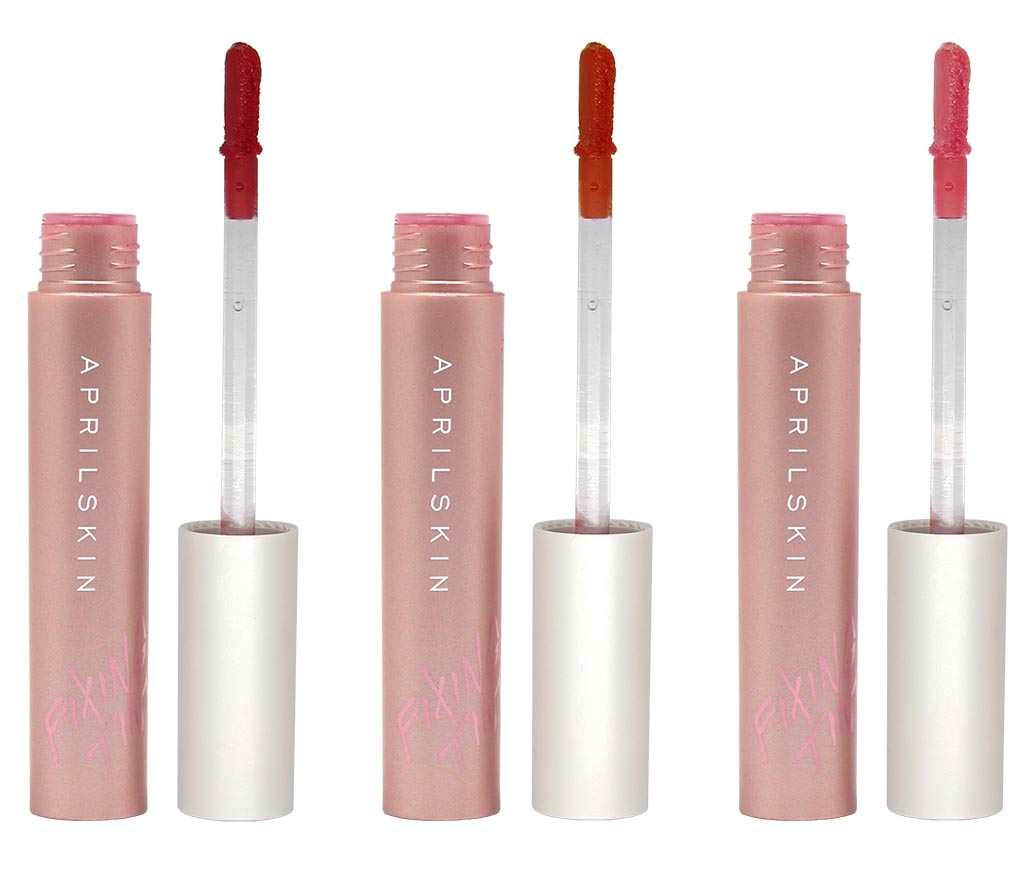 Aprilskin's Fixing Tint, a long-wearing matte lip stain with bright and bold colours are what you need to herald in the new year of the dog. These fixing tints come three shades of bloody mary, tomato lady and peach crush colours. They are enriched with citrus grandis peel oil and camellia japonica seed oil. A fixing formula prevents patchy fading after eating or long hours of wear. Available at S$16 at selected Guardian stores islandwide including Takashimaya, VivoCity, NEX and Jurong Point.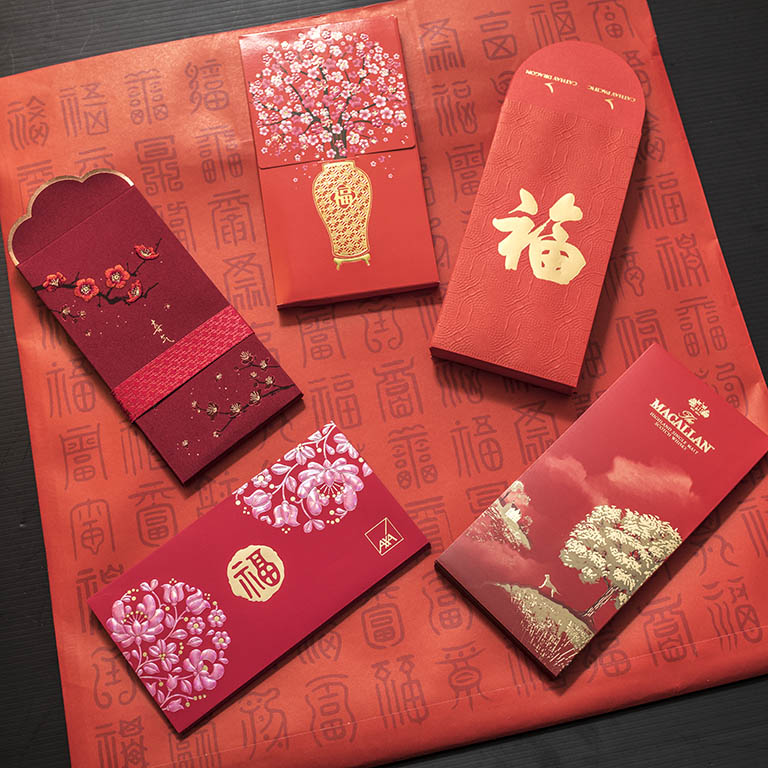 [Updated 5 February 2018] We have been compiling the red packets that will be distributed in the year of the dog in our annual red packet design feature story. Check it out and let us know which are your favourites. Also check out the designs from the year of the Rooster and Monkey.