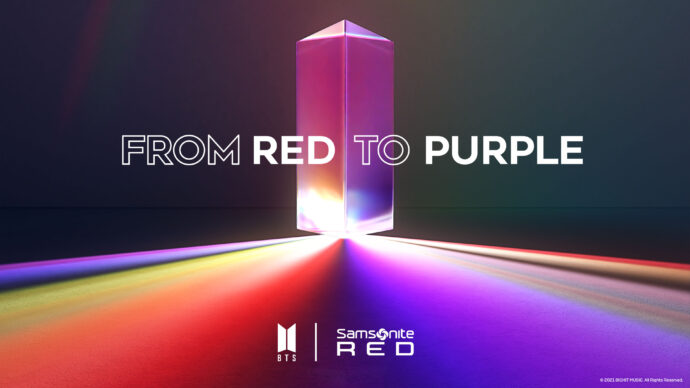 Business casual bag brand Samsonite RED launches the BTS x Samsonite Red collection. Army, as fans of BTS would call themselves, will be absolutely delighted. This collection combines the musical theme of BTS' song 'Dynamite' and the "From Red to Purple campaign.
Dynamite is BTS' first No. 1 song on Billboard 'Hot 100' songs chart. It received worldwide attention by delivering a message of hope to global fans in the pandemic.
The BTS x Samsonite Red Collection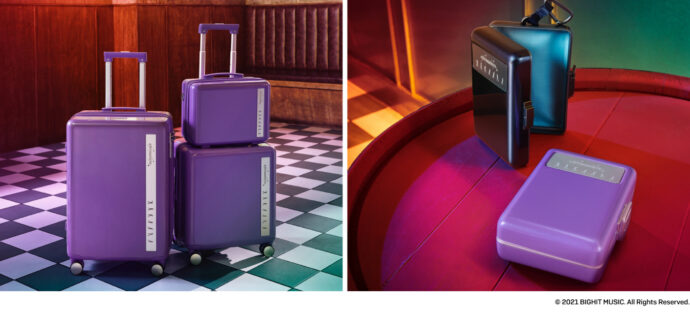 There are 11 products in the collection. They include suitcases, backpacks, crossbody bags and travel accessories. There is an 18-inch and 22-inch luggage. Both come with a silver plate in the front and are engraved with both the 'Dynamite' logo and silhouettes of the seven members dancing. Each suitcase is equipped with graphic-inspired luggage stickers featuring lyrics of 'Dynamite' such as 'Tonight', 'Ping Pong', and 'Stars'. Army can customize the cover of the luggage. The interior features a pastel-toned sky-blue color that echoes with the 'Dynamite' artwork.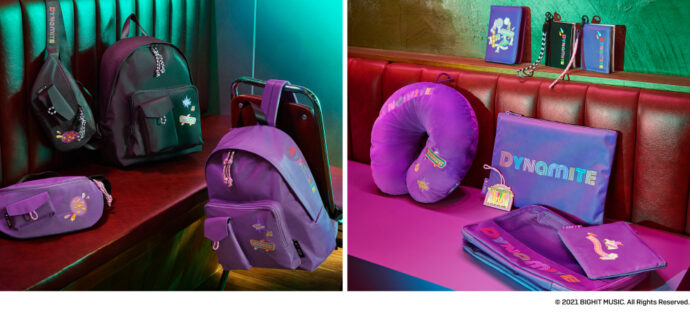 Hand carry the mini carry-on bag or attach it to the carry handle of luggage. You can hook the mini case onto a bag or luggage. The mini carry-on bag comes with a strap embroidered with 'Dynamite' logo and can be transformed into a crossbody bag. The spacious storage makes it an ideal companion for occasions such as short-haul trips and camping!
Purple is the colour of BTS. Hence the collection features the alike Sheer Violet as the key theme colour. Another fan memorabilia for Army. The other BTS brand collection we previously wrote about was the BTS x Samsung Galaxy S20 and Buds last year.
Availability
The 'BTS X Samsonite Red' collection debuts in limited quantities in Korea on Sep 30, 2021. There will be a special pop-up store at Hyundai Department Store's Sinchon branch until the end October. Purchase the collection at the official online mall and Hyundai H-Mall on the same day and at the Samsonite Red stores from October 8.
The collection will be launching officially in November in Hong Kong, Macau, Indonesia, Malaysia, Singapore, Philippines, Taiwan, Thailand, Vietnam and Cambodia.