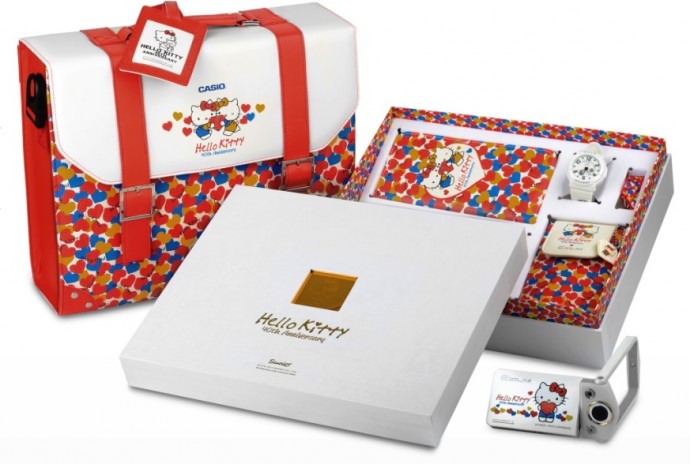 HELLO KITTY 40TH ANNIVERSARY X CASIO EXILIM EX-TR15 box set will be a significant collectible for Hello Kitty fans. This limited edition gift set will make its debut in Singapore this weekend at S$1,499, only 200 sets will be available for purchase at Consumer Electronics Exhibition 2013 (CEE 2013) at Suntec City Hall 6, Booth 6121 on 1 November 2013 from 11am. An additional 200 units will be sold through premium CASIO EXILIM retailers after CEE 2013.
Having seen the actual product at Sanrio Office in Hong Kong before the launch here, this limited edition gift set is very impressive and the material of choice to make the bags and pouch are of premium quality. In the bundle you will find the following:
CASIO EXILIM EX-TR15 Selfie Genie Camera
Casio Baby G Watch
Attaché Case with Sling and Backpack Strap
Camera Pouch 
Travel Wallet
Lanyard
All the above items are specially designed with Sanrio's official HELLO KITTY 40TH ANNIVERSARY logo and prints for merchandise sold outside of Japan. Unlike the Japan version with only the 40th Anniversary logo, this design will have Kitty Chan and her twin sister Mimmy adorably hugging a heart and spreading the love to everyone.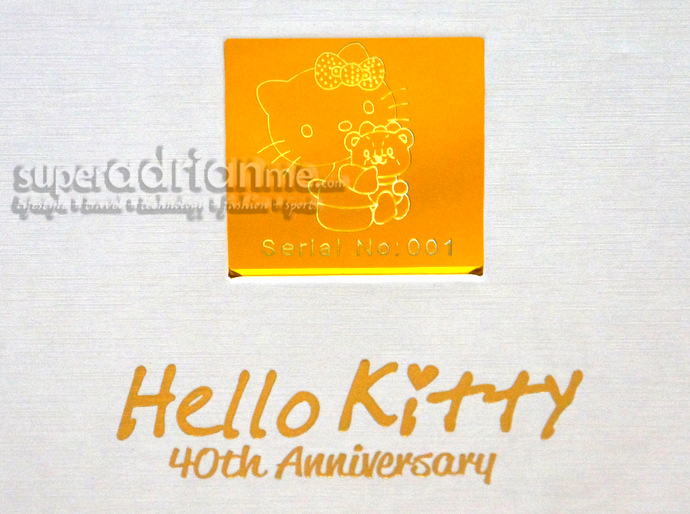 Each gift set will also come with a laser engraved serial number on the box to make it more memorable and precious for collectors. Not to forget, this year is also Casio G SHOCK's 30th anniversary, so it is going to be a rare gem to have a Hello Kitty's 40th anniversary design found on the Baby G timepiece.
Although the limelight should be on the Casio EXILIM EX-TR15, but there is not much customisation except a printed Hello Kitty print on the battery cover of the camera. The irresistible cuteness lies on the Baby G, Attaché Case, Camera Pouch and Travel Wallet, so here is a closer look at these items: