AIA Singapore has launched a Singapore-denominated AIA Shariah Global Diversified Fund on 7 June 2022. It will be available through AIA's investment-link plans including the AIA Pro Achiever, AIA Pro Achiever 2.0, AIA Pro Lifetime Protector, AIA Pro Lifetime Protector (II) and AIA Invest Easy (Cash / Supplementary Retirement Scheme (SRS). Existing customers of these plans may perform a fund switch or a top-up into this fund. 
Shariah-compliant funds exclude interest-bearing instruments and industries and businesses whose underlying activities are involved in any non-halal items such as gambling, alcohol, tobacco, pork and adult entertainment to name a few.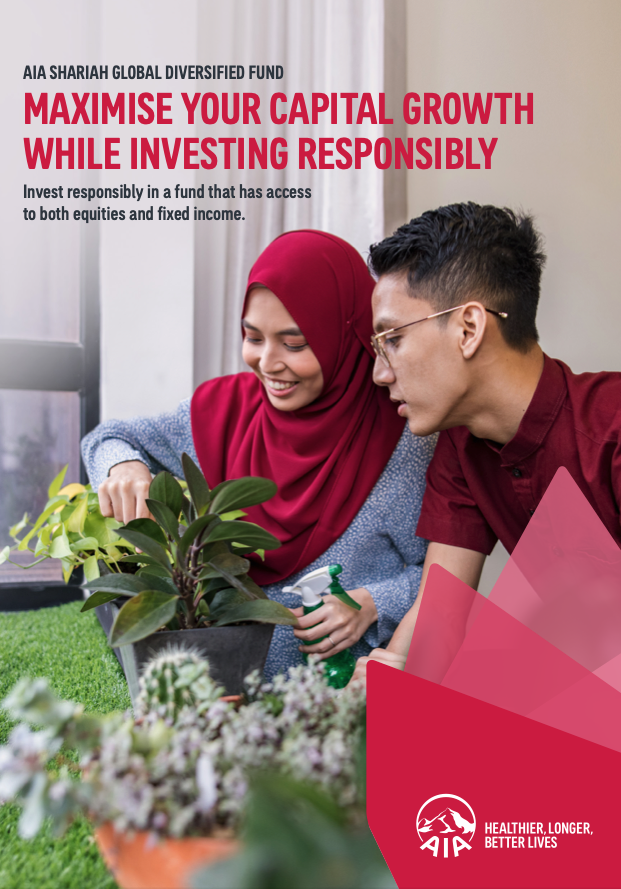 This Singapore dollar denominated ILP sub-fund is a diversified portfolio of global Shariah-compliant equities and Sukuk backed by the expertise of award-winning fund management house Franklin Templeton. The asset allocation of the ILP sub-fund includes:
Templeton Shariah Global Equity Fund – Providing diversification benefits by investing principally in Shariah-compliant equity and equity-related securities across geographies and sectors including Healthcare, Energy and Info Tech. Quality of the portfolio is constantly upgraded to own more defensive, dividend-paying holdings in a late-cycle environment with resources allocated to pursue the best long-term investment opportunities in overlooked market segments.
Franklin Global Sukuk Fund: Investing in Sukuk – Shariah-compliant fixed income securities – which is the second-biggest sector in Islamic Finance and a rapidly growing asset class. Global sukuk outstanding rose by 12.7% within a year to reach US$711.3 billion in 2021. Green and sustainable Sukuk volumes increased by 17.2% year-on-year to US$15 billion last year.
Franklin Shariah Technology Fund: Capturing potential in technology which continues to see accelerated growth as businesses prioritise digital transformation. The investment team seeks to own the best ideas across each one of the sub-themes that are supportive of Digital Transformation with ESG analysis embedded into their fundamental investment process.
Managed by AIA Investments, the ILP sub-fund will tap into the growth potential of the Islamic finance industry which is projected to rise to US$4.94 trillion in 2025, a significantly upward trajectory of more than 46% from US$3.374 trillion in 2020.
"AIA Singapore is thrilled to be Singapore's first insurer to be launching the Shariah Balanced ILP fund to meet the increasing demand amongst Muslim consumers here where such investment options are limited. The overlap between Shariah-compliant finance and Environmental, Social and Governance (ESG) principles will also see non-Muslim consumers interested in the fund to maximise capital growth while investing responsibly,"

Liu Chun Yen, Chief Investment Officer, AIA Singapore.