Investing and trading in securities does not have to be daunting. These days, trading has become so convenient and can be done on your own time and anywhere. This is not limited to only Singapore.
Tiger Brokers celebrates its eighth anniversary with an 8.0 next-gen Tiger Trade mobile application that allows users to tailor their home page and stock detail pages so that they can focus more deeply on the investments that matter.
Tiger Brokers is more than a trading platform. It is also trading stories. Every trader has their own personal story and sharing that with other fellow traders is what Tiger Brokers encourages. With a community of like-minded traders sharing their tips and analyses, you can ask questions and start a discussion. See the opinions of other traders to make a wiser trade decision. Learn from the pros and be like a pro.
Learn from Market Experts
The Tiger Brokers App offers live streaming sessions and a knowledge hub such as Tiger Live. No need to buy the newspapers to check the stock prices. You get real-time quotes within the app, plus you get commentary and analysis charts and statistics that are easier to understand.
Tiger Brokers showcases a variety of financial products for investors based on literacy, risk appetite and financial capabilities.
Tiger Brokers Encourages A Sharing Community
Content creation is the norm these days. It is all about exploring together. Different views and opinions can be shared and investors can find value and new opportunities.
See the tips and analyses from a community of like-minded traders. Ask questions and start a discussion. See the opinions of other traders to make a wiser trade decision. Learn from the pros and be like a pro.
Better yet, get rewarded when contributing to the community. Get an exclusive virtual medal of distinction on Tiger Trade or up to USD 88 trading voucher each time you're selected. You will also get priority display in the recommendation list to help you grow your followers.
Zero Commissions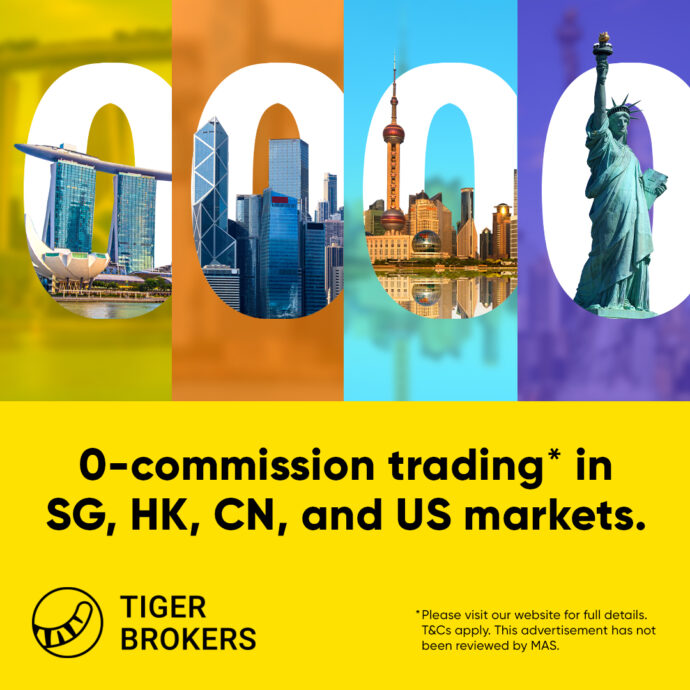 Tiger Brokers was the first in the market to offer lifetime zero commissions for US stocks which you enjoy after you refer a friend. Now, Tiger Brokers has extended this offer to Singapore and Hong Kong stocks as well as China-A Shares.
Download the app or open an account to start trading to enjoy zero commissions, but four times better with zero commissions on Singapore, Hong Kong & US Stocks and China A-shares. You can also get S$88 and one free Grab share. Terms and conditions apply.
Disclaimer
T&Cs apply. Please visit Tiger Brokers website for other applicable fees. This advertisement has not been reviewed by the Monetary Authority of Singapore.
This post is sponsored by Tiger Brokers.