Manulife Singapore has launched its latest whole-life insurance savings product Manulife IncomeGen. With just three years of premium payments, customers can enjoy a reliable and steady lifestyle allowance up to 120 years of age. Customers can also pass the gift of the lifestyle allowance to their future generations with a change of life insured option and assignment of policy ownership.
A recent "Manulife Asia Care Survey" shows that while more than half (52%) of Singaporeans have accepted that COVID-19 is here to stay, they remain concerned about the pace of the economic recovery and income security. These concerns have spurred them to take charge of their financial well-being, with more Singaporeans intending to purchase new insurance (58%), invest (20%) more this year and cut back on unnecessary expenses (30%).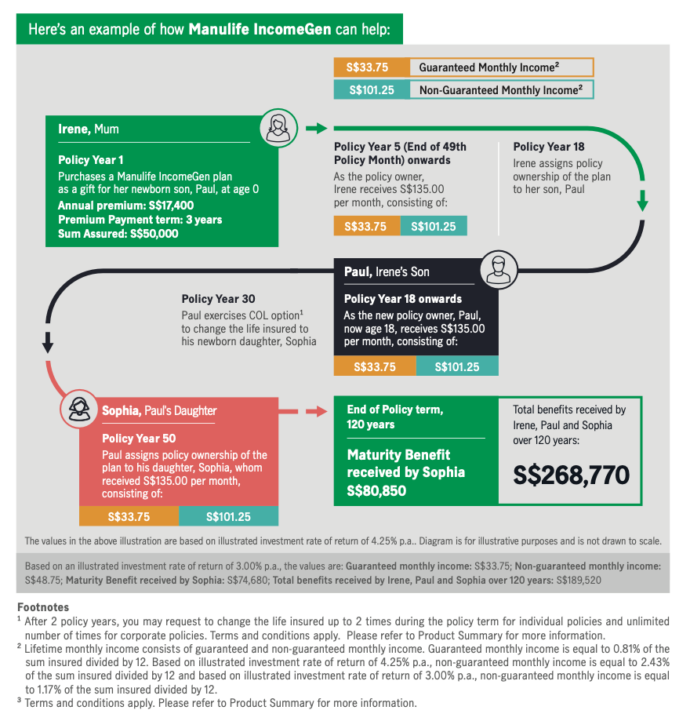 Manulife IncomeGen is designed to empower Singaporeans to take charge of their financial lives and help customers to live their desired lifestyles.
Receive lifetime monthly income from the end of the 49th policy month up to age 120. A lump sum maturity benefit will be paid out upon policy maturity at age 120. Policyholder has the option to change life insured during the course of the policy. Just three years of premium payments. Get coverage against death and terminal illness up to 120 years old and receive an additional payout of 50% of total premiums paid to date in the event of accidental death of the life insured before the age of 80. Easy application with no health questions asked for guaranteed acceptance.
"One key thing we've learned from the pandemic is that our financial situation can change in an instant, necessitating a change in lifestyle to cope. What if we can offer a new product that empowers Singaporeans to preserve their desired lifestyle? With this insight, we launched Manulife IncomeGen to provide customers with a steady and reliable stream of lifetime allowance for themselves and their loved ones. As a short-term premium commitment plan, we hope to be able to help Singaporeans reap the benefits early so that they can feel secure about their future."

Darren Thompson, Chief Customer Officer and Chief Product Officer, Manulife Singapore