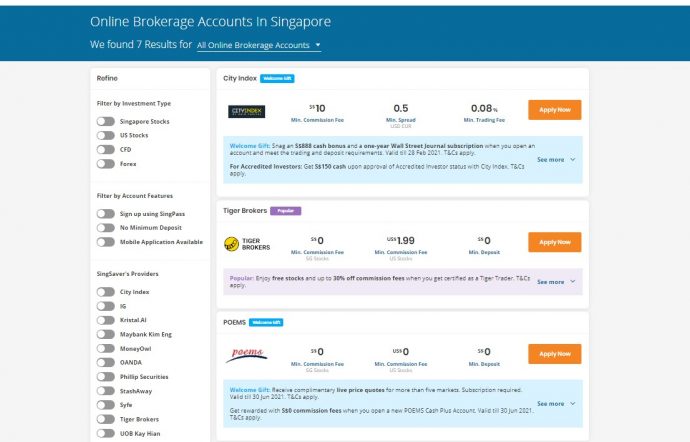 SingSaver has launched an Investments category that compares different online brokerage and robo advisory platforms. The personal finance platform lets you access educational content and tools. With the addition of Investments, you now have access to a well-rounded suite of financial products that include credit cards, personal loans, insurance, bank accounts, home loans and telcos.
This new category allows you to compare commission rates, trading fees and minimum deposits across individual online brokerage platforms including Singapore and US stocks related investment accounts, Forex and RoboAdvisors amongst others. This will help you make informed decisions on which brokerage account best suits you before you initiate any investment.
SingSaver has seen a 49x increase in traffic for investment-related content in 2020. SingSaver conducted a study last year with 1,000 Gen Z and Millennial respondents. It revealed Singaporeans were interested in investments but had inadequate knowledge. Hence they were not well-equipped to navigate it.
80% of Gen Z and Millennial were investing. However 57% of them still use a low-yield savings account. Additionally 60% of Gen Z and Millennials felt that they are 'very new to investing' or 'have a basic understanding of investing'.
Have you checked out SingSaver's exclusive offer with FWD Personal Accident and Infectious Disease Coverage.