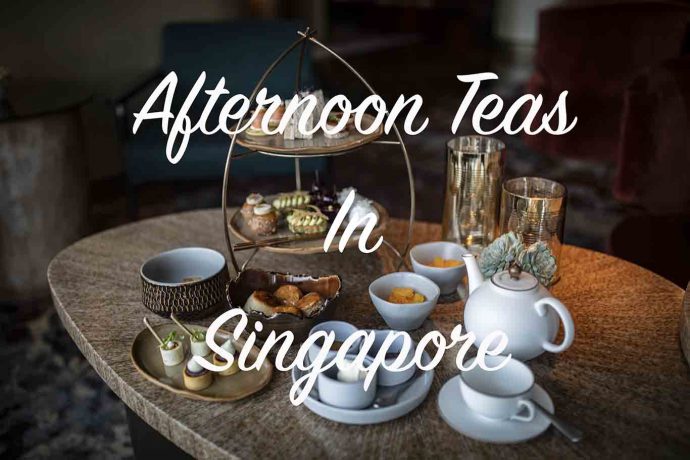 Afternoon Teas and High Teas are still popular after all these years. It just depends on how much you and your friends or business associates can eat or drink.
I visited a couple of places that offer afternoon teas and ate and drank till I had nightmares about these afternoon indulgences so that this article could be published. This article will be continuously updated regularly.
Colony at The Ritz-Carlton, Millenia Singapore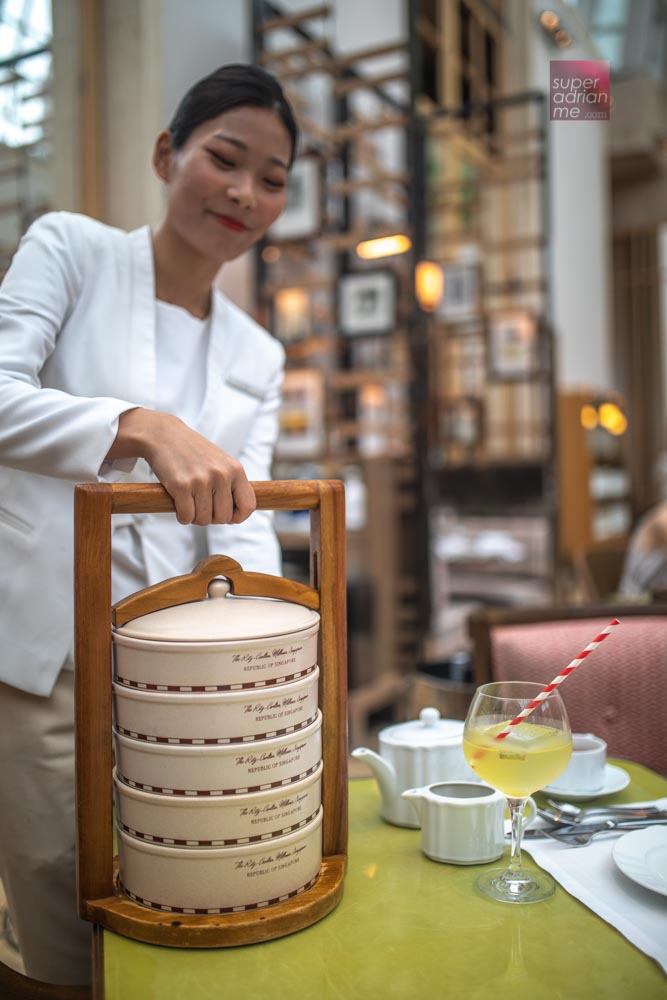 Colony at The Ritz-Carlton, Millenia Singapore offers The Journey Afternoon Tea on Monday to Saturday from 3.30 pm to 5.30 pm.
For S$49++ per person, enjoy a fiver tier ceramic tiffin of savoury items along with unlimited servings of desserts and a flute of Champagne Barons de Rothschild Reserve Brut NV and Colony's custom tea blend Tea Bone Zen Mind with a personalised tea syrup enhancement. Instead of champagne, you can enjoy a glass of Lemongrass and Pineapple Prosseco or Pineapple & Raspberry Prosecco.
Enjoy a single serving of five delicate savouries including a "Songkok" Lobster Rojak; "Dragon's Beard" Stuffed Crustacean, Salted Egg Custard; "Sampan" Beef, Melted Camembert, Pistachio Crumb, Breadstick "Paddle" and a "Harmonica" Butty, Bluee Swimmer Crab, Pressed Cantaloupe with Ikura.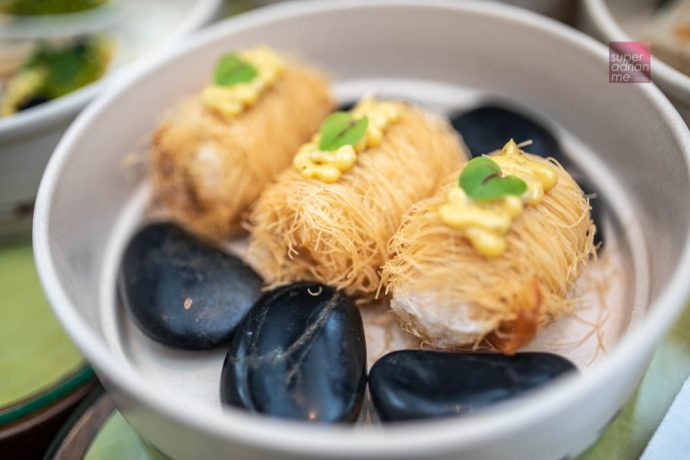 My favourite of the five savouries was the "Songkok" Lobster Rojak. every bite of the juicy lobster atop a filling-stuffed beancurd sushi bag was enjoyable.
At the Desserts station, enjoy an assortment of scones, a selection of miniatures, chocolate pralines, cookies, candies, ice cream and sorbets.
Call +6564345288 or email [email protected].
1864 at Sofitel Singapore City Centre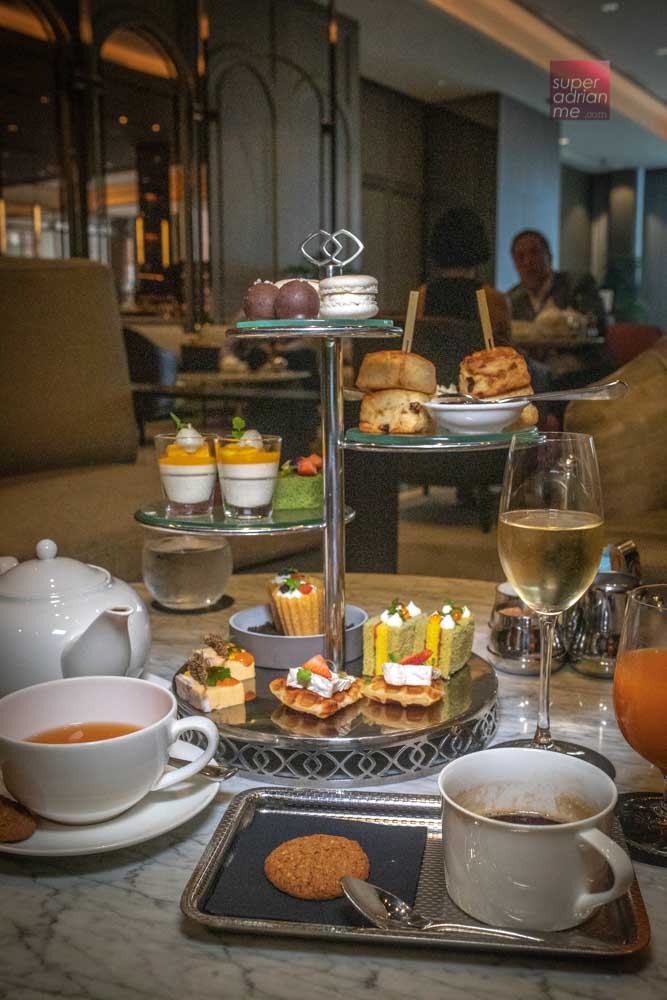 1864 at the Sofitel Singapore City Centre offers an afternoon tea set at S$88++ for 2 from 3 pm to 5.30 pm daily. The afternoon tea comes with a selection of 13 blends of grand cru coffee by Nespresso or TWG Teas including the hotel's exclusive Singapour Je T'aime tea blend.
Add S$20++ for a glass of handcrafted cocktails or S$36++ for Duval-Leroy champagne.
I enjoyed the three savouries which included the baked frittata with octopus and smoked cayenne pepper aioli, the kueh pie tee with crabmeat and caviar crème and absolutely love the unique texture of the Mini Croissant Waffle topped with truffled camembert. Why do we not get more of waffles made of croissant dough elsewhere?
The baked scones with rum and dried fruits are baked to perfection. Bite into the crunchy scones or the classic scone with clotted cream and Bonne Maman Marmalade.
The sweets were equally appetising. The chocolate tarts made with smooth Valhrona Jivara 40% blend and Jerusalem artichoke was a surprisingly pleasant one. Then there is the matcha and azuki bean genoise. Other sweets are included so that you would leave full and satisfied.
Email [email protected] or call +65 6428 5000 for reservations. Online bookings at https://tableplus.accorplus.com/?&vc=1864LobbyBarAccor11071&lang=en&adults=2
Sakura Afternoon Tea at Conrad Centennial Singapore
Available from 2 March to 4 May 2020, Conrad Centennial Singapore's Sakura Afternoon Tea returns with weekday afternoon tea available from 3 pm to 6 pm on Mondays to Fridays at S$30++. It comes with a tiered selection of well-balanced sweets and a selection of savouries and two servings of Brazilian coffee or Ronnefeldt teas.
Sweet Treats: Sakura Light Cheese Cake, Japanese Rice Pudding Mousse, Lychee Sakura Almond Tart, Sakura Raspberry Velvet, Japanese Strawberry Short Cake.
Savoury Delights: Seared Tuna Tataki with Basil & Olive Oil Caviar, Cherry Blossom Hummus with Smoked Chicken & Sundried Tomato, Prawn Rillettes with Sakura Mini Baguette, Grilled mixed Mushroom with Cherry Cream & Chives.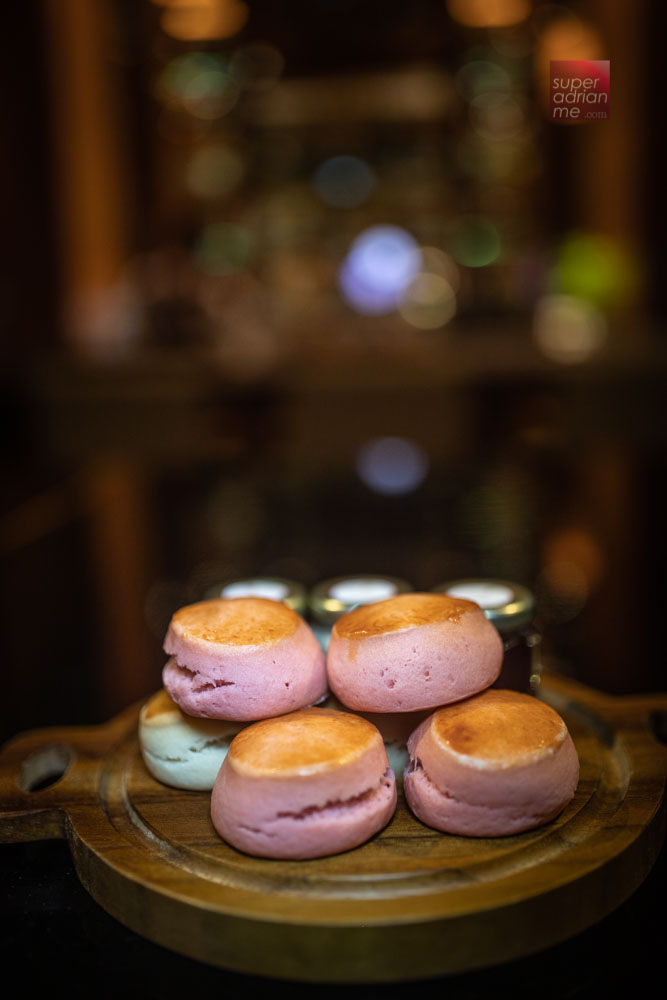 Scones: Traditional Scones and Sakura Scones are served with Wild Berry Jam, Raspberry Marmalade, Clotted Cream.
For Saturday, Sunday and Public Holiday, the weekend afternoon tea is served from 1 pm to 5 pm. For S$62++, you also get a seafood platter of Boston Lobster, prawns and Irish Oysters as well as a cheese platter with an additional glass of berry-infused beverage.

For S$88++ you get the above and free flow of Nino Franco Prosecco.
For reservations or enquiries, please call Lobby Lounge at 6432 7483 or email [email protected]
Marriott Singapore Tang Plaza Lobby Lounge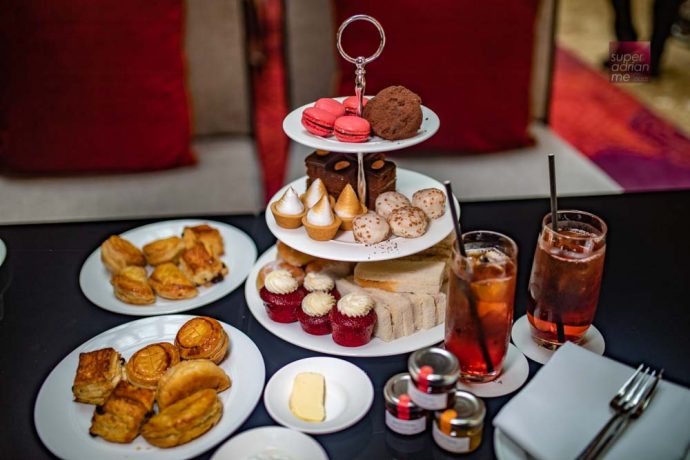 The Lobby Lounge at Marriott Singapore Tang Plaza has been serving traditional English afternoon tea all these years and continues to do so every day of the week from 2 pm to 5 pm. For S$33++ per person, enjoy a three-tier selection of afternoon sandwiches, assorted savouries, tea cakes, raisin scones with blackcurrant, orange marmalade and strawberry jam, macarons and chocolate pralines. And these are refillable.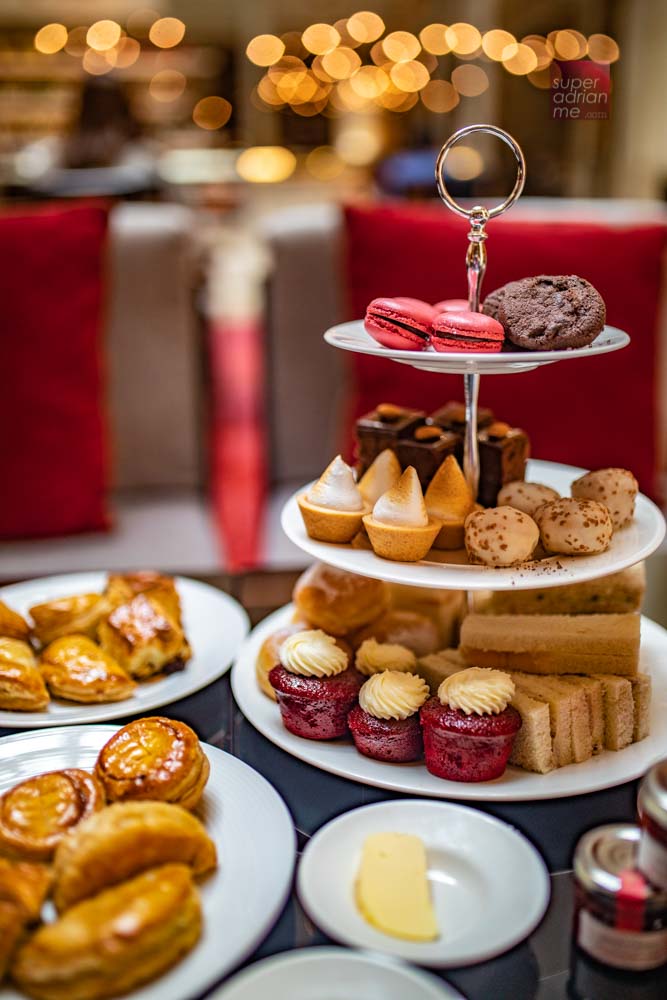 Hot and iced teas are available. There's a choice of Pink Flamingo, Moroccan Mint, Lemon Bush, English Breakfast and Earl Grey. Or order yourself a glass of iced raspberry tea or an iced lychee tea. For coffee lovers, you can order espresso, cappuccino, caffè latte, black coffee or mochaccino. Call +6568314605 for reservations.
The Garden Edition of The Classic Afternoon Tea at the Lobby Lounge at InterContinental Singapore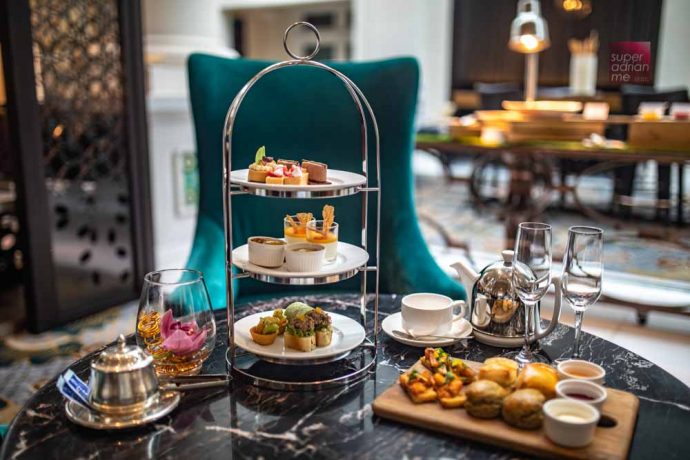 Enjoy The Garden edition of the classic afternoon tea at the Lobby Lounge at InterContinental Singapore from 2 pm to 5 pm Mondays to Thursdays. There are two seatings from Friday to Sunday and Public Holiday. The first seating is from 1 pm to 3 pm and the second from 3.30 pm to 5.30 pm. For S$88 for two, enjoy the afternoon tea with fine loose-leaf tea or coffee and unlimited ice cream. S$118 for two gets you additional two flutes of Taittinger Brut Champagne.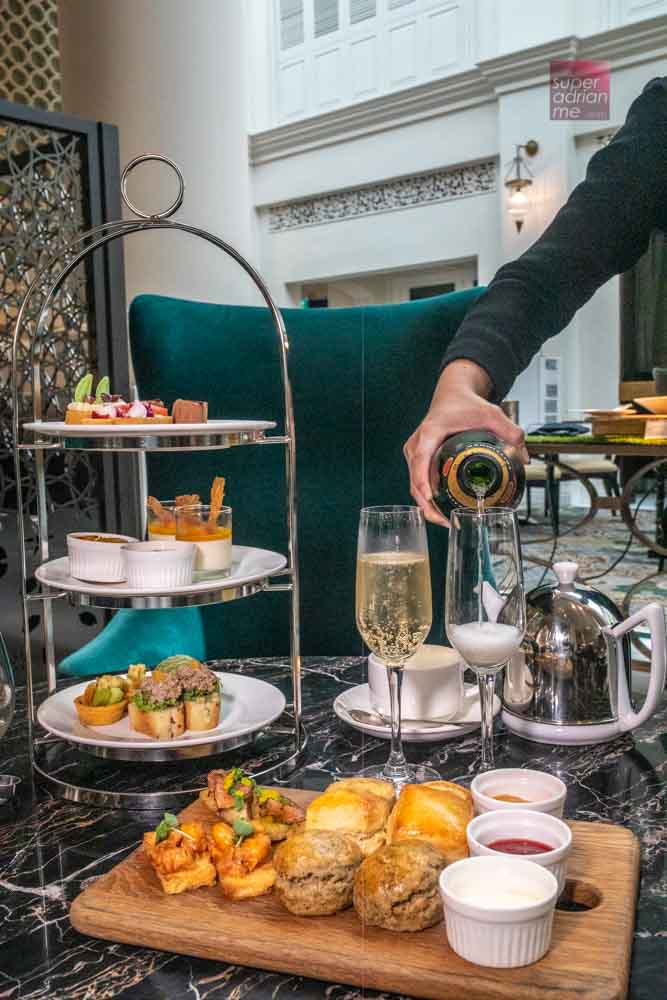 The Classic Afternoon Tea: The Garden showcases luscious delights with signature tea-infused flavours and fruity accents. Enjoy items such as apple tea-infused mascarpone chantilly cheesecake, oolong crème brûlée with mandarin orange, strawberry Thai basil lemon tart, Guanaja 70% cocoa streusel raspberry mint creme, mango passion fruit with jasmine tea-infused wanna cotta pineapple tulle or Earl grey scones, English scones with homemade apricot lavender jam, strawberry jam and clotted cream.

Savouries include rosemary ham quiche, creamy tomato prawn brioche, basil pesto, Darjeeling smoked salmon with green tomato chutney, pickled papaya, arugula and olive ciabatta. Enjoy the brie target with pumpkin seeds, dried apricot, chamomile tea, cucumber, grape and cranberry Cointreau, and forest mushrooms tortilla with egg and truffle paste or the duck rillette linseed roll with green apple compote and mayonnaise.
IHG Rewards Club members enjoy 20% savings when dining at restaurants at InterContinental Singapore. Not valid with other promotions.
Manolo Blahnik at The St. Regis Singapore
Spend an afternoon amidst the latest collection of Manolo Blahnik's footwear and Champagne Billecart-Salmon at The Drawing Room in The St. Regis Singapore and enjoy a classic three-tiered stand afternoon tea till 29 February 2020.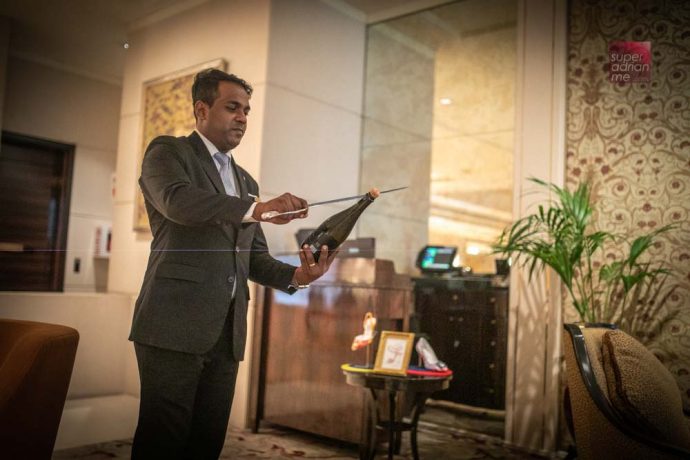 Start off the afternoon with a traditional sabrage ceremony as you appreciate the curated collection of rare sketches and inspirations behind Manolo Blahnik's designs and creations. The skilled hands of a 'swordsman' swiftly pops a bottle of premium sparklies from that bottle of Billecart-Salmon.
The Afternoon tea is fashioned after the season's colour themes. An amuse-bouche of Comté Cheese Feuilleté is served to kick start the dining experience. Enjoy the signature St. Regis Singapore Tea Blend created by TWG Teas. A three-tiered stand featuring Chocolate Rocher with Silver Pearls, Cherry Mousse, Kumquat tartlet with silver nuggets for sweets, Crab tart with crunchy green peas, Salmon cream cheese double-decker with salmon roe & Avocado with Feta & Cucumber sandwich for savouries and the bottom plate showcases vanilla & raisin scones with jam and clotted cream.
Ruby Chocolate-coated Red Velvet Madeleines are served in a wooden box as you finish your three-tier delights. And a nitro pear caramel lollipop is prepared on the spot as a sweet ending.
An Artful Presentation of Afternoon Tea at The Drawing Room is available from Monday – Friday at 3 pm to 5 pm & Saturday and Sunday from 1 to 3pm (1st seating); 3.30 – 5.30 pm (2nd seating). It is priced at S$78.00++ per person, includes a glass of Champagne Billecart Salmon.
Call The Drawing Room at +65 6506 6860 or email [email protected] for reservations.
French Classic Afternoon Tea at LEBAR in Sofitel Singapore Sentosa Resort and Spa
The next time you make a trip to Sentosa, drop by LeBar at Sofitel Singapore Sentosa Resort & Spa. The French Classic Afternoon Tea is available daily from 12.30pm to 5.30pm at S$80 for two with TWG tea or coffee selections. Pay just S$119 for two for an additional two more glasses of Taittinger Brut Champagne or S$199 for two with 1 bottle of Taittinger Brut Champagne.
Enjoy savouries such as Chicken Rol with Hoisin Sauce, Smoked Salmon with Trout Roe, Cream Cheese with Lemon Chutney, Smoked Chicken Sandwich and Prawn Salad with Cocktail Sauce. There are seven pastry desserts – Passionfruit whipped sandwich, Raspberry Pistachio Opera, Guanaja 70% Chocolate Brownie, Chilled Morello Cherry Cheesecake, Yuzu Mango Namelaka Tart, Excellent Dark Chocolate praline, Swan Choux Puff, Plain Scone and Raisin Scone.
Make reservations via email at [email protected] and ask for complimentary admission to Sentosa.
Capitol Kempinski Red Rhapsody Afternoon Tea from 17 to 26 January 2020
There are over 150 Lady in Red can be seen in many of Kempinski Hotels around the world with at least two at each hotel. The first Lady in Red in a red haute couture dress first appeared 10 years ago at the 2009 Kempinski General Manager's meeting in Geneva.
To celebrate 10 years of extending the warmest welcome to every guest at the Kempinski properties, The Capitol Kempinski Hotel Singapore is offering a Red Rhapsody Afternoon Tea from 17 to 26 January 2020.
Each of the five-course afternoon tea is paired with a different blend of TWG tea. The afternoon tea is priced at S$58++ with tea pairing and S$78++ with additional two glasses of champagne. You can expect to see a lot of red in the different courses.
Course 1 – Chicken Rice 'Arancini'; Turkey Cranberry quiche; and Prawn Tomato Salsa in Beetroot Shell paired with Purple Buds Tea, a brew of Chinese Oolong with notes of citrus astringency.
Course 2 – Beetroot Cured Salmon served with capers, trout roe, chives, sour cream and lemon wedge; Foie Gras on Raspberry Brioche; and Spice Chilli Roll with Bak Kwa. This course is paired with a No. 10 Tea, a green tea with notes of bright chamomile and endnotes of fruity aftertaste.
Course 3 – Cranberry Scones served with caramelised passionfruit chocolate jam, clotted cream and housemade forest berry marmalade. The Happy Hour Tea is served for this course. The decaffeinated green tea is blended with sweet French spices and forest fruits. Taste this sweeter tea and enjoy the notes of cinnamon, vanilla and mixed berries.
Course 4 – Three Financiers served on a tray as you pick a Red, Chocolate and Almond flavoured financier. The Pink Flamingo Tea, a rose-coloured tea brewed from green tea and crimson Hibiscus blossoms are served.
Course 5 – The last course is a tray of red sweets including a Rose Lychee Panna Cotta; Mini Strawberry Tart; Red Velvet Cake with Cream Cheese Frosting Elderberry Choux; and a Vanilla Butter Cake with Sour Cherry. The last tea is a Creme Caramel Tea, a theine-free South African red tea.
Afternoon Teas from 2019
Four Hands at Anti:Dote in The Fairmont Singapore
Anti:dote at Fairmont Singapore has launched a limited time Four-Hands Afternoon Tea by Pastry Chef Extraordinaire Johan Martin and Fairmont Singapore and Swissôtel the Stamford Executive Pastry Chef Yong Ming Choong from 13 to 30 November 2019.
The afternoon tea is held between 3 pm to 5 pm on weekdays and two seatings at 12 pm to 2 pm or 3 pm to 5 pm from Friday to Sunday at Anti:dote.
RaRe Collection from Cacao Barry is used in the chocolate creations and presented in Anti:dote's elegant signature jewellery box. RaRe Collection is made with 100% traceable chocolates sourced from the finest producers, the collection features the Rugoso (71% cocoa) varietal from Nicaragua, as well as Esmeralda (74% cocoa) from The Dominican Republic.
Start tea with a six-way savoury starter of either 63°C Organic Egg with Truffle Potato, Crispy Ratte Potato and Seasonal Truffle, or Beer Braised Belly with house-made steamed buns and Parma Ham; along with other options such as the signature Confit Duck Rillette with rhubarb cream pie and beetroot dust.
Each chef will prepare three to four sweet pastry items including the Esmeralda Cocoa with Sable Nut; Viennoiserie Rugoso Chocolate with brioche; Mara de Bois Strawberry with popcorn; and Caramel Apple Mint with Mascarpone Cheese.
The selection of Scones includes Ruby Chip Scones paired with Vanilla Scones and House-made Lemon Curd served with a side of Devonshire Clotted Cream and Raspberry Jam.
Enjoy tea with coffee or tea or with Taittinger Brut Reserve available at S$15++ per glass, S$88++ per bottle or S$168++ for a magnum; or a bottle of Taittinger Brut Reserve Rosé at S$118++. A gluten-free tea menu priced at S$45++ per person is also available.
One Ninety at Four Seasons Hotel Singapore
Enjoy afternoon tea on weekends in November and December 2019 from 2 pm to 5 pm at One-Ninety Bar in the Four Seasons Hotel Singapore at S$48 per adult or S$62 with Kir Royal and Audrey's signature Valrhona Hot Chocolate that comes with an all-too-cute snowman made with marshmallows. Afternoon tea also comes with a choice of tea, coffee or Valrhona hot chocolate.
Enjoy Christmas-inspired patisseries, warm scones, freshly baked griddles, classic Christmas cookies and more.
The selection of sweets includes Raspberry Pinwheel, Peppermint Macaron, Green Tea Azuki Bean Tart, Hazelnut Praline Log Cake, Vanilla-Strawberry Panna Cotta, Mince Tart, Fruit Cake, Cinnamon Star and Holiday Stollen.
The savouries feature Beef Pastrami on Rye Bread, Honey Pumpkin on Sour Dough, Egg Salad Tart with Caviar and Salmon Roe, Tea Smoked Salmon on Seven Grain Bread and Smoked Turkey Ham on Whole Meal Bread.
Click here to book. For reservations and enquiries, call +6568317671 or email [email protected].
Lobby Lounge at InterContinental Singapore
Pastry Chef Ben Goh has prepared a spread this festive season. Till 31 January 2020, enjoy a three-tiered afternoon tea with Christmas festive delights including a Christmas bauble-shaped Vanilla Mousse Financier, made of moist almond cake topped with vanilla mouse; Dark Chocolate Mousse with Lingonberry Confit and Apricot Fromage Blanc Tart. Two types of scones (Gingerbread and English) with homemade chestnut jam, strawberry jam and clotted cream are absolutely delightful. I really liked the Christmas fruit cake. There are savouries as well. Sink your teeth into the turkey carbonara vol-au-vent or the mushroom truffle quiche amongst others.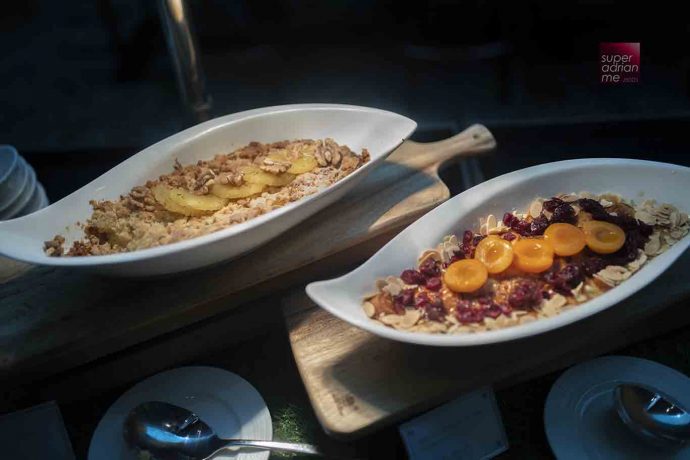 Guests can enjoy unlimited servings of ice cream as well as other desserts available at the dessert spread.
Priced at S$88 for two with two pots of tea or cups of coffee per person or S$118 topped with a glass of Taittinger Champagne per person for two.
Afternoon tea at the Lobby Lounge is available from 2 to 5pm from Mondays to Thursdays or in two seatings (1 to 3pm or 3.30 to 5.30pm) from Fridays to Sundays and Public Holiday.
MO Bar at Mandarin Oriental Singapore
MO BAR at Mandarin Oriental Singapore offers an afternoon tea experience with a selection of rare teas sourced from Asia's famous tea-growing regions.
For the festive season from 1 November till the end of 2019, the three-tier afternoon tea features a selection of savoury items and sweets.
Savouries include Campari granite with clementine and cardamon jelly, Tandoori turkey roll with cucumber and mint chutney, a beetroot tart with crispy pancetta and gorgonzola dolce, Champagne ham with honey mustard sandwich, smoked salmon with blini and oscietra caviar, foie gras torchon with ginger bread and port wine jelly.
Sweets include a Mont Blanc, Black Forest Buche de noel, Red fruit pistachio choux, Coco exotic and Cinnamon walnut scone & Vanilla Scone as well as a Chestnut and mushroom roll with red onion jam and Chocolate pralines.
NOVEMBER DAILY AND DECEMBER WEEKDAYS BEFORE 16 DECEMBER.
S$48++ per person or S$88++ for two. S$65++ with cocktail and S$68++ with a glass of R de Ruinart.
DECEMBER WEEKENDS AND FROM 16 DECEMBER DAILY
S$58++ per person or S$110++ for two. S$75++ with cocktail or S$78++ with a glass of R de Ruinart.
Click here to book.
Bar Intermezzo at Orchard Hotel
Afternoon Tea at Bar Intermezzo in Orchard Hotel Singapore features local delights till end November 2019. My favourite savouries were the Otah Otah Croissant and the Mango Chicken Tart from Hua Ting's kitchen. Sweets included a delicious Chendol Pannacotta and also the familiar Chinese Egg Tarts.
For the month of December 2019 from 1.30 pm to 5.30 pm, the afternoon tea features festive finger sandwiches featuring roasted turkey, sous-vide beef slices, Scottish smoked salmon, aged cheddar with apricot and ginger chutney as well as Christmas Sweets of freshly baked scones served with clotted cream, strawberry jam and honey butter, orange pound cake and hot mince pies.
Priced at S$34++ per adult or S$17++ per child. Call +6567396577 or email [email protected] for reservations. Add S$58 for free flow of Laurent Perrier champagne.
Tea Lounge at The Regent
The afternoon tea at Tea Lounge in The Regent Singapore is thematic. A Barcelona-themed Afternoon tea is served till 30 November 2019. Traditional and contemporary tapas, including Parsley Vinaigrette-marinated Octopus with Braised Fave Mousse. Enjoy refreshing glass of red Sangria. Weekday Afternoon Teas (S$45 for adult or S$22.50 for child) come with free-flowing salads, sandwiches, desserts and a 3-tier set with scones and petit savouries from 12pm to 5pm.
Weekend High Tea Buffet is a luxe twist of the weekday afternoon tea. Enjoy an eclectic selection of tapas, premium caviars, Spanish desserts and a carving station that showcases Spanish specials such as Squid Ink Paella with Tiger Prawns, Mussels, Baby Cuttlefish and Haricot Beans, and Wood Oven-Roasted Cava-Marinated Wagyu Beef Rump.
There are two seatings for the weekend afternoon tea set (S$65) or S$32.50 per child on Saturday and Sundays. 12 pm to 2.30 pm for the first seating and 3 pm to 5.30 pm for the second seating.
For both the Weekday Afternoon Tea and Weekend High Tea Buffet, Cava is available by the glass (S$10), bottle (S$48) or free flow (S$40) while Champagne is also available by the glass (S$15), bottle(S$88) or free flow (S$60).
Click here to book.
Lobby Lounge at Shangri-La Singapore
Enjoy a three-tier local signature afternoon tea set at The Lobby Lounge at The Shangri-La Hotel Singapore. Available on weekdays at S$38++ from 3 pm to 5.30 pm and at S$42++ on weekends and public holidays from 4 pm to 6 pm.
Shangri-La Hotel Singapore has collaborated with local eatery The Coconut Club, famous for its Nasi Lemak and Kueh. A selection of kuehs, baos and pastries comes complete with tea, coffee, kopi tarik or teh tarik. Each tea set comes with two cups of beverages.
Click here to book a table.
LeBar at Sofitel Singapore Sentosa Resort & Spa
If you are headed to Sentosa, then a stop at LeBar in the absolutely gorgeous Sofitel Singapore Sentosa Resort & Spa is a must. Indulge in their Festive High Tea Set till the end of 2019. A jewellery box opens up to uncover festive goodies.
The Festive High Tea set is priced at S$88++ for two inclusive of TWG Tea of Illy coffee. If champagne is your thing, then go for the S$158++ set for two which comes with two glasses of Taittinger Brut Champagne. And if a glass of champagne is a no no for you, then pay S$218++ for two persons and enjoy afternoon tea with a bottle of Taittinger Brut Champagne.
Click here to book. Or call +65 6708 8310 or email [email protected].
SKAI at Swissotel The Stamford
Skai at level 70 of the Swissotel The Stamford has recently launched a High Tea Menu that is served from 3 pm to 5 pm from Sundays to Fridays. Saturdays are reserved for Saturday Brunch. The skyline views here are spectacular.
The high tea menu features six savoury items such as the Lobster Roll with Ikura and Celery or Foie Gras with Onions Polo Bun or Maitake Truffle and Celeriac Flat Bread and eight sweet pastries such as the Candied Black Bean Sesame or Matcha Tea Mascarpone as well as Baked Scones with strawberry jam, Devonshire cream and lemon curd.
The afternoon tea is priced at S$60 per person with a choice of TWG Tea or Suzuki coffee. For S$70 per person, you can enjoy your afternoon tea with 10 gm of Amur Caviar and Bellini, Crème Fraiche and Chives.
If you like to add champagne to your afternoon tea, Taittinger Brut Réserve is available by the glass (S$15), bottle (S$98) or Magnum (S$218). A bottle of Rose or Millesime 2013 is priced at S$135 and S$188 respectively. Otherwise, ask the server about the champagne of the day. My favourite is Wednesdays, where a bottle of Billecart-Salmon, Brut Réserve NV is priced at S$98.
From 2 to 30 December 2019, there will be a Festive High Tea Menu priced at S$62 person. The savoury and sweet items will defer from the normal high tea.
Click here to book.