Peach Garden offers 'Oishi Flavours of Japan' Set Menu till 30 April 2020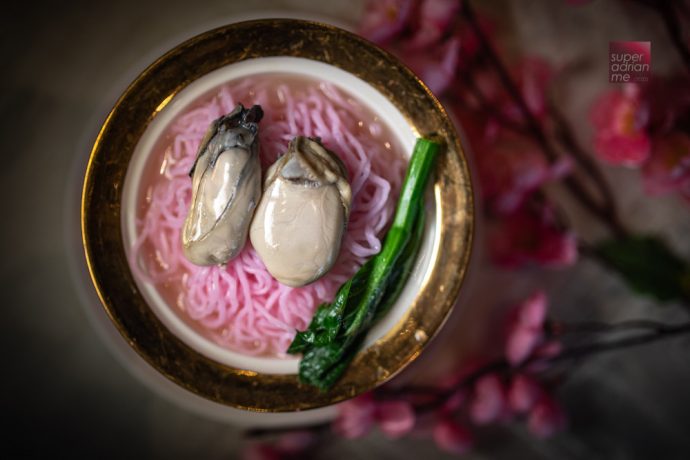 Peach Garden Chinese Restaurant has launched an 'OISHI Flavours of Japan' menu prepared with premium ingredients from Japan for the months of March and April 2020. The six-course set menu priced at S$68++ per person is available for lunch or dinner at Peach Garden outlets in OCBC Centre, Hotel Miramar, Thomson Plaza, NTU Blk N2.1, Chinatown Point, The Metropolis and Changi Airport T2.
Start off with a beautiful Chilled Sea Urchin Tofu prepared with minced century egg white with a sauce of sake and century egg yolk. People who love century egg would love the creaminess of this appetiser. The Tatami Iwashi, a sheet of dried Shriasu or baby sardine, complements the tofu. This is also available a la carte. Enjoy a bowl of double-boiled soup. I opted for the Chicken soup.
The Poached Surimi-men with Japanese Oyster is a bowl of umami flavours of the fresh oysters and broth. Springy pink fish noodles are served in a superior broth and topped with two fresh Japanese oysters.
Instead of using Kurobuta pork, chefs here panfries a very tender Shirobuta Pork that goes perfectly with the Black Pepper Sauce. You also have an option for the Chef's special Mala sauce or Mushroom sauce. Visual drama in this set is the Flaming Seafood Fried Rice in Whole. Rice is fried with prawns, scallops and chunks of pumpkin.
Part of the set menu is a Pan-fried Fillet of Amadai which we did not try at the media tasting.
End the meal with Sweet Temptation, a ying-yang dessert of creamy pumpkin and pandan-infused sweet potato paste accompanied by a flower-shaped pastry filled with Mandarin peel-accented red bean paste.
Oishi Flavours of Japan Dim Sum Items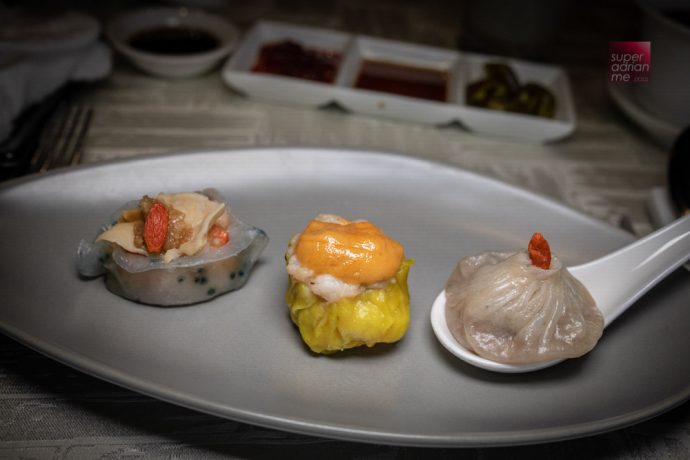 Available only at Peach Garden outlets at Thomson Plaza and Hotel Miramar for a limited time are three dim sum dumplings created for the OISHI Flavours of Japan theme.
The Steamed Siew Mai with Sea Urchin (S$8.80) is a classic siew mai of minced meat mixed with sea urchin and topped with premium-grade uni. The Steamed Xiao Long Bao with A5 Wagyu Beef (S$8.80++) comes with slivers of top-grade A5 Wayyu beef. If you a fan of the chewy geoduck clam, then order the Steamed Dumpling with Japanese Geoduck Clam (S$7.80++). This har gao is dotted with spinach purée and topped with a slice of clam that is sauteed with garlic.
Sakura Matsuri at Gardens By The Bay
Enjoy the beauty of cherry blossoms at the Flower Dome in Gardens by the Bay. These blossoms are blooming and filling the dome with shades of pink and white until 29 March 2020. The Sakura Matsuri floral display features over 500 cherry and peach blossom trees, including perennial favourites such as the award-winning cherry blossom cultivar Prunus 'Accolade' with beautiful shell-pink blooks and the classic Prunus 'Yedonesis' with elegant white flowers.
You can take photos with the Gardens' Sakura Instagram filter and also keep a lookout for the Japanese folklore hero Momotaro, a boy born from a peach and his three adorable animal friends.
Try out Sony Playstation Games or participate in a Danbo colouring workshop at experience areas in the flower dome.
Or opt for a Hanami Experience where you hop onto the Auto Ride, an autonomous vehicle that takes you from Bayfront Plaza to Flower Dome where you will don a yukata to take gorgeous photos amidst the cherry blossoms and then enjoy some Japanese snacks, green tea and sake tasting.
Singaporean residents enjoy a 50% discount on tickets for both the Flower Dome and Cloud Forest, Floral Fantasy and Supertree Observatory until 29 March 2020. Kids 12 years and younger enjoy free admission. If you are driving, enjoy parking for up to four hours.
Singapore Resident Admission Rates (After 50% Discount)
Adult
Senior
Child
One Conservatory
$6.00
$4.00
$4.00
Two Conservatories
$10.00
$7.50
$6.00
Floral Fantasy
$6.00
$4.00
$4.00
*Attraction Bundle 1 (One Conservatory + Floral Fantasy + Shuttle Service)
$12.00
$8.00
$8.00
*Attraction Bundle 2 (Two Conservatories + Floral Fantasy + Shuttle Service)
$15.00
$9.00
$9.00
Supertree Observatory
$5.00
$3.00
$3.00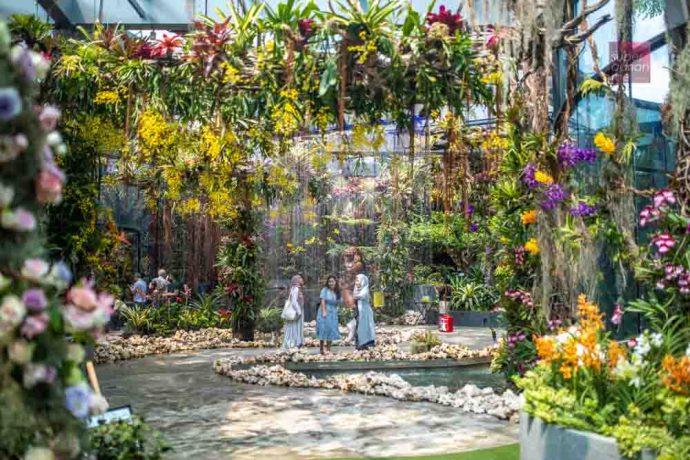 If you are a Friend of the Gardens member, enjoy added benefits till 22 March 2020.
Complimentary admission to the latest attraction, Floral Fantasy (at Bayfront Plaza), which includes a 4D ride
Complimentary shuttle service upon presentation of your Friends of the Garden pass to facilitate your travel between the Conservatories and Bayfront Plaza
Unlimited free parking
Starbucks Launches Peach Beverages & Merchandise for Spring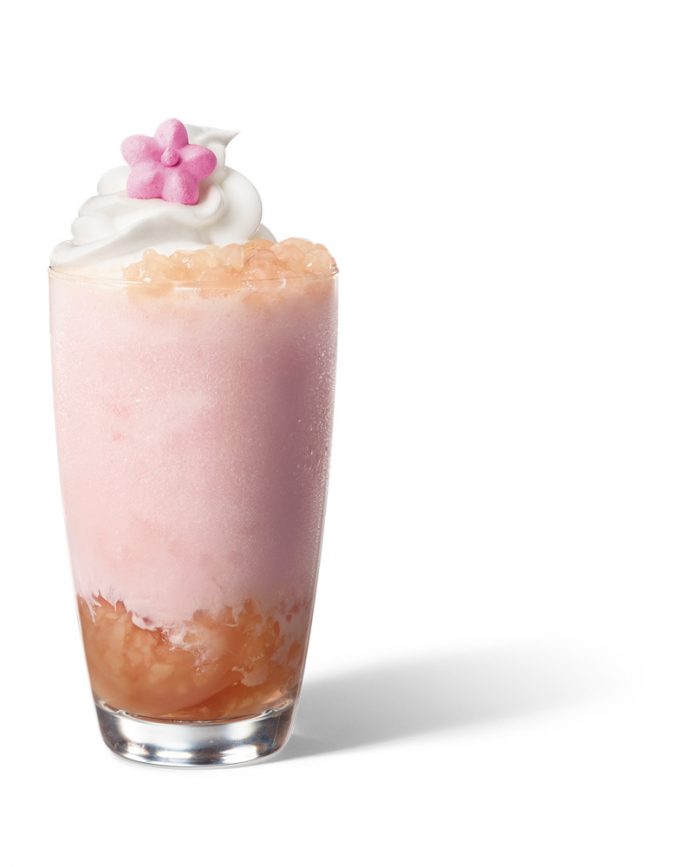 Starbucks launches new Peach Blossom – inspired beverages and more Sakura-themed merchandise. Available since 9 March for a limited time at all Starbucks outlets island-wide are the Starbucks Pink Peach Crème Blossom Frappuccino, Starbucks Peach Blossom Chocolate Black Tea Latte and an Iced Peach Blossom Chocolate Black Tea Latte.
Sakura-inspired drinkware is decorated with cherry blossom in pastel pink and dreamy purple hues. Pick up a Watery Sakura Mug or the Floating Petals Tumbler with new Spring merchandise releasing on 16 March 2020.
Yo
Sakura Afternoon Tea at Conrad Centennial Singapore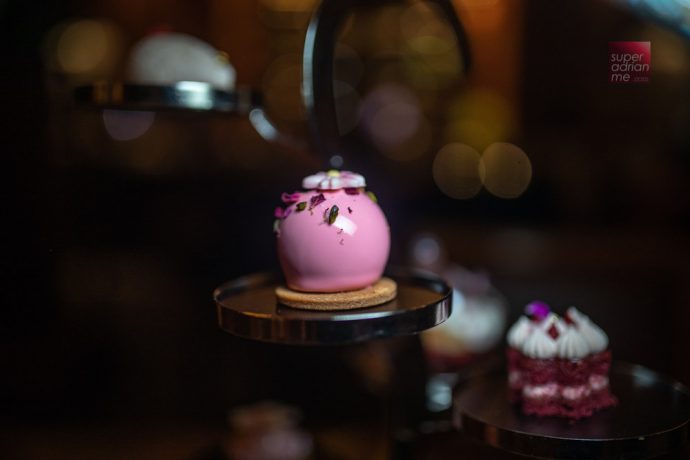 Available from 2 March to 4 May 2020, Conrad Centennial Singapore's Sakura Afternoon Tea returns with weekday afternoon tea available from 3 pm to 6 pm on Mondays to Fridays at S$30++. It comes with a tiered selection of well-balanced sweets and a selection of savouries and two servings of Brazilian coffee or Ronnefeldt teas.
Sweet Treats: Sakura Light Cheese Cake, Japanese Rice Pudding Mousse, Lychee Sakura Almond Tart, Sakura Raspberry Velvet, Japanese Strawberry Short Cake.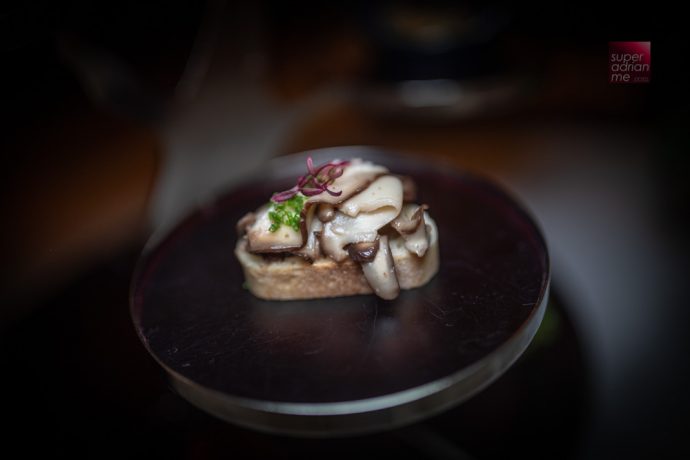 Savoury Delights: Seared Tuna Tataki with Basil & Olive Oil Caviar, Cherry Blossom Hummus with Smoked Chicken & Sundried Tomato, Prawn Rillettes with Sakura Mini Baguette, Grilled mixed Mushroom with Cherry Cream & Chives.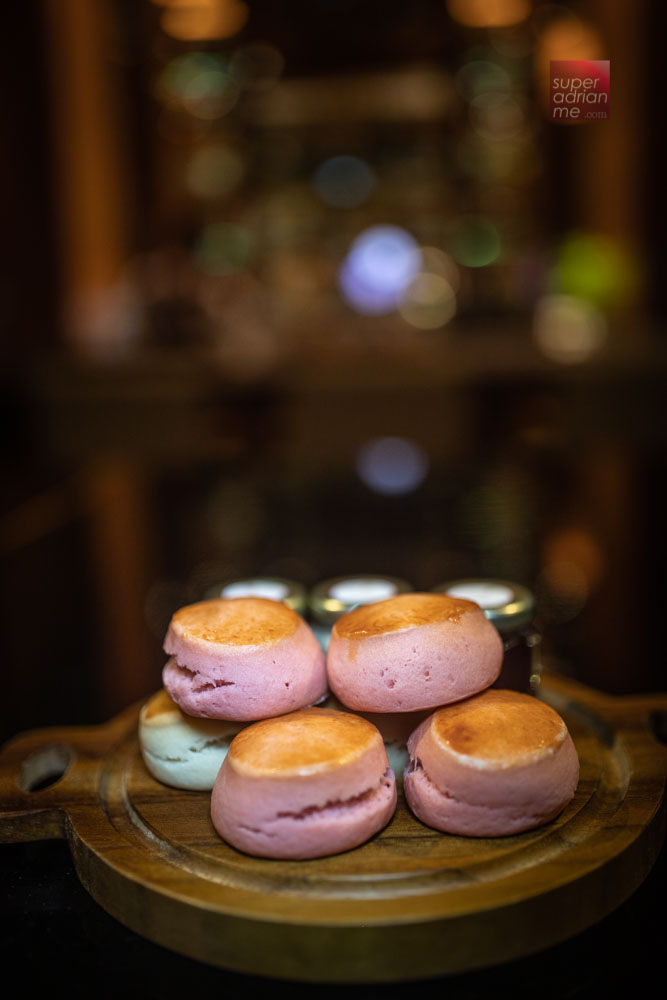 Scones: Traditional Scones and Sakura Scones are served with Wild Berry Jam, Raspberry Marmalade, Clotted Cream.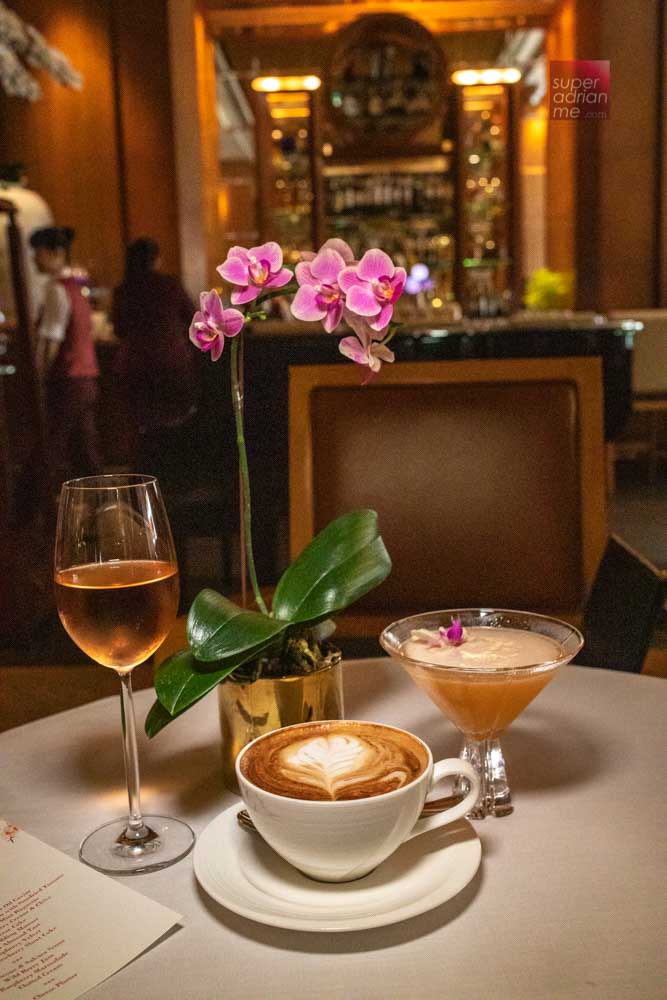 For Saturday, Sunday and Public Holiday, the weekend afternoon tea is served from 1 pm to 5 pm. For S$62++, you also get a seafood platter of Boston Lobster, prawns and Irish Oysters as well as a cheese platter with an additional glass of berry-infused beverage.

For S$88++ you get the above and free flow of Nino Franco Prosecco.
For reservations or enquiries, please call Lobby Lounge at 6432 7483 or email [email protected]
Do check out our recommendations of Afternoon Teas in Singapore as well.
Hina Matsuri Bento Set at Mikuni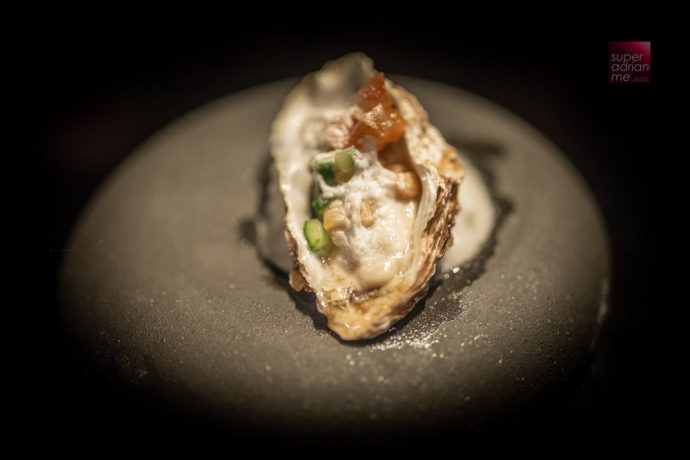 From 2 to 14 March 2020, Mikuni's Chef Keisuke Uno presents a bento set for lunch to celebrate Hina Matsuri for the eighth year. Hina Matsuri Doll festival is traditionally celebrated in Japan on 3 March where families wish their daughters good health and happiness in life.
The bento menu is available for lunch from noon to 2.30 pm at S$138++ per adult.
Read all about the menu here.
Pandora Launches Peach Blossom Collection
Pandora has launched in Singapore the Peach Blossom Collection showcasing the beauty of the peach blossom in full bloom. The Peach Blossom Collection is available at all Pandora stores and eStore from S$69.
It was first launched exclusively in Greater China, the collection is now in Singapore. Peach blossoms symbolise serendipity, dreams and good fortune. The blooms are believed to bring luck in love. Many traditional jewellery techniques have been applied to this new collection in a modern way.
AND IF YOU ARE VISITING JAPAN
Walk Japan Offers Off the Beaten Walks to admire Cherry Blossom in Japan
And if you really have to see the cherry blossoms in Japan, then pick one of Walk Japan's tailored tours that take you away from the crowded hotspots to admire the beautiful blooms.
The Oita Hot Spring Trail brings you to different hot springs in rural Oita, Japan's onsen capital. Besides enjoying onsen, you get to visit the beautiful rural areas surrounded by forested valleys. Go on a stroll along the Yabakei riverbanks and admire a classic row of Japanese cherry trees bloom.
Start the Tokaido Trail from Tokyo and finish in Kyoto. This trail brings you to three cities – Tokyo, Nagoya and Kyoto. Discover the country's history, culture and society and visit iconic sites including the Edo Castle where stunning cherry blossom trees decorate the surrounding moats.
Walk Tours has a Self-guided Shikoku Wayfarer tour that brings you into the smallest of Japan's four main islands, a beautiful rural and spiritual region associated with Kukai. Cover for Shikoku provinces and visit temples, Japanese-style hotels and family-run ins. Start in Tokushima where you can admire Kira no Edo-higan-zakura, one of the largest cherry trees in the region with pastel pink blooms on the branches of this 400-year-old national monument. This tour is available throughout April.
Tours for the Izu Geo Trail are operated from March to June and September. Explore the Izu Peninsula and walk along coastal trails that lead through natural springs, onsen hot spring baths and fishing villages. Enjoy some of the freshest fish during this tour and also visit the town of Matsuzaki, one of the best places to view flourishing cherry blossoms against the breath-taking backdrop of Mount Fuji.
The Kyoto Tour is a two-day guided walk where you learn about Japan's tea culture and visit some of the 2,000 temples and shrines. Ryoan-ji temple and its zen garden feature fragrant cherry blossoms in full bloom. This tour is available from mid-March to end April.
HOSHINOYA Tokyo Offers Sakura River Cruise
HOSHINOYA Tokyo is offering guests the opportunity to enjoy the cherry blossoms at night on a rickshaw and private boat from 25 March to 10 April 2020. This experience will cost ¥102,000 for 2 people, ¥132,000 for 3 people or ¥142,000 for 4 people excluding tax + service fees and the accommodation fee is not included.
The 60-minute Sakura River Cruise will start from Nihonbashi Pier. Guests will be transported from HOSHINOYA Tokyo to the pier on a rickshaw at 5.30 pm and the boat will bring you on a journey from the Nihonbashi River through the Sumida River.
Guests will also be served a Hanami (Cherry Blossom viewing) bento meal and sparkling sake from Shinkaika, an old traditional Japanese restaurant located in Kanda Myojinshita. The bento contains the cherry blossom-coloured sea bream with kombu seaweed and sushi rice made with black vinegar. Matcha and sweets will be served for the return trip.
Rent a pure silk kimono from ¥50,000 per person for a full experience. Put on the kimono at the hotel and set your hair at the same time. You can also dress up earlier in the day to spend your day looking at the cherry blossoms while walking around Tokyo.
Cherry Blossom Accommodation Package at Hotel Gajoen Tokyo
Hotel Gajoen Tokyo, a Museum Hotel of Japan Beauty and member of Small Luxury Hotels of the World, is offering guests a special accommodation package from 27 to 29 March 2020 just in time for the cherry blossom season. The hotel displays some 2,500 pieces of artwork including 700 Japanese paintings. All its 60 rooms are suites with over 80sqm of space.
A special suite-style room rate from ¥118,000 for two guests will include a Japanese and Western buffet-style breakfast at the eighth-floor executive lounge as well as two entrance tickets for the special exhibition at Hyakudan Kaidan and a 30-minute cherry-blossom viewing rickshaw tour along the Meguro River.
A special Flower artist Keita Kawasaki:Hyakudan Kaidan exhibition will be held from 27 March to 12 April 2020 at Hyakudan Kaidan (the hundred Stairs). The admission fee is ¥1,600 for adults and ¥1,000 for university and high school students. Junior High school and elementary school students pay ¥600.
Mandarin Oriental, Washington DC celebrates National Cherry Blossom Festival
Mandarin Oriental, Washington DC is offering the National Cherry Blossoms in Full Bloom package from 18 March to 19 April 2020. Guests can view the city's famed trees from the comfort of their room or enjoy convenient access to the Tidal Basin, the location for the National Cherry Blossom Festival set amongst the National Monuments. The National Cherry Blossom Festival commemorates the 27 March 1912 gift of Japanese cherry trees from Mayor Yukio Ozaki of Tokyo city to the city of Washington D.C.. But unfortunately, COVID-19 has forced organisers to cancel or postpone some events occurring through 31 March 2020 and are determining what changes will be made to events that are scheduled into April.
A minimum two-night stay with daily rates start at US$455. Entitlements include:
The Spa at Mandarin Oriental, Washington DC is offering the Cherry Blossom Treatment that is inspired by Japanese tradition. A warmed exfoliating cream with Cherry Blossom rice powder is applied to start the treatment, followed with a full body massage, and melted aromatic shea butter. The treatment concludes with a unique foot massage based on reflexology to revive vital energy. The treatment is priced at US$255 from Monday to Thursday and US$275 from Friday to Sunday.
For room reservations, call +1 (202) 787 6140. To make a spa reservation, please call +1 (202) 787 6100. For more information, visit www.mandarinoriental.com/washington