Resorts World Sentosa's pop-up underwater dining experience kicked off in September at S.E.A. Aquarium with Aqua Gastronomy. It would have ended on 31 October. But due to a long waiting list, the sought after 'under-water' dining experience has been extended with a festive edition for November.
The space has been transformed into eight beautiful bespoke pods with a view of the Open Ocean Habitat. Dine in the company of over 100,000 sea creatures including the Reef Manta Rays, Hammerhead Sharks and Giant Groupers. That's if you don't get carried away thinking of the swimming fish and stingrays as marinated and bbq food on your plate.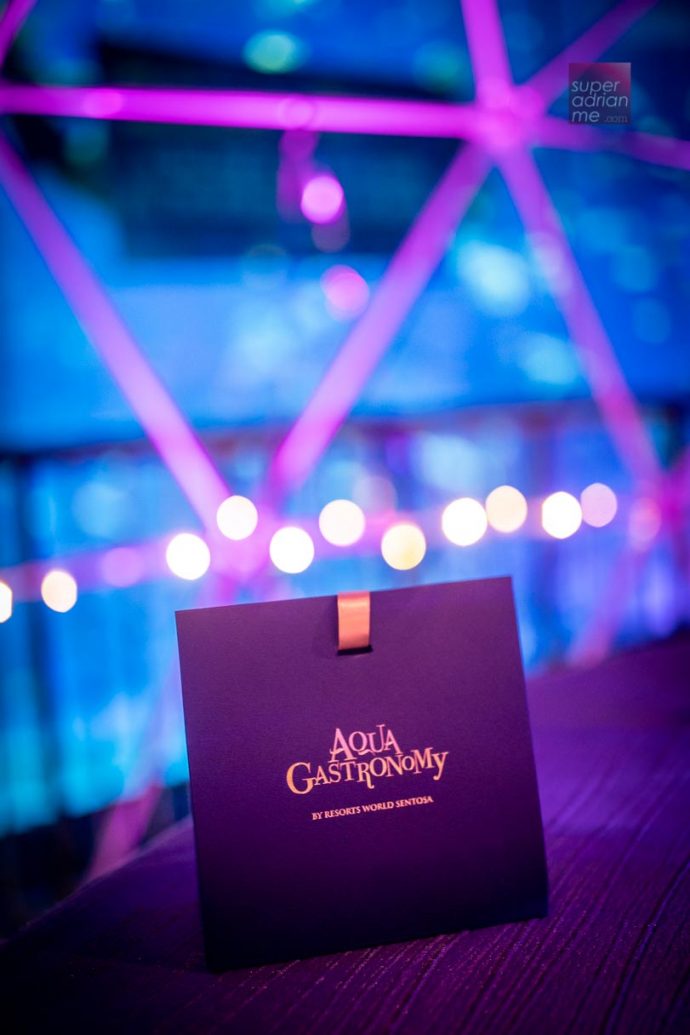 Aqua Gastronomy's S$118++ four-course dinner menu is fully booked.
While enjoying dinner, I caught a glimpse of the aquatic inhabitants and feeding sessions. The choreography of lighting and music created a very romantic and fantasy ambience.
Season 1 of Aqua Gastronomy features a six-hands menu showcases the repertoire of three chefs – Chef de Cuisine, Tony Choo from Forest森, Chef de Cuisine Marvas Huang of Ocean Restaurant and Executive Pastry Chef Kenny Kong from Resorts World Sentosa.
100% sustainably sourced seafood where farming, fishing or catching methods have minimal impact on the environment are used. Local fisheries Barramundi Asia and Ah Hua Kelong supply the high quality seabass and shellfish respectively. The hand harvested diver scallops from the Canadian North Atlantic (Marine Stewardship Council Certified), responsibly farmed Trout Caviar (Aquaculture Stewardship Council Certified), prawns from Vietnam (Best Aquaculture Practices Certified) and Norway langoustine caught from the Kattegat-Skagerrak area where langoustine fishing levels are at a sustainable level and the fishermen are committed to protecting the seabed.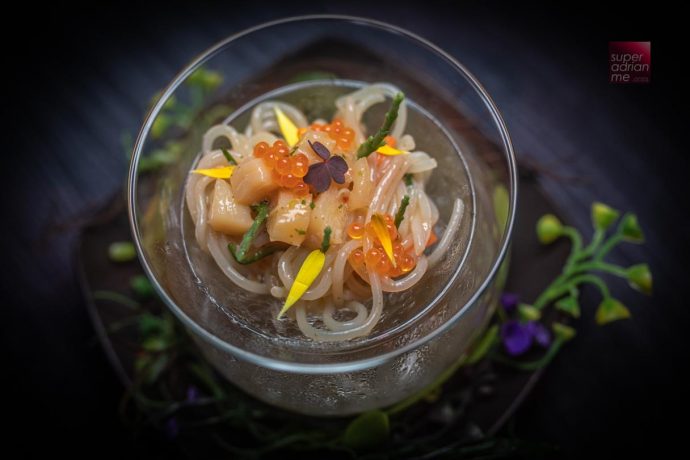 Chef Marvas Huang's Misty Morning Sea is a refreshing dish of Canadian scallop, Asian-style glass noodle salad and trout caviar to start off the epicurean dining experience.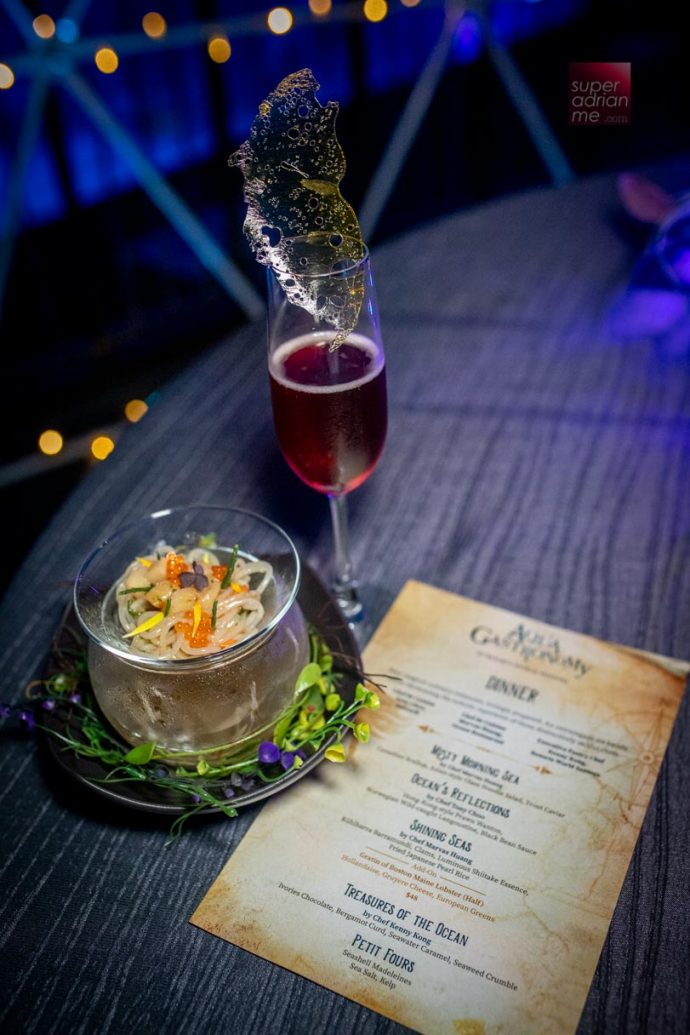 The second course is Chef Tony Choo's Ocean's Reflections featuring Hong-Kong-style Prawn Wanton is served with Norwegian wild-caught langoustine and black bean sauce. Next is Chef Marvas Huang's Shining Seas where Külhbarra Barramundi and clams are served with a Shiitake Essence turns luminous green under UV light. A bowl of very comforting fried Japanese pearl rice accompanies the dish.
For an additional S$48, you can add the Gratin of Half Boston Maine Lobster topped with Hollandaise, Gruyere and European Cheese.
A selection of ocean-themed cocktails and wines or spirits can be ordered to accompany the meal. Check out what Daniel Goh from Spirited Singapore has to say about these ocean-themed cocktails in his review.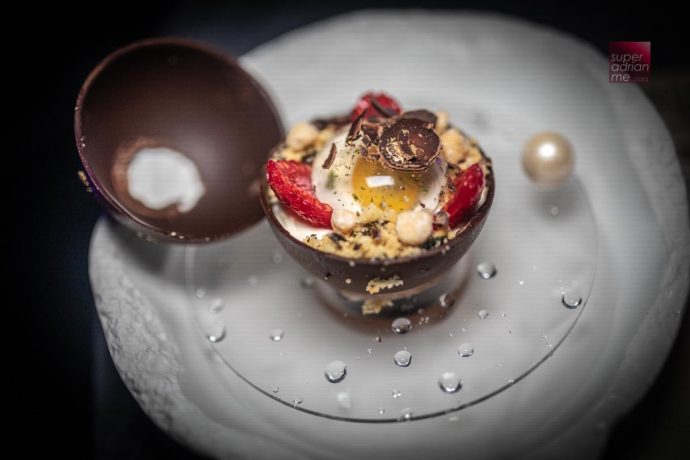 The meal ends with Treasures of the Ocean by Chef Kenny Kong. A dramatic dessert of Ivories Chocolate, Bergamot Curd, Seawater Caramel and Seaweek Crumble is served with dry ice giving it a dreamy effect. The only way to eat it is to smash the chocolate ball with your spoon to expose the ingredients inside.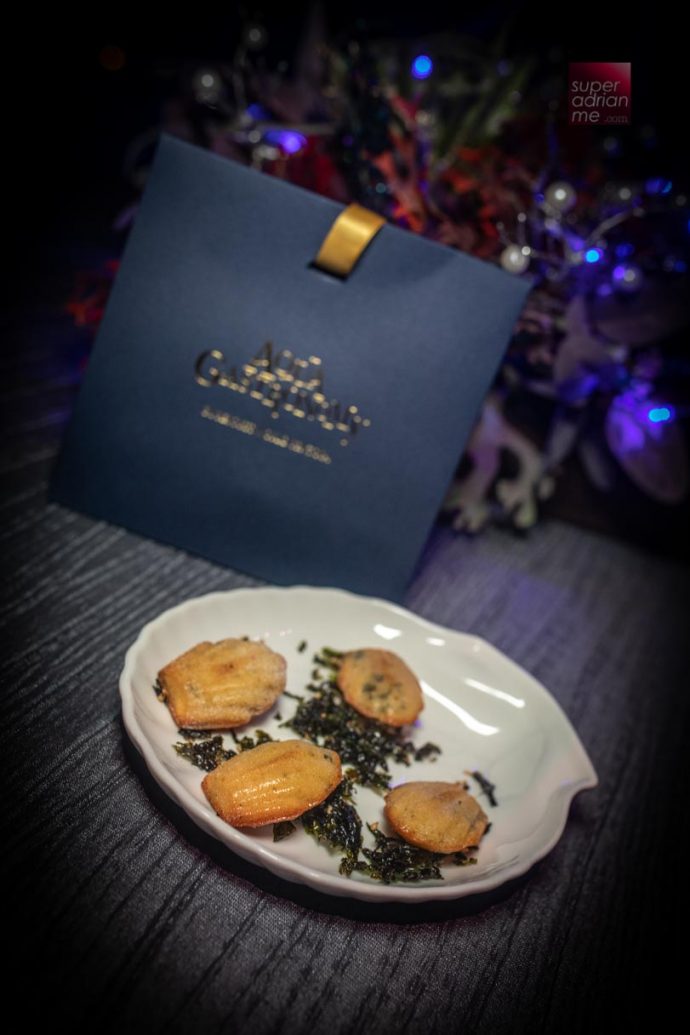 Guests are presented with a parting gift of housemade kelp sea salt and collectible postcards of Wu Yanrong's whimsical yet lifelike illustrations of S.E.A Aquarium's marine animals.
Aqua Gastronomy – Festive Edition
The festive edition of Aqua Gastronomy will be held from 6 November 2020 to 3 January 2021. Bookings for November are available for booking since 12 October 2020.
The new menu with include festive culinary creations by Chefs Marvas Huang and Tony Choo. Their dishes include a Snowy Morning – Braised 'yumbah' abalone with French sea whelk, Shaoxing snow and tsukemono, and Holiday Lights – Miso cod with "yu xiang" cherry aubergine, doubanjiang and luminous pearl, paired with new cocktails concocted for the holiday season.
There are two seatings from Thursdays to Tuesdays at 6pm and 8.30pm. Reservations are available at www.rwsentosa.com/AquaGastronomy.