Sentosa celebrates its 49th anniversary in September with prizes, new programmes and deals. The island welcomes guests to make time for more holidays with a new landmark campaign, Make Time. Win 49 prizes such as Sentosa's staycation, attraction and dining experiences in the entire month of September. Look out for details here or on Sentosa's Instagram account.
Make Time to Win 49 Prizes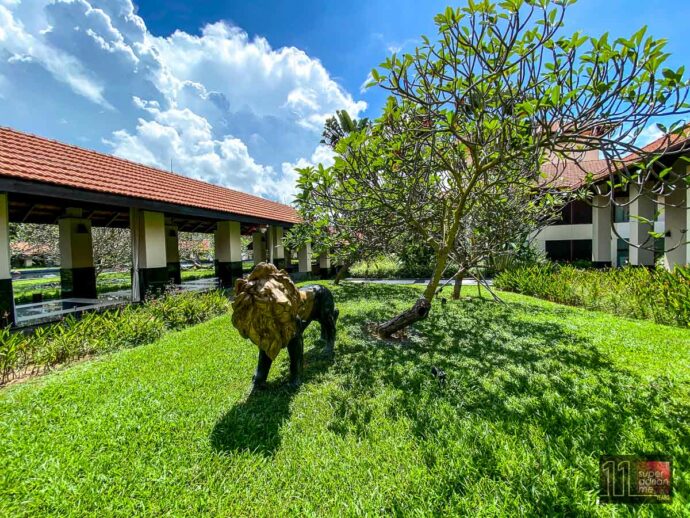 Win an ultimate two-day-one-night staycation for four at Sofitel Singapore Sentosa Resort & Spa, which comes with a private beach dinner at the Southernmost Point of Continental Asia and four 120-Token Sentosa Fun Passes. For one evening, the Southernmost Point of Continental Asia will be closed just for the private dinner. The winner will also have the opportunity to catch Sentosa's spectacular sunset.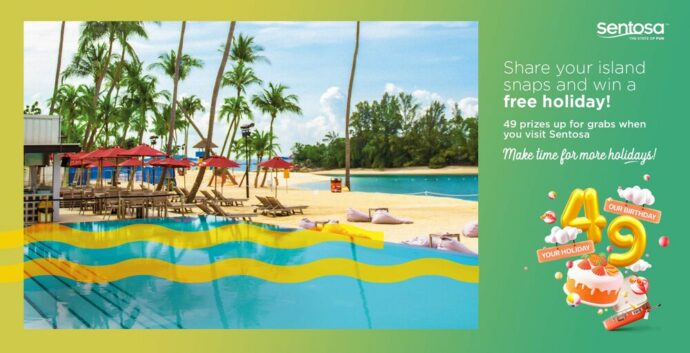 Post on Instagram a shot of yourself taking time off at Sentosa along with your reason for visiting the island. Tag Sentosa's Instagram account with the hashtag #MakeTimeForMoreHolidays. 12 winners will be selected every week between 28 August and 24 September 2021, with the winner of the ultimate staycation selected on the final week.
Make Time for More Holidays New Programmes
Sentosa Development Corporation is rolling out a series of new fitness, arts and education experiences for guests to enjoy between September and November 2021. Prices of these programmes start from S$10 with selected experiences bundled with dining options.
Graffiti by the Beach

S$20 per person
Join a graffiti artist to learn the basics while creating graffiti-style artwork using spray-painting techniques
Every alternate Tuesday, 4.30 pm to 6 pm at Emerald Pavilion and Siloso Beach

September – 7 and 21
October – 5 and 19
November – 2 and 16


Fort Siloso Night Experience

S$15 per person inclusive of S$15 Southside F&B Vouchers)

Embark on a 1.5-hour tour of Fort Siloso led only by a kerosene lamp and a guide, who will take guests through a realistic telling of the life of World War II soldiers.
Every alternate Friday with two sessions at Fort Siloso Skywalk Entrance.

Session 1 : 7 pm to 8.30 pm
Session 2 : 8.30 pm to 10 pm

September – 10 and 24
October – 2 and 22
November – 5 and 19

Ukelele By the Beach

S$10 per person inclusive of S$10 Skypark Sentosa voucher

Learn the basics of playing the ukulele, against the majestic views of the sea from the 50m-tall SkyBridge.
Every Monday with two sessions at Skypark Sentosa by AJ Hackett.

Session 1 : 5 pm to 6 pm
Session 2 : 6.30 pm to 7.30 pm

September – 6, 13, 20 and 27
October – 4, 11, 18 and 25
November – 1, 8, 15 and 22

Art Painting by the Beach

S$15 per person
Learn painting by the sea in this two-hour workshop and bring home your own hand-painted tote bag.
Every alternate Sunday from 4.30 pm to 6.30 pm at Sentosa Cove Village Function Room at Level 3,m Sentosa Cove Village Car Park.

September – 5 and 19
October – 3, 17 and 31
November – 14 and 28

Pottery by the Beach

S$15 per person
Immerse in the therapeutic process of moulding your own wares, amidst the tranquil beach surroundings.
Every alternate Thursday from 4.30 pm to 6.30 pm at Emerald Pavilion at Siloso Beach.

September – 9 and 23
October – 7 and 21
November 4 and 18

Archery by the Beach

S$15 per person inclusive of S$15 Southside F&B vouchers
Have a go at recurve archery, an official sport at the Olympics. You will be introduced to the sport and have a few guided practice rounds, before a mini competition.
Every Tuesday from 5.30 pm to 7 pm at Southside.

September – 9, 16, 23 and 30
October – 7, 14, 21 and 28
November – 11, 18 and 25


Yoga by the Beach Series

S$15 per person inclusive of S$15 Southside F&B vouchers

S$53.23 inclusive of S$50 FOC Sentosa dining voucher
These rejuvenating yoga sessions held by Sentosa's beaches will leave you calm and relaxed. The sessions are bundled with food options so you will be able to dig into a sumptuous dinner after the yoga workouts.

Yoga At South Side from 6 pm to 7 pm

September – 15 and 22
October – 6 and 20
November – 3 and 17

Sunset Yoga at FOC Sentosa from 6 pm to 7 pm on 30 September and 28 October.
Muay Thai by the Beach

Free


Enter Fitstop, Singapore's first outdoor mobile gym that brings Muay Thai and fitness workouts to you, wherever you are. Get ready to sweat, learn and have fun through this 1.5-hour mix of martial art and fitness!

Every Saturday from 6 pm to 7 pm at Southside.

September – 4, 11, 18 and 25
October – 2 and 9
Special Deals for Sentosa's 49th Birthday
| | |
| --- | --- |
| Rewards for every S$30 spent in Sentosa | From now until 31 December 2021, redeem a sure-win scratch card with every S$30 spent on attractions, tours and hotel stays in Sentosa. Exciting prizes worth up to S$400,000 will be up for grabs including staycation, attraction, and dining experiences, as well as iShopChangi vouchers. Scratch cards can be redeemed at Sentosa Ticketing Counters located at VivoCity Level 3, Resorts World Sentosa, and Beach Station, with up to five scratch cards redeemable in a single transaction. |
| 100-Token Sentosa Fun Pass at S$49 | From 1 – 30 September 2021, guests can purchase the 100-Token Sentosa Fun Pass at just S$49, a hefty discount of over 50%. |