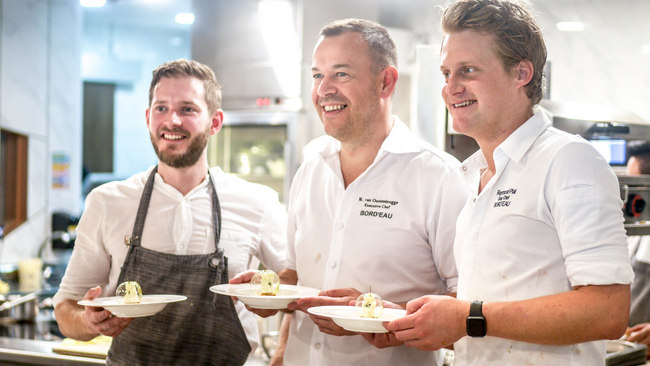 Akin to an artist displaying his greatest works in a gallery, Art at CURATE is where Michelin star chefs dazzle diners with a unique, gastronomic experience. This season, Chef Richard van Oostenbrugge of Bord'Eau Restaurant Gastronomique, graces Singapore with an intimate two Michelin star experience. The cuisine, French fare with Dutch flair, left me, and many others, clamouring for more. Surprises at every turn, it was a lunch I'd remember for years to come.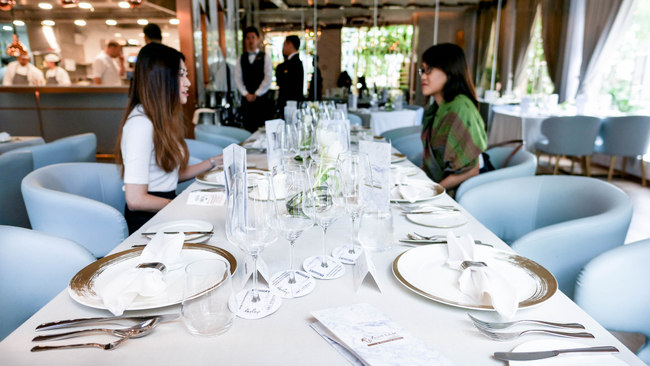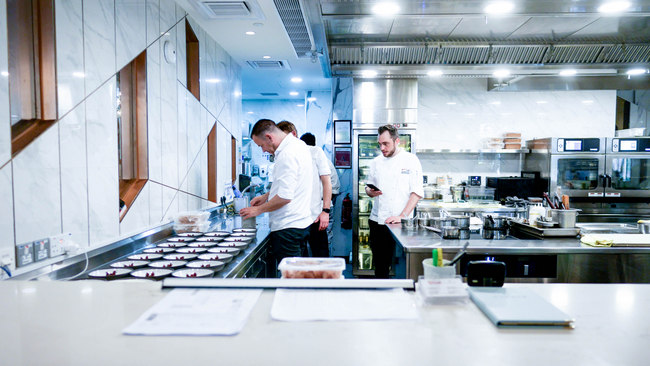 Every moment with Chef Richard was a pleasure. It is easy to see how he is one of the few to attain two stars, one year after his first. A true believer in his ingredients, he displays the core flavours of each, delicately, in every dish. Every plate was also served with precision; not one drip out of place, not one bonito flake dancing offside.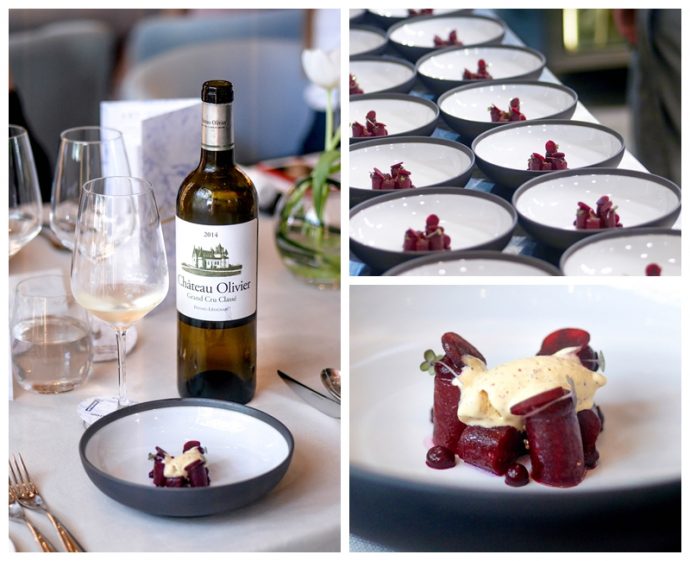 To start, an amuse bouche to awaken a sleepy palate; Red beet with Mustard Ice Cream. A classic French combination. The earthy, sweet beets are paired with a tangy mustard, served as a light dollop of ice cream. Almost as if it was a trailer to what Chef Richard can do in a kitchen, this simple dish showcases how he melds flavours together for a lip-smacking symphony.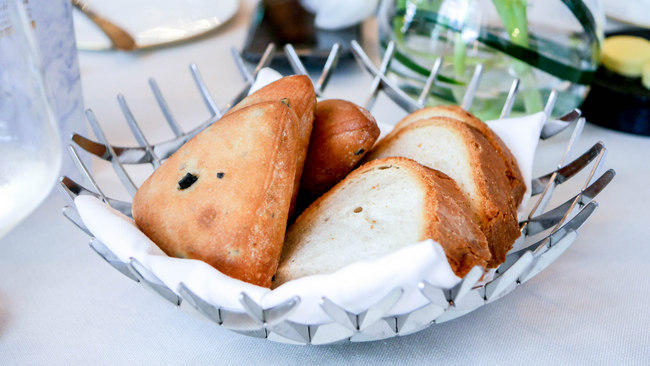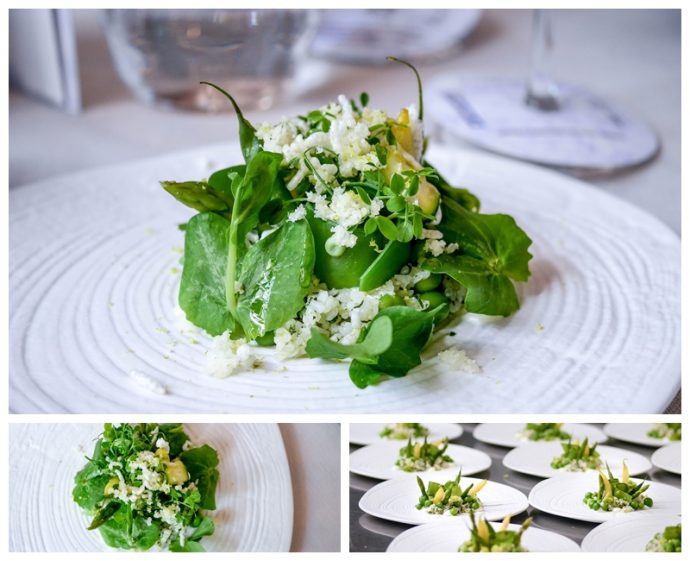 Next, a stunning bouquet of garden greens, Couscous of Basmati Rice with Spring Vegetables. Delicate and crisp, the greens were a dear with the slight nutty flavours of the couscous of basmati rice. Tying it all together are the bits of cottage cheese. Creamy yet light, with a touch of savory. Still, what really took the cake was the elegant pairing with the 2014 Chateau Olivier Blanc, a dry, brisk white carrying a large palette of lime or lemon, with a engaging salinity in its finish. An excellent glass for an equally outstanding starter.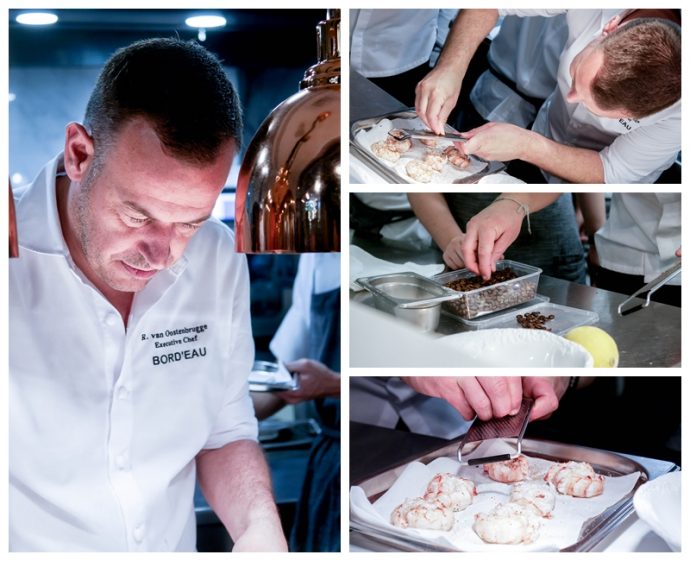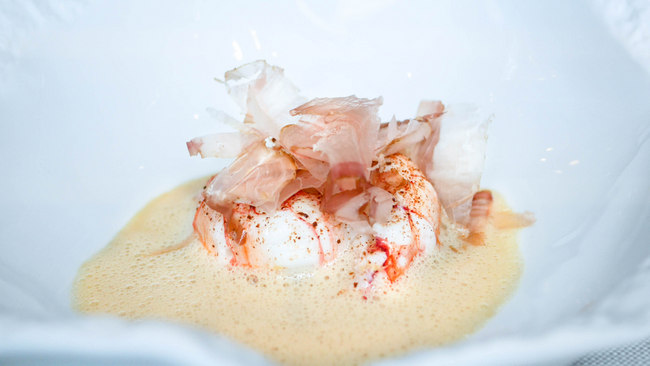 Chef Richard has immense pride in every plate that leaves his kitchen. The serious expression may keep you at bay, but, it quickly dissipates as he introduces his dish, ingredient by ingredient, at the table. Every word gives you a glimpse of how this esteemed chef works, and how he strives to bring out the best in each bite.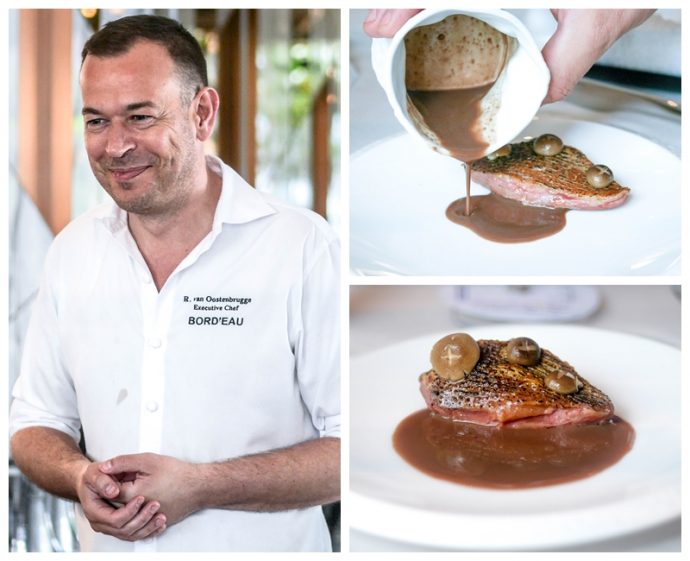 And, nothing brings forth these praises more than his mains; Langoustine poached in duck fat with katsuobushi albufeira and coffee and Anjou pigeon glazed with mustard miso, salmis sauce and shiitake.
First, the langoustine. I was floored. This dish was a creamy, buttery perfection in every sense of the word. I was impressed, and addicted, to the bitter notes of a coffee bean, painstakingly grounded onto every piece of seafood right before service. It brought out the inherent sweetness of the langoustine, rounded off by the decadent sauce laying beneath.
Just when I thought things couldn't get any better, he brings out a unassuming plate of Anjou pigeon. This traditional French ingredient was a dream. The delicate texture and elegantly gamey flavour of the pigeon breast brought an entire table of chatty journalist to silence. This, my readers, is the best dish to come out from Chef Richard's kitchen that afternoon.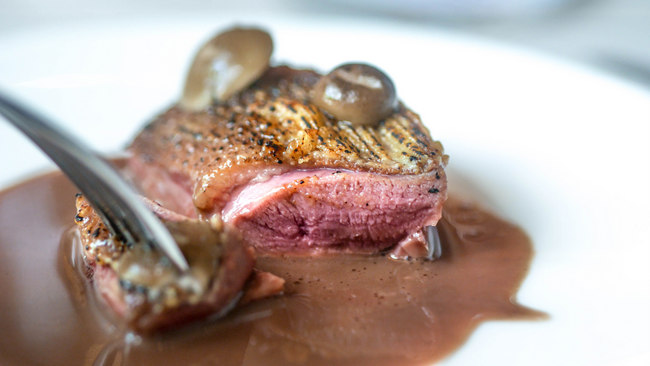 The sommelier knew. He paired it with a glorious glass of 2014 Domaine de Bila Haut Côtes-du-Roussillon Lesquerde l'Esquerda. A blend of Syrah and Grenache, this red was a medium-bodied beauty with a fine tannin and a strong palate of dark fruits. Fresh, without any heaviness, ideal with the Anjou Pigeon and earthy salmis sauce.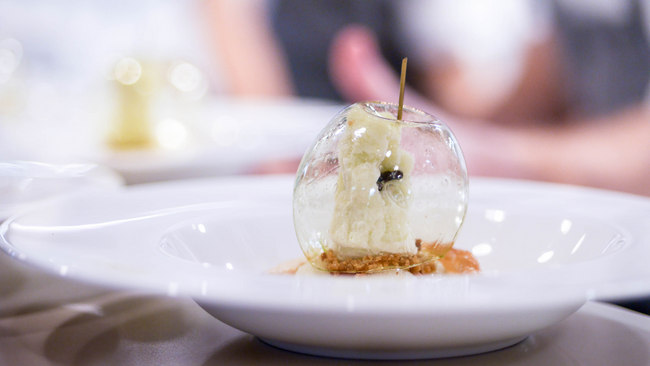 Lunch ends with a final bang. Named, simply, Apple. Oh, how do I begin to describe this stunner of a dessert? The green apple sorbet forming the "core" is dressed with chocolate "pips", and encased in a transparent blown sugar shell, all forming the usual aesthetic of a granny smith. It lays upon a ring of marinated apple, walnuts, salted caramel and puff pastry. The visual, amazing. The flavours, mind-blowing. If all I could have at Chef Richard's BorD'eau was this, I'd leave, satisfied for a decade.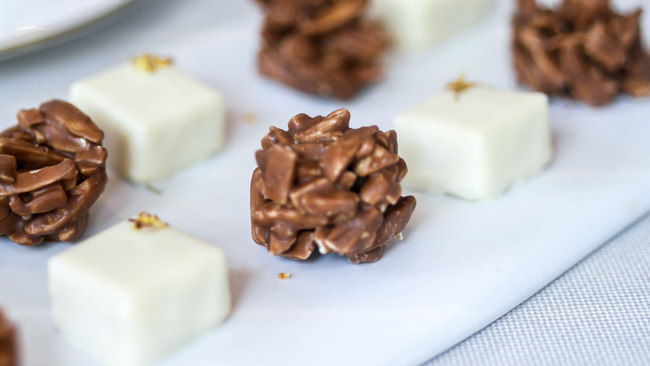 Every minute spent with Chef Richard at Art at Curate was superb. The service, efficient and knowledgeable, worthy of the award-winning chef. All in all, a genuinely spectacular meal.
The second edition of Art at Curate 2017 featuring Two Michelin-starred Chef Richard van Oostenbrugge will be held at CURATE located at Resorts World Sentosa (The Forum, Level 1) from 5 to 13 May 2017.  Prices range from S$200++ for a four-course lunch with wine pairing to S$400++ for an eight-course dinner with wine pairing. For reservations, please call +65 6577 7288 or email
[email protected]
From 16 to 23 August 2017, Art at Curate will welcome Chef Kang Mingoo from Michelin-starred Mingles in Seoul, Korea. The fourth and final edition of Art at Curate in 2017 will take place from 5 to 12 October 2017 featuring Chef Alexandre Dionisio from the stunning Two Michelin-starred La Villa in the Sky in Brussels, Belgium.
CURATE is located at 26 Sentosa Gateway, Forum, #01-231 & 232, Singapore 098138.