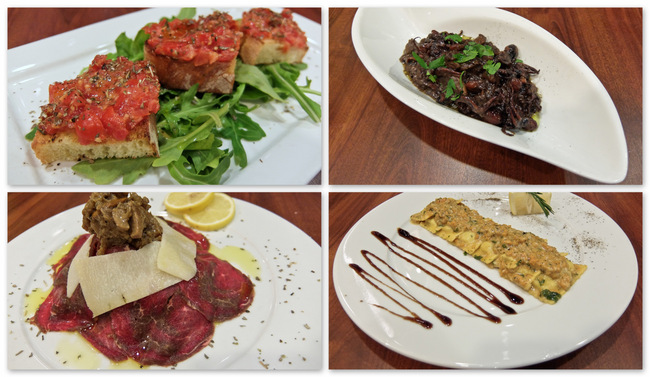 It is telling when you go back to the restaurant multiple times after your first visit. I can say Trattoria Nonna Lina is now my go-to restaurant for authentic Italian food. This is a family-run restaurant and Chef Simone's mother, father and brother works with him. They come from the seaport town of Porto Santo Stefano, Tuscany, which is why the extensive menu features many seafood dishes. In my three visits so far, everything I ordered has not disappoint and each time I leave, I yearn to go back for more. In fact, as I am writing this, I have actually planned another dinner gathering there in a few days time.
We are served a plate of Bruschetta to start. Why waste calories on Bruschetta right? Oh I am so wrong. It is worth every bit of space in my eagerly waiting stomach. It is just fresh diced juicy tomatoes sprinkled with basil soaked in olive oil, on a thick toast. Yet never underestimate simplicity as it takes much effort to create a winner. 
Start with the Beef Carpaccio (S$24) that is lightly soaked in Truffle Oil and topped with a generous Porcini Mushroom dressing. A great combination as the mushrooms and truffle oil helps to balance any taste of rawness from the beef and also gives it more taste and bite. 
Something less typical of an Italian restaurant is the Baby Octopus (S$25). It is cooked with Porcini Mushrooms in Presecco reduction. This creamy dish is tasty and the little octopus perfectly done – soft yet chewy. A serving of homemade bread goes well with this. 
The star dish for the evening must be the Rectangular Pasta pockets filled with Garoupa and drizzled with luscious creamy Sea Urchin sauce (S$40). The garoupa filling is plain which is good as the hero is the sea urchin sauce. Also, dip it with the Balsamic vinegar for a tinge of sweetness and a dash of lemon juice helps to break any possible fishy taste. 
The second pasta dish is a homemade Pappardelle with Italian Sausages in creamy Gorgonzola sauce (S$28). The blue cheese taste is distinct while the thick noodles are an interesting change from your standard spaghetti or fusilli. It is a little heavy so it is best to be shared amongst two or three people. 
For more sharing, the popular Cacciuco (S$49) is recommended. It is a stew of assorted seafood in thick homemade tomato broth served with homemade bread. This dish was traditionally served by poorer Tuscans who put whatever ingredients they had into a stew. Today, it is a special dish only available in Tuscany. 
You have to leave space for dessert. Here's why. The homemade Italian Chocolate and Rum Pudding with Caramel sauce (S$16) is to die for. It might sound heavy but you cannot stop once you start scooping this piece of heaven into your mouth. Seriously indulgent. If you do not consume alcohol, then the Tiramisu (S$12) is a good alternative. Chef Simone makes a non-alcoholic Tiramisu specially for kids and families. 
Before I left the restaurant, I managed to catch Chef for a brief conversation and whilst discussing how he plans his menu and if he adapts to the Singaporean palate, he told me it is definitely important to serve dishes that appeal to Singaporeans but whatever he serves has to be authentic. If the original recipe is too salty or too sweet for the Singaporean palate, he would rather exclude the dish from his menu than change the recipe. Respect. 
Some trivia. "Nonna" is grandmother in Italian. And "Lina" is the name of Chef Simone's grandmother. Chef's partner in the business is his Singaporean wife Josephine Tay. 
Trattoria Nonna Lina is at 61 Cantonment Road, Singapore 089757. It operates Monday to Sunday including Public Holidays, 2pm – 2.30pm for lunch and 6pm – 11pm for dinner. Call +65 6222 0930 for reservations.
About the Writer
Kevin Khoo is a self-professed foodie who loves his bak chor mee as much as an authentic al dente aglio olio; and savoury as much as sweets. 

He also works in F&B so he literally eats and breathes food. He struggles to stay in shape.