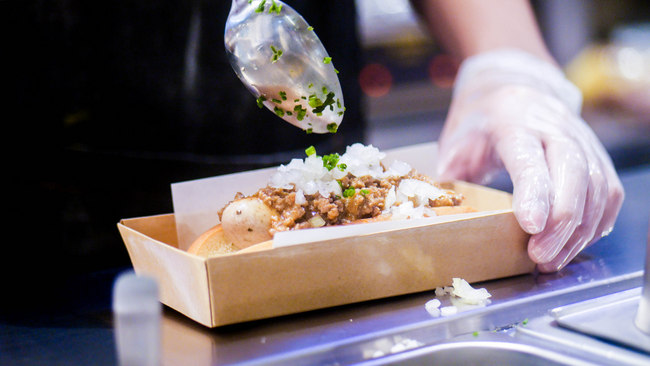 Everyone's a weiner (get it) at Be Frank. Located in the food-centric basement of Paragon Shopping Centre, the homegrown hot dog kiosk serves up our beloved comfort food, fun and fuss-free. Owner, Kenneth Chang, simply wants all to enjoy a honest-to-goodness sausage the way he remembers it, the way he loves it. He stands out from the crowd, offering house-made sauces and toppings with every dog. To my delight, they all come with a side of mash and puns.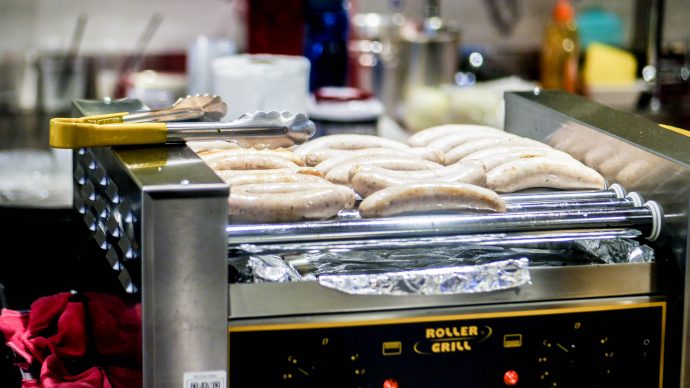 They all start out with the same base; a soft bun and a plump pork bratwurst. With a bit spice, these dogs come with an excellent (and satisfying) snap. The sweetness of the pork is apparent, but there's only so much I can talk about a sausage. It is simply a quality bratwurst. The stars of the Be Frank are the chicken stock gravy, bacon bits, minced beef, coleslaw and, especially, the mashed potatoes.
Kenneth, with the help of his ever-ready staff, prepares them from scratch every morning. Everything from the tedious chore of peeling potatoes to shredding bacon into bits are all done on site. Even as I was sampling his creations, Kenneth was busy preparing his next batch of potato croquettes.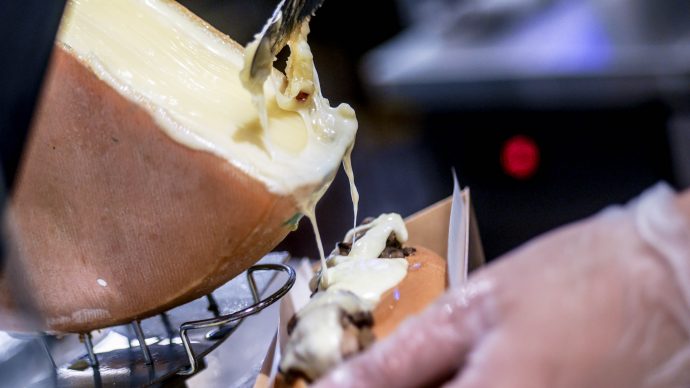 Smart move. Nothing invites a hungry horde better than the waffling aroma of fried potatoes and cheese, am I right? But, before I get distracted by thoughts of fried potatoes (as always), let's get back to the hot dogs.
Unanimously, and unsurprisingly, Coney's Island (S$6.50) is the best of the lot. There is reason why the amusement wonderland remains such an institution in America, and, in every prospective tourist's mind. Hot dog eating competitions aside, they are known for their classic combination of minced beef and diced onions. Kenneth takes it a little further, combining all the usual condiments of tomato paste, mustard, Worcestershire sauce into his mince. There is no need for additional ketchup, mustard, and, for the love of all things delicious, do not bastardise it with even a hint of chilli sauce.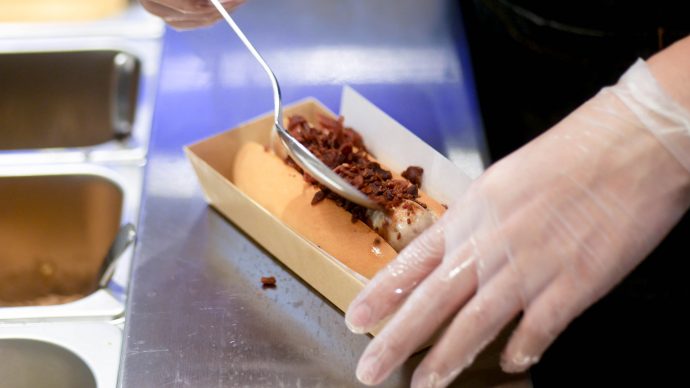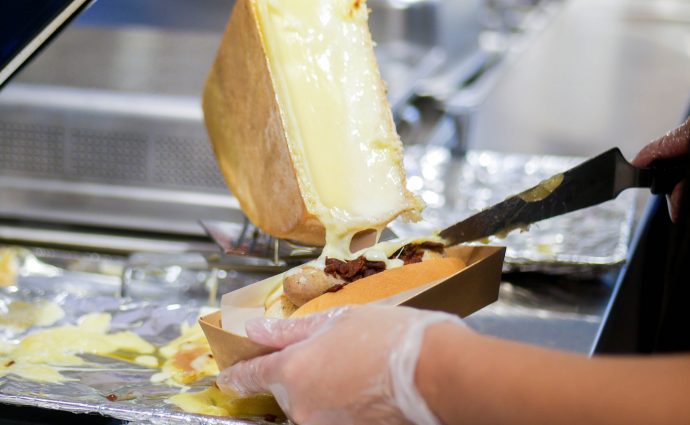 Who doesn't love bacon? Most popular with the Paragon crowd, Bac and Cheese (S$6.50) comes with crispy bacon bits and a generous slather of the gooey raclette cheese. The combination itself is explanation enough. Amazingly, my love for bacon faltered before the Cheezy Mushroom (S$6.50). Also served with the raclette cheese, it is second to Coney's Island. The white button mushrooms are sautéed in nothing but chopped garlic and their chicken stock, turning them into a sweet, tender topping for the robust bratwurst. On both levels of flavor and texture, it just works.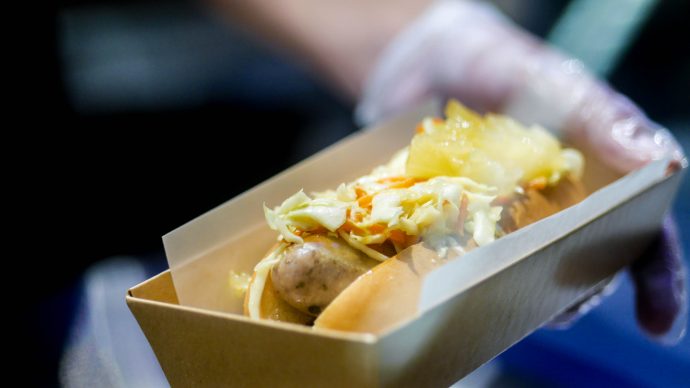 Whether you are fans of the show or not, Slaw & Order (S$6.50) is a lighter alternative. Served with a vibrant tangle of carrot and cabbage coleslaw, it is topped with juicy pineapples. Every bite refreshes your palette for the next. It can get real messy, but it will be worth it.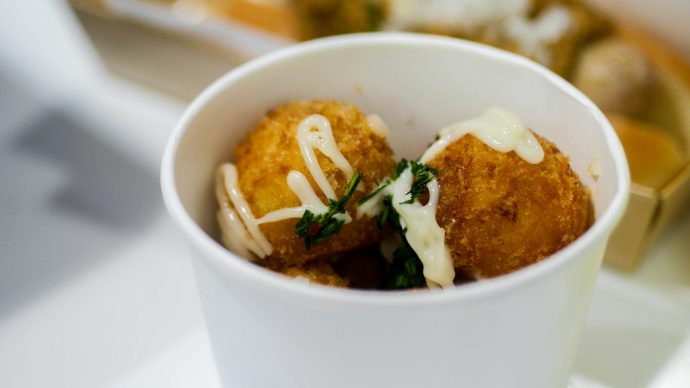 Top up a couple bucks more for the set meal (S$9.90). It comes with a soft drink and a choice of croquettes (2 pieces) or fries. Psst. Choose the croquettes! You can get fries any other day of the week. Those magical fried balls of potatoes, bacon and mozzarella cheese? Only at Be Frank. Painstakingly mashed into a velvet consistency, with some chunks and bacon bits for texture, it carried the sweetness of that house-made chicken stock. Unlike the usual thick beef stock or gravy used in such dishes, Kenneth opted for a lighter yet rich flavor. So, so much better.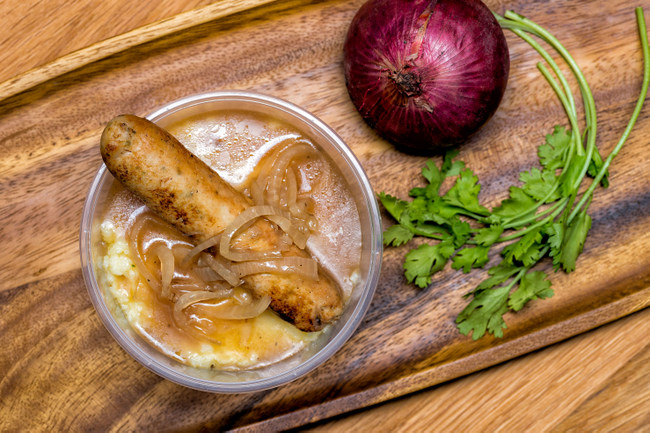 The same stock is used to make a gravy in S'mash (S$6.50), their version of the famous bangers and mash. It is served with a whole pork bratwurst and a hearty serving of mash and onions. There's something in that stock, I swear. The gravy just gels the whole dish (or cup) together. Don't be fooled by the picture, it is a huge serving. A rather good choice when famished.
Be Frank is located at Paragon Shopping Centre, 290 Orchard Road #B1-K26, Singapore 238859.
Tel: +65 9765 2509