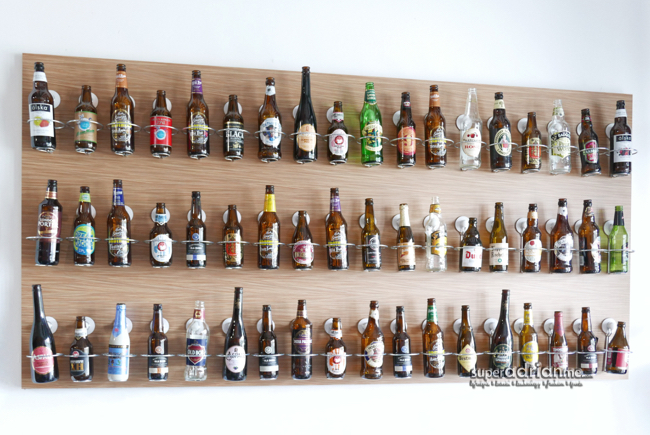 Having over fifty different craft beers and ciders is a bragging right for Old Boys Gallery. Together with their western-fusion fare, it is a perfect place to chill out. They join other well-known eateries like Stranger's Reunion or Chotto Matte in the popular Kampong Bahru neighbourhood.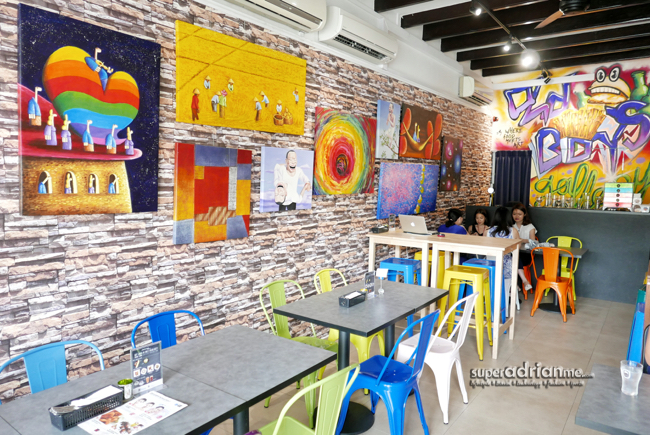 Formerly an art gallery, the three owners of Old Boys Gallery decided to theme the new bistro around food and art.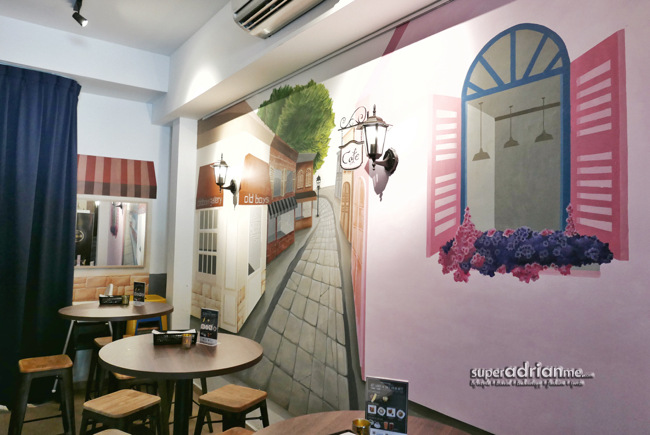 As such, you get a casual yet vibrant and colourful surrounding, with walls covered or painted with art.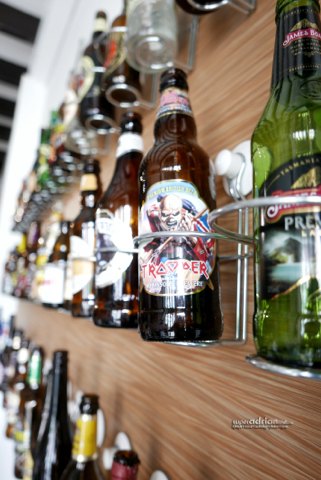 The beers and ciders are priced from S$12 to S$20. The three most popular among customers so far are:
Trooper (S$14). Deep golden ale with citric hop notes and dominating malt flavours. Little or no bitter aftertaste. A favourite among boys it seems. 

Hitachino White Ale (S$12). Multi-award winning wheat beer spiced with coriander, nutmeg and orange peel. Light and easy to drink.

Clement's Four (S$12). Cider with notes of gentle fruit with fragrant wood overtones and aroma of spring flowers. I was told it tastes like champagne. I would have tried it but unfortunately I was driving and you know the saying "Don't Drink & Drive".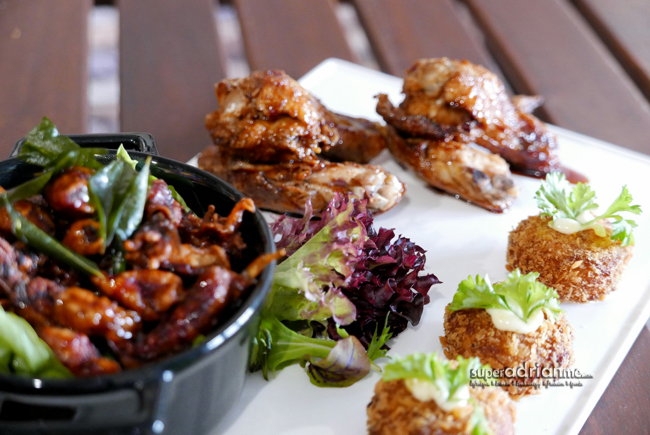 The menu offers a wide range of small bites. A sample portion of three different types from the menu's "Bits & Bites" section goes for just S$21.
OBG Wings (S$10.90 for 3, $18 for 6). Marinated with sweet and tangy marmite. Its scent hits you before you put it into your mouth. Crispy, flavourful and very nostalgic. 
OBG Crab Cake (S$11). These patties are crispy on the outside, with warm and moist crab filling. Real crab is used hence an intense crab flavouring is achieved. Topped with mango relish for a tinge of added sweetness. 
Crispy Baby Squids (S$11). Very crispy indeed with a little charred aftertaste. It is slightly spiced and goes perfect with a beer.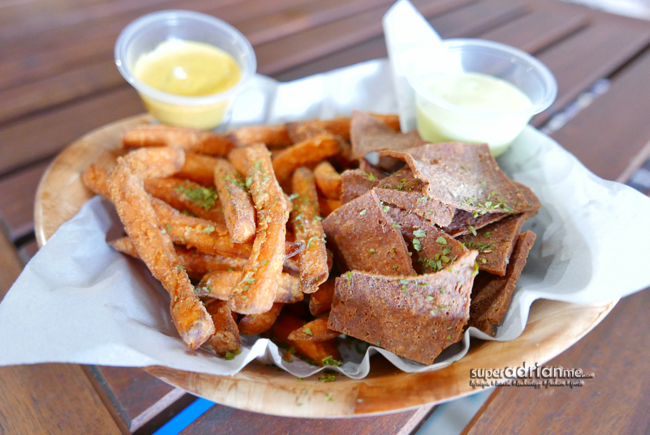 Potato Head (S$7.90) which is sweet potato fries, and Spam Chips (S$9) are recommended. The restaurant allows a combination of both as a single dish, but you pay the higher price (i.e. $9). The combi is totally worth the while if you are dining in 2's and you want variety. The sweet potato fries is excellent. It is everything you want in that little stick of goodness – sweet, soft, hot, crispy, spiced. The spam chips are really chips, with texture like potato chips. The restaurant did not want to offer typical spam fries but chose to explore something unique and thought this is a perfect companion for beer. I agree. They come with curry mustard and wasabi mayo dips.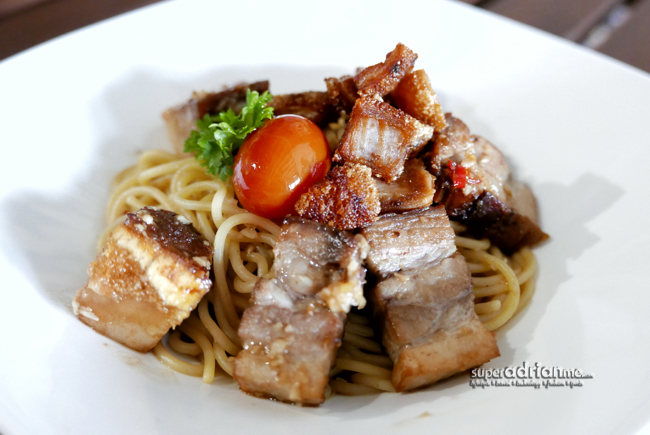 Roast Pork Aglio Olio (S$12.90). Ah Rong meets Giovanni. Fusion. The use of soy sauce and chilli padi gives it a more oriental taste. The only thing Italian is probably the smooth and al dente pasta. I like it because it has a familiar zi-char taste to it and is coupled with the "QQ-ness" of the pasta.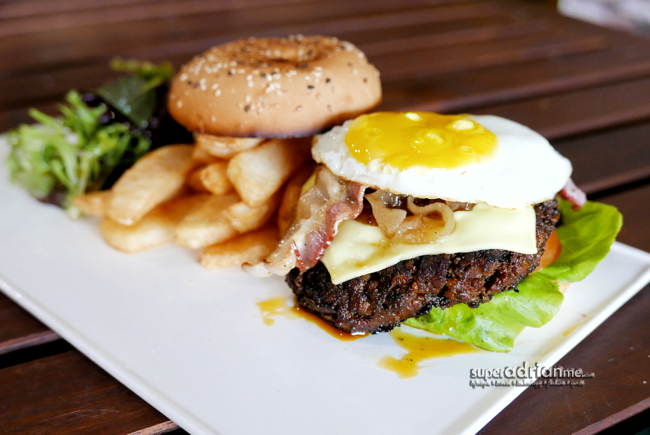 Manster Burger (S$17.90). Handmade beef patty, with cheese, bacon, egg, and caramelised onions, drizzled with barbeque sauce. Served with fries and salad. I believe the differentiating factor of this burger is their very juicy beef patty and the unique homemade barbeque sauce.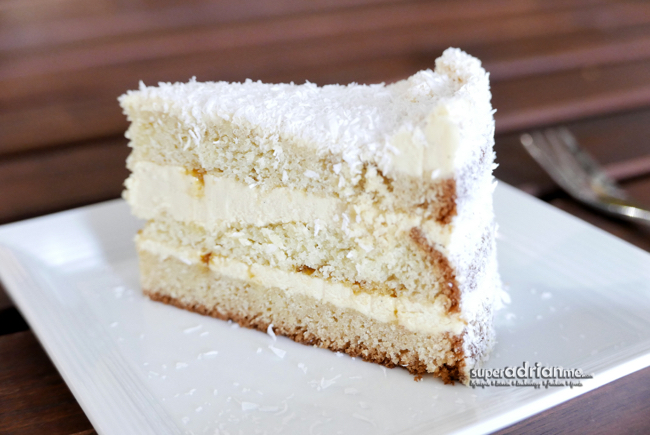 The Coconut Cake (S$7.90) is sweetened with gula melaka. This is almost ondeh-ondeh in cake form. It is quite sweet so maybe a coffee might go well with it. Unfortunately their coffee is from an automatic machine and all I could think of at that point, is to have a nice cappuccino at Stranger's Reunion a few doors away. It is wise of them not to try to compete with a known coffee establishment and instead focus on their beers and ciders. Maybe tea…they serve Tie Guan Yin (S$7) and Snow Chrysanthemum (S$9) in the pot. 
Old Boys Gallery is located at 67 Kampong Bahru Road, Singapore 169371. It is open from Mondays to Saturdays from 11.30am to 11pm. Call +65 9187 0756 for reservations and parking is available along Blair Road.