The Yamagata Prefectural Promotion Board and Orihara Shoten organised a series of Sake Pairing dinners just last week to promote sakes from Yamagata.
I attended the one-night only sake pairing dinner which was supported by around 51 people on 21 August 2019 at the newly opened NŌKA on level 7 of Funan Centre which is on the same level as the herb garden. We had six Benten 辯天 and Gasanryu 雅山流 sakes from Benten & Shindo Brewery respectively. Guests had to pay S$108 for this experience. Guests even got to bring home a full bottle of sake to remember the night.
Goto Brewery is based in Okitama and managed by the 10th generation. Goto Shuzoten is a jizake brewery dedicated to small batch production of high-quality sake since 1788. The rice used is primarily grown by contracted producers (Dewasansan, Tsuyahime, Kamenoo and Yamada Nishiki varieties), including the brewery's own kurabito. Junmai-shu and junmai ginjo-shu among others are produced here. Benten sakes tried that night included Junmai daiginjo Genshu Bizenomachi, Junmai daiginjo Genshu Yumenishiki and Junmai daiginjo Genshu Dewasansan. The three sakes are polished to 48%.
Shindo Brewery has been brewing the local and famous "Fukutsuru" brand for the last 10 generations. Gasanryu is a new brand that was created from an idea of going back to the original. They rebuilt the entire process to make truly authentic sake for sake lovers by taking harvest of rice to brewing all in-house. Gasanryu is available in limited quantity. The three Gasanryu Sakes we had were the Ura Gasanryu Honjozo Koka, Ura Gasanryu Junmai Fuka and the Gasanryu Junmai Daiginjo Gokugetsu.
Noka Signature Snacks

Truffle Kampachi

Wasabi Blue Prawn

Kampong Daikon & Foe Gras
NŌKA's Chef Seki Takuma prepared an impressive dinner with six courses to pair with each sake.
Dinner started off with NŌKA Signature Snacks comprising Organic Oxheart Tomatoes from Genting, Okinawan spinach and Goma Shichimi, black calamari with Mexican tarragon and garlic aioli, and EGC golden mushroom with blue pea & Japanese sea salt. The appetiser was paired with the Gasanryu Honkozo Koka, which is crisp and fresh making it an excellent choice to start off the night on its own or paired with fresh vegetables or fried items like the calamari.
The second course was a sashimi of truffle kampachi & wasabi blue prawn sushi. This course was paired with Benten Junmai Daiginjo Dewasansan. The same sake was also sprayed onto the Wasabi Blue Prawn.
The Kampong Daikon & Foie Gras was absolutely divine. A generous portion of pan seared foie gras complemented the white radish with Yusu Pepper and crispy buckwheat. An umami clear soup was poured into diner's bowls. Pairing this course was the Gasanryu Junmai Fuka which pairs very well with notes of green apple, lemon and ripe lychee. The full bodied sake helped to cut through the picquant foie gras.
Benten Junmai Daiginjo Yumenishiki paired with the Ginkarei Saikyo-Yaki. Silver flounder is marinated with sweet miso and served with pulut hitam furikake, sweet potato chips, sea grapes and ikura.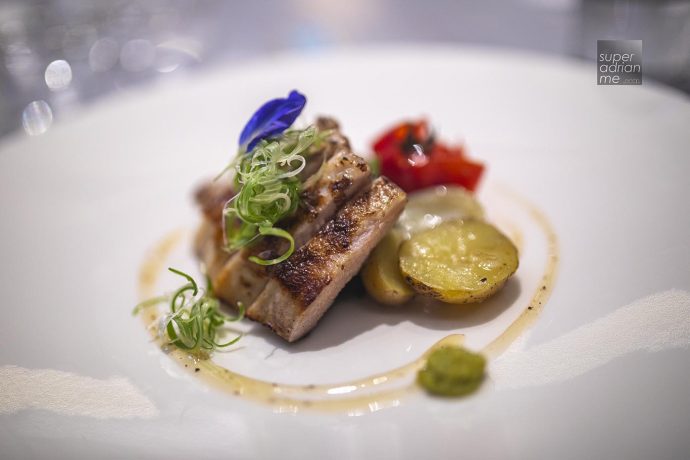 The pork jowl marinated with rice fermentation and served with EGC kale, baby potato and lemon garlic sauce. The Koji Tontoro was paired with the Gasanryu Junmai Daiginjo Gokugetsu.
To end of the night was the Bezenomachi Rice Gelato. Yuzu mousse is served with puffed rice and EGC rooftop herbs. Excellent pairing with the Benten Junmai Daiginjo Bizenomachi.
The sakes tasted are available for purchase at Orihara Shoten at Robertson Walk.