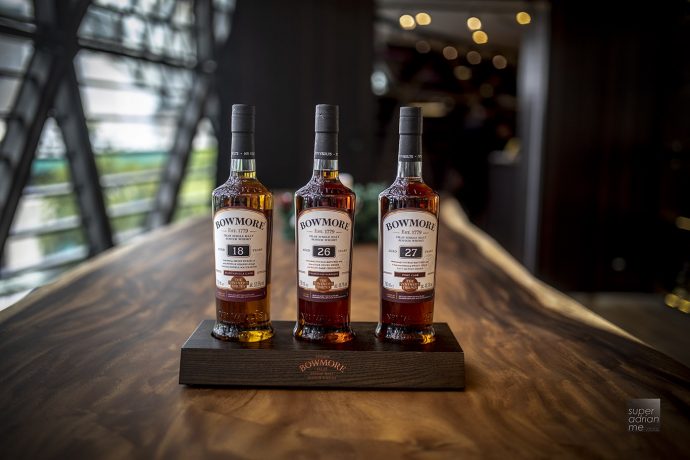 Bowmore Vintner's Trilogy features a collection of single malt whiskies in a wine-inspired cask series that explores the marriage of Bowmore's signature house style with the finest ex-wine, port and sherry casks.
The Trilogy includes the Bowmore 18 Year Old Double Matured Manzanilla, Bowmore 26 Year Old Wine Matured and Bowmore 27 Year Old Port Cask.
The trilogy is available at The Grande Whisky Collection, The Whisky Distillery outlets at ION Orchard, MBS, OUE Downtown, Millenia Walk, VivoCity & Raffles City. The 18 year old is priced at S$299 for a bottle while the 27 year old Port Cask is priced at S$999. The 26 year old French Oak Barrique is not available on its own. It is sold as part of the Trilogy at S$2,197.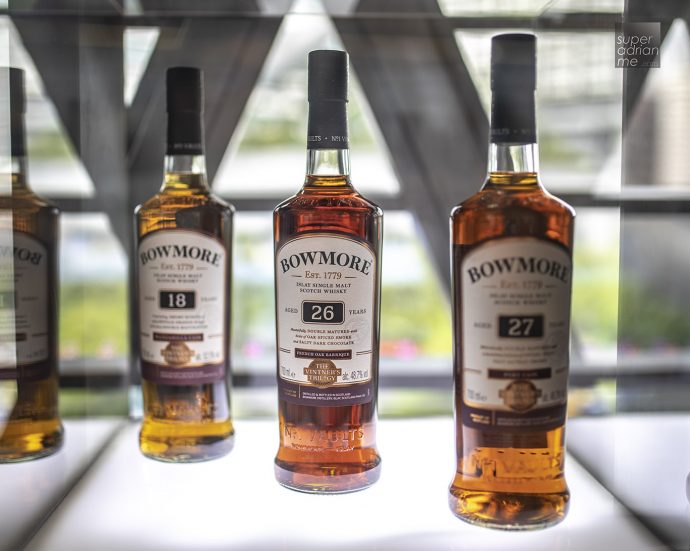 The 18 year old Manzanilla is first matured for 13 years in ex-bourbon barrels then for another five years in Manzanilla sherry casks. It has an antique gold colour. And a nose of treacle, spiced Seville oranges, ripe blackcurrant, salted caramel and subtle menthol and chamomile. Add water and soft stone fruits (greenage), vanilla fudge and fresh peat smoke open up to the nose. Burst of peat smoke and bitter Seville oranges on the palate. A sip gives a dry and long lasting finish. This makes a great aperitif for me.
The 26 year old French Oak barrique spends 13 years in ex-bourbon barrels and the remaining 13 years in wine barrique. This edition of the trilogy offers a nose of redcurrant jam, camphor oil, earthy smoke and cherry pie, with the addition of water spiced oak, notes of tropical fruits of papaya and mango with honey sweetness. Enjoy the mouth coating of oak spiced smoke and dark chocolate. This is my personal favourite, with slight peaty and salty hints.
The Port Cask spent its first 13 years maturing in ex-bourbon barres followed by 14 years in port pipes resulting in a deep mahogany and perfectly balanced liquid with notes of sweet, spice, salt and peat smoke. a peaty and medicinal nose with a strong toffee, herbal and spicy character followed by heather fragrance with a hint of Rosemary. Old Port wine notes complemented by raspberries coulis and red berries. On the palate, you get sweet and salty with a smoky, mixed with sultanas, sugarplums, salted caramel and sweet leathery notes. And pepper and spices with a violet fragrance. There is an earthy carbolic notes, salted dates, dried herbs, sweet tobacco, sweet dried cranberries and a touch of white pepper. The sweet notes on this special edition make a great digestif.