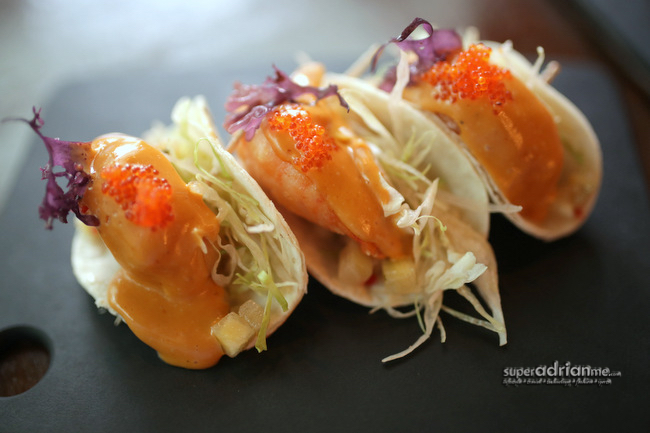 Australian celebrity chef Luke Mangan introduced Salt to Singapore with Salt Grill in 2010, and Salt Tapas & Bar in 2012. Luke's cooking philosophy is to source the finest and freshest local ingredients and showcase them in a clean and contemporary twist. His cooking aims to enhance and accentuate the natural taste of the ingredients. 
With Salt Tapas & Bar, new executive chef Ronald Li is true to this philosophy while still showcasing his individual creativity and culinary flair. The young Singaporean chef comes with an impressive portfolio having trained in Le Cordon Bleu Paris and honing his skills in establishments like Brasserie Wolf, Restaurant Andre and Ku De Ta. 
The concept in Salt Tapas & Bar is an Australian twist to the typical modern Spanish tapas bar. Its menu boasts of small bites and sharing plates to complement your evening cocktails; or full-portioned mains for a proper sit down dinner amidst a cozy yet vibrant ambiance. 
Salt Tapas & Bar also features an extensive wine selection as well as exclusive cocktails like Luke's signature cocktail – The Australian (S$18), made with cognac, gin, cointreau, cranberry juice, cinnamon, fresh ginger and "Luke's special syrup". We did not bother to guess what his syrup tasted like, but we believe it made the cocktail every bit more interesting. 
We got a sample of popular dishes as well as new creations.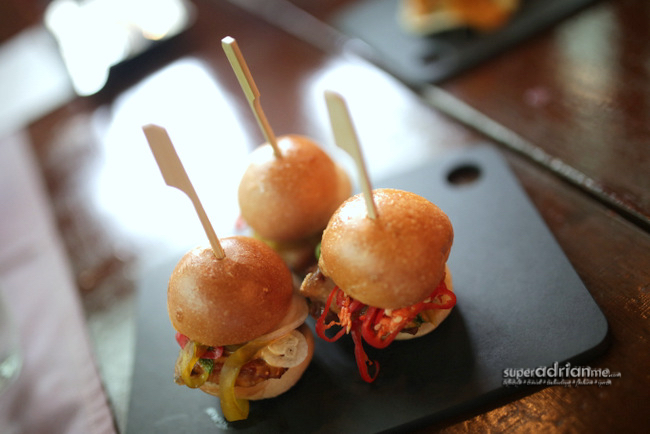 Pork belly sliders (S$13). Sou-vide for 12 hours, the tender yet firm pork belly is then pan-seared and served with in-house made buns. Pickled cucumber and chilli are added to give it some added texture and spice.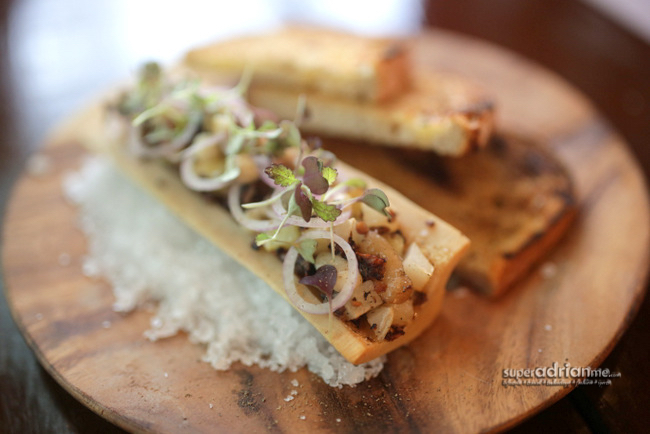 Bone Marrow with shitake duxelle (S$20). This mix of juicy bone marrow chunks, savory shitake mushrooms and diced holland potatoes, is accompanied with fragrant garlic toast. Light and flavourful, this is definitely one of our favourites.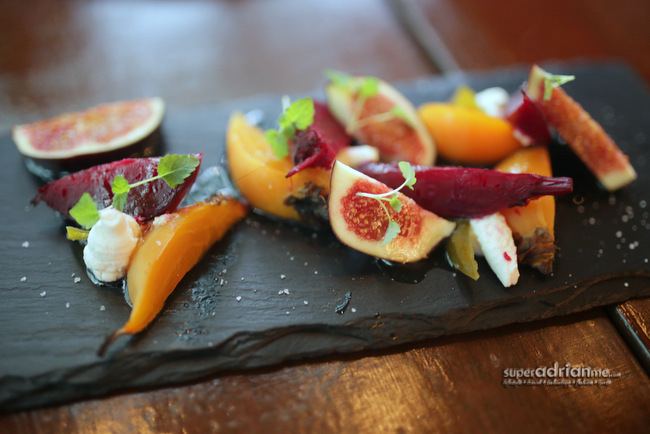 Beets, ricotta, fig, pickled green chilli (S$14). A colourful dish with honey and thyme dressing. It almost looks too pretty to eat. The beets are air-flown from Australia and comes in two varieties – sweeter golden beets and the earthier "target" Chioggia beets.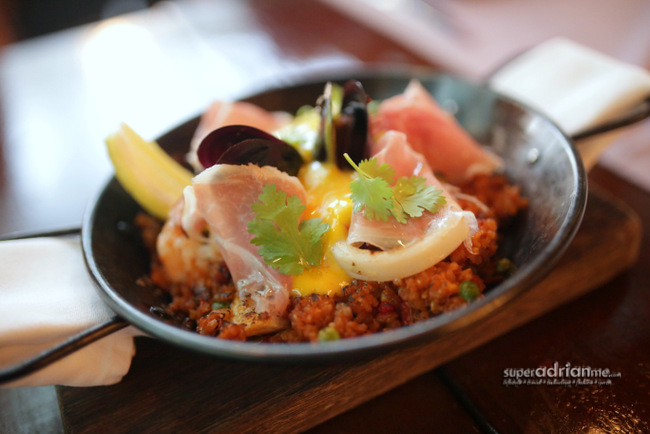 Salt's Paella comes in a sharing portion (S$39) or a smaller individual serving (S$26). Besides seafood, this paella also includes chorizo, chicken, and a generous portion of parma ham. The ham gives it a welcomed saltiness and a few dollops of saffron rouille perfects it. Many restaurants serve paella with just seafood, so it is a nice change to have both seafood and meat in one paella. Chef Li explains that he uses little seasoning and relies on the natural flavours from the ingredients. One of the better paella we have tried.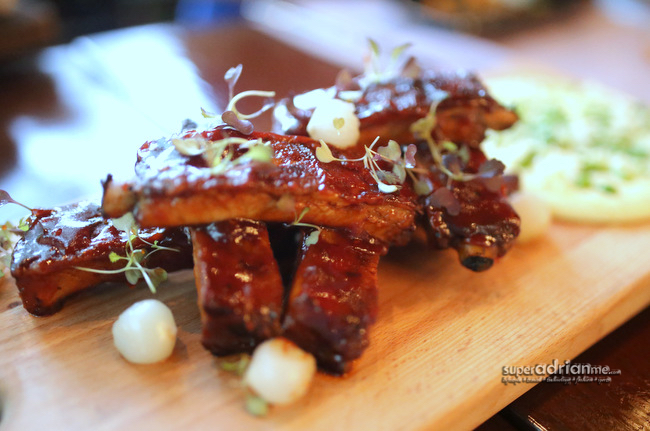 Pork to share (S$55). A platter of exquisitely tender pork ribs, seasoned with special home-made bbq sauce made with spices imported from Australia. Served with sautéed pea and edamame on mash, to balance the intensity of the bbq taste in your palate.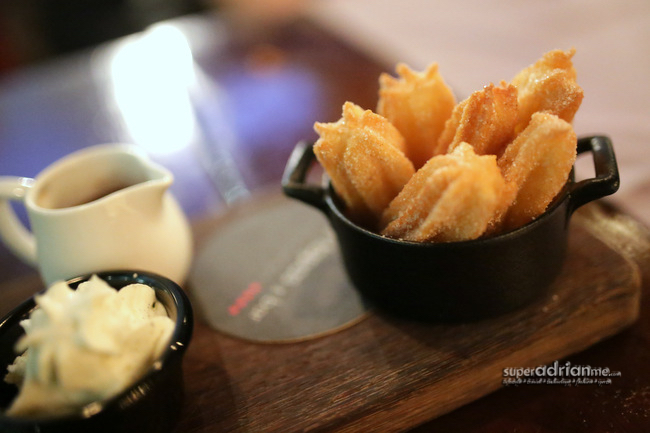 Churros (S$14). Crispy with a soft and moist core, presented with a chocolate dip and chantilly cream. We wished the churros would be a bit crispier. We were too stuffed to try more desserts, but the Gooey chocolate tart with mango sorbet (S$14) looks very promising. 
TIP: The restaurant has an open concept bar seating at the entrance of the restaurant, so choose seats further away from the entrance if you prefer it to be cooler. 
Salt Tapas & Bar is located at #01-22A Raffles City Shopping Centre, 252 North Bridge Road, Singapore 179103. Call +65 6837 0995 for reservations.
For food, Salt Tapas and Bar opens Monday to Thursday from 11.30am to 10pm, Friday till 11pm, Saturday till 10.30pm, Sunday and Public holidays till 9.30pm.
If you are here for drinks, come by from Monday to Saturday from 11.30am to 11.30pm, Sunday and Public holidays till 10pm.