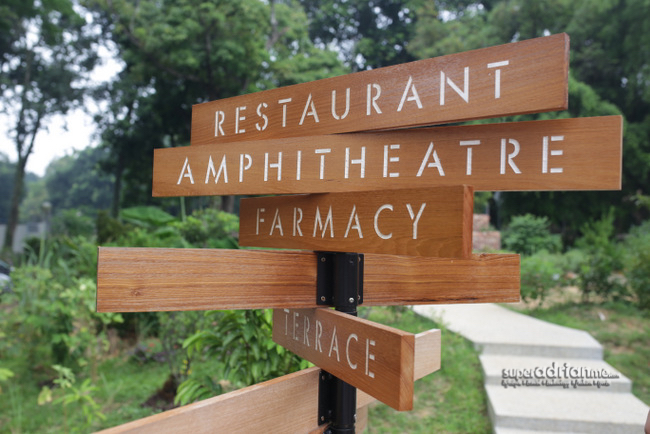 For urbanised Singapore, the idea of farming has become interesting, especially when you have a nearby kitchen that cooks up your freshly farmed produce.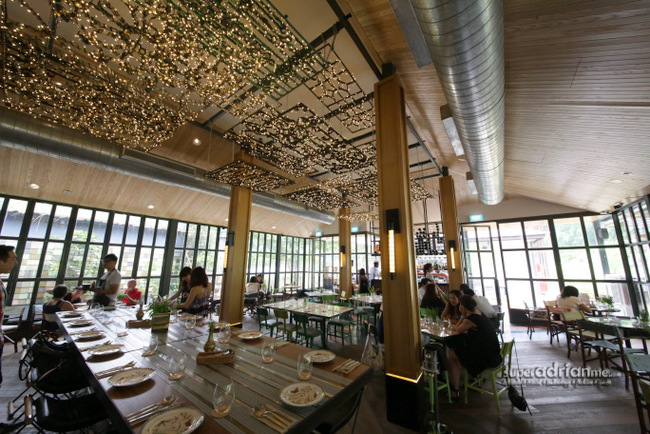 With 35,000 square feet of land, and a restaurant helmed by celebrity chef Ryan Clift, Open Farm Community is giving Singaporeans a taste of this deeper connection between food and farming. Currently the in-house produce is mostly used for garnishes, sauces and decoration, but plans are in placed for more to be used in their extensive menu. 
We sampled a myriad of dishes from starters and pastas, to main courses and desserts. The dishes are well presented and more importantly, delectable. We share with you a few of our favourites.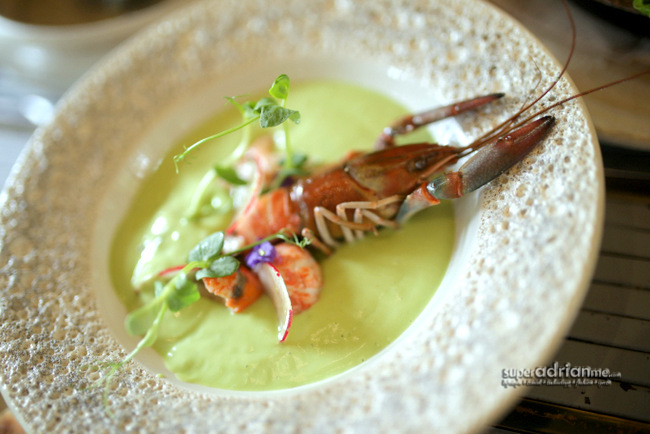 Chilled Avocado and Ginger Soup with Poached Yabbies (S$20). The base of this cold soup is made from exotic Thai Tom Kha using galangal, lime leaf, coriander, lemongrass and coconut milk, giving it a slightly sour yet mildly sweet taste. Avocado puree and chunks are mixed in, for texture and bite. The little crayfish is probably more a photographer's toy than a gourmet's.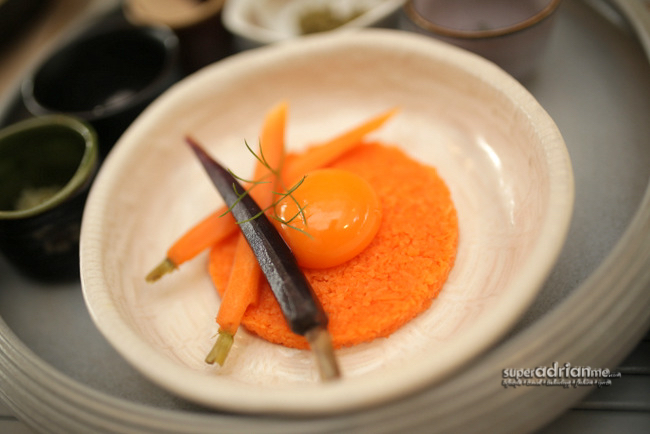 Fermented Carrot "Tartare" (S$24). Baby carrot is fermented with rice bran and seasoning, topped with an organic egg yolk. Shallots, chives, capers, gherkins, herbs and Korean chilli paste are served separately on the side, so you can choose how much of each ingredient you want to add.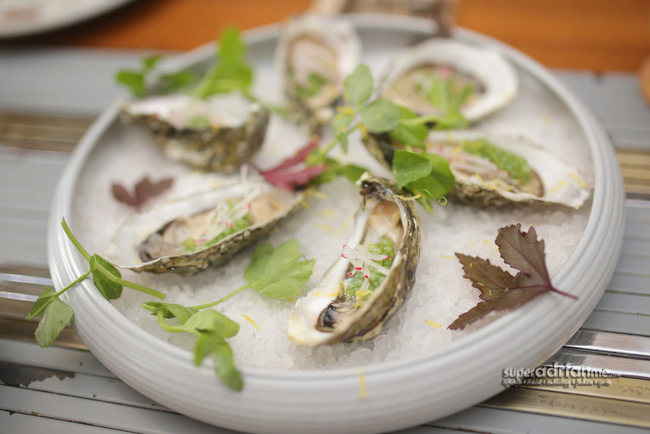 Oysters with Parsley and Chardonnay Vinegar Sago Pearls (S$58 per dozen). The green "caviar" pearls piques curiosity and reveals its fresh and light zing to the Gallagher Irish oysters.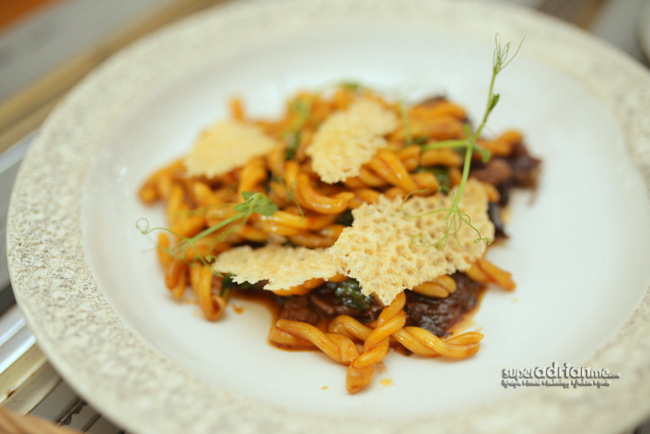 Strozzapreti with Braised Oxtail (S$24). Black angus oxtail is marinated in Barolo red wine and braised with mirepoix – a mixture of onions, carrots and celery. This is served as a sweet ragout with al dente strozzapreti, which is an elongated form of cavatelli, and garnished with Parmesan wafers and wild thyme.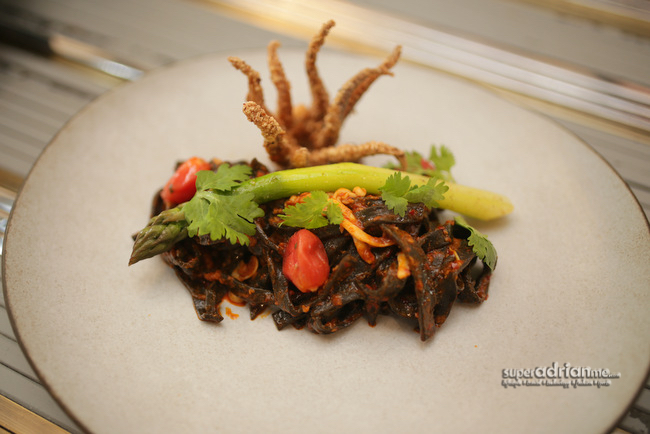 Squid Ink Taglierini with Calamari (S$26). This all-time classic is made fierily spicy with a home-made "inferno" sauce of chilli padi in tomato base, sliced calamari and asparagus, plus deep fried calamari tentacles on the side.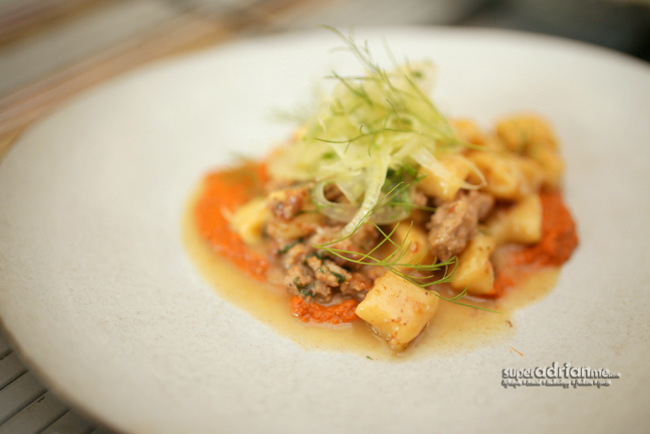 Potato Dumpling Gnocchi with Shredded Pork Sausage (S$26). The chewy Gnocchi and premium UK pork sits on a generous serving of two sauces – sun dried tomato and almond.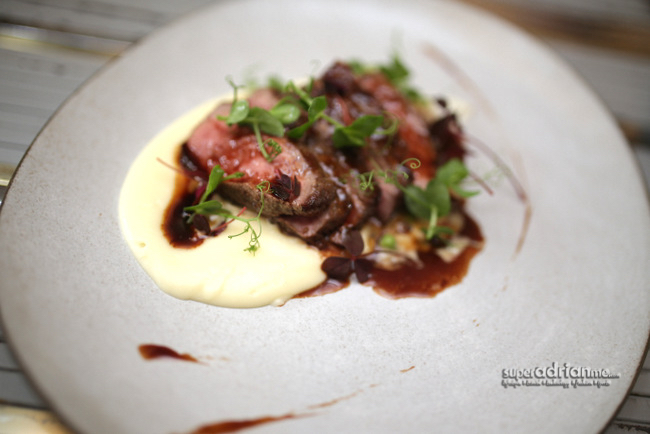 Charred Lamb Rump (S$32). The Australian lamb rump, sous vide then pan seared and sliced, is soft and tender. It is served on a bed of mash potatoes, diced bacon, green peas, chopped onions and lettuce, plus herbs and jus of rosemary and thyme. Those who prefer some hint of gaminess would be disappointed, as the meat is not gamey at all.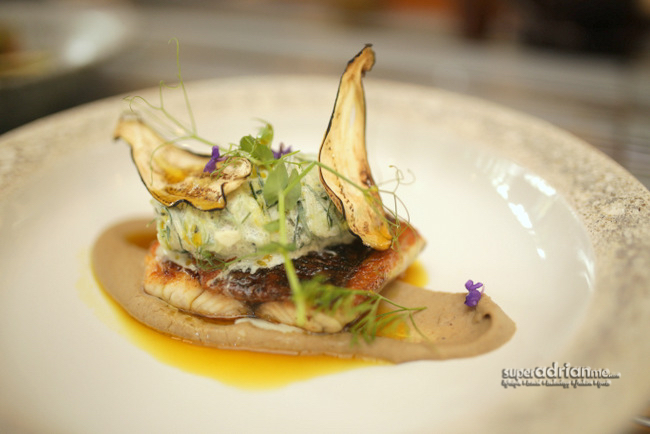 Coal Baked Barramundi (S$26). Malaysian farmed Burramundi served with a Middle Eastern dip called baba ganoush. It is made with roasted eggplant, onions, yogurt, curry and other seasonings. Garnished with shredded cucumbers, herbs, mint dressing, chopped peanuts and curry oil, this fish offers multiple taste profiles in each mouthful.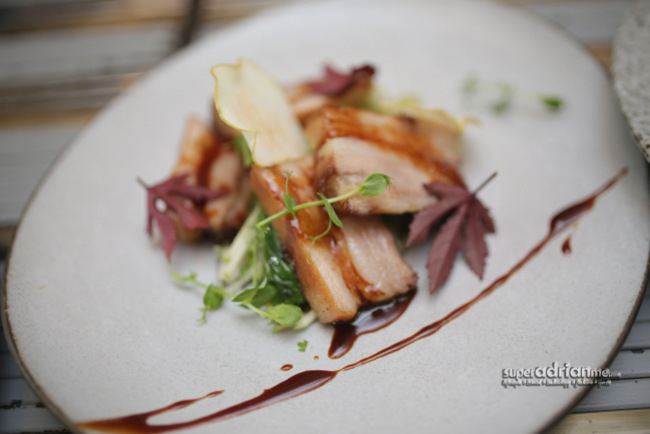 Roasted Mangalica Pork Belly (S$34). Mangalica is a Hungarian pork breed, known for growing a thick wool coat like sheep and popular for its high quality fat. Cooked in a charcoal oven and sliced,  the pork belly has a crispy skin and a melt-in-the-mouth sensation. Julienne of green apple, red onion and ginger, together with the apple cider dressing helps to balance its richness, while sautéed bok choy with soy sauce gives it an oriental touch.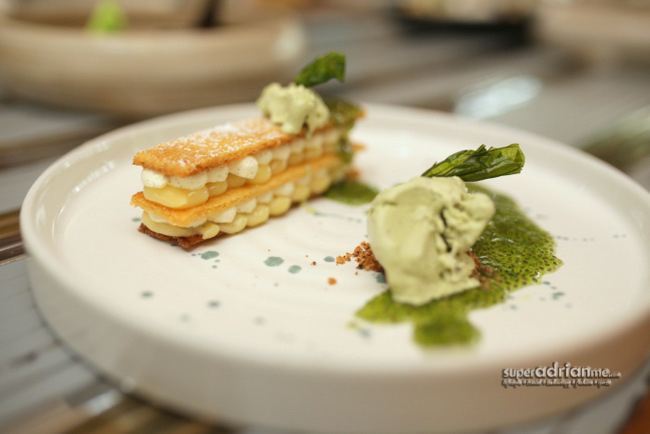 Lemon Tart with Basil Ice Cream (S$19). Lemon curd and chantilly espuma sandwiched between sable biscuits accompanied with light basil ice cream, and drizzled with basil chia seeds seasoned with lemon and basil oil.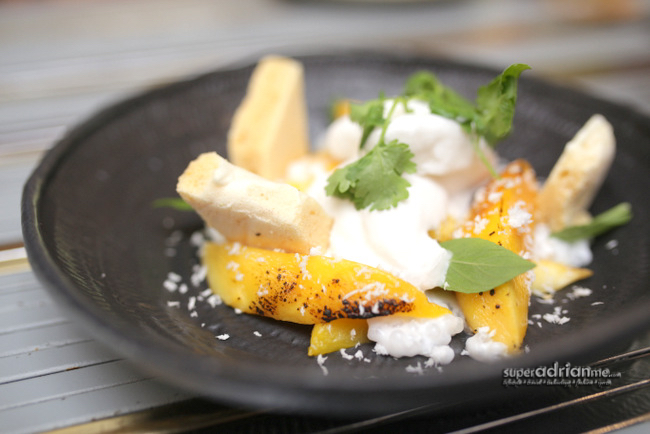 Caramelised Mango with Coconut (S$17). Mango is caramelised with icing sugar, and topped with tapioca pearls with coconut, coconut sorbet and coconut meringue. This tastes like a deconstructed Thai dessert. It is simple and addictive.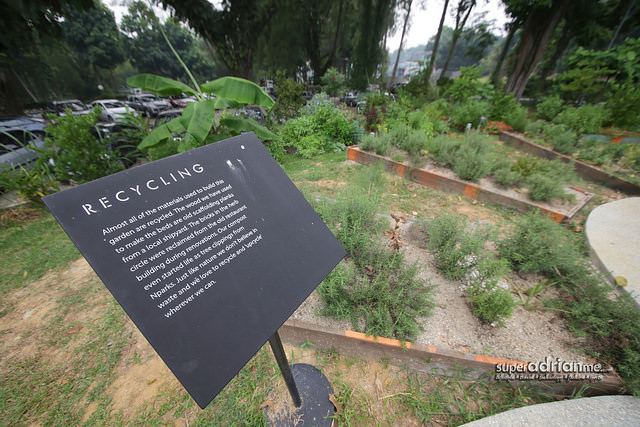 Open Farm Community's farming area is open to the public and you can simply walk in to check out the vegetables and herbs they are growing. The restaurant has an outdoor terrace with comfortable seating and even a table-tennis table with bats and balls available if you want some ping pong action. It also has a cute playground, which makes it perfect for a family outing. The restaurant's indoor dining area can be a little noisy if it gets crowded, and it might be warm on a hot sunny afternoon, so it is best to dress casual and definitely not for serious discussions. Free parking is available (25 lots). 
Open Farm Community operates Mondays to Fridays, 12noon to 3pm (Lunch), 6pm to 10pm (Dinner); Saturdays, Sundays and Public holidays from 11am to 10pm and is located at 130E Minden Road, Singapore 238819. For reservations, call +65 6471 0306.