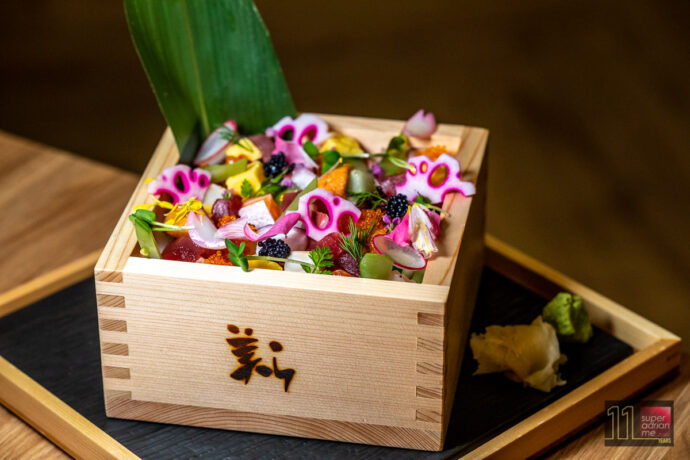 Everything's pretty delicious here at the new Chura Sushi Bar at wallet-friendly prices. What I meant to say is that the food and cocktails here are both a feast of the eyes as well as your stomach. Chura, after all, means beautiful in Okinawan, where beauty is in the heart of everything.
The recently opened casual-dining sushi bar is in the basement of Suntec City next to Jollibee. This new concept is part of En Group which also has under its portfolio Monster Curry, Monster Planet, Aburi-En, Tamago-En, and Kiwami.
The Chura's Signature Roll (S$25.80) is packed with tuna, salmon, marinated white tuna, Japanese egg omelette and seasoned dried gourd and wrapped with seawood and marinated radish. It is topped with sea urchin, caviar, ikura, Okinawan sea rgapes and red radish. And if you are a fan of both sea urchin and caviar, order the aburi Miyazaki Wagyu with Uni and Caviar at S$18.80.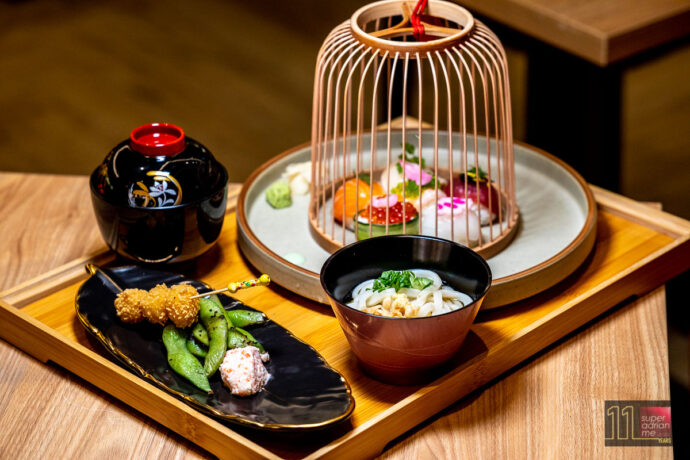 I am a fan of chirashi don. The Chura Chirashi (S$25.80) doesn't disappoint. The mix of tuna, salmon, marinated white tuna and red snapper sashimi is served with Japanese rolled omelette, salmon roe, sea urchin, caviar with snow peas, Japanese cucumber, Japanese lily bulb, marinated lotus root, sakura denbu on sushi rice is full of flavour.
Cannot decide what to eat? The Chura Ladies Set is great for those who do not have a huge appetite. Six temari shushi enclosed in a birdcage is served alongside a small bowl of udon noodles and three other appetisers. Great value for money at S$19.80.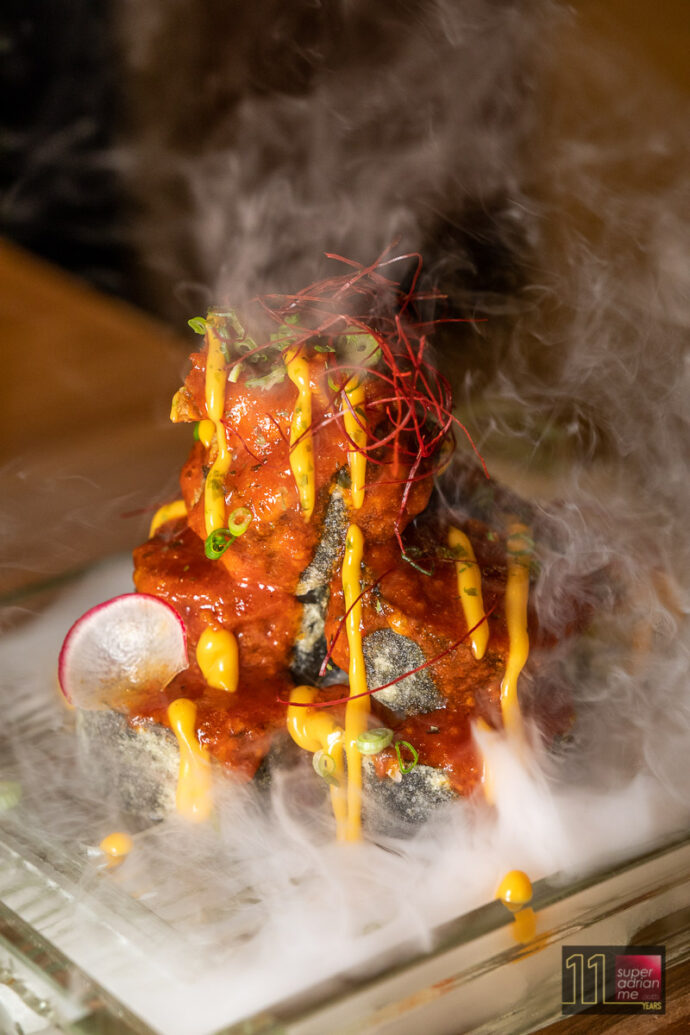 And if you need more drama for your meal, order the Volcano (S$15.80), a flaming tempura sushi of breaded shrimp and Japanese cucumber drizzled with homemade volcanic spicy miso and nacho cheese sauce. It is served with dry ice smoke for an illusive effect for the gram.
There is so much variety on the menu. Check it out here.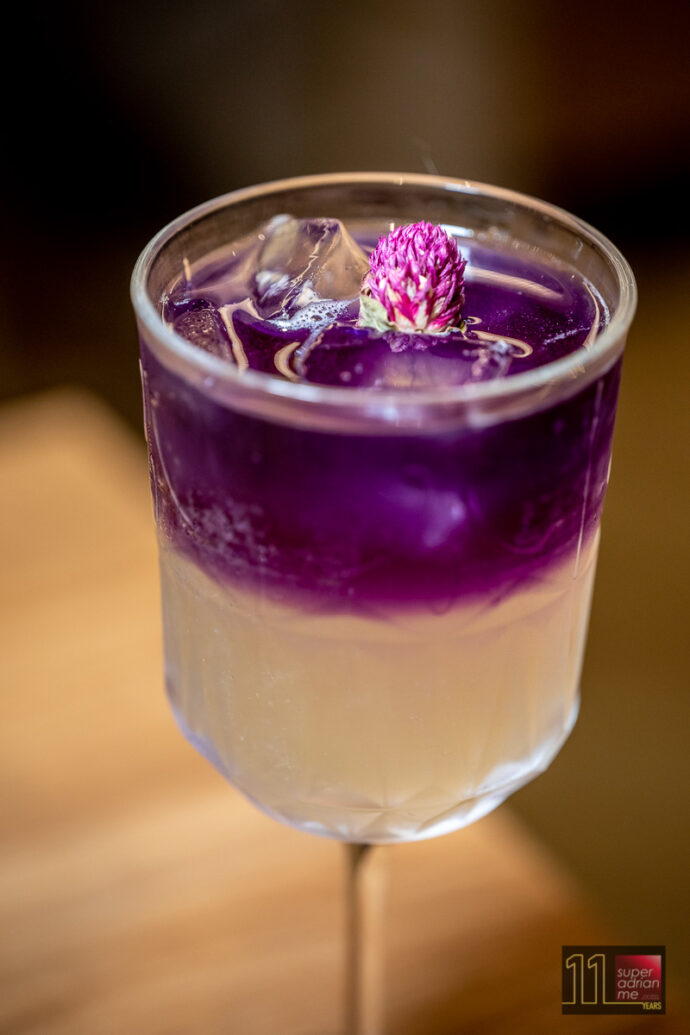 The cocktails here have been co-created by the bar team and the House of Suntory. Priced at S$18, the cocktails are made with Japanese craft spirits such as Roku Gin, Haku Vodka and Chita Whiskey. Or start off with a highball and progress to the cocktails as you enjoy your meal.
Enjoy the concoction of vodka, sake, peach syrup, lime juice and butterfly pea flower tea in the white and purple Sake Fizz. Autumn in Yokohama is served in a martini glass. It's orangey-red because of the grenadine syrup, orange juice recipe and Haku Vodka and Roku Gin. A Japanese twist of the Side Car is made with Chita whisky, Cointreau and yuzu juice. And it's called Tokyo Drift. Haku Yuki tastes like a negroni, except the vermouth is replaced with umeshu.
Chura signature cocktails such as the Rose Matcha Latte, a creamy and silk drink and a selection of sakes are also available.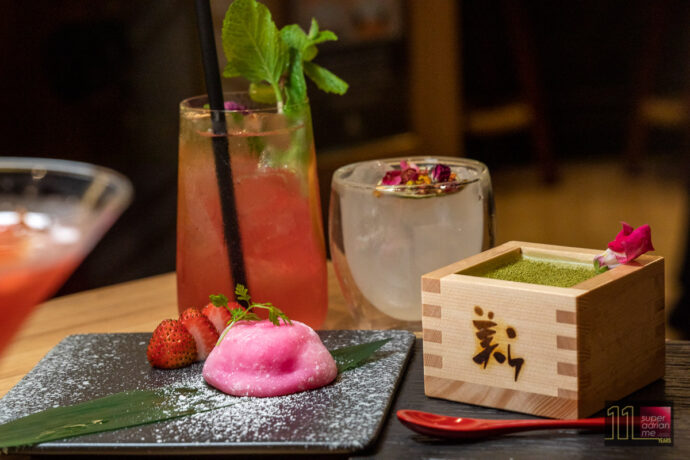 End the meal if you still have some space for desserts.