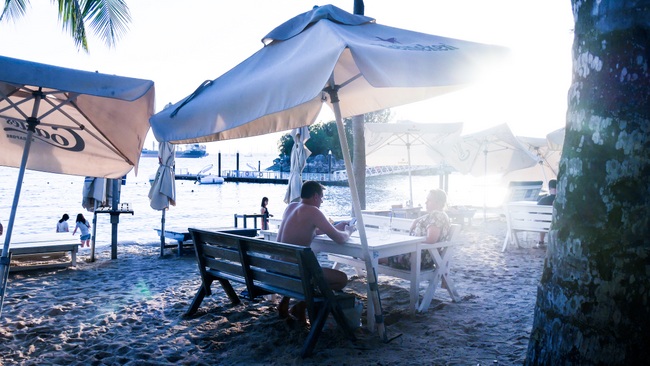 Long gone were the days where day trips to Sentosa meant rigorous planning. Now, everything from water sports, amusement parks, theatre to, most importantly, food can be settled without thought. Siloso Beach may have lost its lustre following the excitement of USS, but the laidback vibes of the restaurants lining its shores still see tourists and locals filling up their tables. A year back, I had my seaside barbeque cravings satisfied at Sand Bar. On a surprisingly sunny day, I returned to its sister outlet, Coastes, to fill up on the beachfront bar and restaurant's breezy charm.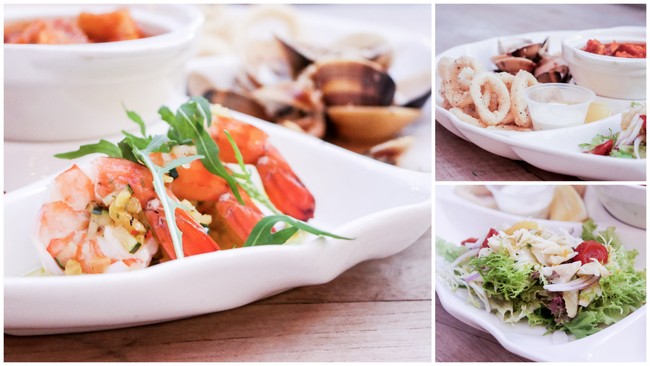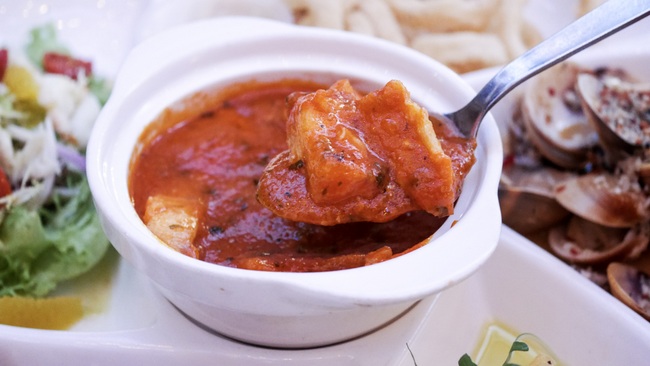 Everything you'd expect from a beachside restaurant, you'll get it here. A generous Seafood Platter (S$52), packed with all the works, is first to greet us. There are poached tiger prawns topped with a tangy pineapple salsa, tzi char styled chili clams, pan-fried crayfish and a refreshing crab salad to ease the guilt of the calamari rings. Right in the middle is a small pot, carrying what I deem the star of the platter: a homely, tomato-based fish stew. The platter also comes with a basket of baguettes to soak up that sweet, tangy broth.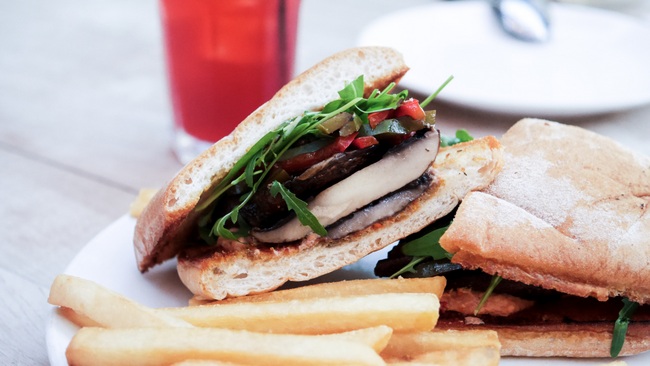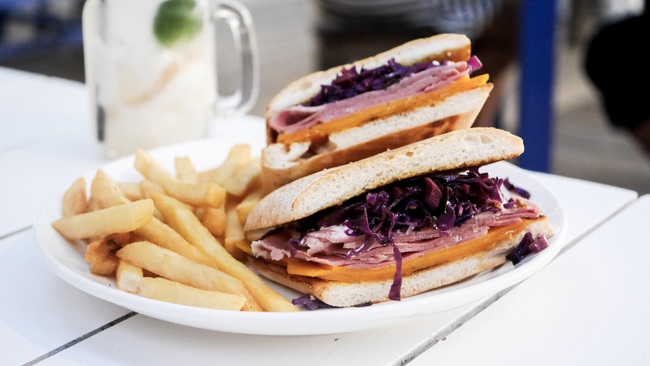 While the breakfast menu is off limits to me by the time I got there (from 9:00 AM to 3:00 PM), I was still in time for their sandwiches. There was nothing fancy about them. It is just a simple, good sandwich to chomp on by the beach. As carnivorous as I am, I found myself gravitating towards the Baked Portobello & Arugula Ciabatta (S$16). The entire Portobello stood on its own, as a well-seasoned patty. Filled with ricotta cheese and tomato puree, it offers a satisfying bite. I washed it down with a Coconut Kumquat mocktail (S$10) (coconut juice with a splash of calamansi). It is as refreshing as it sounds, and the perfect thirst quencher. They make a pretty decent Singapore Sling (S$17) if you are looking for something with a punch.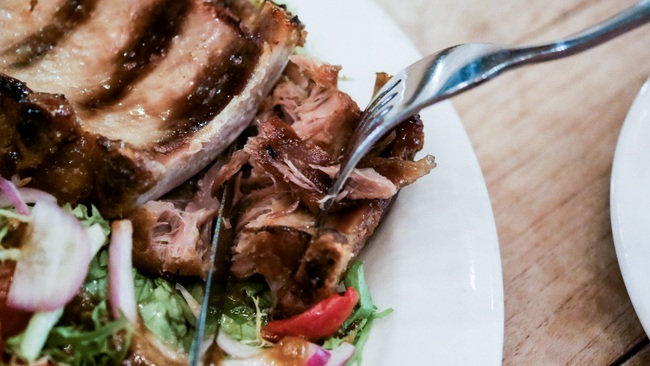 Ask anything at the restaurant for their bestseller, it would be the Bourbon-glazed Pork Ribs (S$20/half slab, S$30/slab). Sweet, smoky and tender enough to pull apart with a fork. This American-styled ribs could easily find itself at home at any table, especially with a bucket of beer going round. There's a part of me wishing for another basket of baugettes to make a quick sandwich with the crisp salad on the side.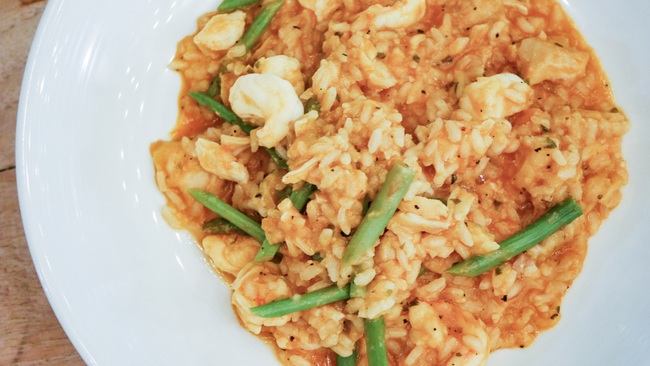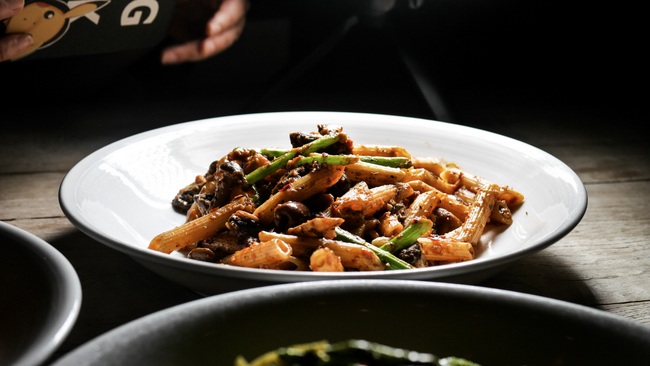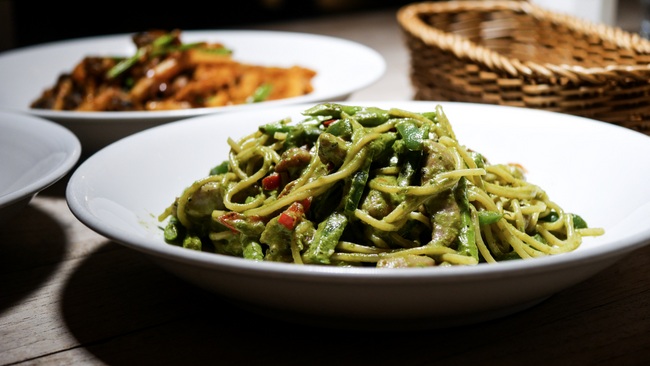 Of all the pasta dishes they had, the Green Curry Chicken Spaghetti (S$24) piqued my interest. I am a die-hard fan of Thai curries, and the fiery prowess of a sublimely herbal green curry has my undying proclamation of love. The balance between the sweet, savory and the spice is addictive, and this dish did it justice. The spice level is a lot more toned down, but evident. You won't get hot and bothered, but the green chili does work its magic, inviting you in for another bite. The pasta dish is also packed with tons of chicken, asparagus and green peppers, making it quite bang for buck. There is also a Spicy Penne Arrabiatta (S$22) for those who want a milder kick. Likewise, a satisfying bowl filled with mushrooms and asparagus.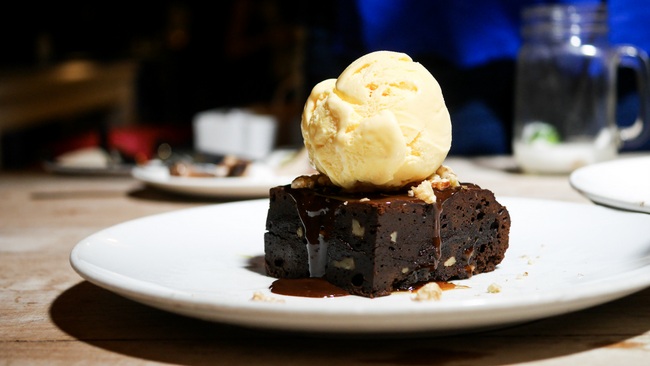 Social norms has made it impossible for me to leave the dinner table without a guilty treat (not that it's a bad thing). Before I called it a night, a trio of desserts turned up. I dove straight into a good old Salted Caramel Brownie (S$14) like a five-year-old. Just how could anyone say no to this lovely combination of a warm chocolate brownie and vanilla ice cream. This is a dense serving of chocolate overdose, and I could easily have had this as a meal alone (like, what's a diet).
There is a also a Forest Berries and Cream Cheese Trifle (S$15) which I tore through. There is no pretty way to eat it, and, sometimes, that just how good food should be enjoyed. Those who find the brownie a little too much will enjoy this. Or, the Banana and Chocolate Pie (S$14). My feelings are mixed. I adore the chocolate ganache filling and sliced bananas, but the Ritz biscuit feeling brings an abrupt end to the richness of dessert. That said, I wouldn't mind revisiting this flavor duo in the form of a trifle or sundae.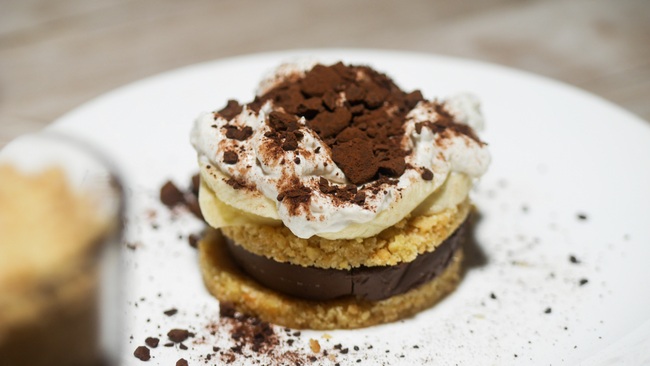 Coastes is what you'd expect from the beachfront bar and restaurant. Tons of feel good food and drinks to fill up on. Do remember to grab a table by the shore, where you can actually dip your toes into the sand as you dine!
Coastes is located at
50 Siloso Beach Walk #01-06, Singapore 099000.
Tel: +65 6631 8938 Reservations: Chope.co | Quandoo.sg