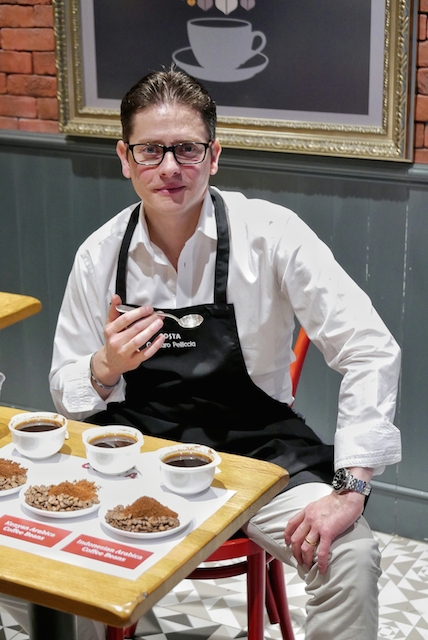 Mr. Gennaro Pelliccia is Costa's Master of Coffee. What exactly does he do? Well, it is his job to determine whether a coffee bean or blend is suitable to leave Costa's roasting plant in London and be distributed to their 2,800 stores globally.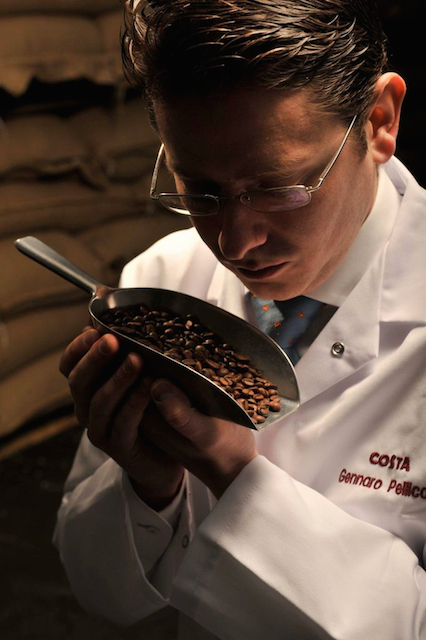 His role is so important that Costa insured his tongue for ten million pounds! Yes, ten million British pounds to make sure his sipping, slurping and swirling of coffee remains at the highest level, in order to ensure Costa's coffee is top notch.
How does one become a Master of Coffee? It probably takes years of hard work and of course, some innate talent. And maybe a little bit of luck finding a mentor. For Gennaro, he started working for the founder of Costa – Sergio Costa, in 1993. It was just for two months before he started university.  But his bond for Costa must have been strong because he returned to the company in 1997 as a trainer and even opened their first coffee school in the basement of their Covent Garden store.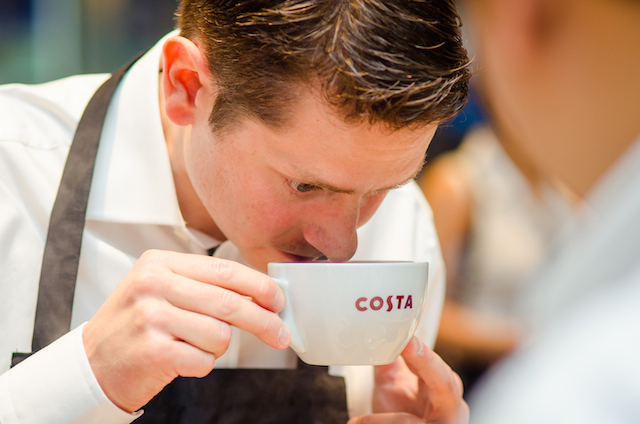 Gennaro caught the eye of Mr. Gino Amasanti, the Master of Coffee then. Gino became his mentor and taught him everything about espresso coffee and roasting. Gennaro eventually became a Master of Coffee himself, in 2005. That is eight years from the time he joined as a trainer in 1997.
"The best part of my job is sharing my passion and know-how of coffee with others, seeing the look in people's eyes when they realised the difference between a good or bad espresso!" says Gennaro.
When asked if he eats spicy food, Gennaro replied that he loves spicy food but has to restrain himself because it numbs the taste buds. He does not smoke too, but explained that it is not the smoking that destroys the ability to taste but keeping it constant that matters. So if you smoke and suddenly stop, then your ability during the immediate period after stopping could be challenged.
Gennaro was a judge at The Costa Barista of the Year competition, held on 30th November in the UK. This competition was first launched in 2006 and all Costa's 34 international markets can compete to get the "Champion of Champions" title.
Before we parted, Gennaro indulged me with a picture of his highly prized tongue.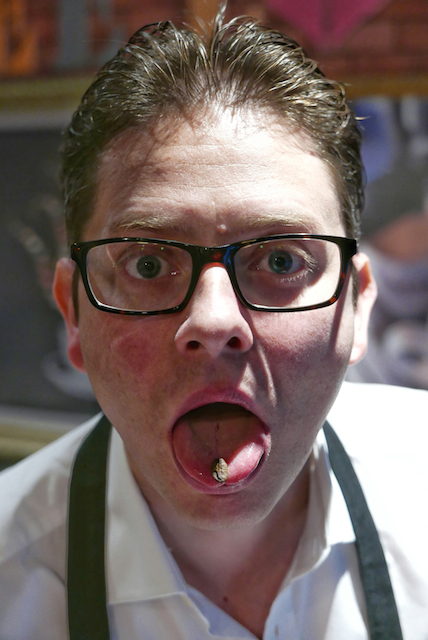 You can find Costa Coffee at eight locations across Singapore – Chevron House, Raffles City, VivoCity, Sofitel SO, Plaza Singapura, [email protected], Metropolis and Changi Airport T3 Transit Lounge.