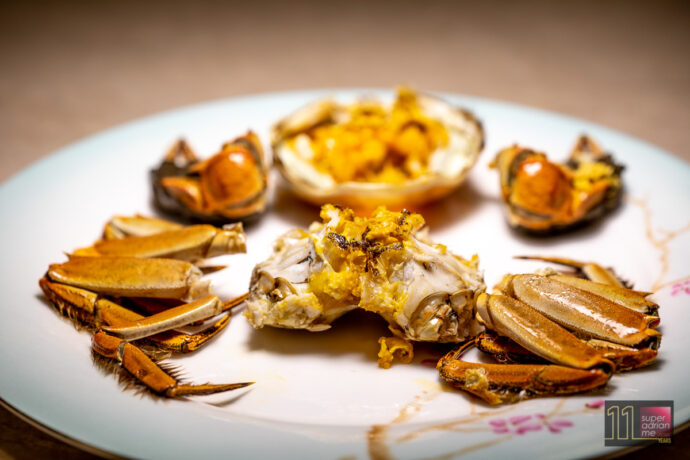 藝 yì by Jereme Leung offers a menu of freshly sourced crabs including Japanese King Crab, Sri Lankan Yellow Crab and Hairy Crab from Taihu Lake. Enjoy 'An Indulgent Crab Feast' till the end of November 2021.
The rich, creamy golden roe of the hairy crab and its sweet, tender flesh are why these crabs are such delicacies. The Huizhu Hakka Style Salt baked hairy crab may be a lot of work to eat but It is worth the effort. After all, your crab is cut to manageable pieces so it is easier to eat.
Crabby Appetisers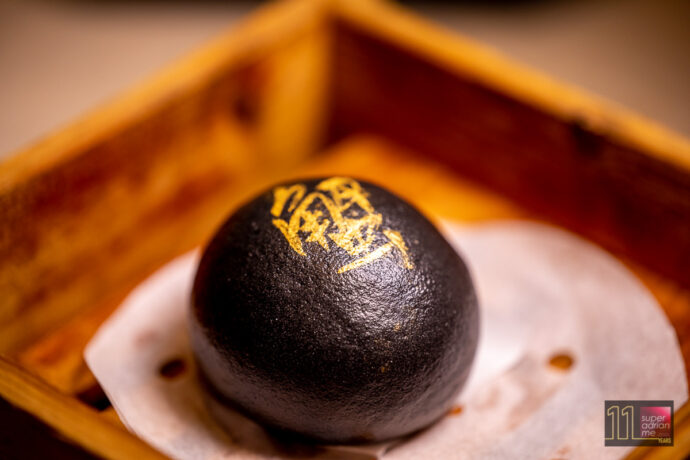 Chef Jeremy Leung elevates these crab dishes with a blend of provincial Chinese cooking styles and delectable innovative creations. The Freshly Wrapped Marinated Hairy Crab Hand Roll with Kristal Caviar, Pickled Ginger & Radish is a perfect way to start off the meal. Complexed mouthful yet memorable. The Parmesan Cheese Custard Bun with Crab Meat & Roe is served as a beautiful black bun with the Chinese word 蟹(crab) written in gold.
Enjoy an elevated version of Roasted Chicken Stuffed with Minced Prawn (Bai Hua Chicken). Order the Crispy Sesame Chicken Skin with Japanese King Crab Seafood Mousse & Balsamic Vinegar Pearls. The Classic Hangzhou style Hairy Crab meat & roe stuffed in baked orange was my favourite appetiser. The broth was thick and flavour rich and I highly recommend you order one to try for yourself.
That La Mian with Japanese King Crab You Have to Order
Chef Jereme's umami-packed La Mian served with Japanese King Crab, savoury home-made "dou hua" custard, peanuts, Szechuan mustard and chilli oil is a fun dish. That's because you get to assemble everything and mix it all up before you eat. You decide how much chilli oil to add. This was a dish that I enjoyed. The dou hua gives the noodles a very enjoyable custard texture and soybean flavour.
A Hairy Crab Meat & Roe Soufflé for Dessert?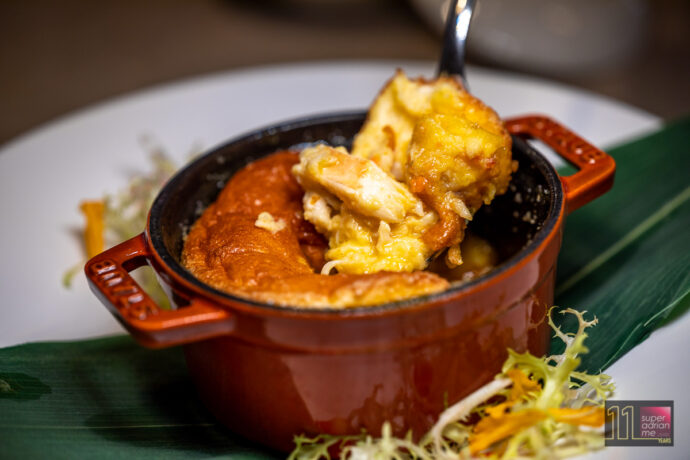 You must end the meal with the Freshly Baked Custard Soufflé with Hairy Crab Meat & Roe. It is an unexpected dessert. Because it is a savoury sweet one. Great if you have not had enough of the sweet tender hairy crab meat.
Otherwise, get the Glutinous rice dumplings stuffed with candied winter melon & red bean paste in brown sugar ginger tea. That's two sizeable tang yuan balls. The ginger tea heats up your body since the hairy crab meats are known to be very cooling.
Call +65 6412 1816, email [email protected] or make your booking directly here.
藝 yì by Jereme Leung offers lunch from 11.30 am to 2 pm and dinner from 6 pm to 9.30 pm.