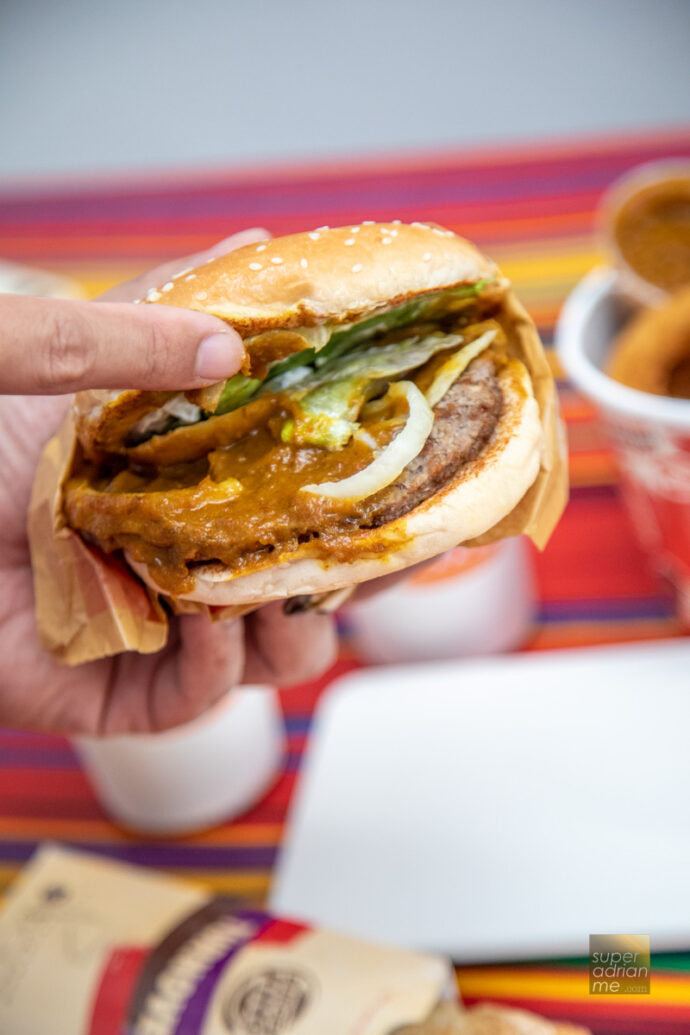 It's going to be all things Rendang at Burger King. From 26 July 2022, the Double Rendang Beef Burger and Rendang Tendergrill Chicken Burger will be available in Burger King outlets islandwide. A new Rendang WHOPPER is launched this year together with the other two favourites.
The first 50 customers who order the Deliveroo Exclusive Rendang WHOPPER Bundle for 2 (S$26.90) from Burger King Jurong Point, Seletar Mall, Tampines Mall, Viva Business Park and Yishun Town Square from 22 to 25 July 2022 will receive a limited-edition Deliveroo x BURGER KING Funpack that contains nostalgia-inducing traditional games like Five Stones and Chapteh.
The new Rendang WHOPPER offers the full works with a really meaty flame-grilled WHOPPER beef patty topped with mayo, crisp leafy lettuce, fresh onions and of course the flavourful Rendang sauce. With Singapore turning 57, the Single Rendang Beef Burger and Rendang Chicken Burger value meal will be available at a special National Day price of S$5.70 from 9 to 12 August.
Rendang Shake, Rendang Drumlets Shake and Share Share Bucket
Compliment your Rendang Burger meal with sides like the Rendang Shake (S$6.40) that comes with BK Nuggets and Fries that can be shaken together with the Rendang Sauce. The Rendang Drumlets Shake features Mexican drumlets topped with Rendang Sauce.
The Share Share Bucket (S$15.40) is filled with 12 pieces of BK Nuggets, 5 pieces of Mexican Drumlets and Large Onion Rings with a choice of sauces and dips including BBQ, Japanese Curry and Rendang.
Desserts
For desserts, there is the Pulut Hitam Pie (S$2.50) which is filled with coconut and black glutinous rice. Or the new Godzilla Float. The iced chocolate malt drink is served with a 3-in-1 sachet for more malty goodness, topped with a creamy vanilla soft serve.
Burger King Gives Back
In August, Burger King is raising funds in support of Club Rainbow. Donors will receive a digital artwork by design agency Tell Your Children for every donation made. The artwork will showcase Singaporeans assembling the Rendang WHOPPER together reflecting the spirit of community, unity and the kampung spirit.
Through this collaboration, BURGER KING, Nestlé Singapore, Club Rainbow and Tell Your Children hope to empower the communities that often fall through the cracks of society and pledge to build an even more inclusive nation. Hosted on Giving.sg, the online fundraising campaign will go live on 1 August 2022.
When you upsize your meal during the long weekend before National Day, Burger King and Nestlé Singapore will together donate S$0.50 to Club Rainbow.