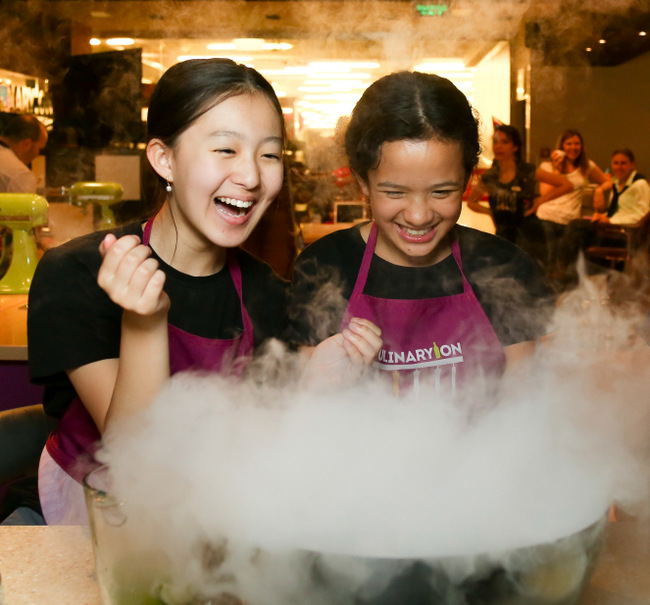 A cooking lesson would normally have me on my tippy toes all night, panicking over whether I would topple over a bowl of eggs or turning my dish into a fear factor challenge. But, it was all fun and laughter over at CULINARYON (FB/Instagram), where founder Giulio D'Erme and Chef Antonio got straight into cracking jokes and making everyone feel right at home. Okay, their very own 3L bottle of Tuscany Carmignano Wine may have helped a little.
My Thursday night got a lot more interesting thanks to this haven in the middle of CBD. Located at Level 4, One Raffles Place Tower 2, it has privy to a stunning view of the Singapore River, taking one away from the hustle and bustle of the office crowd just below. The huge 7,000 sq ft studio is the largest cooking studio in Asia and has already hosted over 160 events since its opening three months ago. And, having been through one of their dinner sessions, I can attest to how much fun the two to three hour "lesson" was!
1. Easy As ABC
Needless to say, I was more than excited to hear that we would be making pasta – from scratch. Before you write it off, saying that the supermarket is less than 20 minutes away with packets of ready-to-cook pasta on the shelves, you need to know I have a vengeance to bring. Back when I was a student, I tried making my own fresh pasta with the help of Jamie Oliver. Long story short, I made Chinese egg noodles, which obviously tasted horrendous with Italian tomato sauce.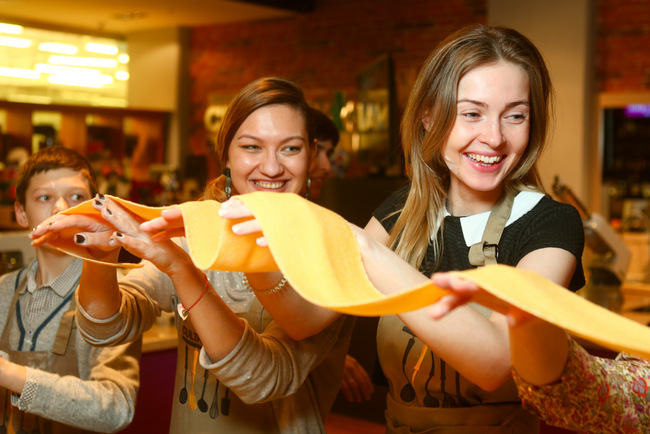 There was no recipe on hand, no briefing on instructions that sends you straight to snooze-zone. Chef Antonio gives brief instructions, telling us exactly what needs to be done with a masterful demonstration in just minutes. His burst of energy just gets everyone roaring to give it a try and even had me overcoming my apprehensions.
Perhaps it was the fancy machinery thanks to Kenwood, but I never knew making fresh pasta was so – SO – easy. It takes some strength, but really, I am convinced I can do it again! And no, I did not have to write down a thing. The whole experience was so hands-on, it went straight to memory. Still, I would need exact measurements for the flour and eggs, but techniques – I've got it down pat.
2. All for One, One for All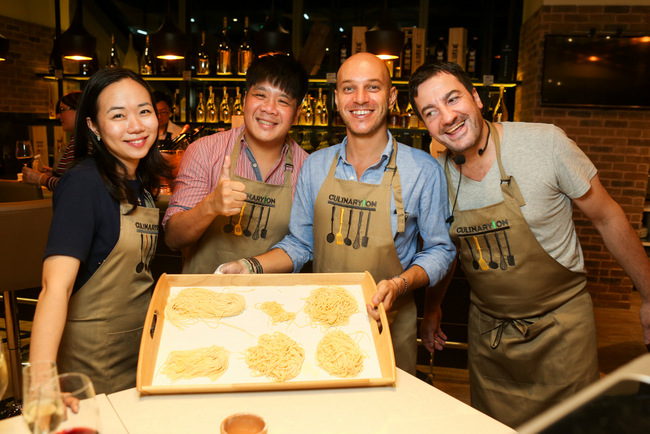 Experts in team-building events on the corporate side, they know exactly how to get everyone talking. Chef Antonio's and his assistant's hilarious antics had guests laughing along, breaking the ice between everyone immediately. They quickly shared the entire cooking process with everyone at the table; I would be cutting up onions, someone else would be peeling the prawns and so on. Tasks like making the pasta or cake batter would have everyone breaking up into teams of four. So, everyone is making a portion for everyone. It is sort of comforting to know that the tedious process of cooking a full meal from scratch is shared with and enjoyed with everyone!
3. Caters to Every Delicious Occasion
They have over 300 dishes and 30 ready theme sets from all over the world to choose from. So, whether you are planning for a company team building, a hen's night or a birthday party, there is bound to be one just for you. It would not just be the food, of course. They will go all out (depending on your budget), amping up the festivities with decorations and mini-events to keep the party going on all the way.
They also have classes for couples or a small group of friends who can join in on the fun. I don't know about you but I am looking forward to their Meat Club, which includes making Tortellini Boskaiola, a glorious Beef Steak in Red Wine Sauce and a Caprese Chocolate Cake. Guests can also master our national dish of Chilli Crab with Mantou just in time to show off during Chinese New Year reunion dinners!
The Class Calendar can be viewed here.
4. Kids Are Welcomed Too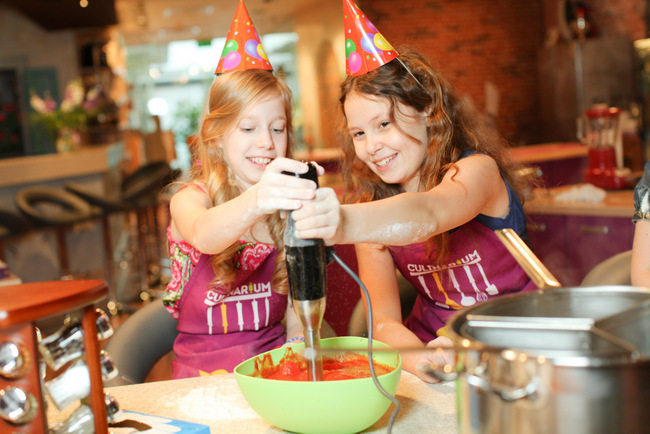 The little ones will be happy to know that they have pretty awesome classes just for them. There's Funny Pasta where they would be making coloured pasta or Young Chef, and savouring their own Chicken Nuggets and Caprese Chocolate Cake with Almonds. Not only would they be learning something new, they would also be having tonnes and tonnes of fun! If holding my niece's birthday party taught me anything, is that kids love to get their hands into everything – so, why not a chocolate cake they can enjoy later on proudly?
5. The Reward Is A Delicious, Delicious Meal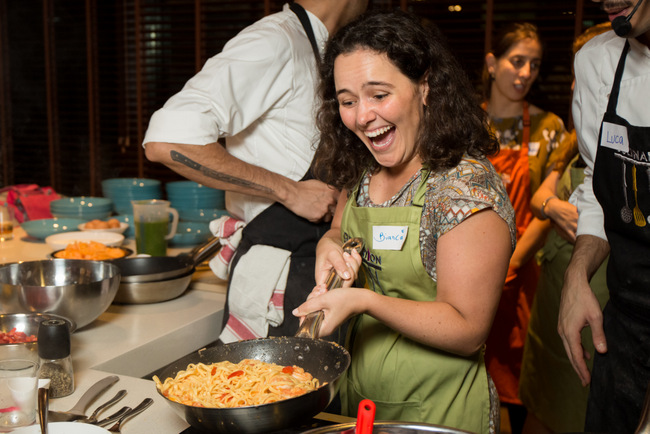 And, it all ends with a rewarding plate of the meal you worked so hard for! Delicious and packed with a whole lot of satisfaction, nothing could be better. Even better when Chef Antonio decides to break out his liquid nitrogen to make some ice cream to go with the chocolate lava cake we all waited oh-so-long for. And, if there's any liquid nitrogen left, I am happy to learn that you can pop in marshmallows for a crunchy, cool treat on its own or drizzled atop your desserts!
Convinced? If not, give it a try yourself and book a class with them over here.
CULINARYON is located at One Raffles Place, Tower 2, Level 4 (5 mins walk from Raffles MRT Exit B). They are opened from Monday to Sunday 10:00AM to 11:30PM and can be contacted at +65 3108 3085.