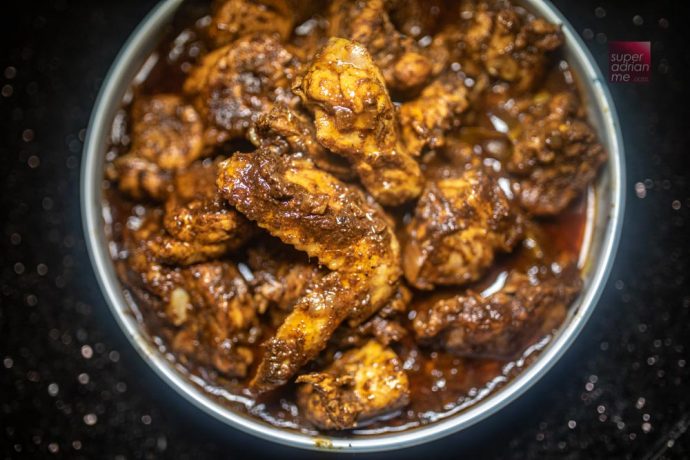 Never have I ever thought that I would be able to dish out a Buah Keluak Chicken or bake brownies that are edible. One of the things I picked up during the Covid-19 pandemic was to enjoy the process of preparing a dish or even a meal for the family.
The way we consume food and how the food and beverage industry has quickly evolved is a result of the masses having to stay home and the restrictions of dining in. It has been almost two months, and we still won't be able to dine in restaurants or eat with our friends for a while.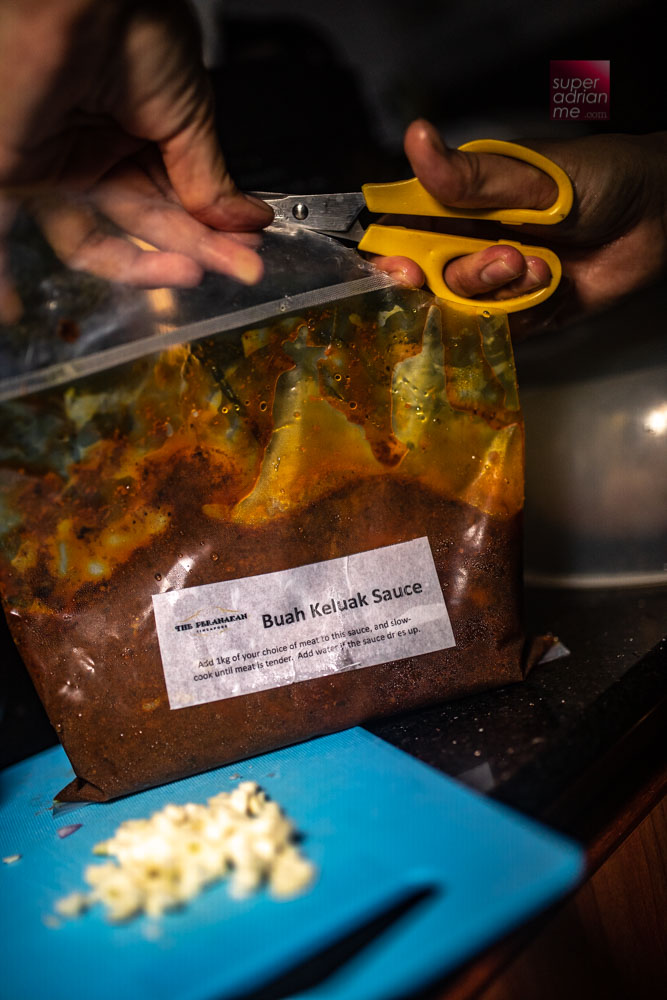 F&B outlets now prepped the ingredients and sauces for home deliveries or takeaways. So that you can prepare a dish, a meal or even bake in the comfort of home. It also saves you the hassle of getting the ingredients yourself and the preparation work that would definitely scare off people who don't know the ins and outs of their own kitchen.
Buona Terra Fresh Pasta Kits
Fresh Pasta Kits from 1-Michelin star Buona Terra is a great way to have some fun and enjoy Italian Pasta while staying home. The first edition of the Home Cooking Series offers a choice of three perfectly portioned classic pasta prepared daily.
There are Taglionlini, Tagliatelle or Pappardelle. Pick from three choices of sauces – Amatriciana Style (S$32+), Crab and Fresh Sicilian tomato sauce (S$38+) and Al Pesto (S$32+). Each kit is packed with ingredients such as rock salt, olive oil and cheese to complete the dish.
Buona Terra's Resident Chef Denis Lucchi has a short video of how to prepare this. Just watch, learn and DIY. Not too difficult. Everything can be ready in 15 minutes.
Call +65 6733 0209, sms/whatsapp +65 9456 3147 or visit buonaterra.oddle.me to order.
Fairmont Singapore Mother's Day Recipe Kit
I even prepared a four-course dinner for four for the family with Fairmont Singapore's Mother's Day Recipe Kit. It was a fun yet challenging 3 hours of preparation work.
We were sent the recipe kit for a four-course dinner in boxes. Each box came with the ingredients for each dish. And of course there were four easy-to-follow recipe cards. You don't have to be a chef to work out the magic for this meal. But there is still some effort required.
I assembled a Tomato-Strawberry Salad with mozzarella cheese, aquaponics salad and basil pesto, baked a Hawaiian Pizza from Prego with Italian Ham, pineapple, oregano, tomatoes and mozzarella. Turned out to be a thick crust pizza that was really fluffy on the inside. Delicious! For the mains, I baked a smoked miso seabass and served it with asparagus, peas and a squeeze of lemon. Thank goodness I didn't have to bake the signature cheese cake. It came ready to eat. I just had to decorate the cupcakes which was so much easier.
While the Mother's Day recipe kit is no longer available, but there are weekly recipe kits that you can get from https://www.celebrationscentral.com.sg/
Torasho Ramen and Charcoal Bar
I also assembled a Tsukemen Ramen from Torisho Ramen and Charcoal Bar. Torasho Ramen and Charcoal Bar offers two types of Ramen kits for you to enjoy at home. The self-assemble Ramen kit comes with individually packed noodles, spring onions, pickles and vacuum-packed sauce as well as chashu. An instructional card is provided and you can also watch a video on how to prepare the sets on Torashosg Instagram account.
You get to enjoy the noodles in seven simple steps. Start off by boiling water in pot, then add noodles to boil for 8 minutes. Heat the soup in a separate pot until it boils or microwave it with a cover for 2 minutes. If you are microwaving it, you can also microwave the chashu the heat it up. After that wash the noodles in cold water for 30 seconds to achieve the Tsukemen texture. Place the noodles in a separate clean bowl and add chashu and toppings. Pour the hot soup into a cool bowl. Then enjoy the noodles.
The Torasho DIY Ramen Sets are sold in bundles of three from S$22 to S$33 or five from S$36 to S$54 depending on the type of Ramen. There is a minimum order of S$50 for delivery. Orders above S$100 will enjoy free delivery. WhatsApp +65 8870 5032 to order.
The Peranakan Buah Keluak Sauce
Order the Buah Keluak sauce from The Peranakan. They sell it for S$15 a 500 g pack of deep-frozen freshly cooked Buah Keluak sauce. There is a S$50 minimum order on The Peranakan's online order site.
This sauce saves you the trouble of cracking buah keluak nuts and making the sauce on your own and it has the punch of a great buah keluak dish from The Peranakan at Claymore Connect.
One packet of the Buah Keluak sauce is good for a serving of 1kg of meat. You can also have it with pasta. Tired of having spaghetti bolognese at home then replace the tomato sauce with this Buah Keluak sauce and add in some minced pork or bacon.
Direct To Masses Roast Pork Belly
Craving for Roast Pork Belly but don't have the patience to make one from scratch? Local ready-to-eat food manufacturer Direct to Masses has the solution. This partnership between De Tai Food Supply and Franco-Asian Restaurant The Masses now offers frozen roasted pork belly that can be heated up in three ways with either a conventional oven, toaster oven or air-fryer.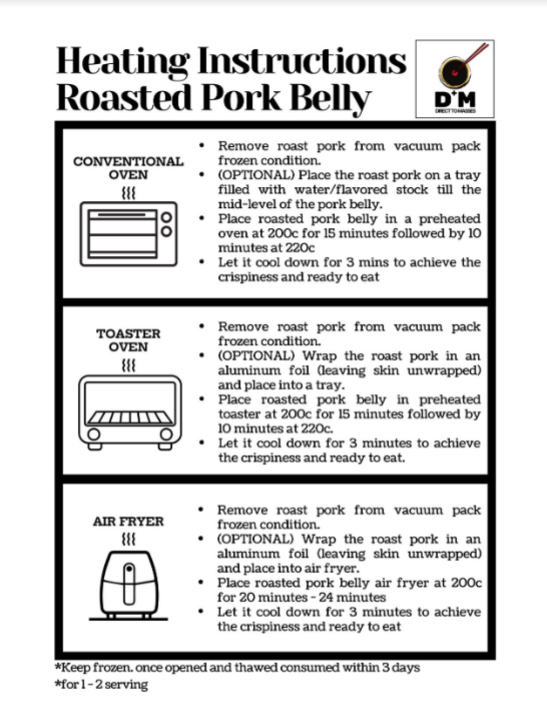 Heating instructions are provided with easy-to-follow steps. For S$38, a box of three individually vacuum-sealed slab of sio bak can be kept up to one year. Six slabs will cost you S$76 and nine slabs S$108. There is also free delivery if you order three boxes or more. Otherwise a flat delivery fee of S$5 is charged for island-wide delivery. You can text +65 83616303 to order and pay by PayNow.
Simply Chilli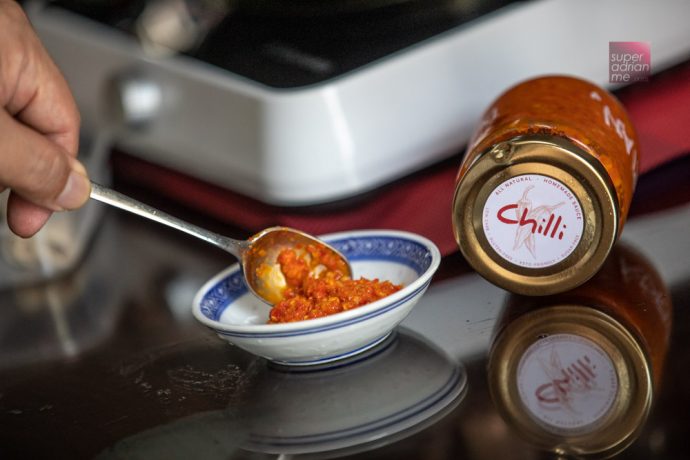 And what's a meal without chilli. Esther Quek founded Simply Chilli in a Singapore home based kitchen. The editor-turned-home-cook painstakingly prepares chilli sauce that is gluten-free, sugar-free, low-carb and non-GMO using only real food ingredients. Esther also takes the effort to write your name on the chilli jars. I am envious of her good handwriting.
Each 230g of chilli is priced at S$10.90. Esther recently launched SIMPLY PESTO, a pesto sauce priced at S$15.90 for a 210g jar. The sauce is made with Italian extra virgin olive oil, Holland basil, Italian parsley, Australian kale, Ceylon spinach, pine nuts, garlic cloves, Himalayan salt and black pepper.
Simply Chilli recently partnered Flourish , a cake studio along Pasir Panjang Road and also their neighbour. There is a Special bundle of Brownie, Chili and Pesto for S$61.80.
Sedap lah! Her sauces! DM Esther on her Instagram to order.
2am: Dessertbar at Home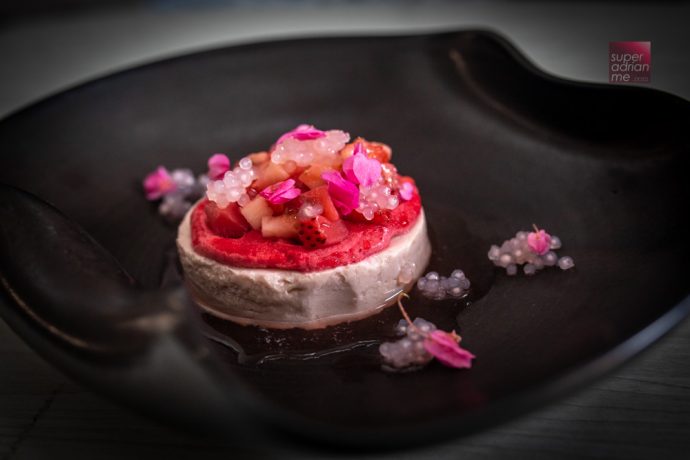 Janice Wong has launched 2am: Dessertbar At Home in June 2020. You can takeaway desserts or order through delivery platforms Deliveroo, GrabFood and Foodpanda. Bring out the Janice Wong in you and plate the delicious dine-in dessert at home with here step-by-step videos.
And hell ya. It was a lot of fun. Enjoy plating with step by step plating videos and impressive family members.
The Strawberry Caprese (S$22) features separately packed strawberry ice cream parfait & raspberry fluff, Sakura tapioca pearls, strawberries, pickled strawberries, strawberry consommé, lavender marshmallows, chain of love and chartreuse jelly.
The Cacao Forrest. Earl Grey Cherry Cotton candy (S$22) comes with earl grey and cherry cacao pod, chocolate tea crumble, sea salt caramel ice cream, cotton candy and chocolate fondant cake. We had so much fun with the cotton candy. But not our best plating.
Similarly, the Chocolate Tart (S$18) does not look anything like what Janice Wong has done. Definitely keeping my day job. The Chocolate Fondant Tart is plated with salted caramel sauce, chocolate crunchy pearls, yuzu calamansi gel and blood orange sorbet.
More importantly, have fun at home and impress family members. Check out https://www.2amdessertbar.com/shop to order.
Bakeri Baking Kits
I would never have thought I would be eating brownies that I baked myself until the folks at Bakeri Singapore sent me their Walnut Fudgy Brownie Baking Kit. Most of the ingredients are provided in the kit except for the 7 medium eggs. A recipe card with easy-to-follow instructions is provided. And of course, you would need an oven at home to bake.
So you don't have to worry that flour is sold out at the supermarkets because almost everyone else in your hood is also baking.
Preparation time takes approximately 30 minutes while it takes 40 minutes to bake. You get quite a good arm workout whisking the chocolate and butter, or the eggs with the sugar and salt and baking powder.
I got 2 trays of brownies which turned out to be surprisingly good. Throw in a scoop of ice cream, and you get a delightful dessert.
Damien and Dawn, the founders of Bakeri launched their online store earlier this month to cater to online shopping demand. Bakeri has been a wholesaler of artisanal bakes for a decade. The online bakery stocks handmade bread loaves, pastries, family packs, cakes and baking kits in pack sizes suitable for families. If you are a first-time baker like me, you can get these kits just to have some fun on your own or with family members.
The range of baking kits includes lemon chia seed pound cake, chocolate fudgy brownie, earl grey chocolate cookies, cheese and herbs bread and the most recent addition is the "Little Bear Muffin" baking kit, a collaboration with Little Miss Bento.
Visit them at http://www.bakeri.sg
Ah Siong Gourmet
We stumbled upon Ah Siong Gourmet on one of MISSTAMCHIAK's Facebook Live Sales. Maureen was so convincing we bought some of Ah Siong Gourmet's Xiao Long Bao, Noodles and Sichuan Spicy Wanton (红油抄手). If I can only use one word to describe them, it will be LEGIT.
The Xiao Long Bao (10 pieces for S$8.90) is packaged with slice ginger. You need vinegar with that while the tender and juicy Sichuan Spicy Wanton (10 pieces for S$7.90) is packaged with a container of premixed vinegar and chilli. Be warned this is on the spicier side for those who who are not chilli fans.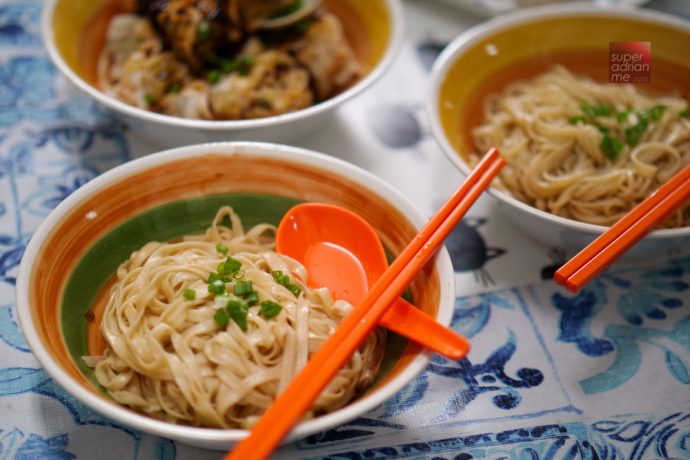 The Light Sauce QQ noodles are very springy and comes with light sauce seasoning. A box of four servings will cost you S$8.90 or S$15 for two boxes. You can choose from Mee Kiah or Mee Pok. Cooking instructions are printed on the box.
Visit Ah Siong Gourmet Facebook to purchase.
From the Supermarket
Sadia
Those ready-to-eat packs are so easy these days. Sadia, the world's largest poultry producer and Brazil's third-leading exporter, has been adding recipes on their website and launching how-to videos on their Facebook page in May this year with Chef Shen Tan.
My family is familiar with Sadia's frozen chicken and wings which we buy pretty often until we received a care pack from Sadia. It was only then that we realised that Sadia's product range cuts across different product lines including beef patties, sausages and fully cooked chickens. They are reasonably priced at S$6.95 for the fully-cooked chicken products or S$6.90 for the Primo Burgers.
CP Foods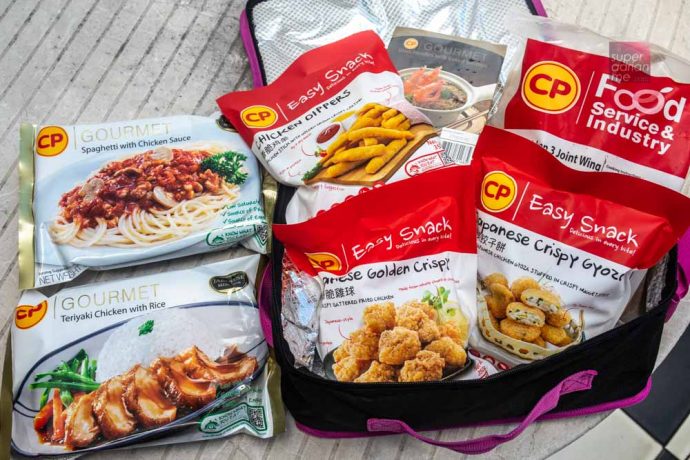 CP Foods ready-to-eat meals are what we usually go for. The CP Glass Noodle with Baked Shrimp is flavourful and we didn't expect so many prawns prawns in the packet.
And the Japanese Crispy Gyoza, Japanese Golden Crisp and Chicken Dippers are fast to heat up in any Air Fryer without having to defrost. No skills required.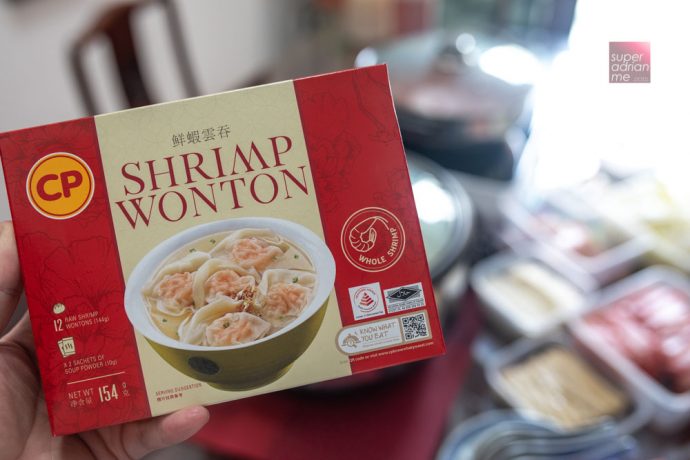 The Shrimp Wontons or Giant Shrimp Wontons are my favourites. They are great for hot pot or just to add into soups.
You may want to check out CP Food's recipe videos on their website and get some ideas of how to make different dishes out of CP Foods products.
Grab It Burgers by CP Foods are priced under S$4. So you can have a burger pretty easily. You can order CP Foods ready-to-eat Japanese, Italian, Thai and Mexican cuisines online from CP Shopz.
M&S Food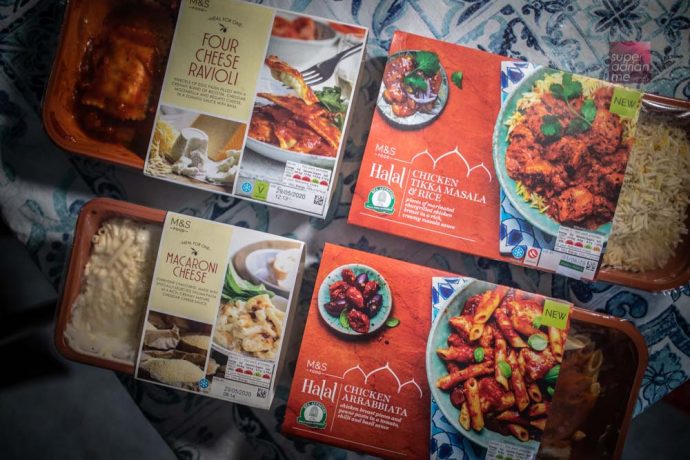 Get your grocery and food boxes and wine sets from M&S's recently launched Click-to-Order website. M&S Food's Ready-to-Eat meals, M&S Easy Weeknight Recipes and Cook with M&S range of convenient ingredients are something to consider too. Get your wine sets at 20% off and enjoy free delivery with a minimum spend of S$200 for a limited time.
Delivery from Foodpanda via pandamart is available from areas near selected M&S Foodhalls at Wheelock Place, VivoCity, Parkway Parade, One Raffles Place and Jewel Changi Airport. This service is free with a minimum order value of S$5.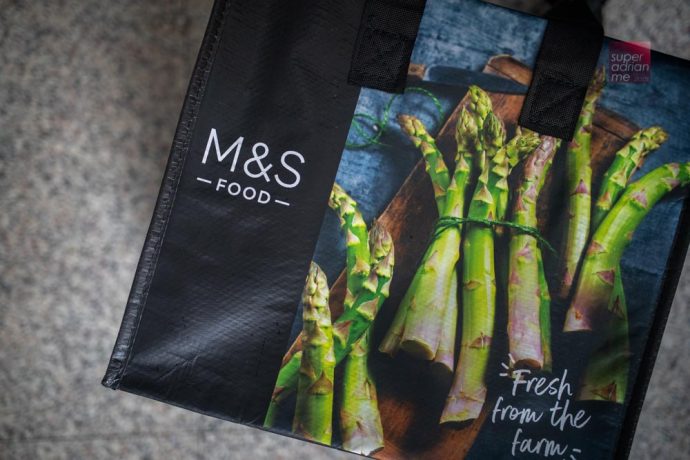 M&S Best Ready Meals are priced from S$9.90. This range includes Macaroni Cheese, Roasted Vegetable Lasagne, Mushroom Pappardelle, Four Cheese Ravioli, King Prawn Alfredo and Tomato & Basil Spaghetti to name a few. Or pick the Mozzarella Di Bufala Margherita Woodfired Pizza or Chargrilled Vegetable & Basil Pesto woodfired pizza at S$18.90 each.
Get quick and easy M&S recipes at M&S Facebook Page or Instagram.