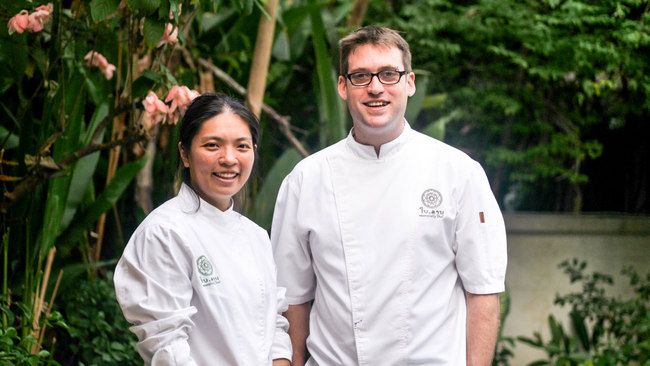 Ranked 19 Asia's 50 Best Restaurants in 2017, there is a lot to love about Bo.Lan. Hidden behind the bustling district of Sukhumvit is a serene wonderland perfumed with the aromatics we all love Thai cuisine for. The brainchild of power couple, Chef Duangporn 'Bo' Songvisava and Dylan 'Lan' Jones, Bo.Lan is more than just another Thai restaurant with a fancy packaging. Their cooking takes influence from the street food of Bangkok, refined royal cuisines to home-cooking traditions in far flung islands we never knew existed. All to preserve the country's culinary heritage that is quickly lost in translation and the fast-paced influx of tourists who know no better. And, the cherry on top – zero carbon footprint. Everything at the establishment is either locally sourced or from their vegetable garden, water is filtered and waste is recycled.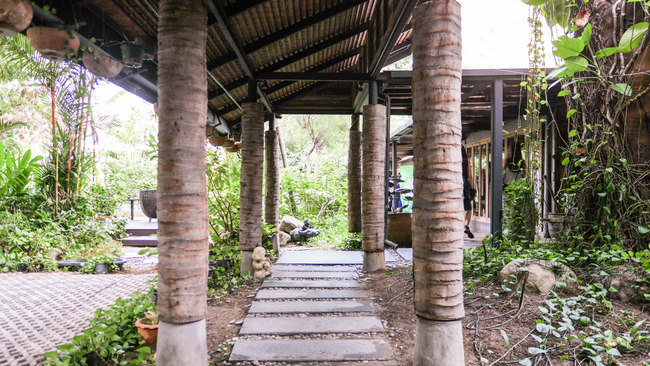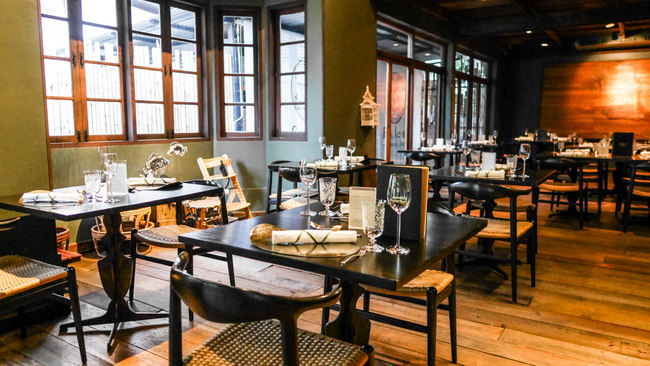 They plan to bring the same traditions to Singapore when they fire up kitchens in town for the annual Chang Sensory Tour. It will happen at The Promontory (Marina Bay Sands) on 7 and 8 July 2017, from 4 pm to 10.30 pm, alongside Ghin Kao, Nara Thai Cuisine and more. The couple has just closed a successful round at San Francisco, but, thanks to the lovely people at Chang, we got to try out Bo.Lan in all its glory in Bangkok first.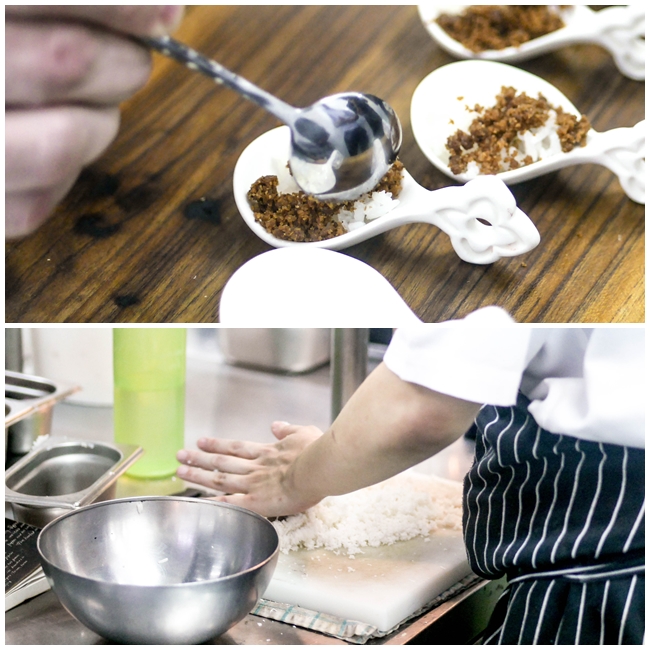 Dinner began with an amuse bouche. Fragrant Jasmine rice (Jasmin Kor Khor 105 from Yasothorn) served with a robust fish floss, served a la minute, right in the kitchen by Chef Dylan. No doubt, a delicious prelude to the their Bol.Lan Balance Menu (2,680++ Baht). What really took me and my remaining guests' breath away was the crazy energy at every station. Thai cuisine is one that incorporates different herbs and spices in each and every dish. The preparation, intense. Every ingredient was prepared from scratch, with precision.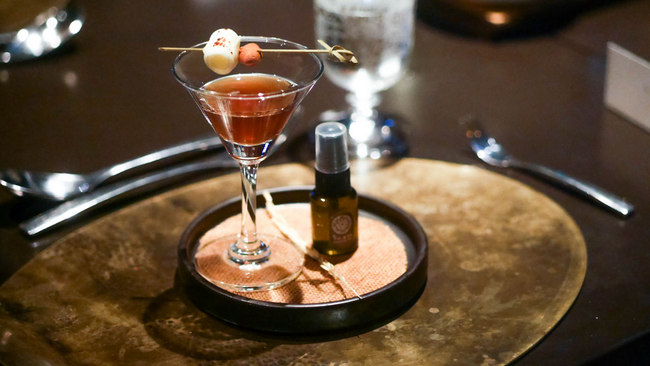 Shuffling back to the table, a cocktail awaited. Named Yadong Ma Kratueb Rong, it is made with a medicinal herb-infused rice whisky (Lao Khao) made famous by the streets. This moonshine is incredibly potent and is commonly consumed for reasons ranging from curing kidney ailments to boosting libidos. They have yet to pick up a following in Bangkok city, but its warming spice akin to a light Jagermeister can be addictive. Especially, when paired with its traditional counterpart of prik glua (salt, sugar and chili) and sour fruits. It came with a pandan spray to soothe the impending burn.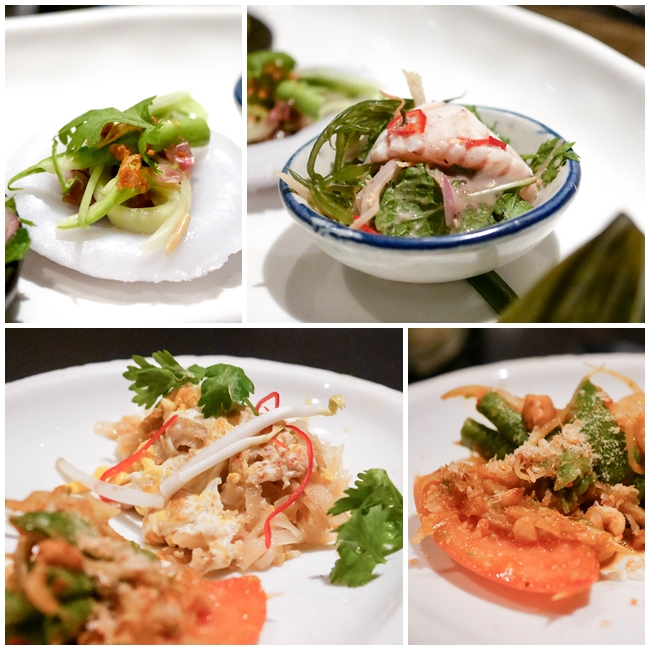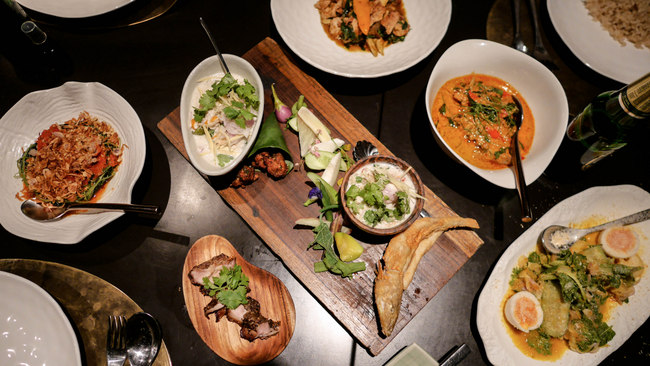 Before the rush of Yadong vigor could even hit me, the wait staff covered every square inch of the dining table with vibrant curries, stir fry, salads and a steaming plate of organic baba rice (the jasmine is also available).
The rush to pile as much food as possible on our plates, whether powered by hunger or the moonshine, had us all quickly realising what a gem Thailand is in terms of produce.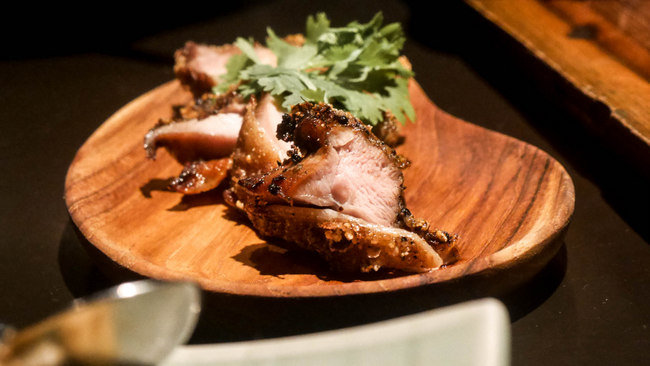 Flavours were familiar, but there was an added subtle accent by the ingredients. It would be too much to say I could feel the blood and sweat of the fisherman, but the simple fried fish was more than just fresh. Sweet flesh, that paired amazingly with a tradition coconut milk concoction filled with herbs.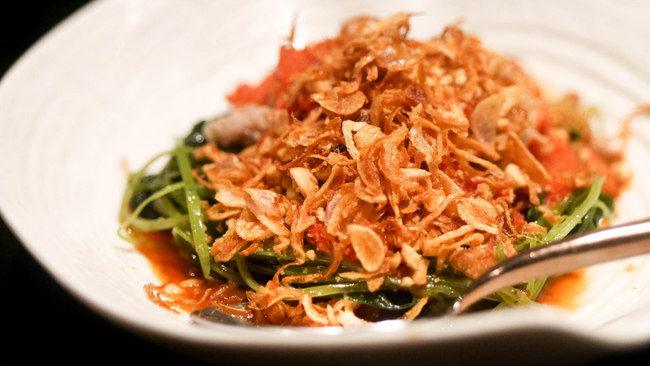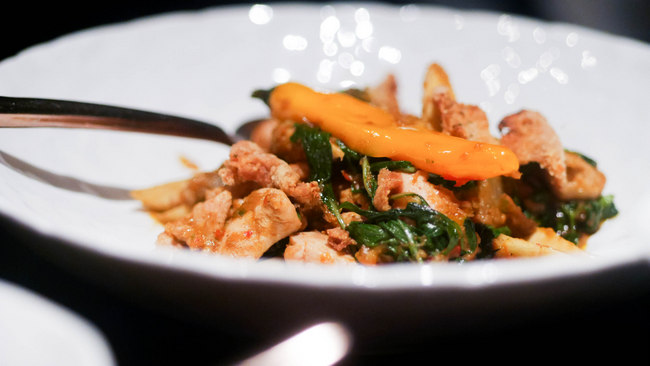 My usual order at Golden Mile gets an upgrade as well. Rather than the usual minced version, the chicken is stir-fried as succulent chunks. The sweet basil combination is always a dear. Except, now, I could taste how sweet the meat is. This stayed true for the roasted chicken breast and the pandan chicken bites. The best way to savour the latter is on its own, but greedy me could not help but grab a huge spoonful of the rich, gingery Sap Nok style curry as well.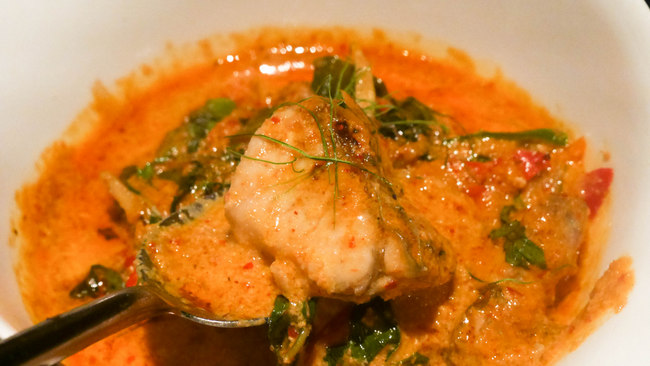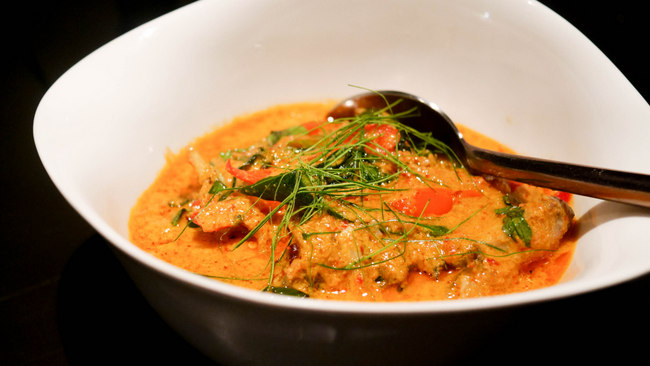 It is not to say the curry is just an accompaniment. Made with Chachoengsao duck, there was an added earthy richness to the underlying sweet coconut milk. An interesting interplay of flavours, as I've never had duck curry before. I love my green curries, but this is a strong contender.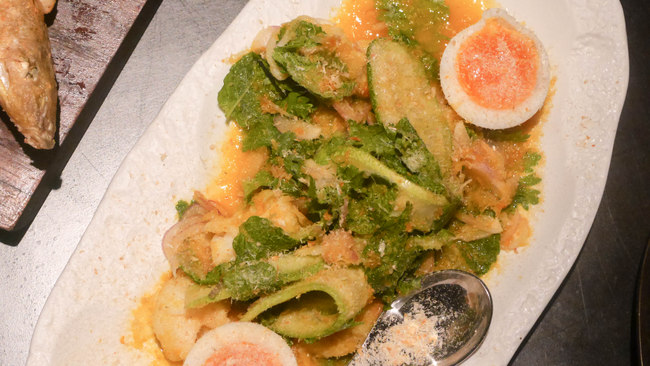 Before I move on to the desserts (because, apparently, I am a bottomless pit), there is one dish to highlight – the Salad of fresh cucumber and Ao Phang nga banana prawn with orange chili dressing. Quite a mouthful, isn't it. While it does look a little suspicious, I found myself polishing off the plate. The light, sweet flavour of the banana prawn is a match made in heaven with that orange chili dressing. Coupled with the fresh crunch of the cucumber and the creamy orange yolk to cool the sneaking burn, it is an ingenious dish that keeps you coming back for bite after bite.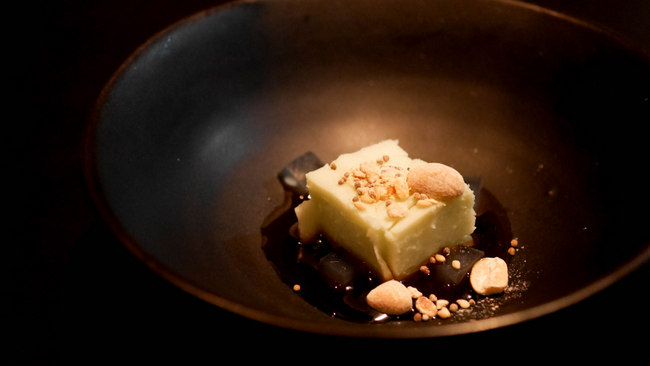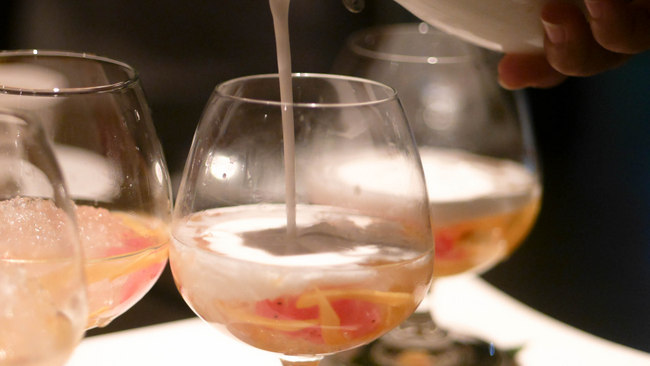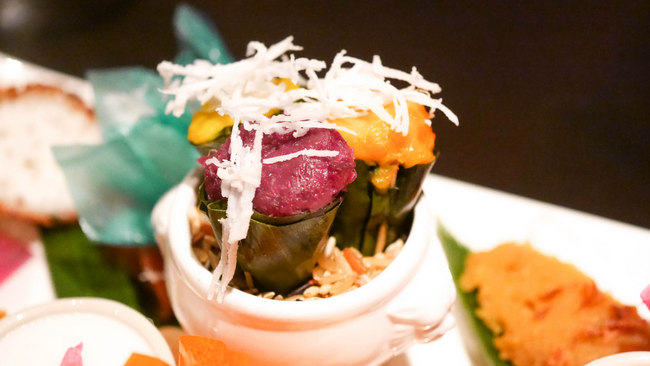 Of course, the desserts follow the same trend. Traditional Thai desserts, some familiar, some new. The usual suspects of steam cake, Khanom Krok (Thai coconut pancakes) and Khanom Wan Ruam Mit (usually served in a plastic take-away bag) are there to satisfy, but the little pots of puddings and curious wrappers took the cake.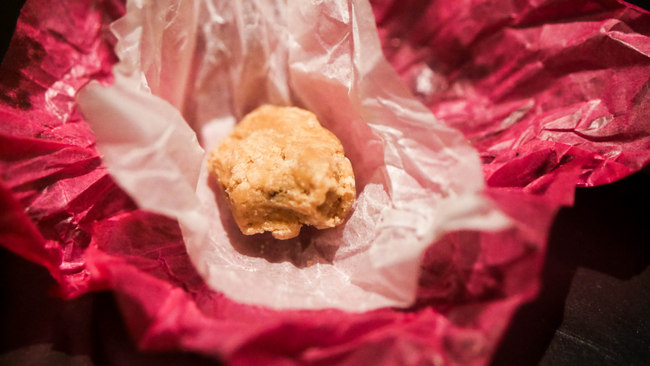 One that impressed was the Fah Sung Thong (peanut brittle). A proud display of Thailand's myriad influences on its cuisine. The name takes on a Cantonese pronunciation (faa sang tong), showing its Chinese roots. However, that's where the similarities end. Evidently absent is the sticky syrup encasing the crushed peanuts. Here, it is a soft brown, powdery candy that simply melts into a peanut butter-like dream. On the sweeter side, like many of their treats, the Bo.Lan blend tea came at the right time.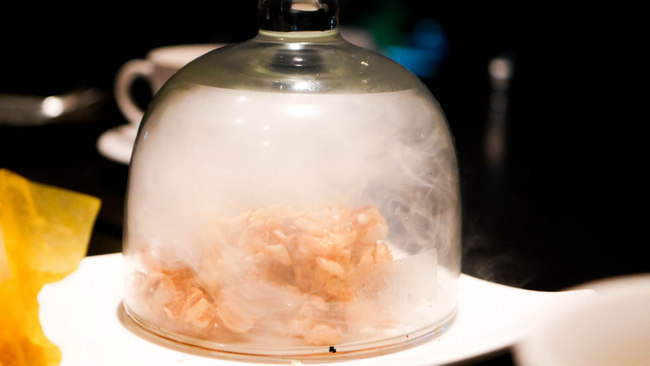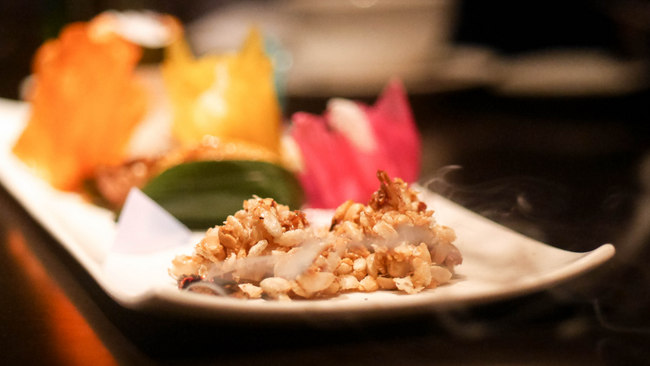 As dinner winds down, a little crunchy treat was needed. First on everyone's list was the smoked crackers. It came in spectacularly – fire, belljar, smoke and squeals of delight. A quiet dance of sweet and savory, with the waffling aroma of the sakura wood in every mouth. That, and a pint of Chang beer ended a perfect night.
Bo.Lan changes up their menu every quarter. It is likely you wont see some of the dishes mentioned here. What we can always count on are the best seasonal produce, from local farmers, fishermen, producers and, of course, themselves. This meticulous attention to every flavour presented in the restaurant gives Bo.Lan a fine distinction between the usual Thai fare. Important, too. With food this fantastic, it opens up conversations about the different styles of Thai cuisine many know little, or nothing, about. Everything from the crazy streets of Bangkok to the rural coasts can be found here. There is a retail section for those who want to bring a piece of heritage and history back into their own kitchens. Add that all to the ultimate aim of zero carbon foot prints, and it is no wonder why Bo.Lan just seem to keep rising up the ranks.
Bo.Lan
 is located at 24 Sukhumvit 53 Alley, Khwaeng Khlong Tan Nuea, Khet Watthana, Krung Thep Maha Nakhon 10110, Thailand.
Tel: +66 2 260 2962 Reservations: 
Finediningexperiences.com