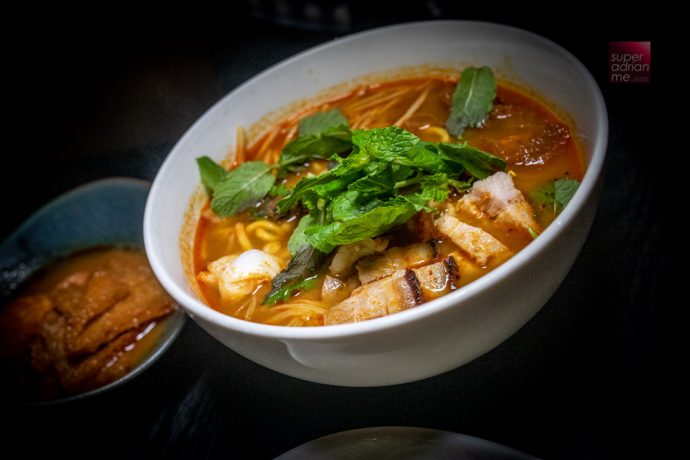 The Curry Mee soup from Ipoh is a spicy light broth that has no coconut, is not cloying and hence easy to drink as your slurp mouthful of noodles with its contents of mainly roast meats. Many who have had the chance to try it in Ipoh, Malaysia where this originated from would instantly fall in love with it. Well, at least it did for me.
Update [15 November 2020] Sum Yi Tai closes its outlet at 25 Boon Tat Street. Click here for more info.
Coterie Concepts Co-Founders Sandra Sim and Tay Eu-Yen went in search with the help of Ipoh relatives for the founder of Sun Heng, better known as "Canning Garden Curry Mee". Sun Heng is one of Ipoh's renowned Curry Mee Stalls with over three decades of history.
So when Sum Yi Tai Cantonese tapas bar on Boon Tat Street launched Lucky Mee, an Ipoh Curry Mee pop up on its ground floor for three months from 23 March to 19 June 2020 for weekday lunch from 11.30 am to 2.30 pm, we had to try it for ourselves. Perfect timing too with the travel ban.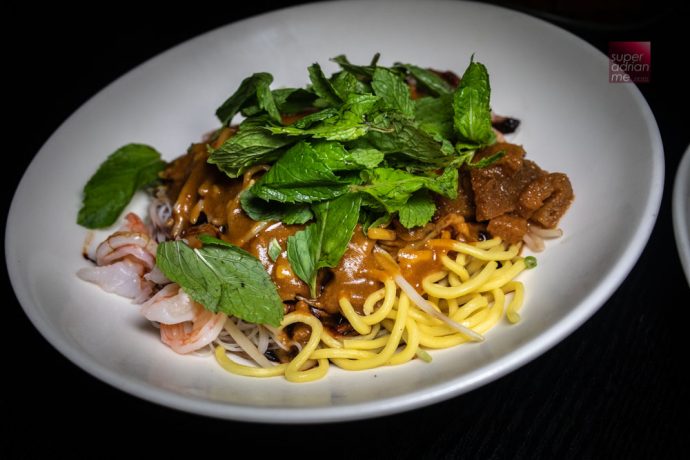 Limited portions of Curry Mee are prepared in Sum Yi Tai's kitchen, using the original recipe imparted by Sun Heng's Boss Lady to Sandra Sim. The Curry Mee Soup (S$14++) is made with a base of chicken broth with the secret recipe of chillis and spice.
The Curry Mee Dry (S$14++) is a serving of noodles topped with curry gravy made from the same mix, with dark soy sauce.
Both versions are served with house-made crispy roast pork belly, gravied pork skin, char siew, cockles, beansprouts and sprigs of mint leaves to cool the spice. Diners also have a choice of one or a mix of three noodles – Ipoh Hor Fun, Mee and Bee Hoon.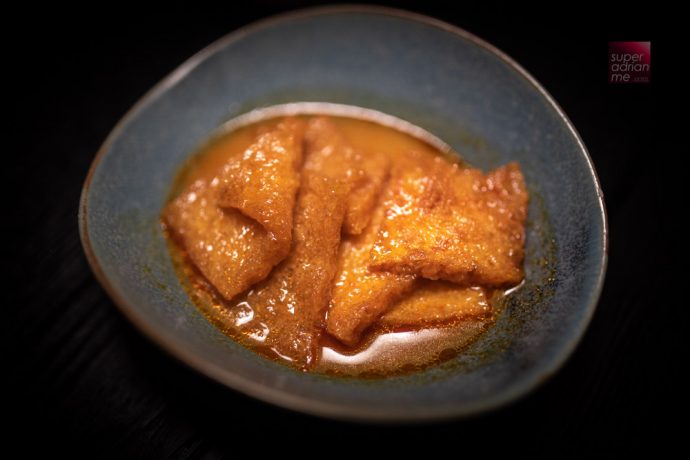 Three Lucky Mee Sides are also available. A side of roast platter (S$14++) comes with charsiu, crispy pork belly and prawns. Zhar Liu (S$14++) is an Ipoh Style Yong Tau Fu platter where pork meat is stuffed into ladies fingers, whole chillis in Curry dipping sauce. The Braised Pork Skin in Curry Sauce (S$10++) is sinfully good!
Don't forget to order Sum Yi Tai favourites include the Signature Mala Peppercorn Chicken "La Zi Ji" (S$12++), Crispy Pork Chips with Shrimp Paste (S$12++) and Sum YI Tai's Signature XO Carrot Cake (S$14++)
Sum Yi Tai offers a Whatsapp & Drive-By take-out option on its Lucky Mee pop up menu as well as its usual menus. Islandwide delivery is also available with minimum orders of S$50 an a delivery fee of S$10. If your order is over S$80, then delivery charges are waived. WhatsApp: +65 96433866 or email [email protected] Payment for drive-by take-out & delivery by PayNow.