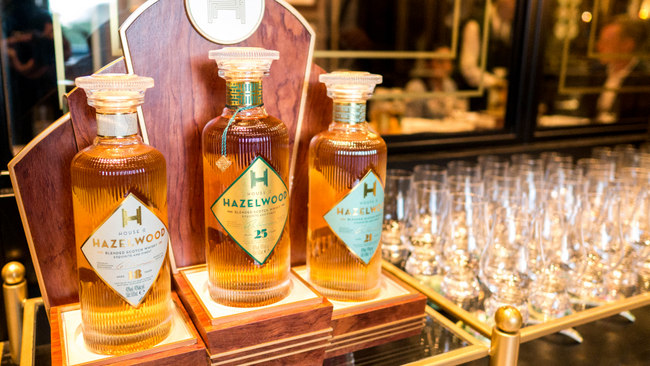 Janet Sheed Roberts may not be a household name, but many whisky and spirit lovers have her to thank. Her vibrant spirit was what inspired five generations of one of Scotland's private distillers, William Grant & Sons. In fact, all the way back to William Grant, himself. Her spirit lives on in three elegant blends named after the Hazelwood house where she lived; House of Hazelwood 18YO, 21YO and 25YO.
How it all came about
Master blender Brian Kinsman was tasked to to create a range worthy of this spectacular woman. Just how would he do justice to Janet Sheed Roberts? Not only was she one of the first few woman to receive a Masters' degree, but was also a jet-setting, whisky enthusiast who lived till a 110. Unusual at that time, but still as astonishing today.
He looked no further than what frequented her glass; Kinivie, Girvan and, of course, the family's private collection. There, he created three expressions, each inspired by different cities booming in the 1920s. The 18YO for Paris, the 21YO for Mumbai and the 25YO for Shanghai. The bottle design follows suit, with a sophisticated bottle reminiscent of the art deco era.
"Janet Sheed Roberts was an elegant woman, and I wanted to create a whisky that would celebrate her extraordinary spirit. The journey of creativity which led me to this unique whisky was one of distinction, challenge and utter delight. I am deeply proud of House of Hazelwood 25 year old. It has allowed me to create an exquisitely rare blended whisky, rich in Scotch tradition, combined with all of the inventive artistry which Shanghai in the 1920s inspires." – Master Blender Brian Kinsman
To further pay tribute to her adventurous spirit, House of Hazelwood was launched exclusively in Global Travel Retail since February 2016. Our very own Changi Airport DFS has already started carrying them. They retail at S$101.20 for the 18YO, S$151.80 for the 21YO and S$261.90 for the 25YO (all 40%abv).
Pairing two grand traditions together
To fully appreciate the blends, William Grant & Sons prepared an unlikely dinner pairing – Peranakan cuisine. Celebrating Janet Sheed Roberts' fearless take on living her life, they joined hands with the powerful matriarchal tradition of the Peranakan culture. And, of course, there's no other place other than our very own national (treasure) kitchen by Violet Oon.
The strong flavours would easily deter many from pairing them with whiskies, but it was a surprising night that changed my mind.
For the 18YO, it carries a sweet toffee note, a woody spice and a definite sherry cask influence. It aligns with the herbal notes of the Bakwan Keptiting Tea Pot Soup, particularly, the subtle ginger spice in the meat dumpling matched with woody spice of the blend. The dish works hand in hand with the short, dry finish, prolonging it.
Another interesting pairing was with the Kueh Pie Tie and Ngoh Hiang. The former highlighted the vanilla and toffee notes, while the sweet sauce of the ngoh hiang took away the initial sweetness of the blend, bringing out a hidden oakiness. And, likewise, the spice is always welcomed with the meat.
For the 21YO, a simple satay. The dish brings out the honey notes, all while amplifying the spice. Perfect for those who like a soft, lingering warmth.
Master Blender Brian Kinsman's pride, the 25YO was a tough one to pair with the Daging Chabek Beef Cheek. Some loved it, some thought the spice went on too long, too much. Still, the caramalised sugar and orange blossom notes goes well with this full-bodied dish. It has a long finish, dragging on the floral and spice notes on and on.
When it came to the desserts, it was free game. Everyone had their own pick as to which went well with which. My favourite was the 18YO and the coconut-based Kueh Dah Dah. The vibrant vanilla and creamy toffee notes are a match made in heaven with this childhood treat.
GIVEAWAY
We are giving away a bottle of House of Hazelwood 18YO to one lucky person. Click below for more information.