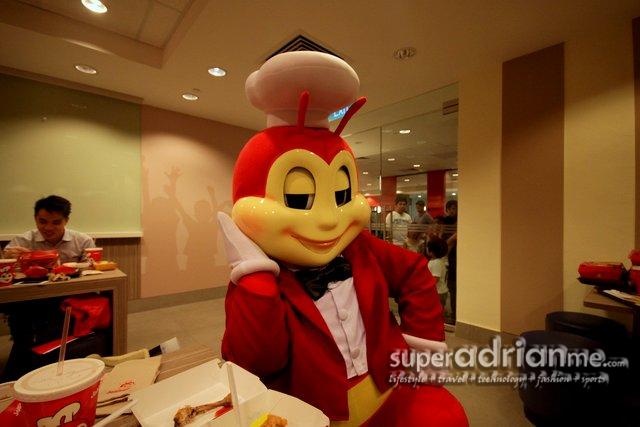 Since Filipino fast food joint Jollibee opened its first store in Singapore earlier in March, the queues at the 6th floor of Lucky Plaza in Orchard Road has been non stop and we understand most customers stand in line for at least 1 1/2 hours to have a taste of the fast food offerings.
Many Filipinos grew up with the 35 year old Jollibee and opening the store here in Singapore has catered to the growing Filipino population here, bringing a flavour of home and comfort to them here.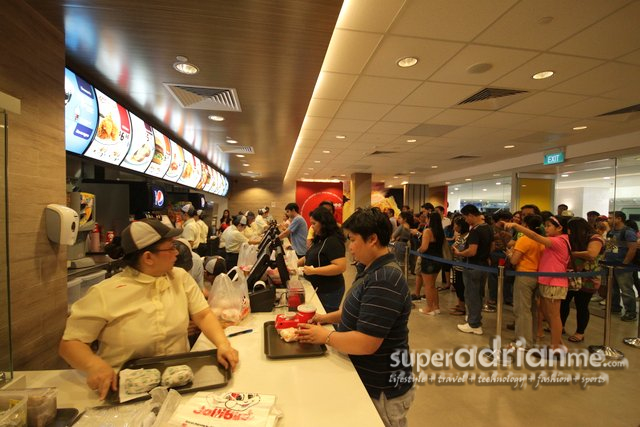 The largest fast food chain in the Philippines, Jollibee currently operates a network of some 780 stores in the Philippines.  It intends to open its 800th outlet there to celebrate its 35th anniversary this year.  We understand that Jollibee ranks top Quick Service Restaurant with the number of outlets in the Philippines while America's McDonalds pales in comparison with half the number of stores, ranking third there.   Joining its most recent outlet overseas in Singapore, Jollibee has opened 92 outlets in USA, Vietnam, Brunei, Jeddah, Qatar and Kuwait.
Jollibee first started off as an Ice Cream Parlour by Tony Tan Caktiong and his family.  The management is run as a family-oriented business making Jollibee the Employer of the Year award winner from the Personnel Management Association of the Philippines and a Top 20 Employer in Asia citation from the Asian Wall Street Journal.
In Singapore, Jollibee has a total staff strength of 83 to date of which 61 are Singapore nationals and permanent residents.
Serving in Singapore is a smaller selection compared to what is available in the Philippines.   You still can get its signature dishes including the Jollibee Chickenjoy, Yumburger, Jollibee Spaghetti, Jolly Hotdog and Burger Steak.   Gusto ko lumafang!
Jollibee Chickenjoy
Jollibee's answer to fried chicken is crispy on the outside while inside is tender and juicy.  Comparable, if not better for some, to Kentucky Fried Chicken's Crispy chicken.
Jollibee Chickenjoy is available in various options.   1 piece Chickenjoy with rice ala carte S$2.80, 1 piece Chickenjoy Value Meal with drink S$3.80, 2 pcs Chickenjoy with rice ala carte S$5.60 and 2 pieces Chickenjoy value meal with drink S$6.60.
Yumburger
These burgers are made with 100% pure beef patty and comes in three options – Cheese, TLC, and Double Yumburger with TLC.Yumburger with Cheese is served with cheese and Jollibee's special burger dressing in a soft bun.  Yumburger with TLC is made with beef patty served with mayo, a slice of tomato, crispy lettuce and creamy cheese in a soft bun while Double Yumburger with TLC has two slices of beef patty.  The burger offer simple pleasures, whilst the patties feel ostensibly smaller compared to its  competitors McDonalds and Burger King here in Singapore.
Yumburgers with cheese value meal S$4.40, Yumburger with TLC value meal S$4.90, Double Yumburger with TLC value meal S$6.00 and Aloha value meal S$6.60.  Value meals include drinks and fries.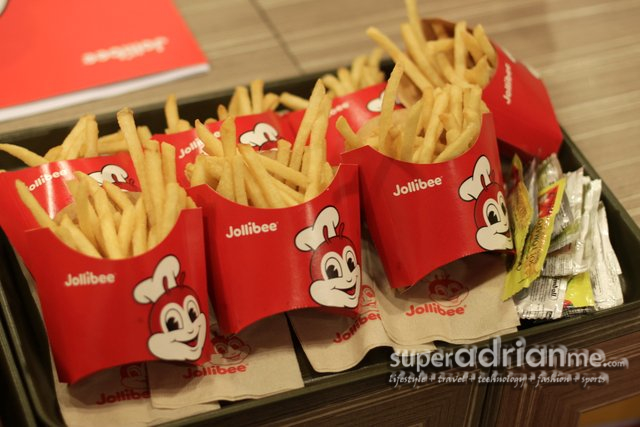 Jolly Crispy Fries are also available separately at S$1.90 for regular and S$2.75 for large servings.
Jollibee Spaghetti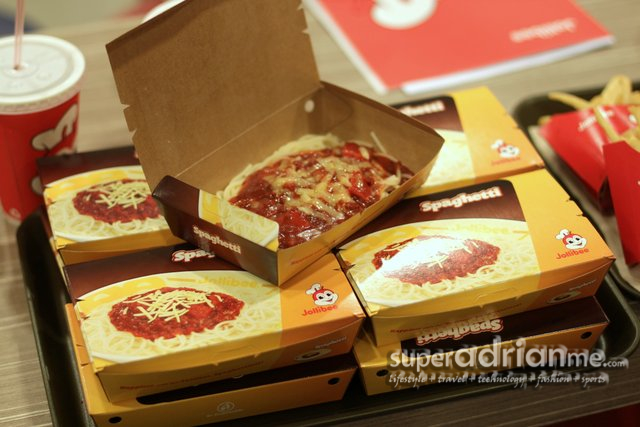 If sweet is your thing, you will enjoy the Jollibee Spaghetti.  The sweet style spaghetti sauce include chunks of savoury ham and sausages and ground beef served over noodles and topped with lots of  cheese.  I personally enjoyed this dish but some may find it strangely sweet.   The Jollibee Spaghetti sells at S$3 for ala carte and S$4 for the value meal that comes with a drink.  A more filling meal would cost you S$6.60 which includes 1 piece of Chickenjoy with the Spaghetti value meal.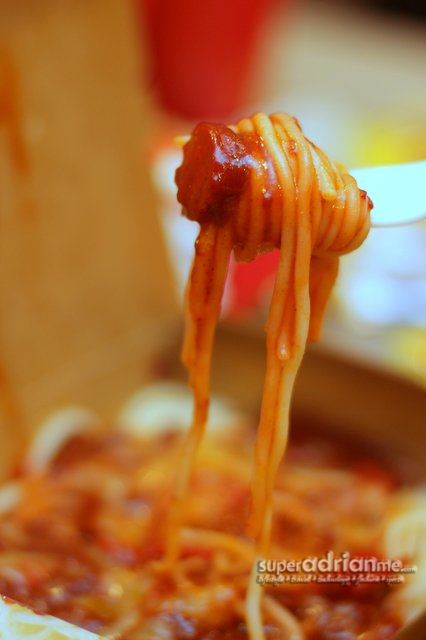 Desserts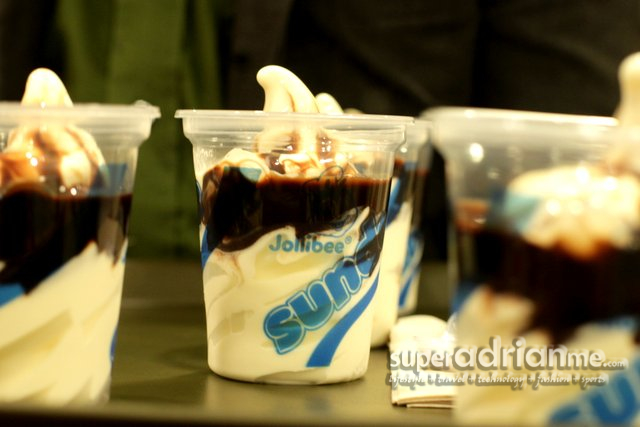 Complete your Jollibee experience with the Chocoloate Sundae S$1.50 or the soft-serve Cone Twirl S$0.70
Jollibee is located at the 6th floor, Lucky Plaza in Orchard Road and operates daily from 9am to 9pm.   It has a seating capacity of 300.
For now we have to settle with what is available at Jollibee in Singapore and pay a visit to the Philippines to try its other signature dishes such as Champ, Palabok, Hash brown burger, Tuna pie or the Peach mango pie. Jollibee Singapore will be slowly including more dishes into the menu depending on the market demand here.
A joyful experience I had, I noticed smiling happy faces of the patrons as they walked out of Jollibee after what seems like a happy meal.  Panalo! Masarap!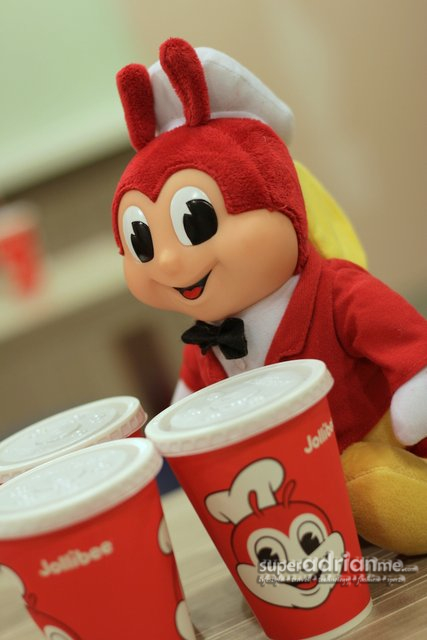 June Macasaet, Filipino model & winner of Manhunt International 2012 was in Singapore. and during our interview with him, we asked him to recommend some of the dishes from Jolliibee.  Check out the video below.
Related articles