Caviar opened its doors to customers at the basement of Palais Renaissance on 3 December 2021 offering a contemporary approach to caviar fine dining. Eight varieties of the world's best Caviar including world number one Kaluga Queen as well as Oscietra, Sevruga and Beluga are available here. The young team is led by 28-year-old Head Chef Karleen Kasim. The philosophy here is to maintain Caviar's exclusivity by balancing it only with ingredients that showcase its incredible flavour.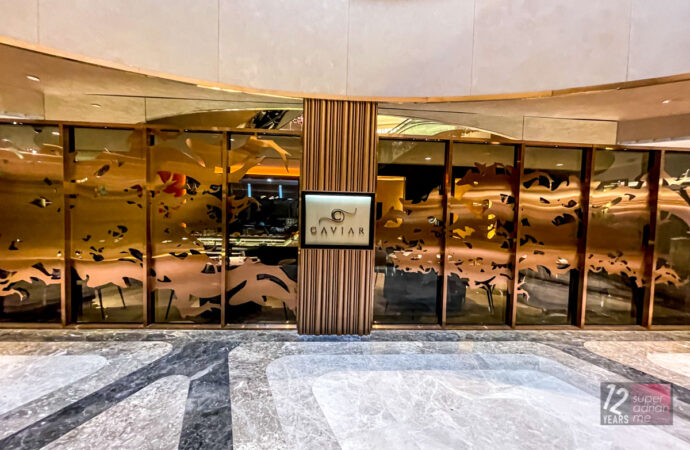 Caviar owner and restauranteur Jason Ong opened his first Uni Gallery four years ago specialising in sea urchin dishes. Caviar is his second restaurant.
A four-course Spring Lunch menu and a seven-course Spring Dinner menu has just been launched in March. The menu features seasonal flavours from around the world. The four-course Spring Lunch Menu features an amuse-bouche and Swordfish served with Abalone, Kohlrabi and Ginger Vinegar. Swordfish belly is cured with shio kombu, then grilled lightly over binchotan. Live Japanese abalone braised in fish stock and spices is salted with kohlrabi sheets then served with in-house distilled ginger vinegar and garnished with kelp oil. New Zealand organic steamed Egg Custard celebrates thinly sliced Cod Fish Bacon cured and smoked in house, Sunchoke Chips and Oscietra Caviar, followed by Agnolotti pasta stuffed with Welsh Lamb and Caviar. For desserts, you will get an Apricot served with Almonds, Sauternes and Mascarpone and Petit Four.
The Seven-Course Spring Dinner Menu opens with snacks of Corn Manchego Croquette, Pickled Mussels, Apple, Fish Crackling and Caviar. Spanish Octopus sandwiched between Iberico Pork and served with Cherry Tomatoes and Capers. The Spanish Iberico Pork belly is layered together with octopus legs, cooked sous vide for 12 hours then grilled over the binchotan and served with pork jus infused with brown butter, shallot and capers. Monkfish Consommé features every part of the Japanese fish and is served with endives, liver and caviar. The tail meat is cured in kombu sheets for 12 hours then slow-cooked at the binchotan. Served alongside Kaluga Queen Cross Breed Caviar, while the liver of the fish is made into a pate seasoned with shio kombu and served with Giaveri White Sturgeon caviar. Next is the Welsh Dorper Lamb with Goat's Curd, Truffle Jus and Artichoke. Slow-cooked for three hours, this dish is served with grilled pickled pearl onion and truffle jus made from the trimmings of the lamb and mixed with black truffle, garnished with green oxalis herb. Enjoy the Burnt Honey Ice cream to end off the experience.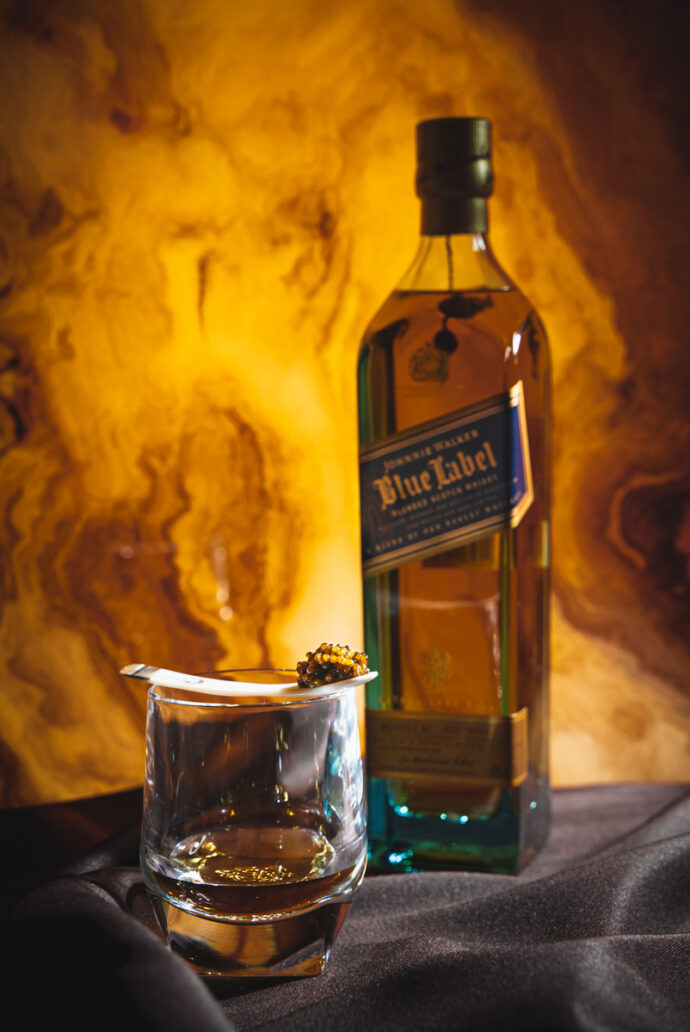 Caviar celebrates International Women's Day throughout the month of March with a complimentary glass of Johnnie Walker Blue and a serving of Kaluga Queen Caviar to all women having the dinner menu.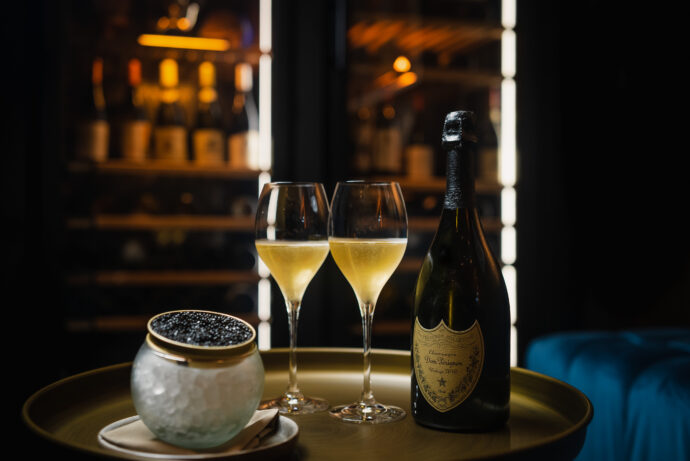 The Dom Pérignon Beluga Experience features a bottle of Dom Pérignon and two tins of Beluga. One from China and another from Iran. This experience is good for two to four people.
There is also Sunday brunch here – Seven courses at S$198++ till the end of March. Splurge and enjoy champagne and wine from S$98++ per bottle or S$388++ for Dom Perignon. Johnnie Walker Blue Label is priced at S$398.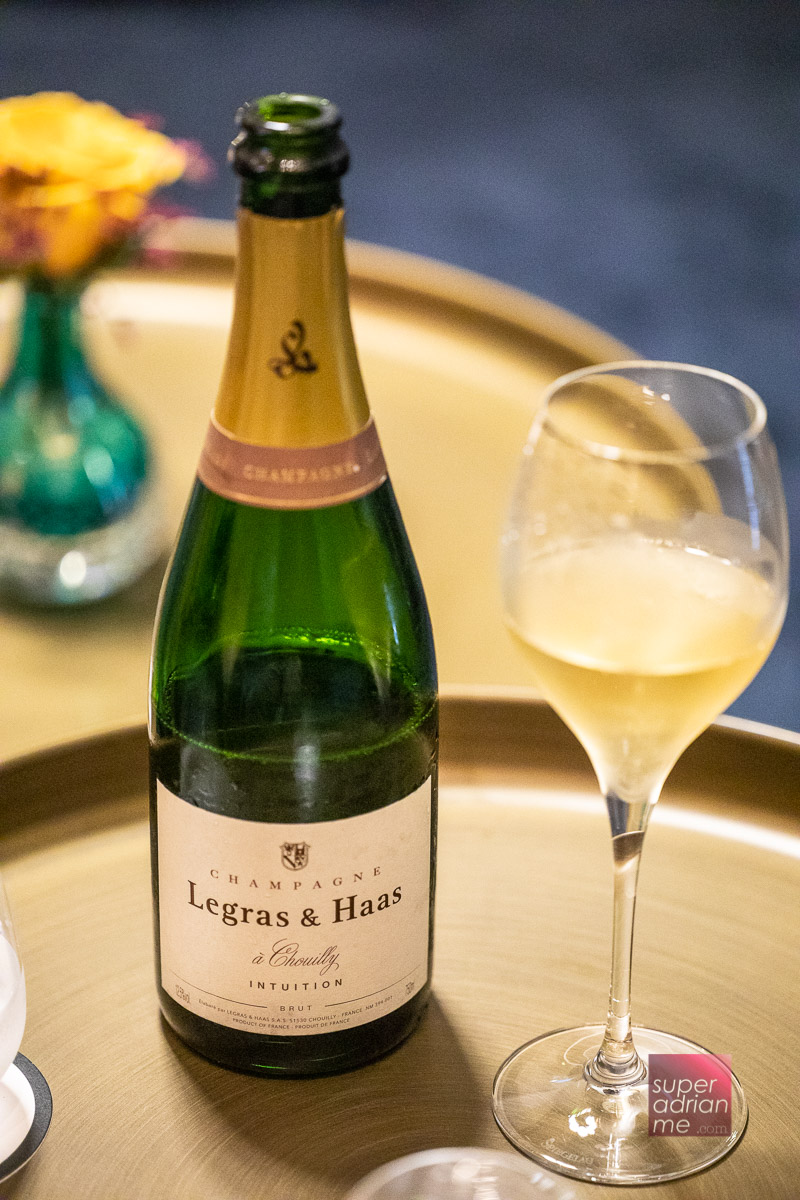 We were hosted to dine here in January where we had a great view of the chefs at work at the chef's table. We were treated to Legras & Haas Champagne throughout the meal and ended with caviar flight tasting and some Johnnie Walker Blue Label.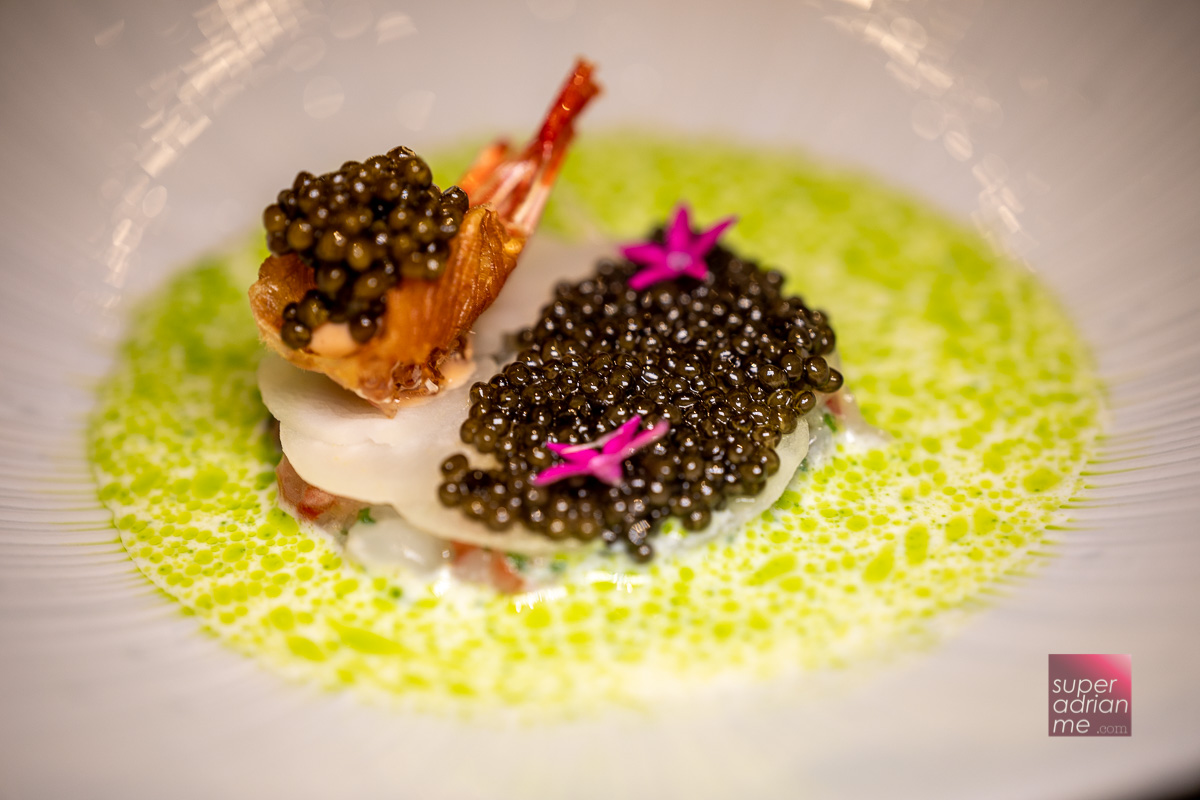 The ambience is posh and service attentive. We highly recommend sitting at the chef's table for full interaction with the chefs as they dish out your next course.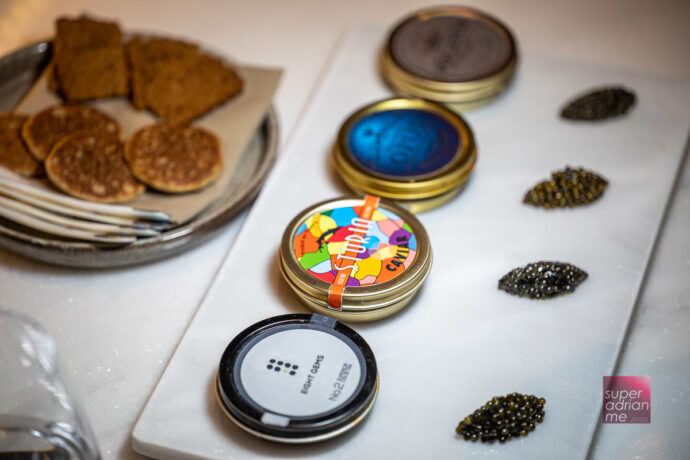 Caviar is located at 390 Orchard Road, B1-07 Palais Renaissance, Singapore 238871. Call +65 98881217 or email [email protected] for reservations. Dress code is smart casual. Long trousers and covered shoes for men.