Champagne Bollinger Special Cuvée Limited Edition 007 Gift Pack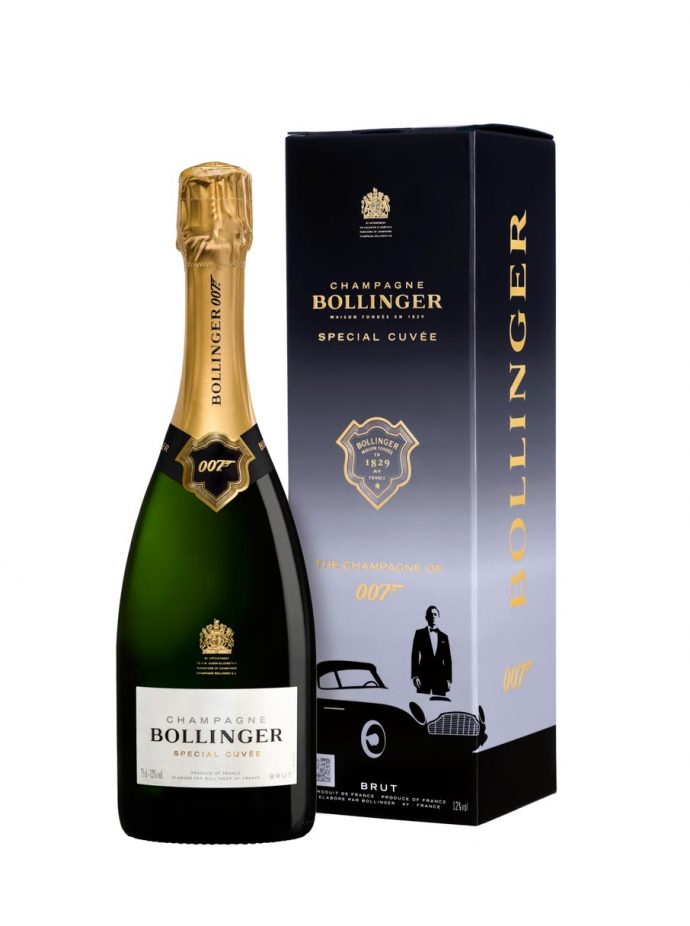 Champagne Bollinger celebrates over 40 years of partnership as the Official Champagne of 007 and the upcoming film No Time to Die. The house of Bollinger has produced a limited edition gift box that brings together three icons: Bollinger's signature Special Cuvée, the Aston Martin DBS and the legendary British secret agent, James Bond.
The limited edition gift box features the silhouette of James Bond alongside his Aston Martin DB5. The colour way of the gift box echoes the silver birch finish of the DB5. The Bollinger lettering and logos are depicted in gold and the iconic Special Cuvée bottle has been adapted to feature a black and gold neck collar with a 007 blazon.
The recommended retail price of the Bollinger Special Cuvée 007 Limited Edition is GBP55 and has been available from fine wine merchants around the world since 1 October 2020.
Campari Brings Red Passion to Life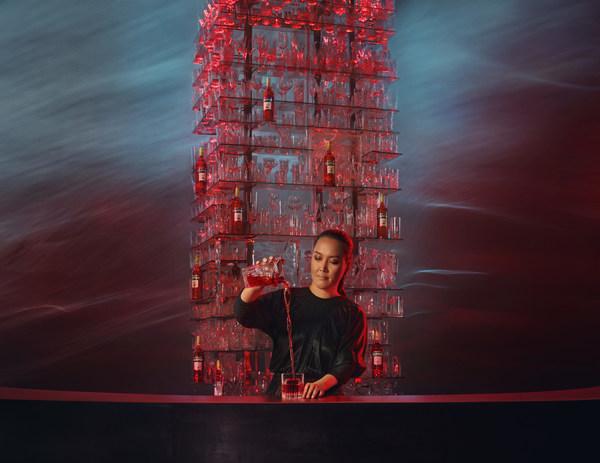 The iconic Italian red aperitif Campari has launched an inspirational new digital campaign featuring a unique partnership with remarkable artists from around the world, bringing to life the brand's newly evolved ethos of Red Passion – the urge inside us that is impossible to ignore.
The audience is invited to discover their own Red Passion by recognising the force that lives inside them as well as to embrace the challenge to give it shape in the path to creation.
Showcasing how each individual has followed their passion and gone beyond the ordinary Matt Lambert, a true Red Passion advocate at heart, developed this series of evocative video clips where the protagonists shift into and embrace their Red Passion in a way that is perfectly depicted to inspire others.
Featuring in the mini-series is disruptive, forward-thinking and entrepreneurial bartender Monica Berg, renowned for her extraordinary bartending techniques and awarded most influential person in her industry in 2020. To describe Red Passion she declares; "It's a feeling, it's a vibe, it's not necessarily something you can force, but when you see it, you know it and you simply can't ignore it!"
Alongside, Bendik Giske an ultra-expressive and highly talented artist and saxophonist delivers an eye-catching performance throughout, taking his instrument and audience to another dimension in his evolving manifestation of Red Passion.
Avant-garde and energetic director Margot Bowman, who, as well as featuring in the short clips, also took part in behind the scenes activity, describes her creative process as follows; "My creative process is pleasurable. I think pleasure is a really important part of it. I am very curious, so everything really starts with curiosity and just a sort of fascination with the world and the people around us."
MJ Harper, a remarkably graceful and expressive performance artist and choreographer whose dance and body language stirred and moved people from all walks of life says about Red Passion and creativity; "What's interesting about it is, that depending on how it's pushed or not pushed, you will find people who are actually active in their creativity and people who are very much passive.
The series of videos featuring each artist are part of a wider digital campaign set to guide viewers on their journey to discovering and embracing their inner Red Passion. With Campari as a leitmotiv throughout, the hyper visual assets bring to life passion in all its form and in turn provides beautiful, metaphorical renditions of the most famous Campari cocktails. The videos will start to go live as of the 5th of October 2020 on YouTube, the Campari Website and Instagram with additional videos releasing in November.
The campaign was devised by creative agency Wunderman Thompson, all films produced by Movie Magic with a digital strategy lead by We Are Social.
Cloudy Bay 2020 Sauvignon Blanc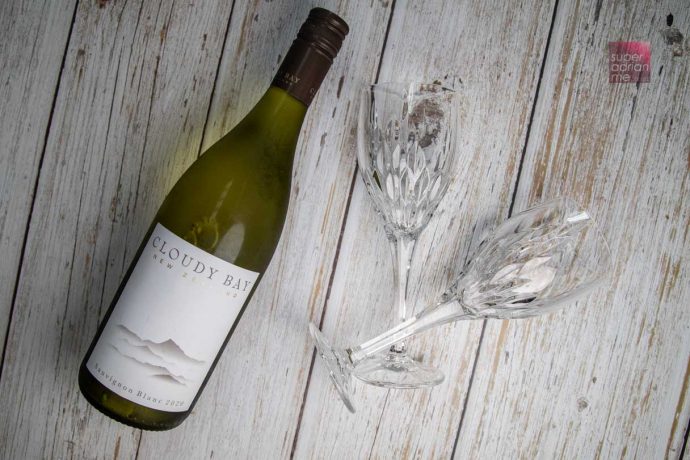 Winemaker Jim White never expected that he would be arranging for everyone at the winery and vineyard staff to receive an allocation of face masks to continue to work in March this year. Normal harvest operations had to be changed because of social distancing rules. Good thing to note. Wineries were classified as an essential industry in New Zealand.
The conditions this year had a little bit of frost early in the season with some wet weather in December that helped to top up water reserves for the extended dry period that started from the beginning of 2020 right through to harvest which commenced on 15 March and completed on 2 April.
Temperatures never soared for any extended time allowing vines to mature while maintaining great acid balance. There was little disease pressure and harvest was unhurried under blue skies.
After harvesting, the free-run juice was cold settled, before racking and inoculation with selected yeast, then fermented primarily in stainless steel tanks, with approximately 4% of the blend fermented at warmer temperatures in old French oak barriques and large format oak vats.
The Cloudy Bay 2020 Sauvignon Blanc is bright and focused and shows the classic Cloudy Bay flavours of makrut lime, grapefruit and subtle passionfruit on the nose. On the palate, it is mouthwatering with zesty lime, lemon grass and stone fruit characters with subtle minerality.
The Cloudy Bay Sauvignon Blanc 2020 is available at leading retailers and wine stockists.
Craft Brothers – Bootleg Booch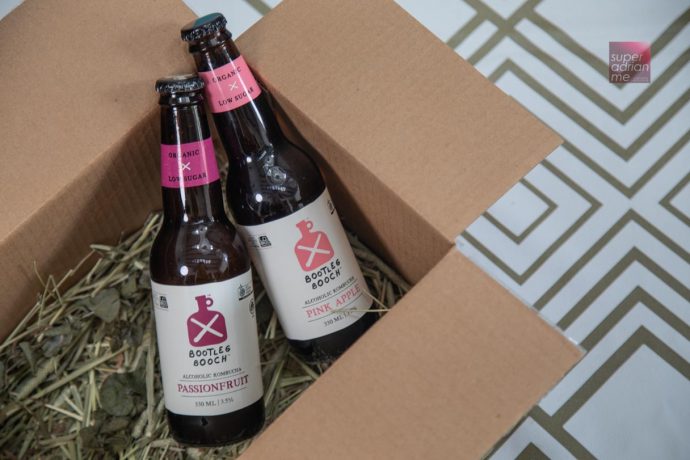 The CraftBrothers have selected some of the best regional Australian handcrafted beverages which have never been available outside of Australia to introduce to Singapore. The startup as a new Australian exporter and distributor has access to the freshest beer available allowing some brews to be shipped to Singapore within days of the beer being bottled.
The small batch, hand crafted ShedShaking Brewing craft beers complement the flavours and tastes of Singapore including dishes like spicy laksa or chilli crab. Available as Premium Lager, Frailty Pale Ale, Celtic Red or Knucklehead Rye IPA.
Or enjoy the refreshing, mid-strength and flavourful Bootleg Booch alcoholic kombuchas over ice. Sounds healthy already. You can put the booch in the freezer for about half an hour and drink it like a slushie too.
First Drop Wines from Barossa Valley Available from Maltwine Asia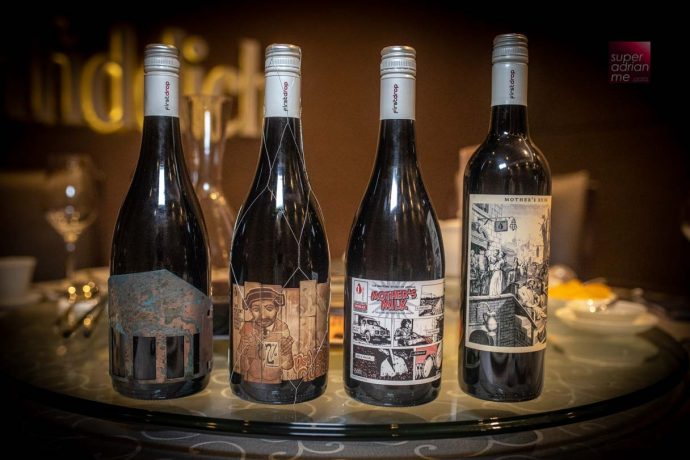 First Drop was born in 2004 by two friends Matt 'Gantos" Gant and John 'JR" Retsas. Based in Barossa in South Australia, First Drop wines are made from fruits from unique vineyards in the Adelaide Hills, McLaren Vale and Barossa.
Malt & Wine Asia is distributing eight of First Drop wines here in Singapore with prices ranging starting from S$53 nett to S$255 nett. Many of which have been rated above 90 pointers.
Label
Description
RRP (S$)
First Drop 2020 Vivo Adelaide Hills
This is the ultimate summer cleanser. Forget your G&T, this Arneis from the cool climes of the Adelaide Hills will quench and refresh. Citrus and lime zest with a hint of nashi pear and minerality. But this wine isn't just an aperitivo tease. Its purity of fruit, zippy persistence, and finely textured finish make it the 'perfect match' for a feast of dishes.
53
First Drop 2018 Mother's Milk Barossa Shiraz
Not a sledge hammer style, this Barossa Shiraz is made for drinking! Soft, slurpy and textured it is balanced with good acidity, which refreshes the palate and makes you go back for a second or third glass. Sourced from 3 unique vineyards, it is fruit laden, savoury and dangerously easy to drink. It is matured for 12 months in French oak hosgheads to allow fruit to express itself.
60
First Drop Mother's Ruin 2016 Mclaren Vale Cabernet Sauvignon
This well balanced expression of McLaren Vale Cabernet Sauvignon is an ode to the 'luncheon claret', but it's not as green and austere as the favourite lunchtime libation at the gentleman's club. The fruit is from a vineyard with good breeding in the foothills and the resulting wine has been made in a fruit driven style this vintage. It has classic First Drop drinkability, so bottoms up!
60
First Drop 2 % 2018 Barossa Shiraz
First Drop's reserve Shiraz is sourced from vineyards in Greenock (35%), Ebenezer (35%), Seppeltseld (30%). Dense dark berry fruits, with hints of tobacco and cocoa are further enhanced by subtle use of oak. This wine has been matured in 28% new French oak hogsheads and the balance in 3 and 4 year old French oak hogsheads and American oak barriques for 17 months sur lie, resulting in a sexy, textured palate. And who's 2%? Moscatel! A splash of funk that supports the base line fruit, and puts the 'ph' in fat.
98
First Drop Cold Sweat Eden Valley Syrah – Moculta (Single Vineyard)
Eden Valley is the perfect backdrop for us to further push our vinous boundaries. At a higher elevation than the Barossa Valley below, we embrace the funk to make even more diverse expressions of Syrah that speak of their unique sites. It's all about the one. Give the drummer some!

A complex nose of dark cherry, savoury and spice aromas.

A brooding palate of grainy tannins support complex dark cherry, earthy, savoury flavours.
126
First Drop Cold Sweat Eden Valley Syrah – Craneford (Single Vineyard)
Eden Valley is the perfect backdrop for us to further push our vinous boundaries. At a higher elevation than the Barossa Valley below, we embrace the funk to make even more diverse expressions of Syrah that speak of their unique sites. It's all about the one. Give the drummer some!

A complex nose of dark cherry, tomato leaf, celery and pepper.

A textured palate of fine graphite tannins support complex dark cherry, savoury and Bloody Mary flavours.

This bottle comes with a cool metallic label.
126
First Drop Fat of the Land Barossa Shiraz – Seppeltsfield (Single Vineyard)
The Barossa is an amazing place with a diverse history from which a great community has grown living o the Fat of the Land. Famed for its Shiraz vineyards, some dating back to the 19th century, the wines from this small, but proud region are as unique and divergent as its history and community. One can make such varied expressions of Shiraz, due to the different meso-climates of each subregion, the elevation range, and the myriad of soil types that are to be found throughout the Barossa. The Fat of the Land series seeks to showcase the sub regions of the Barossa, and the contrasting styles of Shiraz that can be made here.

Comes with bouquet of lifted dark cherry aromas with notes of licorice and dark chocolate. It is flavour packed with kirsch, prunes, dark chocolate and liquorice on the palate. Rich and muscular, like Arnold Schwarzenegger.
183
First Drop The Cream Barossa Shiraz
The Cream is blended at the optimum time from the best barrels from First Drop's most prized vineyards to create the ultimate expression of Barossa Shiraz from the vintage.

It has a bouquet of lifted black fruit aromas with hints of smoke, tar, leather, florals and Indian spices. Rich kirsch and black fruits, dark chocoalte and licorice, balanced with textured, lingeringly seamless tannins.
226
Get It Changi Recommends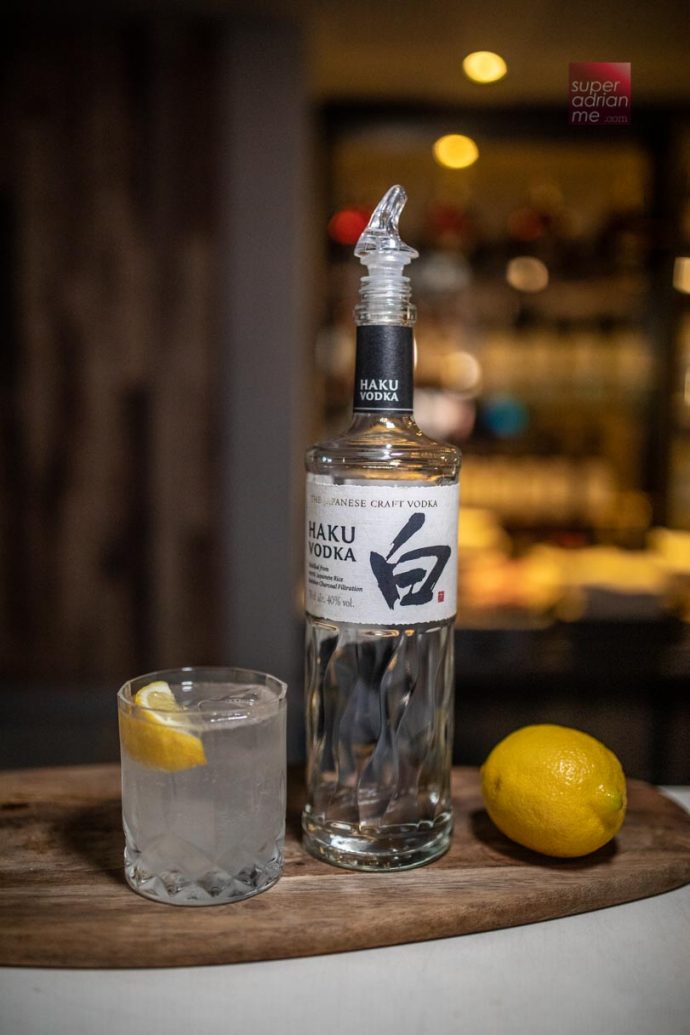 Changi Recommends launched Get It, a grocery delivery service with over 8,000 products in April this year due to the COVID pandemic to help Singaporeans tide over the Circuit Breaker period. Get It offers quick turnaround with same day delivery before 11 pm for orders before 12 pm every day. With purchases of S$70 and above, the delivery charge of S$8 is waived.
Get It has expanded its product offering to now include beer, wine and spirits. It is offering the best prices for spirits in Singapore from suppliers such as Asia Pacific Breweries, Beam Suntory and more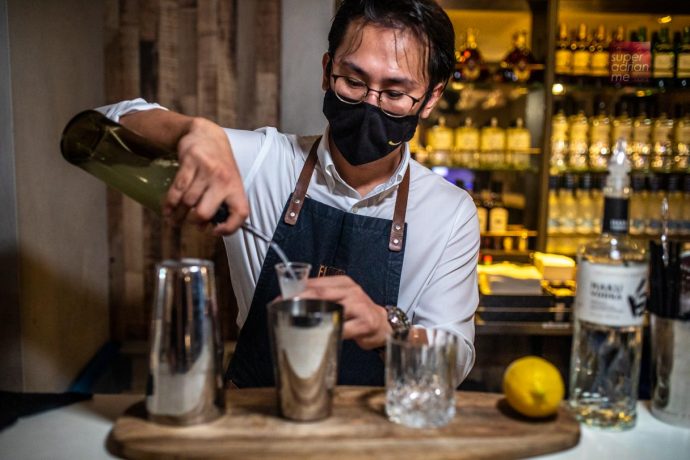 Visit https://www.getit.changirecommends.com/beer-wine-spirits to view the selection.
Bring out the inner bartender in you and order from a selection of spirits from Beam Suntory. Drink from the comfort of home and celebrate life.
Don't forget to enter the promo code PERFECT10 to enjoy 10% off with no minimum spend or PERFECT30 for S$30 off with minimum spend of S$250.
Hunter Valley- Semillions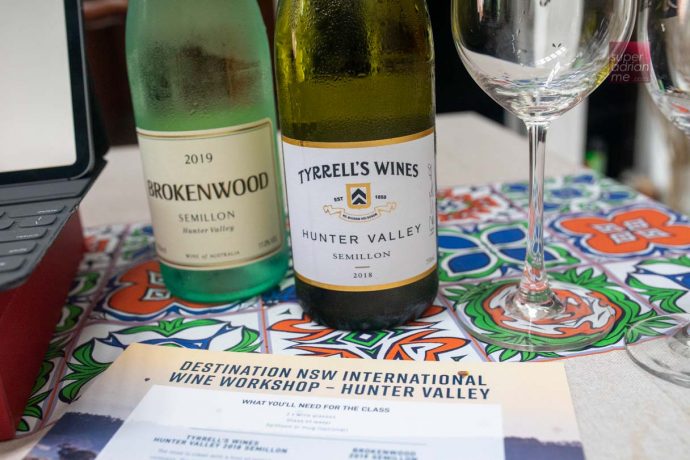 Travelling and visiting vineyards in 2020 is extremely challenging. The Destination NSW office in Singapore organised a Zoom call introducing Semillon from two different wine producers last month. New South Wales has 14 wine regions producing award-winning cool and warm climate wines.
Hosted by Angus Hughson, an Australian wine writer and Shanteh Wong who is the Sommelier at Quay Restaurant, we got to try the Brokenwood Semillon 2019 and Tyrrell's Semillon 2018. The Brokenwood is available from The Straits Wine Company and the Tyrrell's at Singapore Wines Wholesales.
Tyrrell's Hunter Valley 2018 Semillon has a clean nose with a hint of lemon richness. Palate is light to medium-bodied with fresh citrus and concentrated grapefruit flavours. The finish has a balance of fruit and soft acid. This is a benchmark for the style of semillon the Hunter Valley's warm and humid conditions are famed for.
Brokenwood 2019 Semillon has a vibrant colour with a touch more than usual due to the sunshine. Enjoy lovely florals and lemongrass aromas and mouth-filling flavours of pear and lemon pith balancing the zesty acid backbone. The aromas and fruit weight belie the 10.8% alcohol and reconfirms that the Hunter Valley produces fruit at optimal richness at much lower sugar levels & classic Hunter Valley semillon to enjoy now or will age gracefully over many years. Brokenwood is known for its highly acclaimed Graveyard Vineyard Shiraz. The winery was recently revamped and has a new cellar door, a private tasting and dining hall and picturesque vineyards.
Whilst travelling now is still not quite possible, we can still enjoy the wines from New South Wales, Australia or check out beautiful photos of this region by heading over to visitnsw.com to get inspiration of where to next visit when travelling reopens up.
The Hunter Valley wine region is less than a three hours' drive from Sydney's CBD.
iShopChangi Flash Sale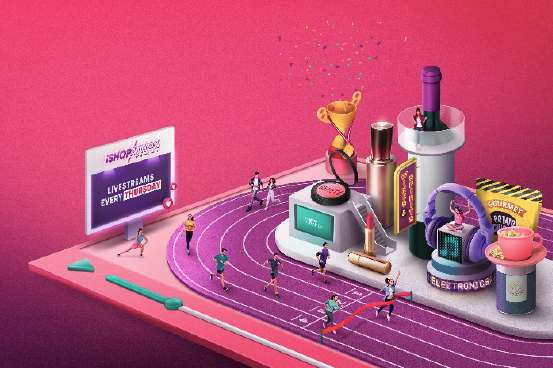 iShopChangi is offering iShopathon flash deals on spirits and wines from 21 September 2020 to 4 October 2020 (11 October 2020 for wines).
| Liquor | Flash Sale Price | Original Price | Savings |
| --- | --- | --- | --- |
| Hakushu 25 Years Japanese Whisk 700ml | S$7,299 | S$9,089 | 20% |
| Hine Triomphe 700ml | S$1,366.01 | S$1,488 | 8% |
| Bai Jiu Twist Bundle: Kweichow Moutai 500ml, Pensfold Lot. 518 Spirited Wine with Baijiu Kweichow Moutai 750ml | S$639 | S$788 | 19% |
| Chateau Mouton Rothschild 2010 750 ml | S$1,188 | S$1,238 | 4% |
| Pensfold Grange 2015 750ml | S$901.60 | | |
Two new promo codes valid till 31 October offers greater discounts. Changi Rewards members can also enjoy special privileges such as S$10 off return vouchers with a minimum of S$288 in a single order + 3% rebates on points.
| Promo Code | Details |
| --- | --- |
| Cheers8 | 8% off with no minimum spending. Discount capped at S$50 |
| Cheers20 | S$20 off with S$250 minimum spend |
| ISHOP118 | S$118 off with minimum spending of S$988 valid for redemptions on Mondays at 10 am till 11 October 2020 |
| ISCMAYBANK10 | S$10 off with no minimum spending with a discount capped at S$50. Charge to Maybank card. (Valid till 1 October 2020.) |
| ISCMAYBANK20 | S$20 off with minimum spending of S60. Valid for new iShopChangi members who charge to their Maybank card. (Valid till 1 October 2020.) |
Jack Daniel's Craft and Luxury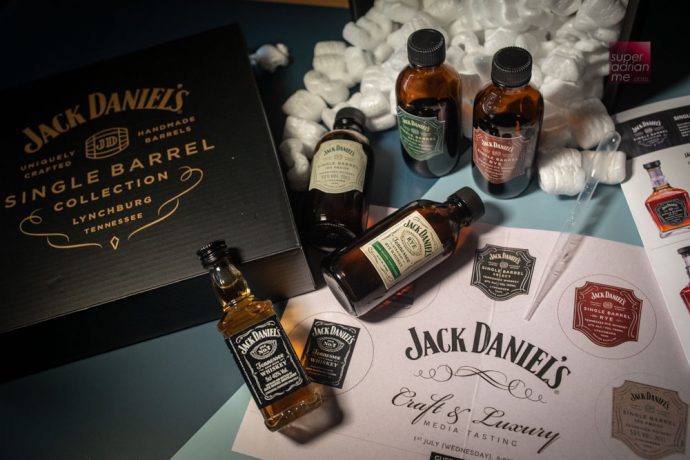 Malt & Wine Asia has taken over the distributorship of Jack Daniel's in Singapore since August this year ending the distribution agreement with YHS (Singapore).
Malt & Wine Asia already distributes other Brown-Forman brands including the Woodford Reserve Bourbon, Old Forrester Bourbon, BenRiach Speyside Single Malt, The GlenDronach Highland Single Malt, Glengassaugh Highland Single Malt, Slane Irish Whiskey, Herradura Tequila, el Jimador Tequila, Fords Gin, Finlandia Vodka and Chambord Liquer.
Visit the Brown-Forman LazMall Flagship store.
LOUIS XIII Cognac Unveils E-Boutique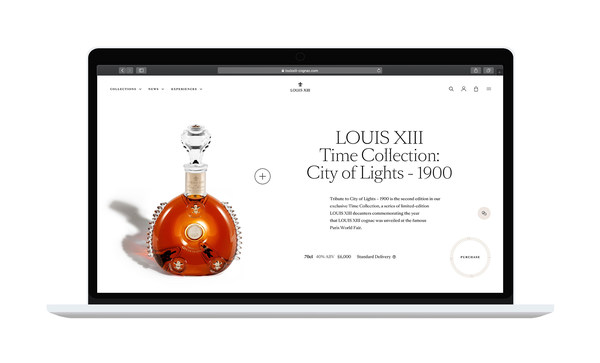 LOUIS XIII has launched an immersive e-boutique platform offering the same experience as its boutiques opened in Beijing in 2016 and London and Xi'an in 2017. The LOUIS XIII e-boutique is now available in the UK in English at https://www.louisxiii-cognac.com/en-gb/
The e-boutique offers a unique user experience that enables visitors to explore the world of LOUIS XII by conveying a sense of perpetual movement and exquisite craftsmanship. You can get private personal contact with LOUIS XIII's Ambassadors, access to limited edition products, customisation and an instant premium delivery. Clients can register for unique events in the world's major cities.
Locate bars, hotels, restaurants and certified retailers of LOUIS XIII cognac. A Portrait to Treasure offers clients the opportunity to have their special moments captured by a photographer. My Collection is a personal collection that allows clients to configure their preferences and itemises the purchase history, making it easy for them to reorder. An online concierge service is available to offer further insights and answer questions clients may have.
The Macallan Double Cask Series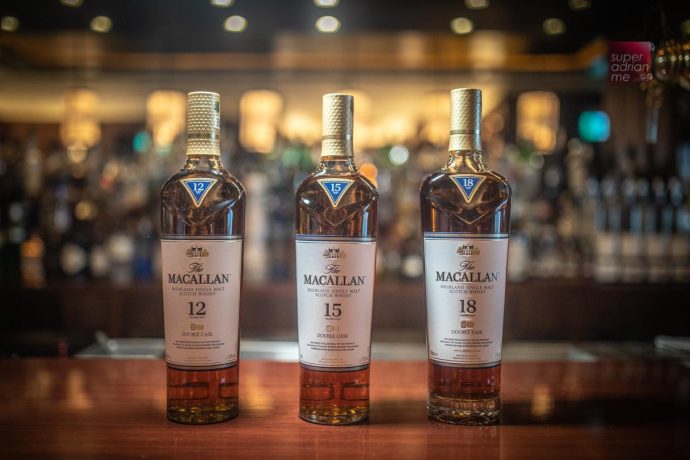 Macallan unveiled its 15 and 18 year old Double Cask in mid August this year as an addition to its 12 year old launched in 2016. The collection is a marriage of American and European oak sherry seasoned casks, creating a perfectly balanced single malt Scotch whisky.
The Macallan sources its European oak from the vast green forests of northern Spain and the French Pyrenes. New Oak from the forests of Ohio, Missouri and Kentucky in America is transported to Spain where both types of oak are handcrafted into casks that are filled with sherry. After the casks are seasoned, they are shipped to The Macallan Estate on Speyside and filled with new-make spirit.
The sherry seasoned American oak creates delicate flavours of vanilla while the European oak delivers the subtle and unmistakeable spice and classic style of The Macallan.
The Macallan Double Cask 15 Years Old displays a golden butterscotch hue and imparts aromas of dried fruit, toffee and vanilla. Enjoy a warming finish with a creamy mouthfeel.
The Macallan Double Cask 18 Years Old has a rich amber honey tone, and imparts notes of dried fruits, ginger and toffee. A warm oak spice finish is balanced by citrus flavours of sweet orange.
| | ABV | Colour | Aroma | Palate | Finish | RRP |
| --- | --- | --- | --- | --- | --- | --- |
| The Macallan Double Cask 12 Years Old | 40% | Harvest Sun | Creamy butterscotch with a hint of toffee apple, candied orange, vanilla custard and newly felled oak. | Deliciously honeyed, wood spices and citrus, balanced with raisins and caramel. | Oak lingers, warm, sweet and drying. | S$142 nett |
| The Macallan Double Cask 15 Years Old | 43% | Golden Butterscotch | Dried fruits, toffee and vanilla with smooth oak and baked apple balanced with notes of honey and chocolate. | Sweet raisin and sultana builds with hints of vanilla, wood spice and citrus. | Warm ginger turning to caramel and citrus with a creamy mouth feel. | S$192 nett |
| The Macallan Double Cask 18 Years Old | 43% | Amber Honey | Dried fruits, ginger and toffee with rich orange and hints of clove with nutmeg. | Rich raisin and sultana with notes of caramel, vanilla and ginger balanced by wood spice and zesty citrus. | Warm oak spice with ginger turning to sweet orange. | S$459 nett |
The Macallan Double Cask range is available from The Macallan Online Shop, The Macallan Space at 1855, selected premium bars and retailers.
Marks & Spencer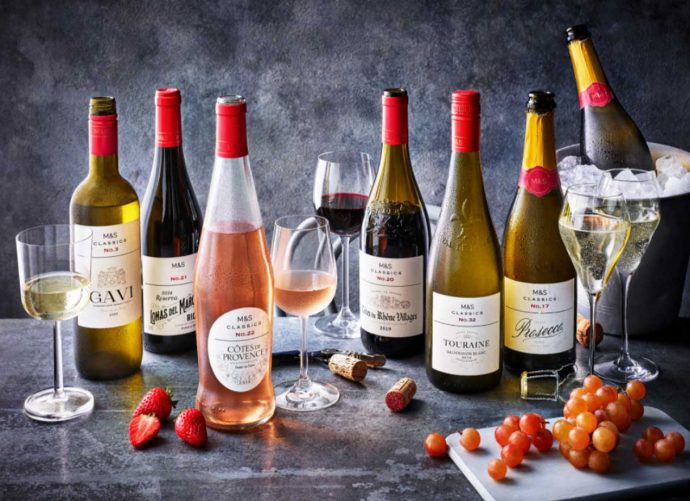 Marks & Spencer has launched CLASSICS, a new range of 18 wines that showcases the best of the world's classic wine style and wine favourites from France, Italy, Spain and Germany. Wines are priced between S$34.90 and S$79.90 and are available at M&S Foodhalls or the M&S Singapore app.
Another 16 wines from the New World regions of Australia, New Zealand, South Africa, USA and South America will be added to the collection later this year.
This specially curated collection has been created in partnership between M&S's award-winning in-house winemakers Belinda Kleinig and Sue Daniels together with expert regional winemakers and wineries across the globe.
Squealing Pig Rosé Gin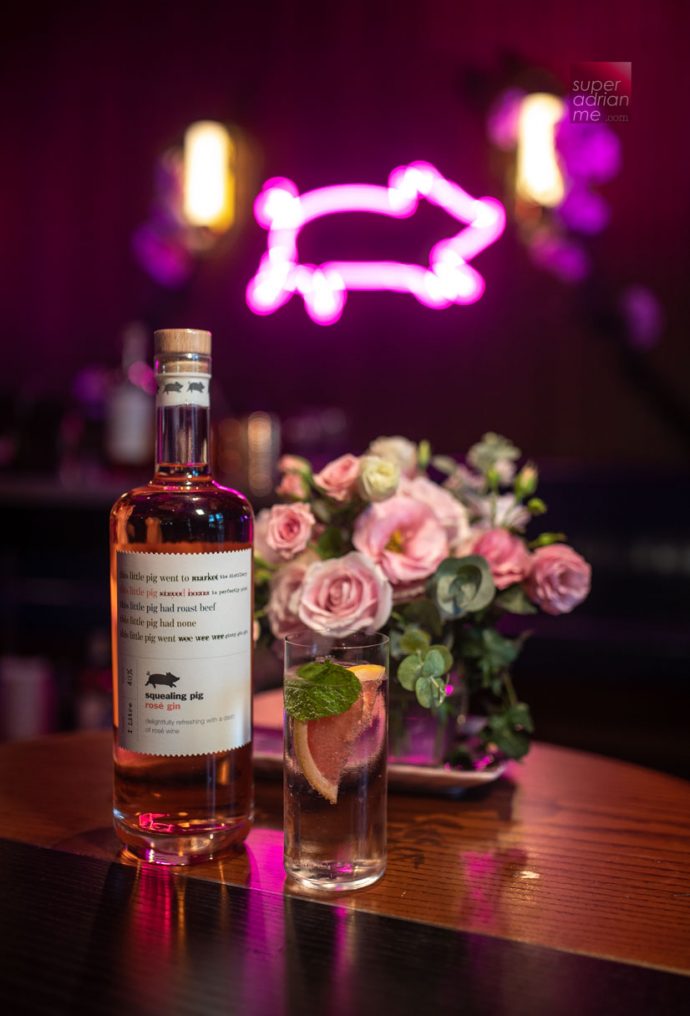 The new Squealing Pig Rosé Gin in 1L format has been launched in Singapore following its success in Australia. This is a first-in-Asia launch in partnership with Lotte Duty Free, exclusively for Singapore Changi Airport and iShopChangi until 31 October 2020 at S$70.
The gin is infused with ten botanicals including Juniper berries, citrus peels, lavender blossoms, coriander seeds, angelica seeds, rosemary, cardamom, fennel, peppermint and laurel leaf as well as a dash of Squealing Pig's award-winning Pinot Noir Rosé wine. Pairs well with soda water, grapefruit and mint.
On the nose, the Squealing Pig Rosé Gin has citrusy aromas of lemon oil, limes and orange blossom integrated seamlessly with hints of spice, herbal notes and a whiff of strawberry. On the palate, it is dry and refreshing with subtle juniper, bright citrus flavours and balanced spices. The Rose wine adds a hint of lifted strawberries on the finish.
I like sipping the gin on its own. So easy on the palate and absolutely refreshing.