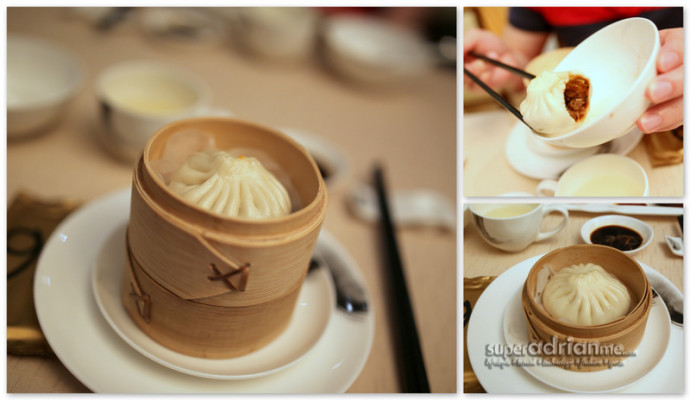 Founded in 1858, Goubuli 狗不理 is one of China's longest established brands. They are popular for their Baozi 包子, which are steamed buns with a soupy filling. They have now opened their first restaurant outside China in Marina Bay Sands Singapore. 
Goubuli might be known for baozi, but they have a menu to rival any established Chinese restaurant in Singapore. They offer a huge selection of cold appetisers, starters, soups, dim sum, roasts plus a myriad of vegetable, meat and seafood dishes. We observed that many of the guests in the restaurant were having various cooked dishes, and not necessarily just the baozi.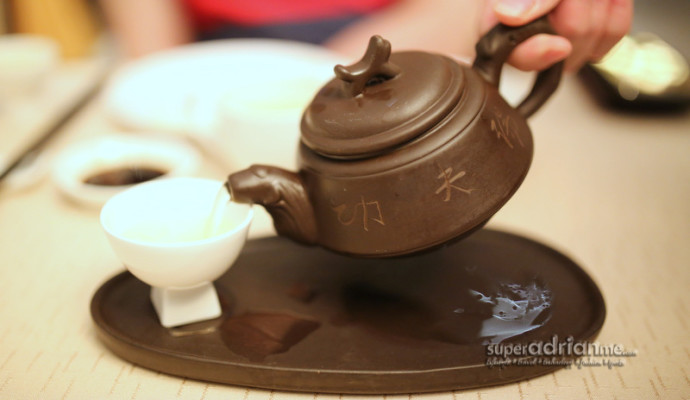 It was a cold rainy evening and we had a craving for something soupy. The Daily Teapot Soup (S$12) of black chicken definitely did the job. Besides the interesting presentation of the soup being served in a teapot with two little teacups, the soup itself was superb. I was told that though the daily soup changes, the black chicken soup is their best selling and customers often ask for it. As such, they make it a point to serve it quite regularly. 
We were then offered the noodles that they served from opening till 5pm but unfortunately not for dinner. Unfortunate because the noodles were exceptional and it is a pity you cannot have it for dinner!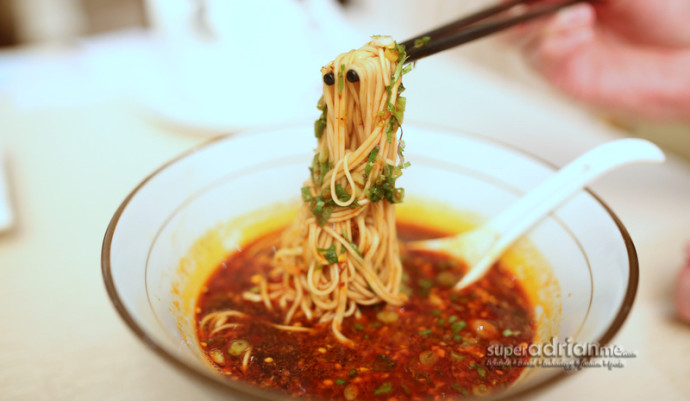 The Dan Dan Noodles (S$7.80) was one of the best we ever tried.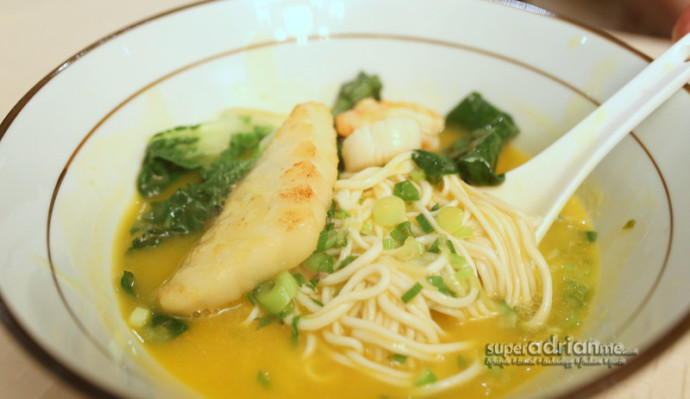 But the Handmade Noodles in Seafood Soup (S$12) was even better. The broth had a right level of creaminess, making it hearty yet not too heavy. It was simple yet flavourful, and totally heartwarming. The handmade noodles were bouncy and firm. The perfect comfort food.
We were too full to try the cooked dishes so we made a mental note to come back another day. But hopefully we do not get tempted to savour the noodles again. 
The restaurant has three private rooms for special gatherings and they are opened to customise the menu if necessary. 
Goubuli Trivia: 
The name Goubuli came from what customers used to call the founder, whose name is Gouzi. He was so busy with the baozi business that he did not engage in small talk so they nicknamed him Goubuli, which means "dog ignores" in mandarin.
The "9" in front of "Goubuli" does not mean anything; it is just part of the branding from China. 
9Goubuli 狗不理  is located at 2 Bayfront Avenue, Canal Level B2-02, The Shoppes At Marina Bay Sands, Singapore 018792. It ppens daily from 11am to 11pm. Call +65 6688 7799 for reservations.
About the Writer
Kevin Khoo is a self-professed foodie who loves his bak chor mee as much as an authentic al dente aglio olio; and savoury as much as sweets. He also works in F&B so he literally eats and breathes food. He struggles to stay in shape.