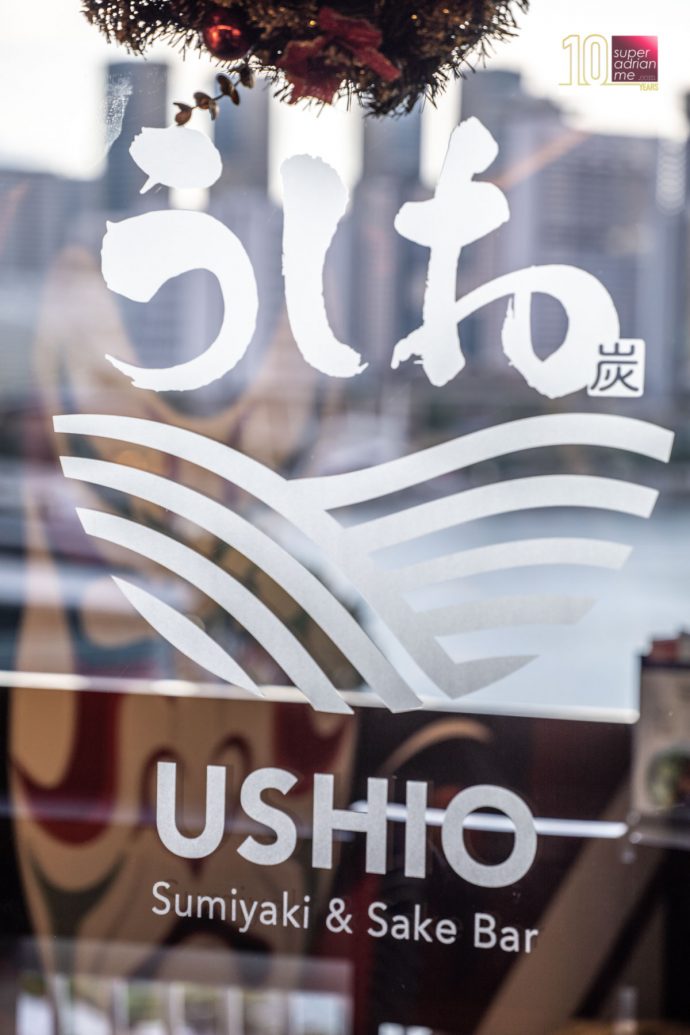 USHIO Sumiyaki and Sake Bar opened on 14 December 2020 at level 8 of OUE Tower serving Japanese-style bincho-grilled delicacies, donburis and artisanal sakes from boutique breweries in Japan and more.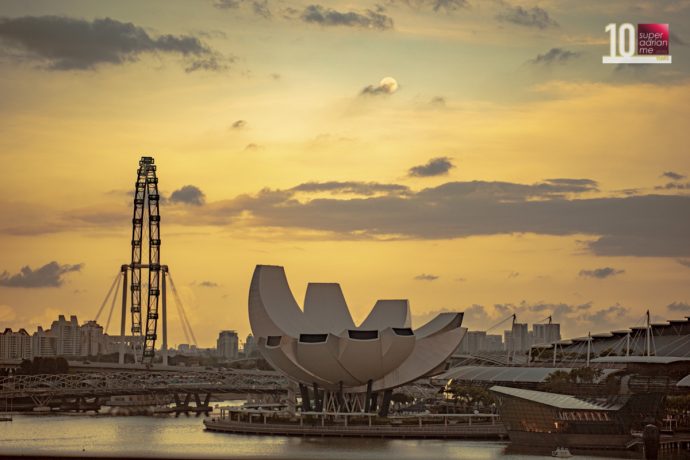 Enjoy breathtaking views of the Marina Bay and recognisable landmarks from the dining hall. This is Tung Lok Group's latest F&B outlet opening.
The Sharing Plates at USHIO Sumiyaki and Sake Bar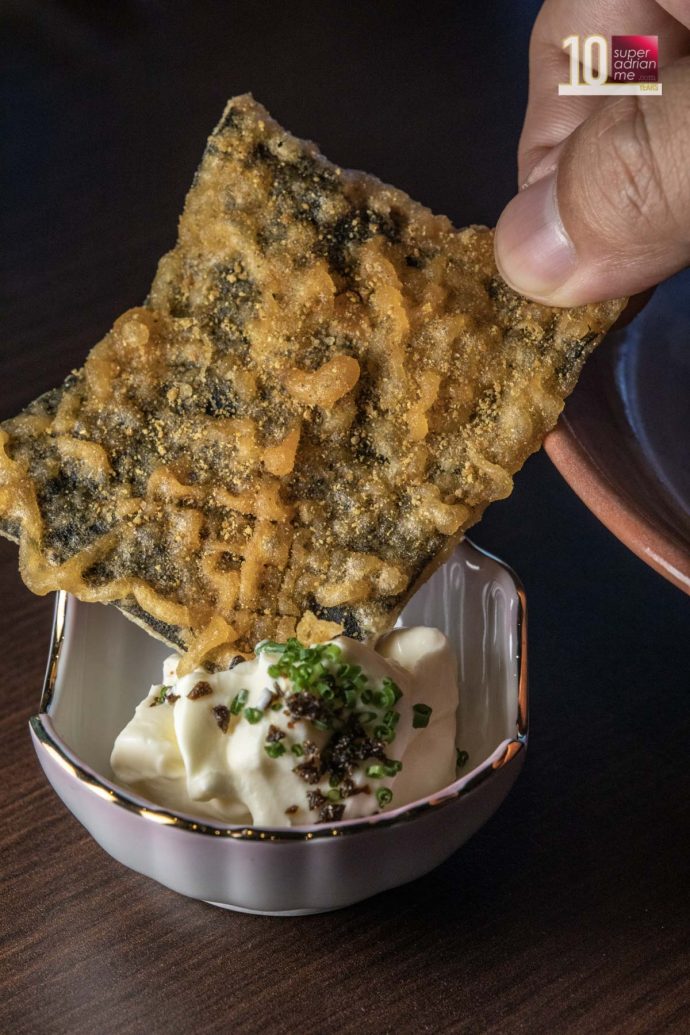 The food menu consists of sharing plates from S$12 to S$26. In addition, Donburis or Japanese Rice Bowls are priced from S$18 to S$32. Upgrade choices are available.
We tried five items from the Sharing menu. The first is the Tori Skin Crisps (S$12++). A tempura of Sakura chicken skin and seaweed seasoned with yuzu pepper and served with crème fraîche and shio kombu.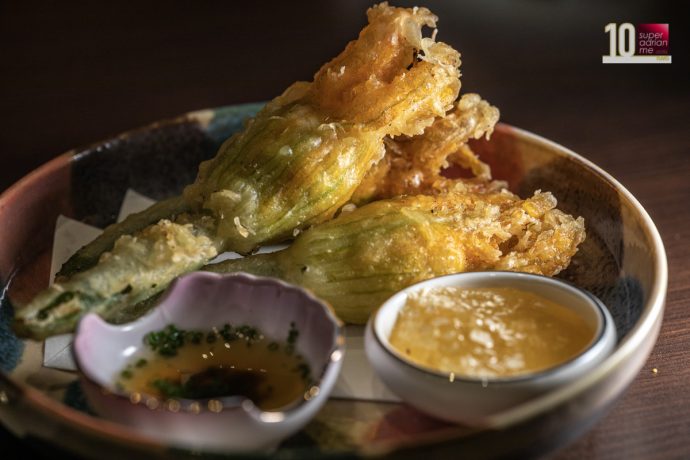 The Zucchini Blossom Tempura is a dish that I don't see very often. Priced at S$20++, the plump zucchini blossoms are stuffed with crab and scallop.
For the Buta Yaki Sando (S$15++), charcoal-grilled Spanish pork, Emmental cheese, mizuna slaw and homemade pickles sandwiched between mini miso honey toast. By the way, the Lobster Yaki Sando on the menu looks great for bar food.
The Genmaicha Cured Salmon Flatbread (S$23++) at USHIO is very appetising. Slow cured salmon is infused with roasted brown rice tea, mizuna, burrata mozzarella, perilla barley vinaigrette and pickled onion over crisp buckwheat flatbread. There are two other flatbreads available on the menu including the charcoal-grilled koji-cured US beef and seafood flatbread.
This Dish at USHIO Sumiyaki and Sake Bar Stood Out for Me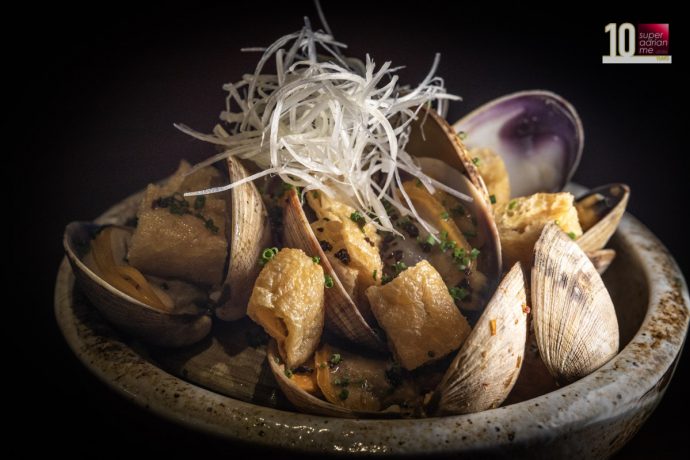 I will return to USHIO for the Sakamushi Clams (S$22++). The clams are steamed with sake butter and shellfish broth giving it a robust mouthful of sweet umami flavours. Pairs perfectly with sake or Suntory Whisky highballs. USHIO recommends pairing the Sakamushi Clams with goes best with the fruity aromatic Yukikabuto Junmai Ginjo (雪兜) (S$160++ for 720ml) from Niigata. The sake's pleasant acidity makes it the perfect complement to seafood delicacies.
Donburis For Those Who Like their Carbs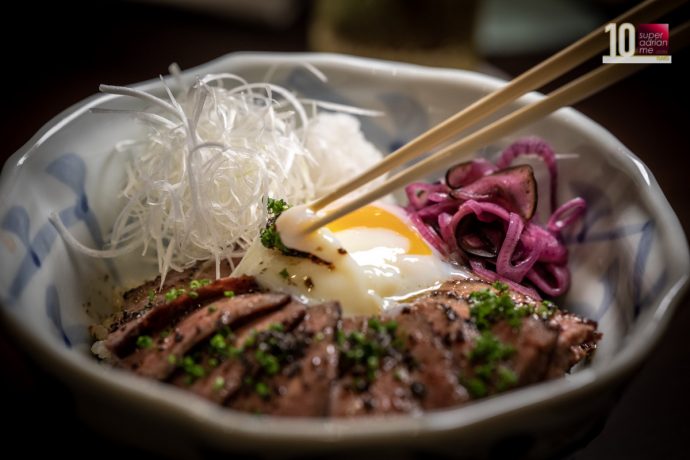 There are five Japanese Rice Bowls on the menu. The one we got to try was the Truffle Karubi Sumiyaki Donburi (S$28++). For an extra S$18++, you can upgrade the charcoal-grilled truffle soy-glazed US Angus Beef to Kyushu Wagyu. Enjoy this dish with homemade pickles and onsen egg, over takikomi gohan. Other donburis include the Tori Sumiyaki, Buta Sumiyaki, Lobster Sumiyaki and Karubi Sumiyaki and Foie Gras.
The Beverage Menu at USHIO Sumiyaki and Sake Bar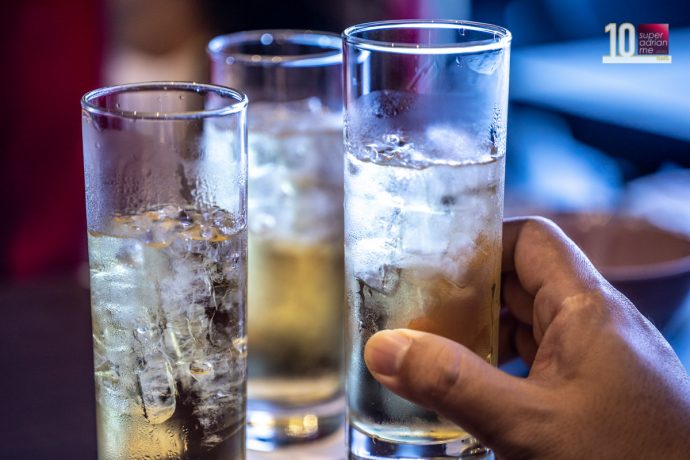 The beverage menu offers a selection of sakes. For S$21++ you can enjoy Classic cocktails. Order a Japanese Whisky Highball, mojito, vesper, Singapore Sling, Margarita, Tom Collins, Old Fashioned and Long Island Iced Tea amongst others.
Just like other Japanese dining establishments, there is a selection of Japanese and International beers. Mocktails, fresh juices and soft drinks are available for those who do not imbibe alcoholic beverages or spirits.
Desserts for Sweet Endings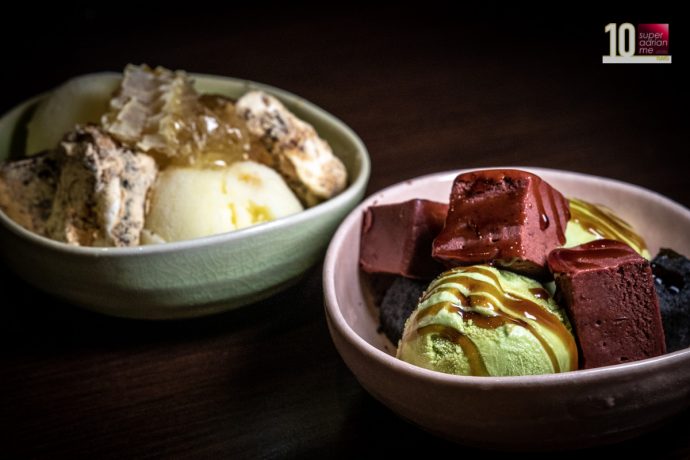 There are two Desserts on the menu. The Matcha Ice-Cream Parfait comes with black sesame mochi and red bean chocolate toped with black sugar syrup. A very delightful dessert to share.
The Yuzu sorbet parfait topped with natural honeycomb and kinako-infused toasted marshmallow was refreshing yet bearably tart.
Both desserts are S$10++ each.
USHIO Sumiyaki & Sake is open for dinner from 5 pm to 10.30 pm daily except Sundays. Do take note that the last order is at 9.30 pm.