Hong Kong is a haven for food enthusiasts, offering a delightful culinary experience. Its dynamic gastronomic landscape seamlessly fuses traditional Chinese cuisine with a diverse range of international flavours.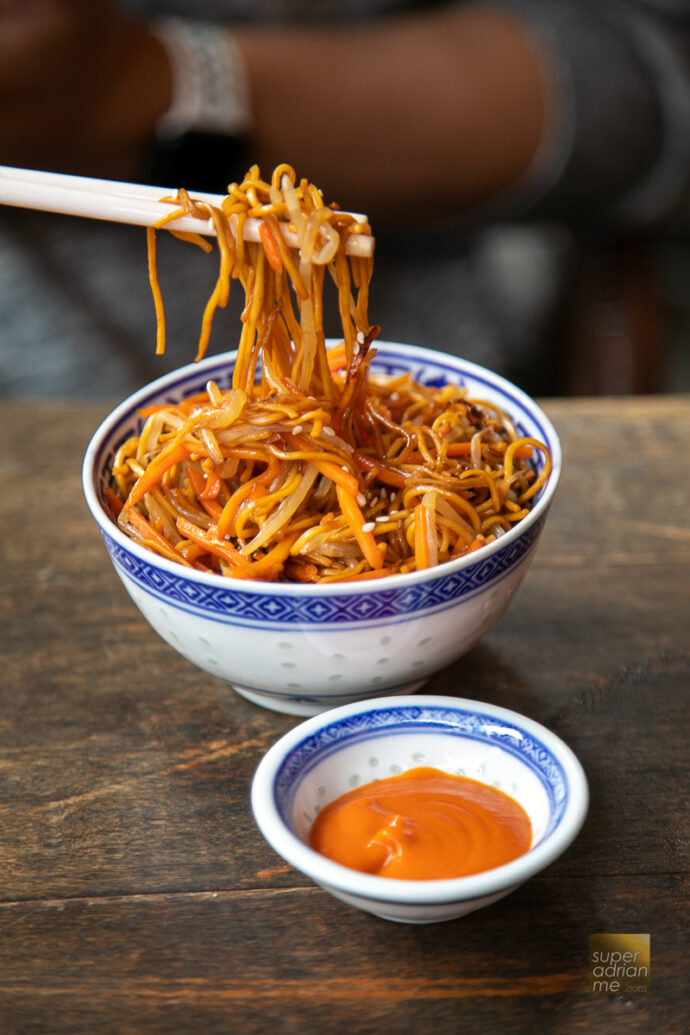 From delectable street food such as egg waffles and curry fish balls to upscale establishments serving innovative dishes, there is something to satisfy every palate and accommodate any budget.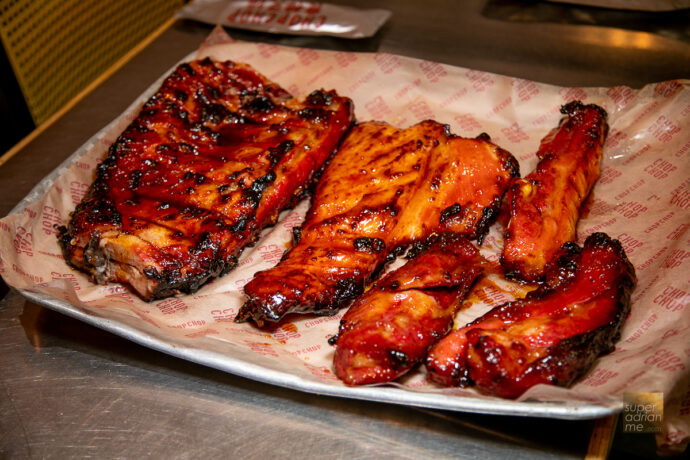 When in Hong Kong, indulging in roast meats is a must. These flavorful delicacies are commonly found in local eateries known as cha chaan tengs, cherished by the locals. Crispy roast pork, soy sauce chicken, and barbecued pork are typically served alongside rice or noodles. We particularly enjoyed the char siew, a type of marinated pork prepared with a blend of honey, five spice powder, fermented tofu, dark soy sauce, hoisin sauce, and sherry or rice wine. The slices of char siew in Hong Kong are often thicker than those we typically encounter in Singapore. We stumbled upon a delightful Hong Kong venue specialising in roast meats and highly recommend visiting it.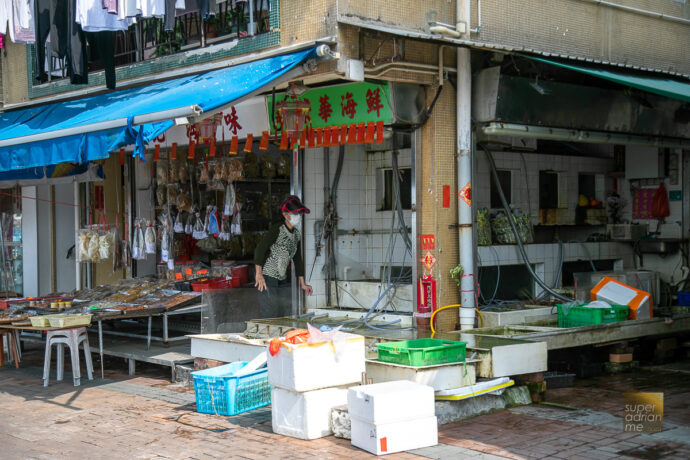 Besides roast meats, seafood is another standout feature of Hong Kong's culinary scene. Locally caught fish, crabs, lobsters, mantis prawns, and other seafood options are available at nearby markets and restaurants. During our trip in February, we had the pleasure of visiting Cheung Chau, where we indulged in a splendid seafood feast.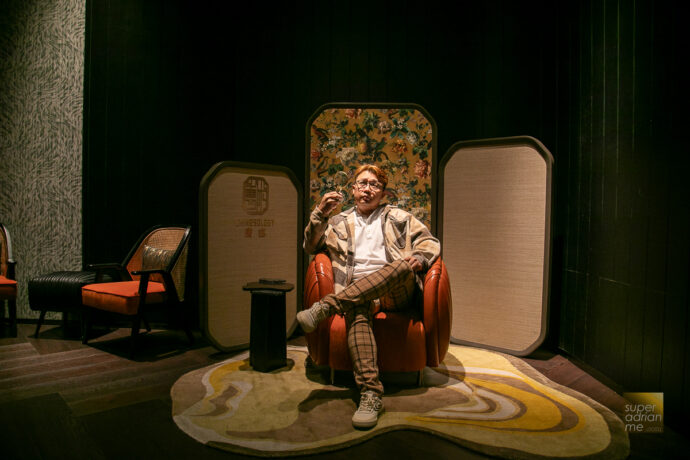 The Chinese Library at Tai Kwun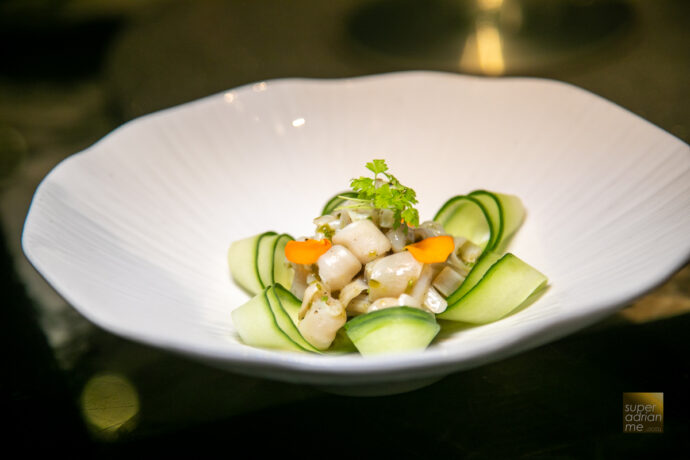 Aqua Restaurant Group founder David Yeo conceptualised The Chinese Library located at the beautifully transformed 170-year-old Central Police Headquarters in Tai Kwun, which is a cultural heritage site. The inspiration behind this unique establishment stemmed from Yeo's extensive collection of Chinese cookbooks in his personal library. Initially launched in September 2018, the Chinese Library pays homage to Hong Kong's cherished and beloved Chinese cuisine. Chef Junno Li takes centre stage, presenting a diverse array of dishes originating from various culinary regions across China.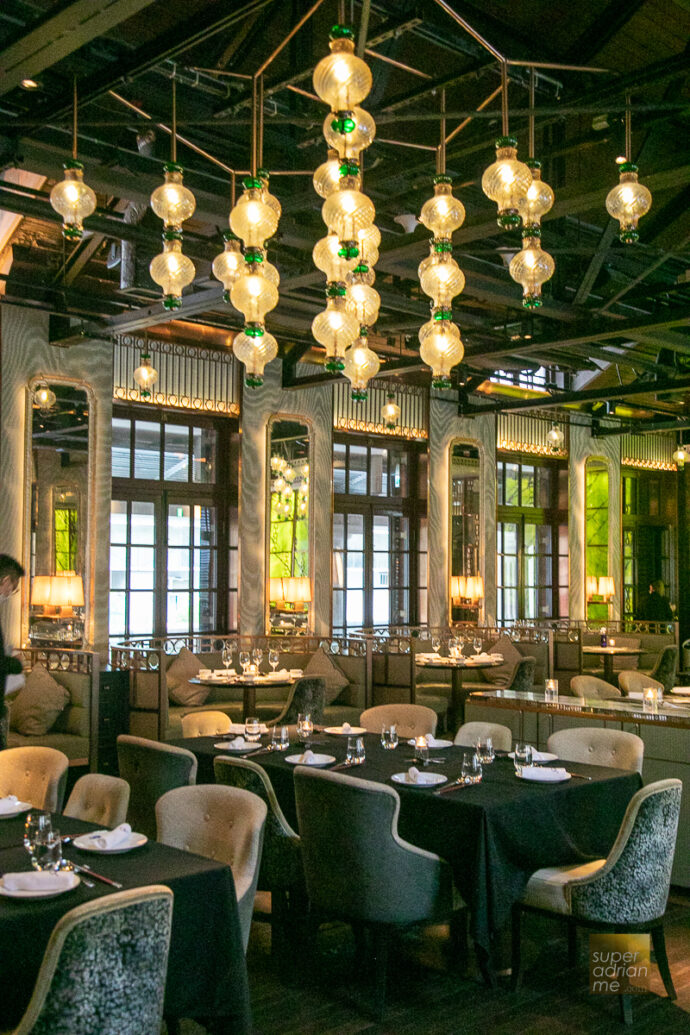 Experience the pleasure of indulging in lunchtime dim sum or savouring delectable Cantonese roast goose and char siew pork, Chiuchow braised duck, Beijing duck, or the typhoon shelter crispy garlic prawns for dinner. However, the standout dish for me was the Sichuan Garoupa with Glass Noodles in Chilli Broth, which was incredibly delicious. Despite having a satisfying dinner, we couldn't resist having multiple servings. The atmosphere of this place is ideal for a romantic date or a cosy evening spent with loved ones.
The Chinese Library is at Police Headquarters Block 01, Tai Kwun, 10 Hollywood Road, Central, Hong Kong.
Chinesology at ifc Mall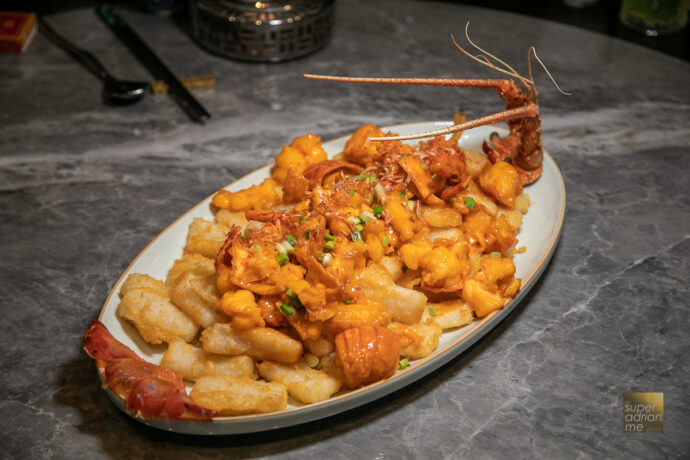 Chinesology by MIRA DINING opened its doors in February 2022 and is helmed by Culinary Director Saito Chau, who has over 24 years of experience at establishments including John Anthony, Dim Sum Library and Hutong. With Chau at the helm, diners can anticipate a unique dining experience where familiar Chinese cuisine takes on an exciting reimagination, offering a delightful blend of the familiar and unexpected.
The cooking philosophy revolves around four pillars of presentation, concept, experience and offerings. Diners can expect tableware and recipe pairings to befit the Chinese ingredients. New elements are introduced without deviating from the foundations of traditional Chinese culinary art. Eating is an interaction to be enjoyed and not just for sustenance and eat with the seasons where ingredients are based on the Chinese "five elements" cosmology.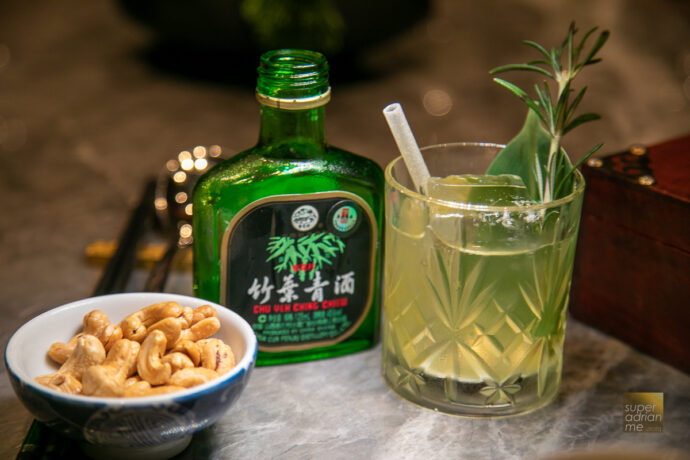 At Chinesology, patrons discover a menu that presents Chinese dishes with innovative twists, providing diners with fresh and captivating encounters. Furthermore, the bar at Chinesology complements the culinary offerings by featuring a selection of special cocktails inspired by the Compendium of Materia Medica (本草纲目) where Chinese herbals are infused into cocktail recipes.
We had the Bamboo Punch, a captivating cocktail that draws inspiration from the enchanting realm of bamboo. This unique creation combines the traditional Chinese spirit Chu Yeh Ching with a homemade five-spiced cordial, resulting in a harmonious blend of flavours. To add a touch of effervescence, the cocktail is topped with sparkling, creating a delightful and refreshing libation that perfectly captures the essence of the bamboo-inspired concept. Bar Manager Fan Tsang's three other signature cocktails include the Tietini, Chinese Apothecary and Thanks Emperor.
Chinesology has collaborated with homegrown brand Fok Hing Gin to distill its own gin which uses red dates, longan and Hawthorne as the main distillation ingredients.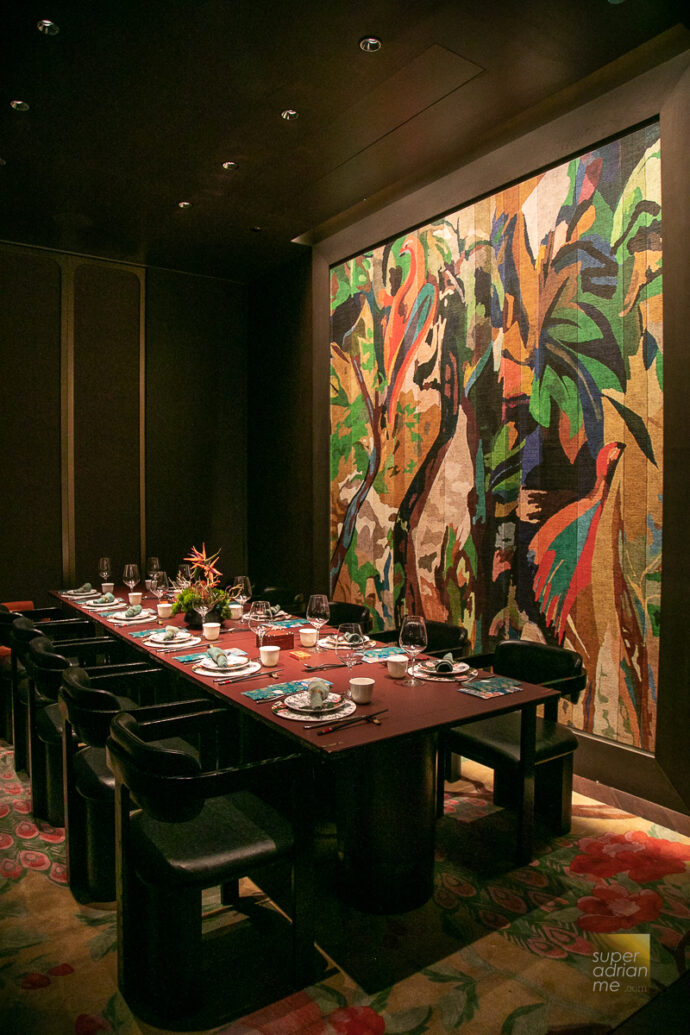 The interior of Chinesology echoes the exotic Garden of Eden. The ceiling mirror design imitates the appearance of developed film with textures and perpetual detail.
Chinesology is located at Shop 3101, 3F, ifc mall, Hong Kong
Sing Yin Cantonese Restaurant in W Hong Kong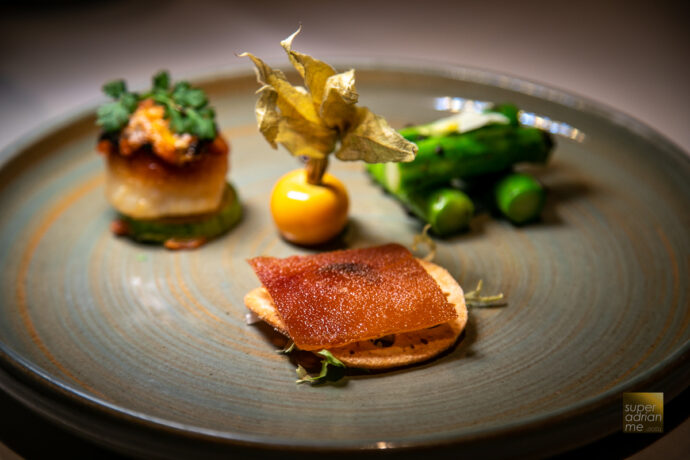 The Sing Yin Cantonese Restaurant has a seating capacity of 120 and is situated on the first floor of the W Hong Kong Hotel. It offers authentic Cantonese dishes and showcases interior designs created by the renowned international architect and interior designer, Steve Leung.
Heading the culinary team at W Hong Kong is Chinese Executive Chef Simon Wong, who has over three decades of Cantonese cuisine experience. Chef Wong has been instrumental in introducing innovative and artistic culinary creations across various hotel brands, including Langham Hotel Xiamen, XI'AN Airport Hotel, Howard Johnson Fuzhou, and most recently, as the Chef de Cuisine – Events Kitchen at Grand Hyatt Hong Kong, before joining the W Hong Kong team.
In February, we had the opportunity to savour Chef Simon's dishes through his Gastronomic Journey Set Menu designed for two. The meal began with appetisers that included succulent suckling pig paired with crispy lotus root and foie gras, as well as baked scallops infused with basil and cheese and asparagus accompanied by black truffle sauce. These dishes provided an enjoyable and playful introduction while maintaining a touch of traditional flavours.
One of the standout moments for me was the roasted king prawns served with crispy rice, which offered a delightful combination of textures and a tangy taste derived from the prawn. The slow-cooked wagyu cheek, complemented by a porcini mushroom sauce, was rich in umami flavours that left a lasting impression. As for the carbohydrate component, we indulged in garoupa fillet and inaniwa udon noodles immersed in a delectable seafood broth.
To enhance the dining experience, we were offered a selection of Chinese teas, including blends like white peony tea or lychee black tea. These refreshing teas helped to cleanse the palate and provided a pleasant contrast to the richness of the dishes.
Sing Yin Cantonese Restaurant is located at 1/F W Hong Kong, 1 Austin Road West, Kowloon Station, Hong Kong
Chop Chop in Fortress Hill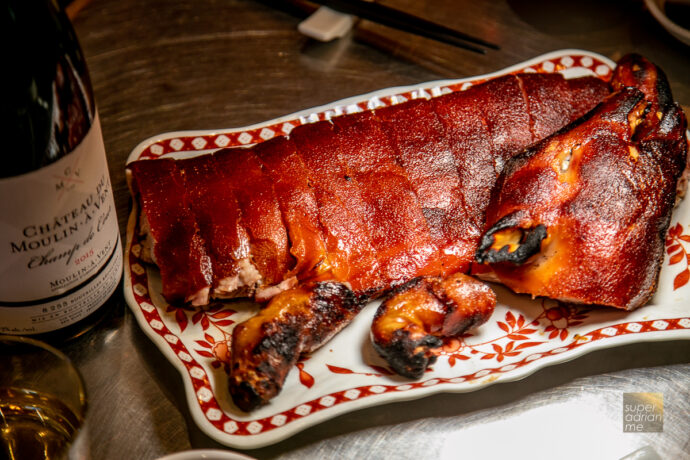 Chop Chop, a restaurant specialising in traditional Chinese barbecue known as 'siu mei,' presents a contemporary take on this classic cuisine. Their menu showcases a modern twist on the popular dish of 'char siew' pork belly, served alongside fried egg and rice, utilising premium cuts to create a truly gratifying dining experience. Chef Wing has an impressive culinary background of 30 years honed in some of Hong Kong's most esteemed dining establishments. Notably, he gained valuable expertise at Sun Kwai Heung, a renowned Cantonese roast meats shop, renowned for its exceptional quality and flavours.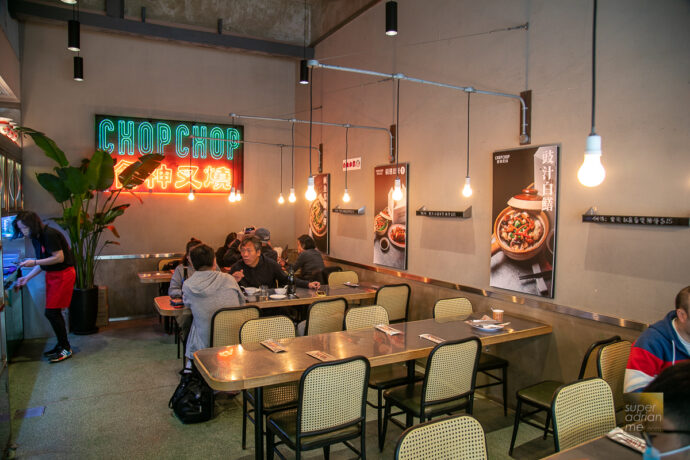 The restaurant carefully selects fresh pork belly, prioritising its delicate texture for the ultimate culinary delight. The pork belly is marinated with Chinese rose liquor with a high-proof content to ensure tenderness. This meticulous marination process helps to tenderise the meat and bring out its natural flavours. The vibrant and enticing colours of the succulent meat are entirely natural and not artificially enhanced. These hues are naturally intensified by combining the accompanying sauce and the caramelisation process, adding depth and appeal to the dish.
Make sure to order the "First Cut" Char Siew, a must-try dish featuring locally sourced pork shoulder that is firm and succulent. This particular Char Siew is meticulously prepared multiple times throughout the day, ensuring its freshness straight from the roasting pit. Additionally, you can explore other enticing options such as the Pork Belly Char Siew and Pork Rib Char Siew, each offering its distinct flavours and textures.
Another absolute delight worth mentioning is the Crispy Suckling Pig, which I found to be incredibly satisfying. I couldn't resist and nearly devoured half of a succulent suckling pig myself.
Chop Chop is located at Shop 3, G/F, 18 Wang On Road, Fortress Hill, Hong Kong
Seafood at Cheung Chau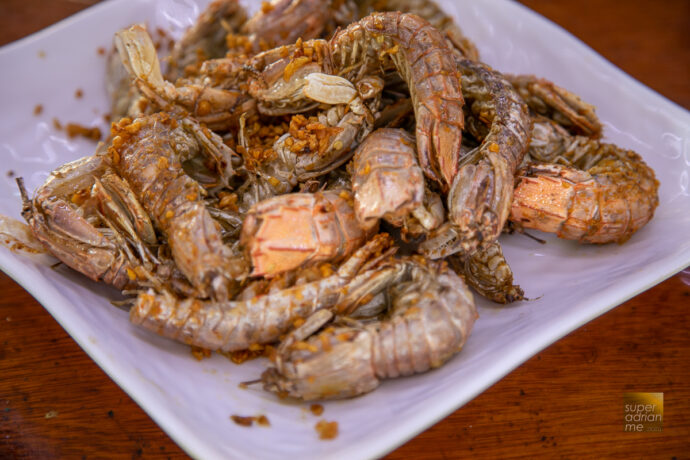 Cheung Chau Island, located 10km southwest of Hong Kong Island or just a 30-minute ferry ride away, presents an opportunity for tourists to explore hiking paths and enjoy scenic views, visit the Yuk Hui Taoist Temple, enjoy beautiful beaches, and savour delectable local delicacies including the renowned steamed buns, Mango mochi, and an abundance of fresh seafood.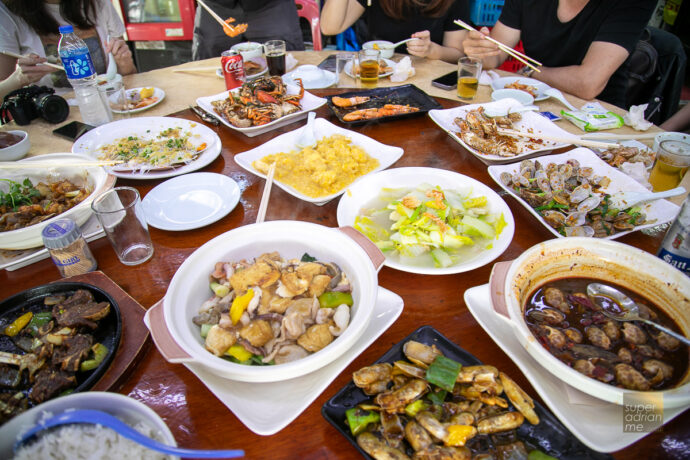 The seafood here is fresh and affordable; there are also hip cafes and a McDonald's. Visitors to Cheung Chau can indulge in a wide variety of seafood dishes, ranging from traditional Cantonese cuisine to innovative fusion creations. Popular seafood options include succulent prawns, crabs, clams, fish, and squid, all prepared using various cooking techniques such as steaming, stir-frying, and grilling.
We dined at the Sun Hong Kee Restaurant. Check out our Instagram Reel below.
Sun Hong Kee Restaurant is located at 43 Pak She St, Cheung Chau, Hong Kong.
Yung's Bistro serves up legendary dishes of Yung Kee In a Modern Way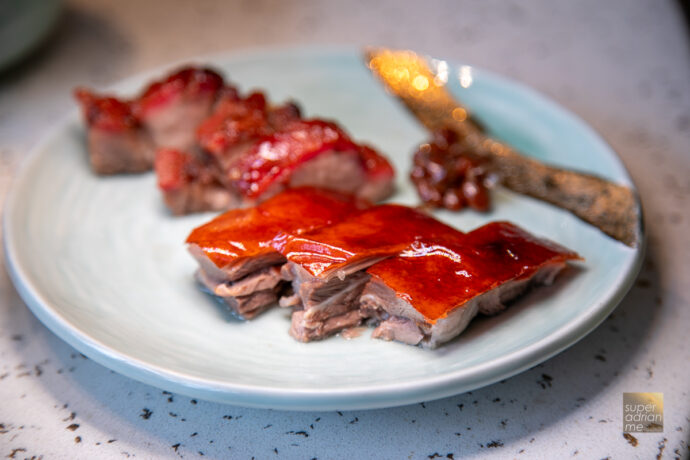 Yung Kee, a renowned establishment famous for its Cantonese dishes, has been the preferred destination for Hong Kong's culinary enthusiasts for nearly 80 years. Travellers would specifically visit Hong Kong just to indulge in their Roast Goose. Yung's Bistroo pays tribute to its predecessor by incorporating nostalgic design elements inspired by the iconic Yung Kee. At the new K11 Musea mall location, you can find vintage handmade tiles that originally adorned the flagship restaurant. These tiles have been meticulously restored, now boasting stunning hues of jade and gold. Furthermore, the bistro features a captivating brass communal table, situated against a striking wall, reminiscent of the traditional dai pai dong culture where people gather to share meals.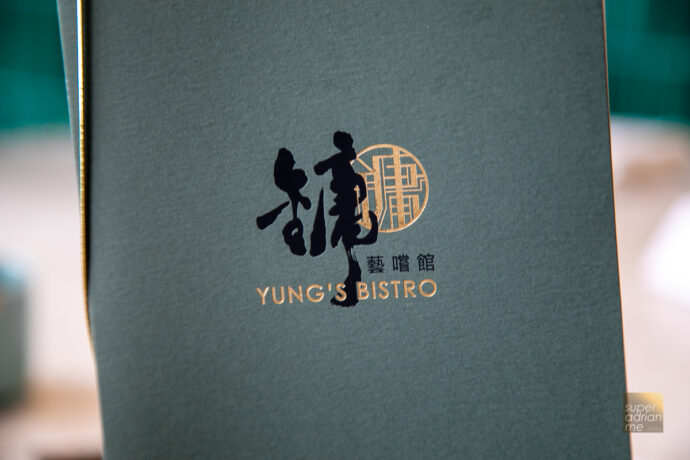 The Twelve Exclusive Delights is a curated list of standout dishes for diners. They include the deep fried shrimp ball with fermented bean curd; deep fried garoupa with diced salted fish, crispy garlin and chilli in special sauce; preserved egg with pickled ginger; fried goose egg with premium goose oil; steamed egg with mini crab roe with rice; steamed beef patties and stir-fried sliced beef with premium aged tangerine peel; roasted whole goose leg with charcoal stove; homestyle braised pork with preserved vegetables in soy sauce; lotus root cake and white rabbit candies custard.
Yung's Bistro is located at Shop 701, K11 MUSEA, Victoria Dockside, 18 Salisbury Road, Tsim Sha Tsui, Hong Kong.