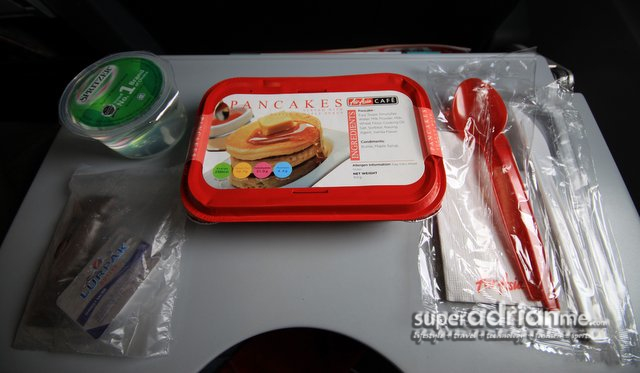 Airline food can be exciting, delicious and wholesome contrary to what many people have experienced. I have asked my friends as well as done a poll through a new iPhone crowd sourcing application called Thumb whether people enjoy airline food and only around 30% attest to enjoying food over 30,000 feet above sea level.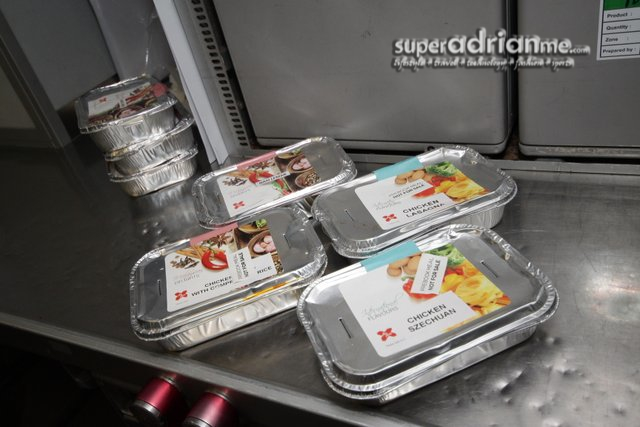 Inflight dining for me is as much an enjoyment as the food I get to taste in my line of work whenever I am not flying. This is even more so whenever I fly with low cost carrier AirAsia, of which the inflight dining is almost always the main highlight of the journey.
The selection of food varies depending on your travel destination. AirAsia serves up Asian fare such as Pak Nasser's Nasi Lemak, Chicken Satay, Thai Green Curry Chicken, Korean Stir Fried Chicken (Dak Galbi) to Western fare including the Chicken Lasagne, Chicken herb Calzone, Chicken Hot Dog or pancakes. Vegetarian dishes such as the Vegetable Curry with Briyani Rice or Spinach & Mushroom Lasagne are available to non-meat eaters.
The variety of choices are plenty especially if you pre-book your meal to secure your desired meal before you fly. You can pre-book up to two meals 24 hours before your flight departs. When pre-booking your meals, you not only enjoy the savings as well as a complimentary beverage that come with pre-booked meals, you also earn 1 BIG point for every RM2 spent on AirAsia's loyalty programme. Pre-booking is key to getting your desired meal as meals served on-board are limited.
Have a taste of AirAsia's hospitality and let Malaysia's Pak Nasser's Nasi Lemak fill you up when you next fly on AirAsia. This popular dish is prepared with coconut milk, steamed rice, pandan leaf, chicken, rendang paste made of curry powder, lemongrass, chilli, garlic and onion and hard-boiled egg. Served separately are fried anchovies and peanuts. The secret recipe to this deliciously tasty dish is the spicy sambal sauce which has just the right amount of onion, garlic, chilli, shrimp and anchovy paste to whet your appetite.
The Chicken Satay with Compressed Rice offers a perfectly textured tender chicken with a very comforting soft moist rice blocks. These tender satays go well with the accompanying peanut sauce. The last time I tasted such tasty tender satays was in Singapore Airline's business class flight from Singapore to Beijing during the Beijing Olympic Games. I do wish there was more sauce though as there is never enough for me.
The Chicken Lasagne is filled with a generous serving of minced chicken, the pasta sheets is deliciously prepared with chicken stock, cheese and cream sauce, mixed Italian herbs, mixed spices, mozzarella and parmesan cheese and a thick tomato sauce.
Pancakes to me are comfort food. I usually sink my teeth into the fluffy layers for breakfast at home or my favourite diner accompanied by a nice hot cup of coffee. AirAsia offers three hot pancakes topped with creamy butter and maple syrup on the side in its Pancake Combo. On a recent morning flight back from Kuala Lumpur last month, I had the Pancake Combo for breakfast and was craving for more after finishing them.
Another fuss free yet filling meal on board AirAsia would have to be the Panini Chicken Combo. This sandwich comes stacked with chicken ham and spicy chicken pepperoni with juicy tomatoes laced with zesty mustard mayo. You have a choice of eating the sandwich cold or heated up. I tried this sandwich in one of my trips on AirAsia and was pleasantly filled with my healthy selection.
If you prefer a hot rice dish, go for the Green Curry Chicken Combo. The moist Thai Jasmine rice is served with green curry paste and chicken. The Green curry paste is made from herbs and spices such as coriander, cumin seeds, garlic, shallots, lime rind, coriander root and peppercorns.
A spicier chicken meal would be the Basil Chicken with Rice Combo. This Thai dish comes with juicy chicken stir-fried with spices and fresh sweet basil leaves. But be warned, this dish can be a bit too spicy for some. The combo was so good, I was perspiring after my meal when returning from Bangkok, Thailand last December.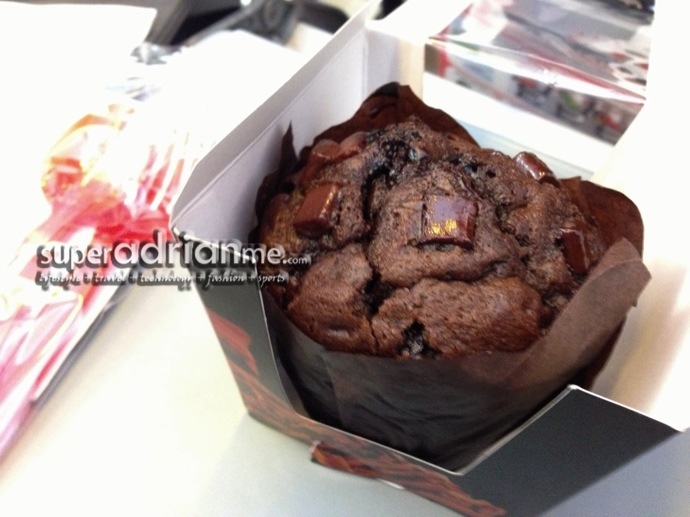 The Triple Chocolate Muffin is a must have for muffin and chocolate lovers and a great way to end of your meal. When heated up, the moist and soft muffin melts in your mouth while the hot molten chocolate overwhelms your senses and sends you to another level of pleasure. They sell out fast and are often unavailable. I once tried to purchase a dozen of these delicious muffins to bring home but only one was available for me to enjoy on board.
The next time you travel on AirAsia, take my recommendations and give some of these amazing dishes a try and become a fan of inflight food.
Meanwhile, do what I enjoy most while flying.  Enjoy the inflight meal and watch the clouds fly by.
Related articles