The latest Micro Prevnance Single Cask release by Bruichladdich Progressive Hebridean Distillers is now in Singapore. The second release in Southeast Asia in this series is the Micro Provenance Cask No. 0315 (65.2% ABV) was bottled in November 2021. Singapore has been allocated one of 20 single casks released across 10 countries for 2022.
Bottles of the Bruichladdich Micro Provenance Cask 0315 are available in extremely limited quantities in Singapore (RSP S$268 / 700ml) at One Cellar, the online exclusive retailer. To commemorate the launch of #0315, the bottle will be available at a special discounted price (RSP S$255 / 700ml) for purchases before 18th May 2022, using the promo code BRUMPSG.
For collectors interested in a wider range of products, One Cellar will also offer a special bundle limited to 6 sets. The set includes a 700ml bottle each of Bruichladdich The Classic Laddie, Port Charlotte 10 Year Old, Octomore 10 Year Old, Bruichladdich Micro Provenance Single Cask 0315 along with complimentary two limited edition branded ice molds and two branded nosing glasses (RSP S$750).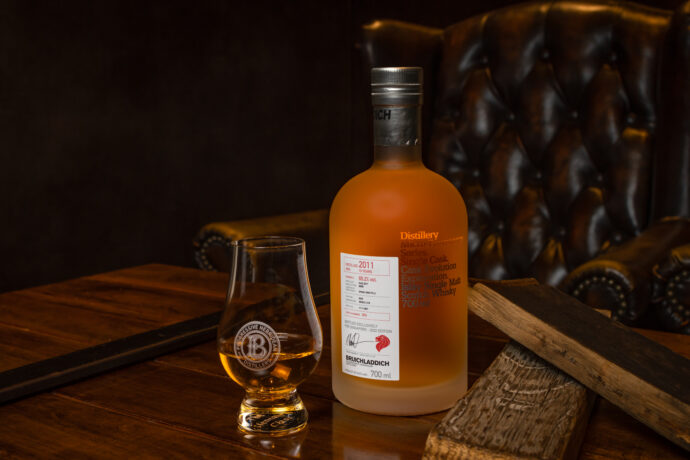 The limited release 2011 Micro Provenance Cask features Bruichladdich – Unpeated, aged for ten years in second fi ll-Syrah barrels. Bottled at cask strength as with previous releases, each cask is unique and the resulting ABV may vary based on the age, cask type and storage location.
Each of the 80,000 casks at the Bruichladdich Distillery are distinctly special, providing a unique snapshot of time from the renowned distillery located on the southwestern tip of the remote Hebridean island of Islay.
Limted stocks are also available at The Cooperage, Malts, The Single Cask, Shanghai Vault, CU, The Writing Club and The Joint for whisky enthusiasts to taste a dram of the rare release.
The Cooperage will offer a special flight of Bruichladdich's Single Malt range of 3 expressions at S$50++. The flight will start with The Classic Laddie, a smooth and classic favourite followed by the floral and fruity Islay Barley before ending it off with the newly added Bruichladdich Micro Provenance Single Cask 0315. The depth of this range is complex, yet rewarding, as drinkers get to experience and savour the variety and nuance of every fruitful drop the spirits have to offer. Additionally, The Micro Provenance Single Cask 0315 700ml will be available over the bar counter at a price of S$380++ per bottle.