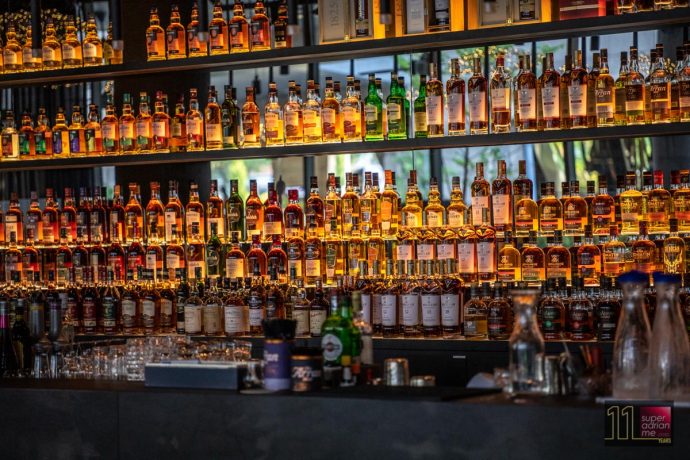 Malts Whisky Bar at Marina Square offers a great venue to hang out over food and a wide selection of whiskies or other spirits to cater to different tastes. 16 pages of its 18 page beverage menu are listings of whiskies available here.
The revamped whisky bar is located at 01-07/08 Marina Square, 6 Raffles Blvd, Singapore 039594. It is facing Tap Craft Beer Bar at One Raffles Link.
Malts Whisky Bar Whisky Collection
We were invited to a media tasting where we got to try a couple of whiskies. Perhaps a little too much because we left very happy. On the table were the Glenfiddich 12, Bruichladdich The Classic Laddie, Tomatin 12, Auchentoshan 12, The Arran Malt 10, Inchomoan 12, Shinobu Pure Malt Mizunara, Tamnavikin and Nomad.
Malts Whisky Bar has a selection of whiskies from Scottish distilleries across the region or Japan. The space here offers guests a choice of high table or al-fresco seatings.
Tasting flights are the way to go if you are in the mood of discovery. Prize for each flight ranges from S$42 up to S$110 for the Bunnahabahin Tasting Flight that features the Toiteach A Dha, Stiuireadair and 30 Years 1988 Marsala Cask. The Benriach Tasting Flight at S$46 comes with a 30ml serving each of the Benriach 12 years, Cask Strength and 21 years.
Our friends at Spirited Singapore will give you a better narrative of the whiskies available here with their expertise in the topic.
Bites to go with your Tipples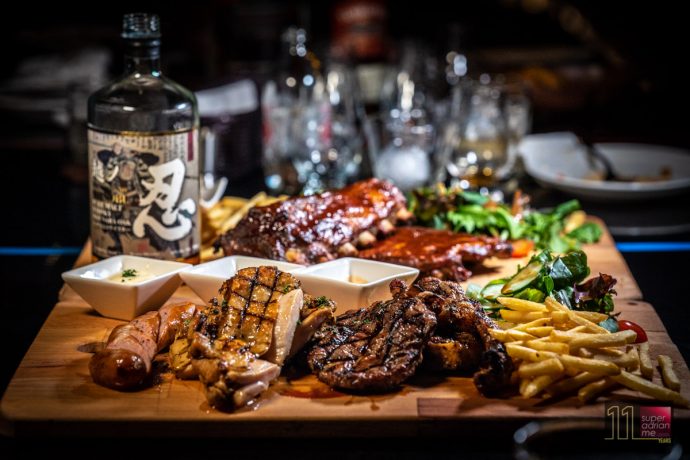 The food menu features a variety of dishes perfect for sharing and an obvious great night. The Grilled Meat Platter is priced at S$78 and feeds up to 3 people. The platter of lamb steak, grilled chicken, beef ribeye and pork sausages comes with fries and sauces.
Tapas starting from S$12 include Nachos with Guacamole Salsa Dip, Truffle Fries, Sweet Potato Fries, Breaded Onion Rings, Spicy Calamari with Garlic Mayonnaise or Spicy Tomato Beef Meatballs amongst others. The Sausage Platter swerved with Whole Grain Mustard & Sauerkraut (S$24) is absolutely mouth watering.
The Spicy Tomato Beef Meatballs were a hit amongst many. They were spicy, moist and also cheesy.
Pastas are available for those requiring a more substantial carbohydrate fill.