This April, enjoy a feast of heritage Cantonese cuisine by four celebrated master chefs at InterContinental Singapore's Man Fu Yuan. Chefs Pang Lu Tin, Fok Wing Tin and Peter Tsang join Man Fu Yuan's Executive Chinese Chef Aaron Tan to cook up reimagined traditional classics.
8 Hands – Taste of Yesteryears 今日事, 当年情 is a one-of-a-kind gastronomic celebration featuring premium ingredients and the best of Lee Kum Kee sauces. The four chefs come together to present two six-course Sharing Menus suitable for 3 to 5 diners and six and seven-course individual menus with options for wine pairing.
Four curated menus range from S$88++ to S$398++ per person will be available for lunch and dinner till 30 April 2023.
"Each of the Chefs handpicked to participate in 8 Hands — Taste Of The Yesteryears今日事,当年情 has a speciality when it comes to Chinese cuisine, we present an opportunity to taste their collective mastery in one single meal. We hope to bring forth much-loved traditional classics from the 1970s and 80s, presented with skills that have been honed for decades, perfected with modern techniques and laced with exquisite flair and premium ingredients"

Man Fu Yuan Executive Chinese Chef Aaron Tan.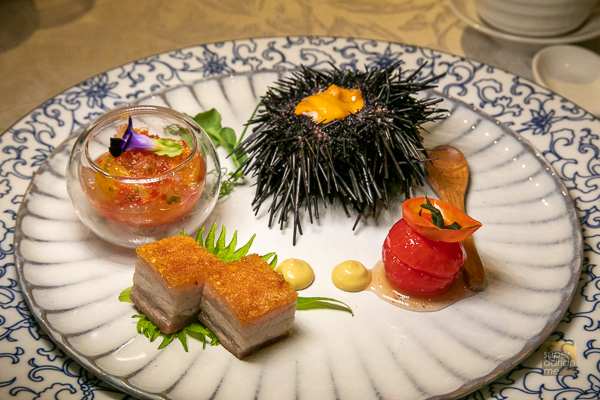 Chef Pung Tu Lin's Braised Silky Bird's Nest with Crab Meat, Silver Sprout and Superior Pumpkin Bisque is made with house-made superior stock of old chicken, cured meat, pork ribs and a 30-year-old Huat Tiao Chiew and Lee Kum Kee's Oyster Sauce. The broth is balanced with the pumpkin's sweetness. A rarer, more premium Indonesian cave bird's nest, crab meat and crunchy silver sprouts are added for more texture.
Chef Fok Wing Tin, the founder of Singapore Hong Kong Chefs Association, presents his Sauteed Egg White with Crab Meat and Caviar, a reimagined version of the Cantonese Stir Fried Milk. Egg whites are stir-fried with milk and crab to a fluffy, airy texture and served bite-size on Iceberg Lettuce and topped with dollops of Salmon Ikura caviar.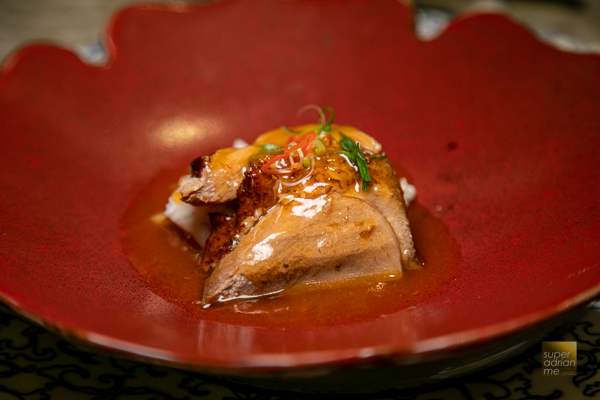 Chef Peter Tsang, an advocate for healthy Chinese cuisine, presents his Steamed Duck with Plum, Ginger and Chinese Wine, inspired by the Teochew-style braised duck. Chef Tsang usually cooks this with goose. A whole duck is wok cooked to seal the skin and then slow-braised with Lee Kum Kee's Plum Sauce, Hoisin Sauce and Chu Hou Paste. Herbs and spices such as star anise, cardamom, bay leaves and shallots are added for added flavour.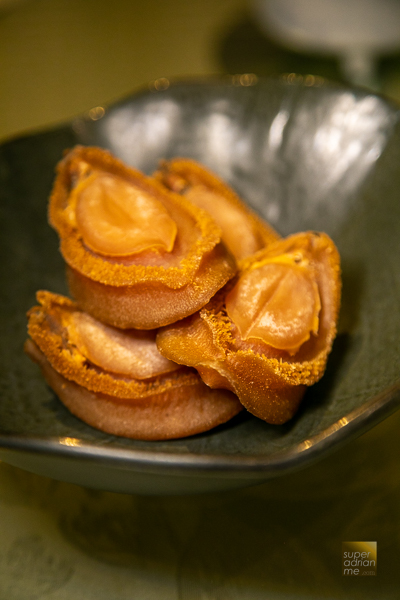 Chef Aaron Tan presents the Braised 12 Hear Australia "Hui Yong" Dried Abalone with Goose Palm. The Australian 12-head Abalone is soaked for several days before slow-cooking it for 12 hours with pork ribs, skin and cured meats so you can enjoy jam-like ramen-egg texture. It is served with braised Goose Palm and has dried abalone shavings to garnish.