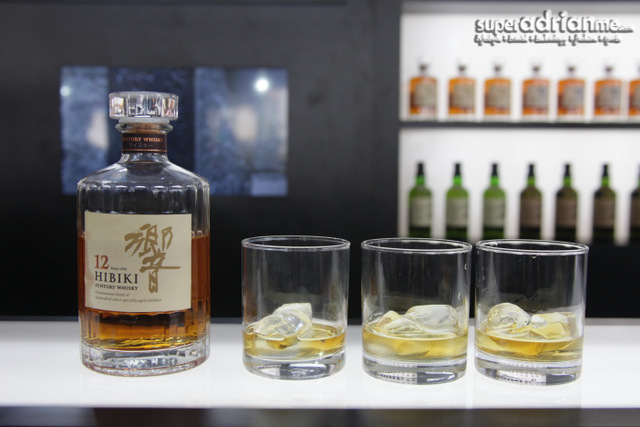 That was exactly what happened at the opening of this year's Beerfest 2013 held at the F1 Pit area below the Singapore Flyer.  Parked myself in the comfortable air conditioned whisky tent at the grounds of Beerfest and got acquainted with my new found friend Hibiki.  Started off with a glass or two of the 12 year old Japanese single malt and subsequently found harmony sharing a bottle of 17-year Hibiki whisky with close friends.
The 12-year whisky has a soft and sweet aroma with a fruity, clean, rich and pure taste.  Already quite a wonder to drink, it is extremely smooth and soft on the palate.
The Hibiki 17 year old premium whisky has a blend of about 30 different malt and grain whiskies.  It has a slightly deep amber colour and has a scent of tropical fruits, like sweet caramels.  The slightly sweet, light and smooth flavour is how I enjoy my whiskies.  It finishes off with a sweet and elegant fruity aroma with a pleasant aftertaste.
The Hibiki single malts are produced by  the Yamazaki and Hakashu distilleries which are located along some of the purest rivers in Japan.  From sourcing for pure and soft water, to using only the finest malt and grain, to painstakingly selecting the right shapes and sizes of the pot stills and casks, these artisans of luxurious whisky devote their utmost into producing an enigmatic nectar that has a profound aroma with an elegant woody richness, perfectly finished with a sweet long-lasting citrus flavour.
I am beginning to wonder what took us so long to get acquainted. Housed in a beautiful 24-faceted glass bottle,  the Hibiki 12 year retails at S$138 while the 17 year retails at S$220 at Beam Cellar located at 229 Mountbatten Road, #01-03 to 07/#01-17 to 19 Mountbatten Square.
Perhaps one day, I'll upgrade to a more limited stock allocation of the 21 and 30 year which retails at S$688 and S$1,768.  For now I am just contented with the younger versions.
Meanwhile, I had one of my most enjoyable and memorable Beerfest moments this year.