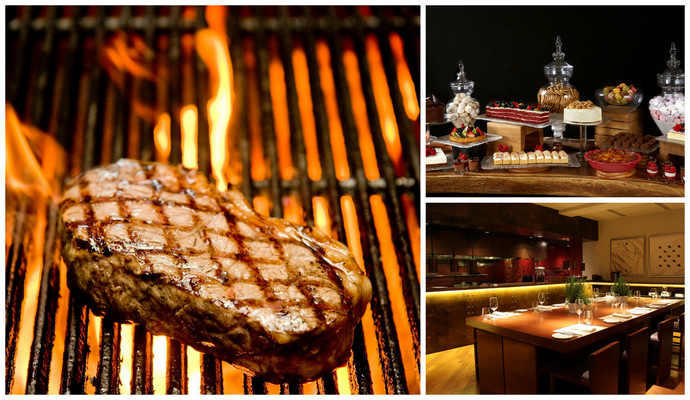 There is always a certain perception that you don't really get great quality food at buffets, and if you do, it is usually expensive. So the Mezze Dinner Buffet at One-Ninety Wood-Fired Steaks and Seafood in the Four Seasons Hotel Singapore, seems like an excellent compromise. You get an appetiser buffet and dessert buffet, plus a choice of one good main course, with prices starting at only S$58++.
The appetiser buffet spread is extensive, with salads, cheeses, prime-cured meats, fresh seafood… the works. Besides some standard favourites, the buffet spread changes daily depending on the produce and ingredients available. Not being able to predict what the buffet will offer means you get to try new items each time you visit. Though for me, I like to know what the spread offers since a buffet is not a daily indulgence and once I make that decision to have one, I better be sure it is worth the calories consumed. So if you are like me, call up the restaurant to check.
On my first visit, they had three different seafood in the buffet line – crabs, prawns and scallops. But on my second, there were only scallops at the start of the buffet, and once it was gone, a de-shelled cold crab replaced it. They had very fine Iberico though, a good conciliation.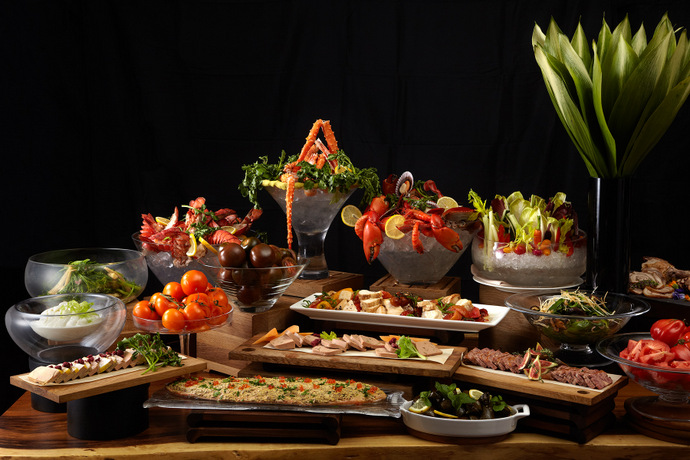 You have a few choices for your main course. Though the price is $58++, quite a few of the dishes require a price top-up.
Here's the list of main courses to choose from:
120-day Grain-fed Steak Onglet
Sustainable Ahi Tuna Steak
Free-range Cajun-spiced Spring Chicken
Mediterranean Sea Bass Fillet
Grilled Ocean King Prawns and Calamari
Slow-roasted Japanese Pumpkin (for non-meat eaters)
Red Label Organic Salmon (add S$10)
Ranger Valley Wagyu 400-day Grain-fed Australian Rump (add S$10)
Black Angus Prime 200-day Grain-fed Beef Tenderloin (add S$32)
Baby Lamb Chops (add S$32)
Before you decide on your main course, it might be useful to see what the buffet offers so you can plan better. Example, if the buffet already offers prawns, you might consider a steak instead.
I tried the Wagyu Rump, one of their favourites. Despite the S$10 top-up, it was worth it. Rump is a flavourful cut but it might be a little tough or chewy. But as it was Wagyu, the rump had a rich tenderness. It is not a very big piece of beef which is ideal as it saves your tummy for the buffet.
I also tried the King Prawns and Calamari but felt it was better as an appetiser than a main. And considering you already got an appetiser buffet, a better choice might be the Sea Bass or Salmon.
Dessert buffet includes a range of cakes, pastries and puddings. A satisfying variety.
To celebrate their 20th Anniversary, they are giving 20% off the Mezze Dinner Buffet from 20th November to 20th December 2014.
One-Ninety Wood-fired Steaks and Seafood is located at the main lobby of Four Seasons Hotel Singapore, 190 Orchard Boulevard, Singapore 248646. Call +65 6831-7250 for reservations.
About the Writer
Kevin Khoo is a self-professed foodie who loves his bak chor mee as much as an authentic al dente aglio olio; and savoury as much as sweets. 

He also works in F&B so he literally eats and breathes food. He struggles to stay in shape.