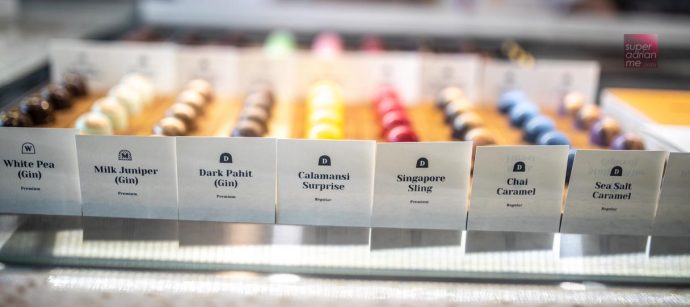 A new open-concept chocolaterie founded by 32 year-old Jerome Penafort has opened in Sin Ming. Inspired by Roald Dahl's Charlie and the Chocolate Factory novel, Mr Bucket has launched with its store and open kitchen at #01-15, 23 Sin Ming, close to the coffee shop famous for its roti prata at the next block.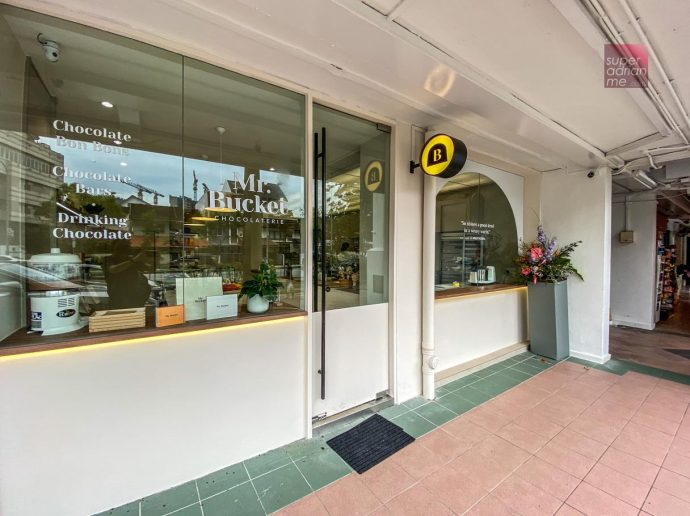 Jerome aims to raise the profile of Asian chocolates so that it is not less superior to its South American and African counterparts. In 2018, Jerome co-founded Bennis Ethicoa, a bean-to-bar chocolate maker with its factory in Malaysia.
Select from over 25 single estate chocolate bon bons as well as three bar chocolates that are hand made fresh every day. Catch a glimpse of how the chocolates are made while you are here.
Their signature hot cocoa is made with 72% Sungai Ruan chocolate buttons, milk, cream and Mr. Bucket's signature spices that will sure to make your nose bleed, in a good way of course. Get a 200ml cup of that to drink at S$6.
Another refreshing beverage is the Cold Brew Cacao Tea made with a mix of cacao husk and cacao nibs that has been cold-brewed for 48 hours.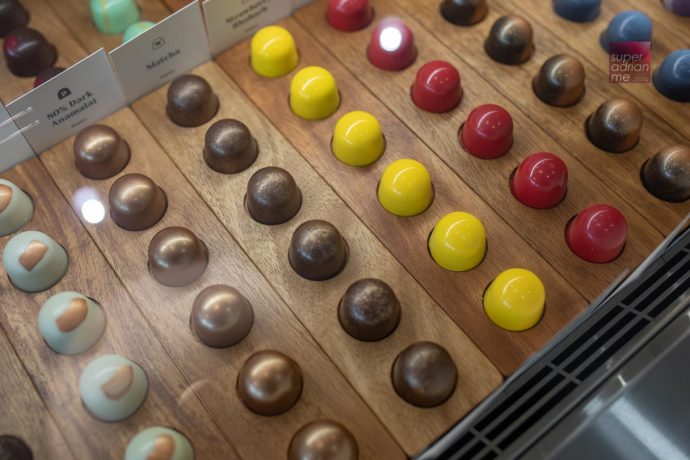 Mr Bucket works with local brands to create very local flavours. An interesting one is the Double Soy Caramel which contains dark soy sauce liquid caramel and light soy sauce liquid caramel made with two types of soy sauce from Kwong Woh Hing soy sauce brand.
If you have tried the mala dishes at local zichar shop Hao Zhang Ji in Boon Lay, then you will like Mr. Bucket's Mala Mild Spicy bon bon. White and dark chocolate mala ganache with mala oil from the zichar shop fills up a shell of 72% Sungai Ruan dark chocolate.
The Salted Egg Yolk Bon Bon is made in collaboration with gourmet snack company The Golden Duck. The 72% Sungai Ruan dark chocolate ganache shell is filled with salted egg yolk-infused white chocolate ganache with salted egg yolk ball
I like anything that is Peanut Butter and Jelly. The PB&J Bon Bon uses the 45% Milk Sungai Ruan single estate for its shell and is filled with strawberry gel, peanut butter milk chocolate and feuilletine crunch.
And if you prefer bon bons that are filled with spirits, go for the Dark Pahit with chocolate ganache made with Pahit Pink Gin from Brass Lion Distillery. Singapore Sling is a creation of pineapple Cointreau milk chocolate ganache and citrus-infused maraschino cherry pieces with local marmalade producer Straits Preserves. Other spirited flavours include Negronic Classic, Milk Juniper or Stout & Cherry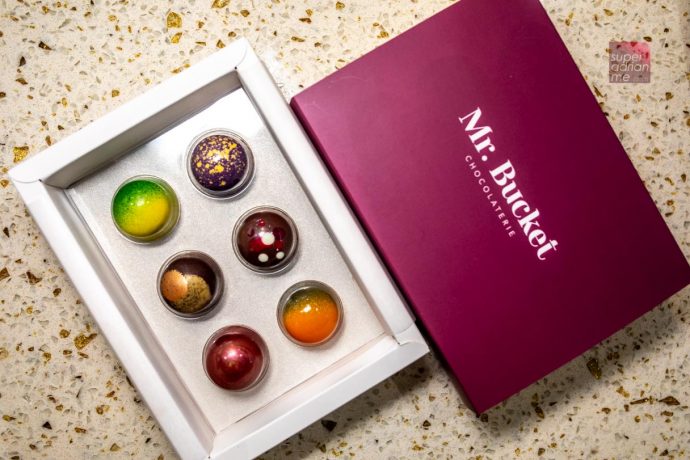 A box of six bon bons is priced from S$19 up to S$95 for chocolate bundles. Premium bon bons with alcohol in them are S$0.50 more. 60g Single Estate Bars are priced at S$7. There are three of them – 45% Milk Sungai Ruan, 64% Dark Panchor (my favourite) and 80% Dark Anaimalai. 47g Flavoured Bars are priced at S$8 – Early Grey milk chocolate, Pepper dark chocolate and Coffee dark chocolate.
Visit www.mrbucket.com.sg to customise your own chocolate gift box or purchase chocolate bars and drinking chocolate. You can self collect or have your purchase express delivered the next day. Delivery is free for orders above S$50.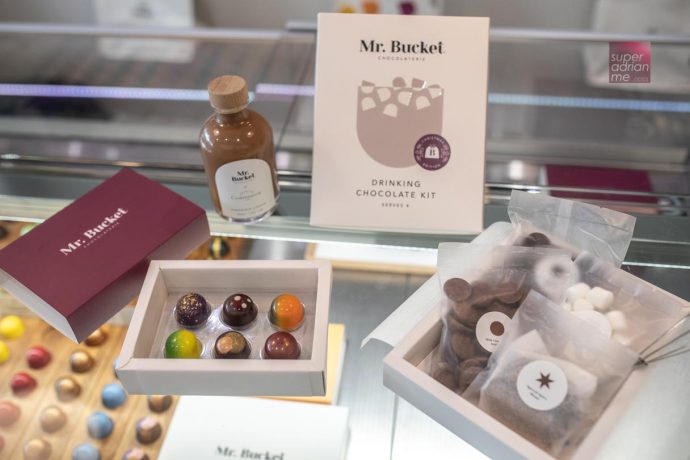 Christmas is around the corner. There are Festive special flavours including the Earl Grey Bergamot, Mulled Wine with Cabernet Sauvignon infused with cinnamon, cloves, star anise and orange peel, Passionfruit Caramel, Gingerbread, Black Forest and Rum & Raisin.
The Drinking Chocolate Kit (S$25) is such a fun set to gift this Christmas. Especially if you know the recipient has a thing for all things sweet and rich. The kit comes with a mini whisk, dark chocolate buttons, mini marshmallows, milk chocolate buttons and special spice blend. In addition to what's in the box, you will also need full cream milk, cream, a saucepan and a stove to create that beautiful cup of drinking chocolate.
You can also get a 250ml bottle of House-made bottled Chocolate Liqueur created in collaboration with Compendium for S$25.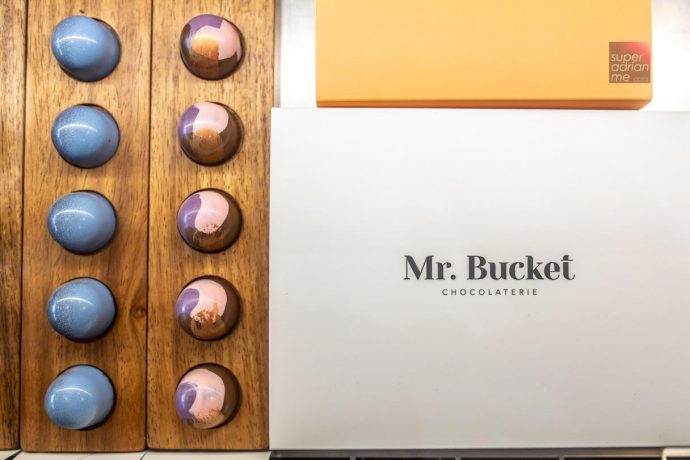 Mr. Bucket Chocolaterie is located at 23 Sin Ming Road, #01-15, Singapore 570023. You can visit them from Wednesdays to Friday from 12 pm to 6pm and Saturday & Sundays from 10 am to 6 pm. They are closed on Monday and Tuesday.