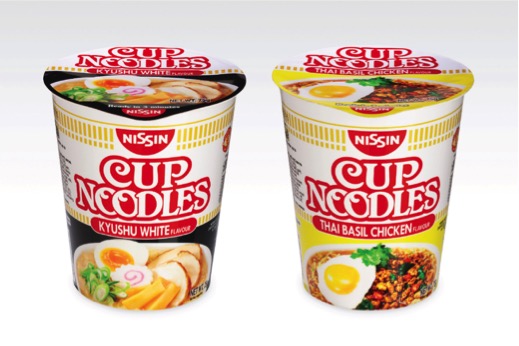 "Who hasn't enjoyed the instant gratification of a delicious Cup Noodle?" These are the words that greet you at Nissin, and I could not agree more! Regardless of age, place, time or flavour, these convenient little cups of noodles have been feeling our tummies with warm, delicious satisfaction.
More than a soup, Nissin has been serving Singaporeans with 10 delightful flavours for the last 23 years. These market favourites of Cream of Chicken, Spicy Seafood to our iconic Laksa will have two new contenders joining their ranks; the aromatic and spicy Thai Basil Chicken and soothing, garlic-flavoured Kyushu White.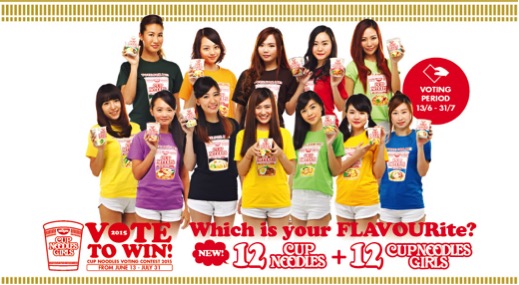 To kick off the two new flavours and their sleeker new packaging (yes to no more sleeves!), Nissin is turning heads with 12 beautiful girls representing each of their 12 flavours in a fun "Which is your FLAVOURite?" voting contest!
Dressed up in each of their vibrant colours, the Cup Noodles Girls will be going around Singapore from the 13 June to 19 July on weekends (schedule available here) to become Singapore's no.1 FLAVOURite. Be sure to say hi and take a selfie with them using the Nissin Cup Noodles photo app at the Nissin Cup Noodles photo booth. They will be handing out a variety of campaign gifts, including a folder of the 12 girls doing adorably candid poses, as well as "cards" for participating in a Lucky Spin for even more prizes. There's not all; what better way to enjoy your favourite flavour than having her serve it to you!? The girls will also be selling these yummy noodles on 27 – 28 June at WAttention Plaza, so don't miss out on this!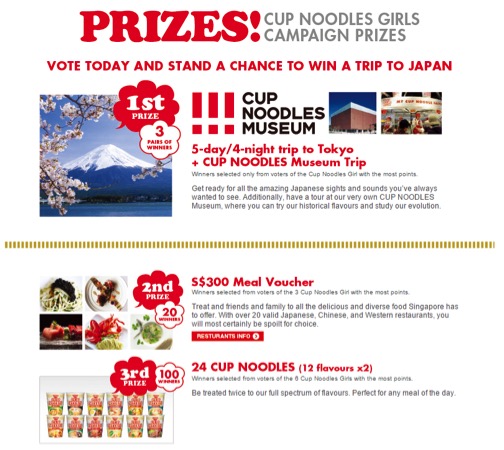 If that's not enough to get you excited, hear this. Taking part in the campaign might just win you a Trip to Japan. Awarded to one lucky person who voted for the winning FLAVOURite Cup Noodles Girl (most vote), it will be a 5-day/4-night trip to Tokyo including a visit to the Cup Noodles Museum at Yokohama. There are also S$300 Meal Vouchers at some of best places in Singapore, such as Forlino at One Fullerton and Kaiseki Yoshiyuki.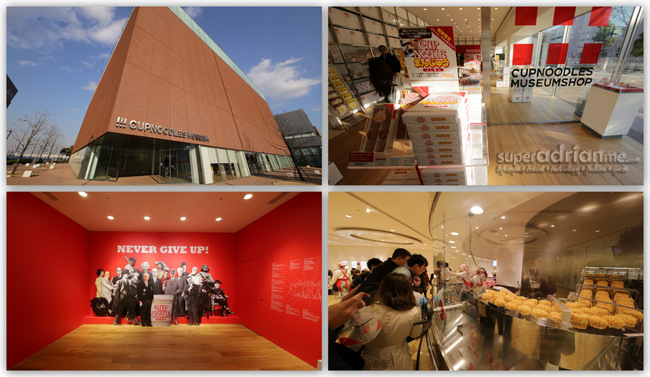 The voting commenced on the 13 June and will end on the 31 July 2015, so better get started on Nissin's Facebook Page (1 point) or take a picture with the girls (3 points). Choose your FLAVOURite and you might just be on a place to the land where it all began!
About the Writer
Jessica is a young lady of many obsessions. She gets herself into everything ranging from the latest in the monochrome fashion world (she only wears black, and sometimes, white) to convincing the masses that Community is the best TV series ever made.
Currently, she enjoys looking like Sailor Mercury had a baby with Wednesday Addams.