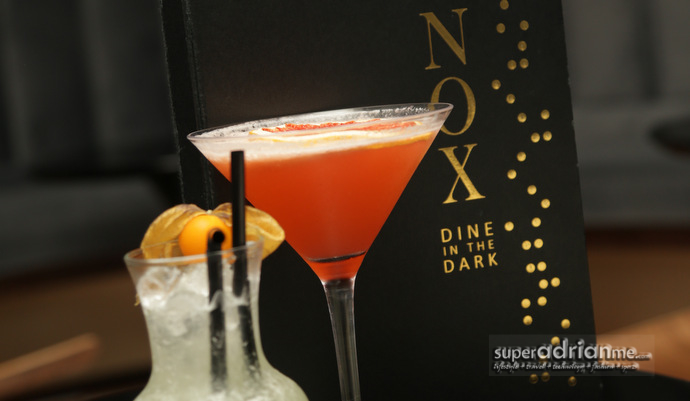 Fancy dining in pitch darkness? It might sound a little unnerving at first but this is an experience you should try at least once in your lifetime. NOX is a dining concept located in the heart of the city that offers this unique and experiential adventure.
A cozy lounge with creative cocktails and a variety of wine, welcomes diners. There is a short briefing on what to expect during dinner, and time to savour a few sips of alcohol to calm any anxiousness about going into the dark. You also get a small but tasty serving of Ambush Bouche, the only food you will be able to see for the night.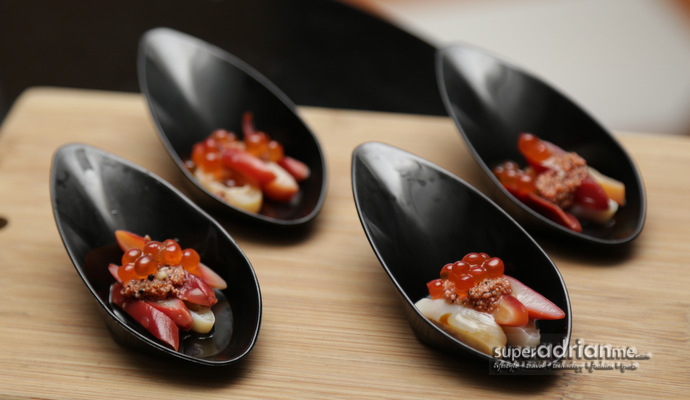 Diners have to leave their handphones and any illuminating objects including glow-in-the-dark watches in the lockers provided. This is a great test for those who are mobile or internet addicts but it offers a one to two-hour undisturbed dinner, which is terribly rare in our busy cosmopolitan lives.
Our host is a visually-impaired waiter who greets all of us individually so he would know our names. This is important as some diners might have special dietary restrictions and the only way to identify you in the dark is your name, which the host would ask for if you had a special request. Be sure to inform your host during the pre-dinner briefing your dietary restrictions or food allergies.
With our hands on the backs and shoulders of our friends, we were guided to the stairs that led to the dining area. Halfway up the stairs, you will already be in total darkness and can only rely on the host, and the person in front of you, to lead you to your seats.
Dinner is a three-course prix-fixe menu (S$88++ per person). Each course comes with four dishes, making it almost a 12-course tasting meal. Dishes are served in small square bowls to facilitate easy eating. We learned how to pour our own water into our cups, using our fingers as a gauge. And we learned how to deal without the distraction of our sight and more importantly, our mobile phones. We were forced to talk to each other and it is such a great feeling once the conversation starts.
As you are unable to see the food, each dish is a mini taste test, a surprise, and a delight. Without sight, your sense of smell and taste is heightened. The food is exceptionally good and goes beyond our expectations. Even without the novelty of dining in the dark, I would still come back for a meal, if they served it in the light.
Throughout the dinner, our friendly and efficient host constantly checked on us and even chatted casually with us. If you need anything, you just call out his name, and suddenly he appears. Well, you cannot see him, but he is always there. A bit shocking at times, but comforting.
After dinner, we were brought back to the lounge where we ordered a few more drinks. We also got to fill up a questionnaire about the food we ate. The manager then whipped out his iPad to show and explain what we ate. It was like the moment of truth and there will always be those wrong guesses and surprises. The menu is kept secret so diners get the thrill of guessing. NOX changes the menu once every five weeks.
NOX received the Best New Concept 2013 as well as two stars in WINE & DINE magazine's "Singapore Top Restaurants 2013".
NOX – Dine in the Dark is located 269, Beach Road (junction of Bussorah Street), Singapore 199546. Reservations at +65 6298 0708.