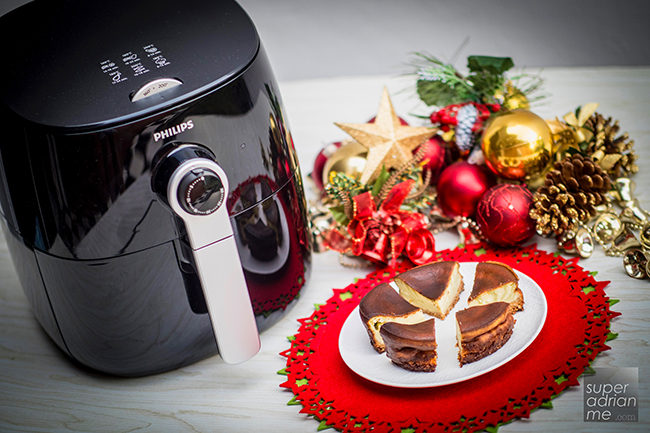 Before I tried out an AirFryer, my impression for dishes cooked with it will be dry and not going to be tasty. So when I got the chance to review the new Philips Viva Collection AirFryer (HD9623), I decided to set a challenge for myself to cook a delicious & food porn-worthy three course meal with just an AirFryer. And I am proud to say… I DID IT!!!
The video recipes of Crusted Rack of Lamb and Matcha Swirl Cheesecakes can be found below.
Finding Recipe
There are many AirFryer recipes available online and in the Philips AirFryer app on your smart devices. But if I were to follow those recipes, it will be an easy challenge right? So I decided to do some research on recipes that are not yet available to AirFryers and try to tweak it to make it suitable for cooking or baking it in an AirFryer. If you don't already know … I hardly cook and I am no chef…. I am just an Average Joe taking up this challenge on my own.
Instead of looking out for frying recipes, I went ahead to make the AirFryer "an oven" and sourced for baking or roasting recipes. I managed to get two recipes from my favourite Food Wishes YouTube channel and a cheesecake recipe from another online source. Even though these recipes are meant for conventional ovens, I simply changed the baking time and temperature, I was able to perfect 80% of the recipe on all my first attempt. #iAmSoProudOfMyself #justsaying
If you would like to attempt a new recipe, just remember these rules. Go SLOW and LOW. It is better to be undercooked than overcooked. Because you cannot save an overcooked dish, but you can for an undercooked one.
So just set the timer for the AirFryer to 40% of the original recipe, because through my experience, AirFryer seems to cook much quicker than the oven in some recipes. For example, the cheesecake needs 40 minutes to bake in the oven, but in the AirFryer it only took me like 18 minutes to get it done. Probably because the new Philips Viva Collection AirFryer (HD9623) comes with TurboStar rapid air technology that swirls the hot air rapidly that makes the food cooked evenly and faster in the process.
How The Dishes Turned Out?
Wow wow wow!!!
The dishes all turned out better than I expected and I will give myself a score of 4.5 out of 5. Not that I am boasting, but they are close to restaurant quality in my opinion. #ItBetterBe. Cost me over S$200 on ingredients to experiment these dishes.
The lamb was tender, juicy & PINK!!! I crossed my fingers while cooking this dish. Rack of lamb is not cheap okay? But I am glad it turned out much better than I expected and the taste testers that had tried the lamb was totally blown away when they found out it was from the AirFryer. They also enjoyed the Bacon Tomato Cheese & Spinach Strata and Matcha Swirl Cheesecakes. The dishes were delicious and they would love to have more next time. So I am glad that my little challenge with the Philips Viva Collection AirFryer (HD9623) was a success, giving me the confidence to use the AirFryer for my future cook offs.
#IamNotAChef #SibehHENG… Because I was supposed to just do a review as instructed by my editor. But I went over budget and spent so much time on the recipes and videos. #EditorLovesIt and I hope you will like it and share it with your friends.