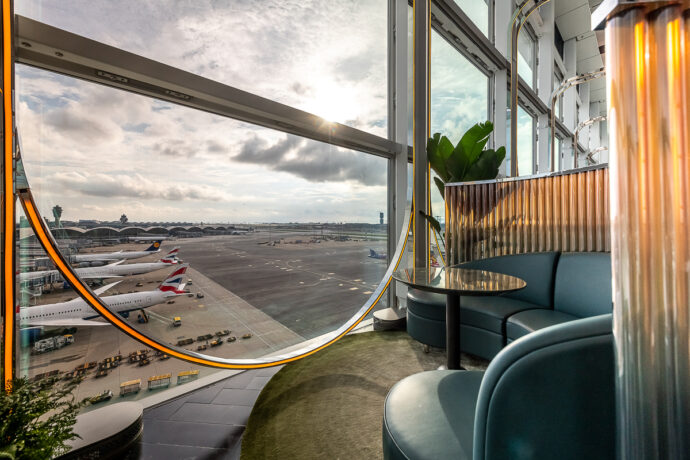 A new cocktail bar has opened in Hong Kong International Airport. Intervals is Plaza Premium Group's newest first-of-its-kind airport bar concept that offers exceptional cocktail and dining experiences for global travellers. Located in HKIA's level 9 Sky Bridge, the world's longest airside bridge spanning 28 metres above the ground, Intervals Bar offers up to 76 guests including 17 at the bar area spectacular views of the entire airfield.
Mei Mei Song, Plaza Premium Group's Director of Global Brands and Transformation and the next-generatoin of the group and creative director Victoria Chow, founder of acclaimed Hong Kong bar The Woods jointly created this new concept which took three years to conceptualise. The bar is designed by Australian architect Mitchel Squires.
The name "Intervals" is inspired by the idea that time is fluid when travelling, and that key actions are measured in intervals of time. Think the time it takes to clear security, transit, or time to get to the gate and time between boarding time and final call.
Intervals is an architectural creation by Mitchel Squires from AVT Studios. The space caters to various types of travellers, be it indivduals, couples or groups. Additionally, the space incorporates elements inspired by conventional timekeeping instruments like pendulums, sundials, and hourglasses.
Airport Authority Hong Kong and Plaza Premium Group have a long-established business relationship since 1998, when the group introduced the world's first independent airport lounge, Plaza Premium Lounge at HKIA. 25 years on, the opening of Intervals will further strengthen their commitment to raise the bar and pioneer future-forward customer experiences. 
The drinks programme here showcases a series of miniature drinks. The flight of cocktails has been tailored to how much time guests have to spare ranging from a 15 minute to a 60 minute experience. Each cocktail within the flights are available in full size at HK$148 each.
It is the same for the food here, to complement the 'flights of cocktails'. Pinchos (tapas-style bar snacks) are elevated and guestss can enjoy one pincho through to a set of six. Enjoy their take on the Hong Kong Prawn Toast with Sakura Shrimp; Fig and Goat Cheese on Rye with honeycomb crunch; and Mini Taco with Glazed Turkey Meatballs, amongst others. Check out the soft opening menu below available until 26 July 2023.
Intervals will operate daily from 11 am to 8 pm during the soft opening from 14 June 2023 to 26 July 2023. Hours will be extended to 7 am to 1 am. To get to Intervals, go up the escalators between gates 12 and 24 to the Sky Bridge. Check out Intervals Instagram or Facebook Page.
Plaza Premium Group's Smart Traveller members enjoy 20% off when tagging your Intervals experience.